RICHARD PHILLIPS-JONES looks in Brit-Horror's dark corners for The Fall of the House of Usher 1949, an obscure Poe adaptation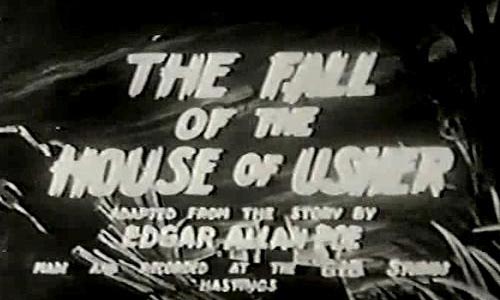 TITLE: The Fall Of The House Of Usher
YEAR RELEASED: circa 1950 (made 1949)
DIRECTOR: Ivan Barnett
CAST: Gwen Watford, Kay Tendeter, Irving Steen
When visiting his old friend Roderick Usher (Kay Tendeter) and sister Madeleine (Gwen Watford), Jonathan (Irving Steen) discovers that his old friend is no longer himself, and that Madeleine is in a near-catatonic state. Roderick tells him of the family curse…
Not only is this Edgar Allen Poe adaptation one of the most obscure British horror films, it is also arguably one of the strangest.
Made on a miniscule budget at the G.I.B film studio in Hastings (no, I didn't know Hastings had one either), and on location in the locality, this liberal adaptation bookends the tale with scenes set in a gentlemen's club, as our storyteller relates the fall of the Ushers to his disbelieving companions. Cast in today's light, these sequences bear more than a passing resemblance to those Mr Cholmondley-Warner sketches from the Harry Enfield programme, and the remainder of the film often feels like one of those skits reimagined as a Gothic horror.
That only begins to hint at the strangeness of this film, which features the screen debut of the later respected actress Gwen Watford. It's probably safe to say this didn't appear at the top of her CV, and since none of the other performers went on to anything else, it is to be assumed that they were perhaps local amateur performers.
One of the final films to be awarded the "H" for Horrific certificate in the UK (although it's hard to see why), it appears to have barely seen release (Jonathan Rigby once opined that it played "for one week in the Tottenham Court Road"), before a truncated 39 minute version appeared in 1956. Its subsequent obscurity can be attributed to its lack of TV exposure, and it is said that at least one UK TV company rejected the film as being too poor for screening. That's not especially surprising as, despite being made in 1949, it lacks even the finesse of an early poverty-row talkie.
Taking liberties with the source material, there's an old hag thrown into the mix, who I assume is meant to be Roderick's mother, and who none of the other characters seem remotely concerned about! That's just one of the lapses in logic in abundance, whilst the day-for-night shots will have you in fits, and the bombastic canned score from the De Wolfe music library gives proceedings an unintentional, Pythonesque air.
And yet, this strange work is nevertheless fascinating on several levels. It predates Britain's great Gothic cycle by a good few years. It also has a certain maverick spirit which is admirable, considering it was probably made for mere shillings. In its best moments the film achieves a nightmarish atmosphere, quite at odds with the ludicrousness of its dialogue and performances, and you can't help but admire the audacity and ingenuity of using what appears to be wartime newsreel footage to flesh out the model work during the flame-engulfed climax.
If you can track down a copy, this is a most interesting oddity for British horror buffs. Just make sure you're well oiled before watching.
TRIVIA POINT: Gwen Watford's career survived this inauspicious start. She went on to win BAFTA's and an Olivier Award. She returned to horror films in Taste The Blood Of Dracula (1969) and The Ghoul (1975).
Watch The Fall of the House of Usher 1949