Reading Time:
3
minutes
Taste the Blood of Dracula 1970 is one of Hammer's best Dracula sequels, says SIMON BALL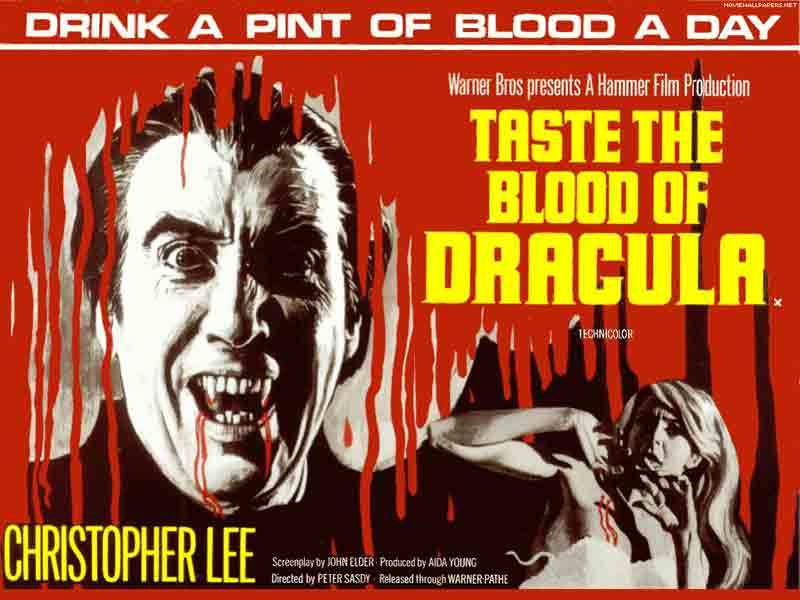 TITLE: Taste the Blood of Dracula
YEAR RELEASED: 1970
DIRECTOR: Peter Sasdy
CAST: Christopher Lee, Geoffrey Keen, Linda Hayden, Peter Sallis, Anthony Corlan, John Carson, Ralph Bates, Roy Kinnear, Michael Ripper, Madeline Smith
Review of Taste the Blood of Dracula 1970
Taste the Blood of Dracula is the fourth outing for Christopher Lee as Bram Stoker's vampire count and in my opinion one of the best.
It's also the final period set Dracula movie that maintains any sense of series chronology as travelling salesman Weller (Roy Kinnear) witnesses the Count's impaling on a huge crucifix from the conclusion of Dracula has Risen from the Grave.
Back in Queen Victoria's London, three thrill-seeking businessmen, Hargood (Geoffrey Keen), Paxton (Peter Sallis) and Secker (John Carson) venture into the brothels of the East End under the guise of performing respectable charitable works. In the brothel they become intrigued by the dissolute Lord Courtley (Ralph Bates), who offers them the opportunity to experience the ultimate thrill.
So it's off to Weller's shop where a thousand guineas purchases Dracula's cape, ring, clasp and dried blood and then onto a deconsecrated church where Courtley mixes his blood with that of Dracula and bids the gang to drink, they refuse but Courtley drinks only to fall to the ground and writhes with pain.
When he begs for help, Hargood, Paxton and Secker beat him to death. As the three return to their homes, promising each other to keep that evening's events secret, Dracula is reincarnated into Courtley's body and promises revenge on his servant's killers.
Dracula's revenge is engineered through the group's adult children – Hargood's daughter Alice (Linda Hayden) is taken under his influence and brains dad with a spade, Paxton's daughter (Isla Blair) gets bitten and ends up staking dad through the heart before turning Secker's son (Martin Jarvis) who then stabs his father.
It's then up to Paxton's surviving son, Paul (Anthony Corlen) to rescue his beloved Alice from Dracula's clutches.
Tracking them down to the church, Dracula discovers that an old church really isn't the best hideout for an undead creature with an aversion to crucifixes and other holy artifacts.
Christopher Lee had originally declined the part of Dracula in this film and had he not been persuaded to change his mind this would have been the first to feature Ralph Bates as the resurrected Count.
Bates was Hammer's new golden boy who was also to play the Baron in Hammer's unsuccessful Frankenstein reboot The Horror of Frankenstein and Dr Henry Jekyll in the gender busting Dr Jekyll and Sister Hyde, before finding his mark in the BBC sitcom Dear John.
There is also a rumour that Vincent Price was to play the role of Hargood, which would have been Price's first appearance in a Hammer film, but the extra budget was spent luring Lee back into the lead role at the insistence of the US distributors.
Strong storyline for Taste the Blood of Dracula
Taste the Blood of Dracula has a much stronger storyline than Hammer's previous Dracula sequels.
Whereas previous sequels had been basically chase movies, this film contains far more layers and what Dracula presides over here is the destruction of the Victorian family unit, having already exposed the hypocrisy of paternal respectability in the film's early scenes.
It was the last of Hammer's Draculas to play the vampire genre seriously until 1973's The Satanic Rites of Dracula, and the next sequel Scars of Dracula (1970) would descend into farce and cliché.
Tell us your thoughts on Taste the Blood of Dracula 1970 in the comments section below!
Watch Taste the Blood of Dracula 1970 trailer