Reading Time:
2
minutes
Dr Jekyll and Sister Hyde 1971 by reviewed ANDREW GARVEY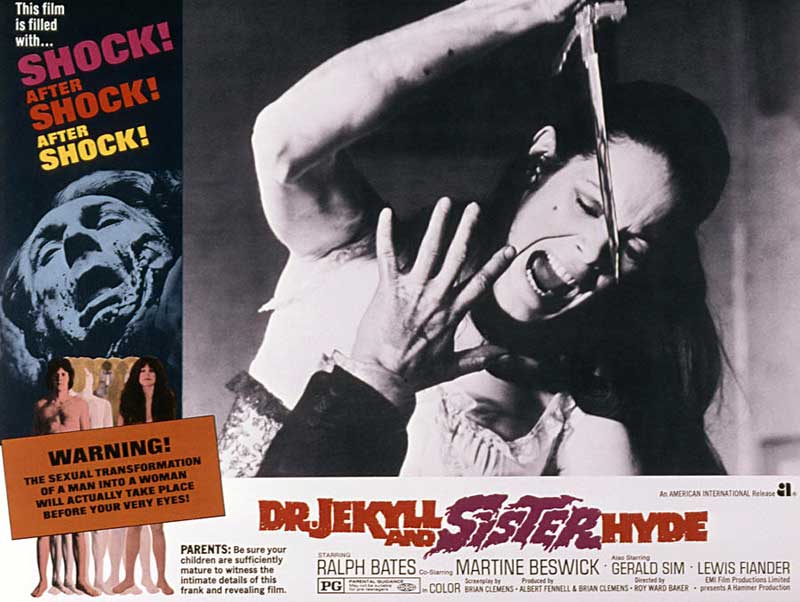 TITLE: Dr Jekyll and Sister Hyde
YEAR RELEASED: 1971
DIERCTOR: Roy Ward Baker
CAST: Ralph Bates, Martine Beswick, Gerald Sim and Lewis Fiander
Released 11 years on from Hammer's The Two Faces of Dr. Jekyll, the studio's second and far more radical re-interpretation of the story is notable mostly for the first (certainly in a major adaptation) example of a female Hyde.
A reflection of the way Hammer's previously more subtle output was changing as it tried to keep up with America's more blatantly gory, sexually charged horror films, the female Hyde mostly seems like an excuse for some naked gimmickry.
They of course didn't chose an ugly, malformed Hyde in the tradition of John Barrymore or Frederic March but instead went for model, actress and Bond girl Martine Beswick. Need proof? The always crucial first transformation scene ends with Jekyll (horror regular Ralph Bates) turning, by the cheapest of camera tricks and sleight of hand into Beswick. He/she of course, has to check out those new boobs in the mirror. And have a good feel.
Beswick is very, very nice to look at but isn't expected to do much in her role beyond that.
In Bates' fourth Hammer film (of five) he carries the film with a far more complex, and culpable Jekyll than most. Starting off as usual as a decent, hardworking, intelligent scientist who pushes himself too far, he ends up far from innocent.
Set in the late 1880s, but shifted down south to London so it can include Jack the Ripper and also (somewhat randomly) throwing in Burke and Hare – Edinburgh's infamous grave robbers of some 60 years earlier – Brian Clemens' script is great fun, sometimes very funny and freshly imaginative.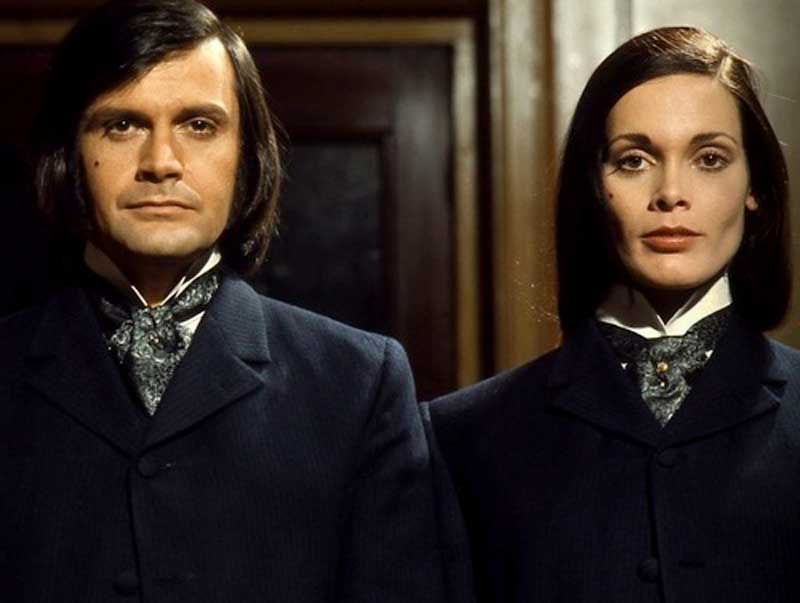 Director Roy Ward Baker, a long time TV veteran once again recycling old Hammer material as he had in 1967 with Quatermass and the Pit and 1970's Scars of Dracula does a fine job but the film's transformations are a big disappointment, relying too often on cheap tricks like Bates disappearing from view and Beswick emerging moments later.
Both have their strengths and both are well worth a watch but his is a very, very different film than Hammer predecessor The Two Faces of Dr Jekyll.
Much more overtly horror, grander in scale but somehow also looking cheaper in execution (some of the exterior sets are awful), it's difficult to compare the two.
Both manage to add something new and original to the Jekyll and Hyde mythos but this one, with its cheesier premise, use of real historical monsters and a higher blood-and-body count is more purely entertaining.
What did you think of Dr Jekyll and Sister Hyde 1971? Tell us in the comments section!
Watch Dr Jekyll and Sister Hyde 1971 trailer!