John Barrymore has overwhelming power in the silent classic, Dr Jekyll and Mr Hyde 1920, says Stephen Mosley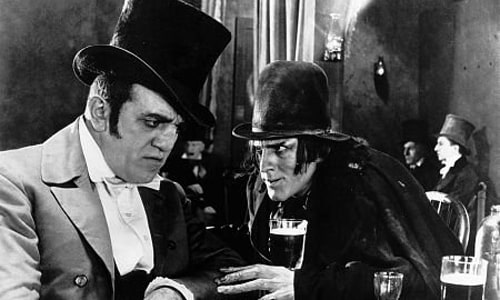 TITLE: Dr Jekyll and Mr Hyde
YEAR RELEASED: 1920
DIRECTOR: John S. Robertson
CAST: John Barrymore, Nita Naldi, Martha Mansfield, Brandon Hurst.
PLOT: Kindly Dr Jekyll creates a drug that unleashes his bestial side – which, assuming the persona of Mr Hyde, runs amok through Victorian London . . .
FUN FACT: Thirty minutes into the Dr Jekyll and Mr Hyde 1920, as Hyde changes back into Jekyll, Barrymore flings his hands with such force that one of his fake rubber fingers goes flying off across the screen!
The handsome man in the dressing gown tips the beaker of fluid down his throat. Suddenly, his placid features contort. In a series of livid jerks, his hands become talons, his eyes glow with Hellish fire, and his face distorts in a ghastly leer …  Jekyll has become Hyde.
It's a wet Saturday afternoon in 1986 – and I am five years old. I lie on my stomach on the living room carpet, with a book laid out before me. The book is Thomas G. Aylesworth's 'Monster and Horror Movies'.  In a chapter entitled Self-Made Monsters, I find coverage of 'Dr Jekyll and Mr Hyde 1920' – the film that glows from my TV – along with some accompanying stills.
I look at the pictures, then up at the screen, kicking my legs in the air as my dog tries to lick my face. As a film-struck child I subsist on a daily diet of Universal Monster Movies, the fantastic escapades of James Bond, endless viewings of 'The Wizard of Oz' and 'King Kong', and the silent comedies of Chaplin, Our Gang, and Harold Lloyd. TV was great in those days. Almost as great as John Barrymore.
He's the man in the dressing gown, who has literally transformed into another human being before my wide, astonished eyes. I have never seen anything like it.
As Mr Hyde shambles through the London streets, he tramples a child underfoot with chilling brutality – and wraps his arachnid fingers around Nita Naldi.
It's bloody good stuff and I am enthralled. Not only is the story so effectively told, without the need for dialogue, but the film's blue and sepia tints lend it unnatural colour. And, of course, there's that remarkable star performance.
So, at the age of 5, I am a John Barrymore devotee. I seek out his other work and am rewarded with similarly mesmerising performances in films like 'Svengali' (1931) and 'Twentieth Century' (1934).
When I'm old enough to read, I lap up all I can about him. I learn that not only is Barrymore the finest Shakespearian actor of his day, but he is also the grandfather of Drew – the funny little girl in Spielberg's 'E.T.'
I read that the actor throws himself so much into the part of Hyde that he dislocates his jaw!
I also learn that whilst prowling as Mr Hyde he is simultaneously rehearsing 'Richard III' on-stage and, as such, he collapses with nervous strain, enduring the first of several visits to a sanatorium – for Barrymore, like Mr Hyde, has a problem with imbibing.
Indeed, there are sad tales of the actor being so drunk on stage that he vomits into the footlights before a startled audience – then calmly gets on with his performance.
There are stories of nightmares and memory loss; of haunting visions and wayward brides. His life is a Gothic tale in itself, and, like all good stories, it must come to an end.
Thus I discover that, again like Hyde, John's need for slurping poison ends in death.
But, on the screen, the man drinking potions lives on, and so, through his dazzling portrayals, does the Great John Barrymore.
Tell us what you think of Dr Jekyll and Mr Hyde 1920 in the comments area!
Watch Dr Jekyll and Mr Hyde 1920
STEPHEN MOSLEY is an actor, writer, and musician. His book of strange tales THE BOY WHO LOVED SIMONE SIMON is out now, and was selected by ENTERTAINMENT FOCUS as one of the 10 Best Books of 2011. He is one half of the music duo COLLINSON TWIN, and he lives in a dungeon near Leeds.