Reading Time:
4
minutes
House of the Long Shadows 1983 is full of classic horror greats, but is it any good? TERRY SHERWOOD takes a look!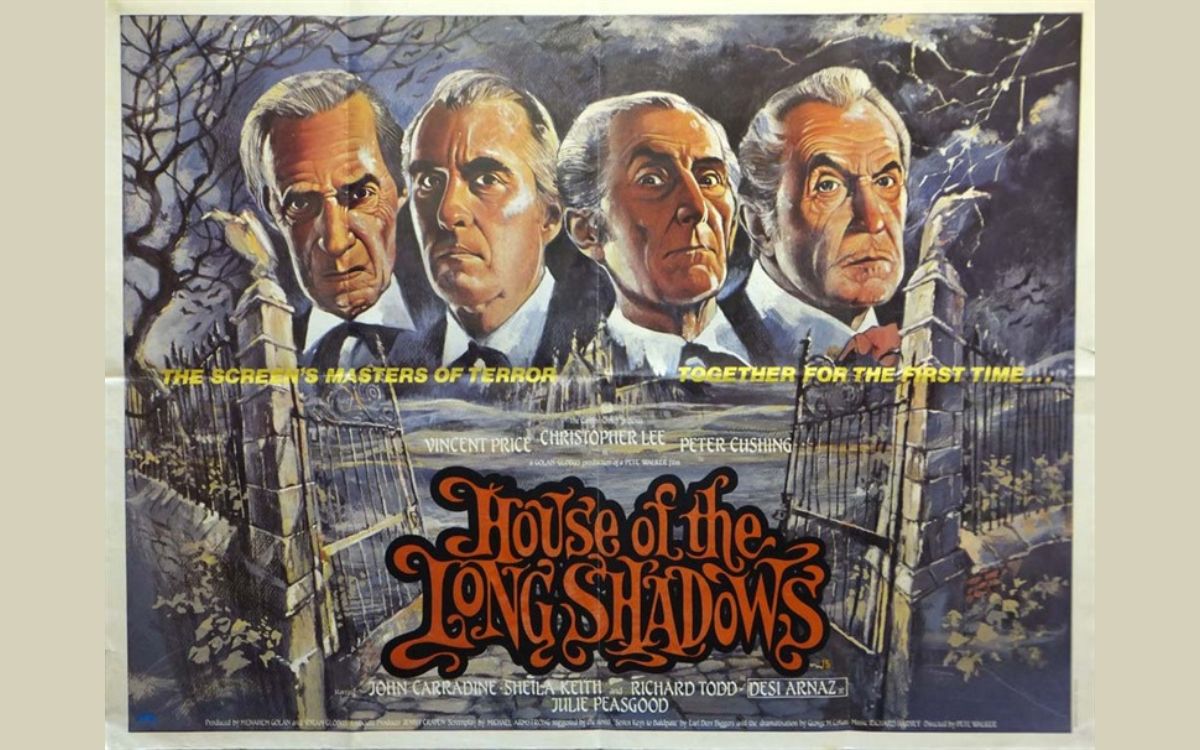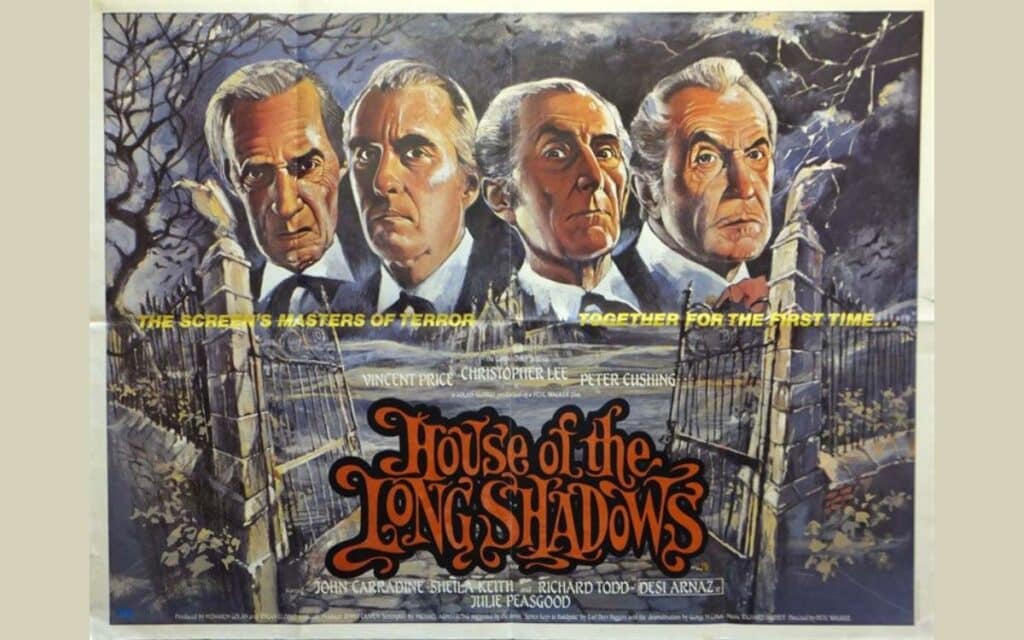 TITLE: House of the Long Shadows
RELEASED: 1983
DIRECTOR: Pete Walker
STARRING: Christopher Lee, Peter Cushing, Vincent Price, John Carradine and Desi Arnez Jr
Universal Studios in the forties made what is now called "Monster Rally" films where several monsters were teamed. Most fans know them and have a deep affection for them. Unfortunately, these plus the accompanying Abbott and Costello meet Frankenstein (1948) marked the end of the Universal Studio Monster cycle in theatres. Fitting into the mould (no pun intended) for those familiar with House Of Dracula (1945), we have House Of the Long Shadows (1983)
Billed as a comedy horror, this film directed by Pete Walker is notable because four iconic horror film stars are Vincent Price, Christopher Lee, Peter Cushing and John Carradine.
Like many of these films, in what I call the transition period from the subtler style to graphic horror, the film story is unimportant since it is often flawed with holes. Michael Armstrong, who had directed the notorious Mark Of The Devil (1970), ended his directorial career. Director Pete Walker emerged from a Soho sleaze background to the likes of Frightmare (1974) and Schizo (1976} among other credits. The two must have thought, what am I doing with these four aging horror stars and Desi Arnez Jr in this throwback to a forties mystery?
The More The Merrier
Kenneth Magee (Desi Arnez Jr) is an arrogant young writer who bets his publisher (Richard Todd) $20,000 that he can write a novel of the calibre of a literary Gothic romance in 24 hours. To get in the mood for the undertaking, he rents a deserted house in Wales for the weekend. Magee believes the house is empty only to find Lord Grisbane (John Carradine] and his daughter, Victoria (Shelia Keith) maintaining the mansion.
As the usual stormy night progresses, more people come to the mansion, including Lord Grisbane's sons Lionel (Vincent Price) and Sebastian (Peter Cushing), Magee's publisher's secretary, Mary Norton (Julie Peasgood), and Corrigan (Christopher Lee) who is going to buy the property and tear it down.
Naturally, there are secret passages, family sniping, hidden secrets, a romantic entanglement and death with poison all before Magee finishes his book while having a character epiphany moment. The fun in the film is watching and listening to these actors on the screen.
If you can get past Desi Arnez Jr, who was the son of Lucille Ball and Desi Arnez Sr, trying to play tough with his boyish looks and smiley face, he simply comes across as the 'Ugly American' who looks down at his hosts and people in the film until the end.
This could have been the case as Magee is an action hero as Americans tend to portray themselves in a film of this nature, he looks one-dimensional.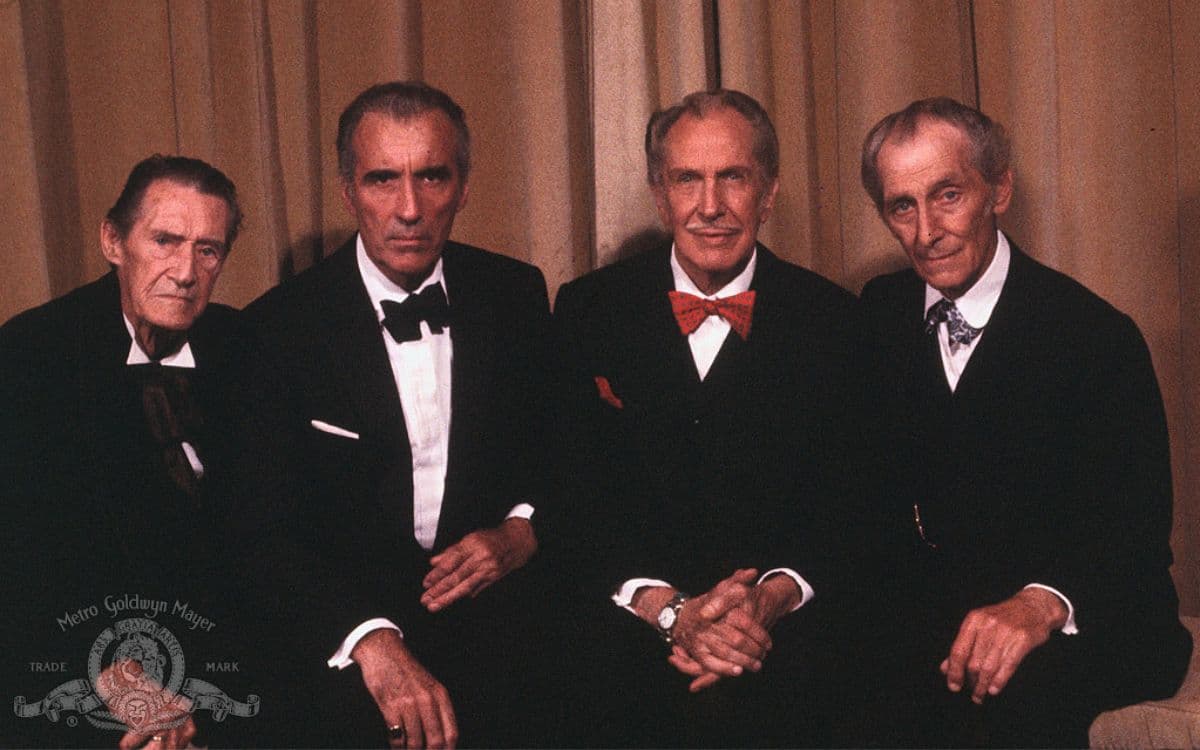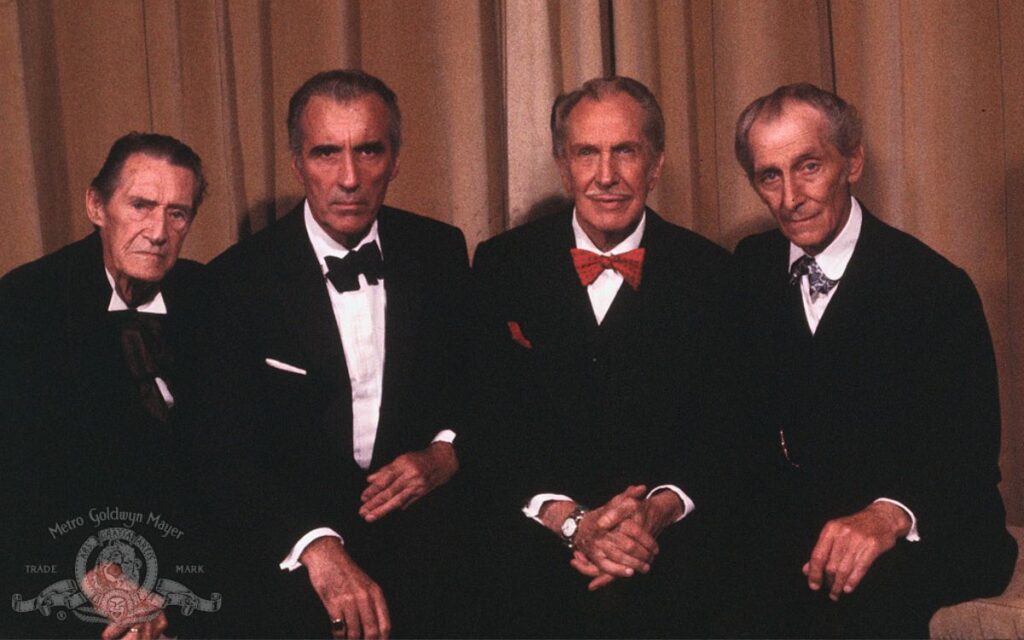 The Loosy Show?
The real joy for the audience that knows is the interaction of the Horror icons. A visibly-aging Peter Cushing is brilliant as the meek Sebastian, complete with a speech impediment that is tastefully handled. Mannerism, movement on screen and Cushing's voice and eyes all do his justice in what becomes an ensemble piece. Christopher Lee looks and sounds at times like Dracula with his stare and choice of wardrobe.
The delight is we get to hear that magnificent voice used in speeches of thunderous arrogance. Vincent Price chews his dialogue well harkening back to his characterisations in Roger Corman's Poe films, particularly Rodrick Usher.
John Carradine does what he has always done in any of his films and that supports these people and adds to the atmosphere of the show with well-placed speeches. Carradine's voice is in fine form despite his also visibly-aging body. His face with the proliferation of lines gives his unique authority to move, to make threats and be himself.
Requiem
House Of Long The Shadows (1983) features a dysfunctional Welsh family that has secrets in locked rooms similar to James Whale's The Old Dark House (1932) without the subversive style and wit.
Similar in sentiment to the Route 66 teaming of the monsters in Lizards Leg And Owlets Wing in 1962 on television, which was the end for the Universal Studios cycle and style. Fans in the eighties and today will enjoy seeing the four horror stars in what proved to be their only appearance together on the big screen as they weave, threaten, and expound in an eternal haunted house where they are familiar friends or fiends.
Tell us your thoughts on House of the Long Shadows 1983 in the comments section below.
Watch House of the Long Shadows 1983 Trailer below