Reading Time:
4
minutes
Who is your favourite Dracula? The Spooky Isles talks to horror film historian Alan Frank about the merits of two leading contenders for the King of the Vampires – Christopher Lee and Bela Lugosi.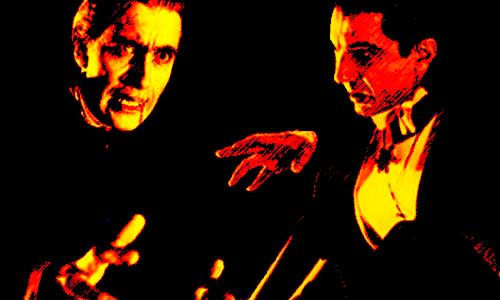 The Spooky Isles is a British website, so when you ask your readers who is their favourite Dracula – the answer is kind of skewed.
A recent poll taken on our Facebook site revealed over 65% said Christopher Lee was their top Transylvanian bloodsucker. Poor old Bela Lugosi, the original vampire, was lucky to get 30% of folk saying he was fab. And don't even ask about Gary Oldman or the countless other actors who donned the fangs and cape. They barely rated a mention.
Home town advantage put aside, why was Christopher Lee such a popular Count Dracula?
We asked Alan Frank, veteran film reviewer and prolific horror and science fiction book author, his opinion of the Lee/Lugosi divide.
"Dracula (1958), without a doubt is the best," Alan says matter of factly. "I had the luck to see the film when it happened (at the theatre back in 1958). It was quite extraordinary.  You might have seen the old Dracula, but this was full of atmosphere and it's impeccably acted.  Terry (director Terence Fisher) learned one thing, which was to do it straight. For the time of the century, it's brilliantly done. "
Alan believes Christopher Lee will long be the reigning champ.
"Chris Lee has got a very good voice. If you're going to be bitten by Dracula, you want someone who (deepens his voice to sounds like Christopher Lee) "speaks like this".
"Lugosi has the foreign accent that's comic. I talked to people who saw Lugosi on stage here in the 1950s.  They say it was a comedy performance because he was sending himself up as Bela Lugosi (Alan impersonates Lugosi) – 'I'm going to come and get yoooou!'  He's on stage, by that time he must have been bored shitless. Lugosi needed the money."
So maybe Lugosi was the reason for his own downfall – his original reluctance to take on other horror characters originally following the success of Dracula (1931) meant he was pigeonholed and forced to send up and destroy his own creation.
Hammer's Dracula was different. The blood and bare flesh made Dracula sexy and Christopher Lee rode the wave of Hammer success.
Despite the decline in sequel quality into the 1970s, Christopher Lee is still seen as a bad-ass vampire, whereas Bela Lugosi, who defined the archetypal Count Dracula, is now seen as a comic buffoon.
I personally would argue that Christopher Lee, while charismatic and a brilliant actor, wasn't really given a lot to do in Hammer's Dracula or their endless sequels. Lee had a few lines in the first 20-odd minutes of Dracula (1958), then spent the next 15 years snarling and sneering like a feral cat.
Lugosi's subsequent Dracula outings in films like Abbott & Costello Meet Frankenstein (1948) notwithstanding, I believe Dracula (1931) still stands up as a fine horror film.
We tend to see Lugosi as a comic version of himself but just remember him standing on the steps of his castle and the uncomfortable silence as he greets Renfield: "I am Dracula", he says. It is chilling and a great moment in horror history. There was nothing comic about that scene and we should all remember him for that.
With all the talk about Lee versus Lugosi, Alan Frank mentions another Dracula that should be given his credit – Max Shreck's iconic rat-like vampire in FW Murnau's silent film Nosferatu (1922).

The film was unauthorised and the filmmakers had to change names and plot to escape copyright infringement, hence why "Count Orloff" travels to Germany and not England. The film was the first time Dracula was filmed in any kind of way and Alan believes it is compulsory viewing for anyone who wants a spine-chilling experience.
Alan says:  "Nosferatu is something different. Nosferatu is genuinely eerie, genuinely creepy.  You never hear him. The thing about silent movies is, you're doing all the work. They're doing the montage, but they're speaking in your head.  You read them in your own voice.  He's not Dracula as you know him.  Even with Lugosi, he tends to find nubile young woman and nibble them. Nosferatu's just plain creepy, and that's what makes him interesting."
I may be the lone voice in the wilderness in my support for Bela Lugosi but I am glad there is one horror icon who played Dracula both me and Alan can agree on. Says Alan: "Vincent Price was a good Dracula. People forget that. He played it once, in The Muppets!"
Who do you think was the best film Dracula – was it Christopher Lee, Bela Lugosi or maybe someone else? Please comment below to let the world know which Count Dracula you support