Reading Time:
6
minutes
"Supper with the Stars with your host Vincent Price" is a new book that mixes old Hollywood glamour with delicious recipes. DAVID SAUNDERSON talks to co-author Peter Fuller about his latest Vincent Price project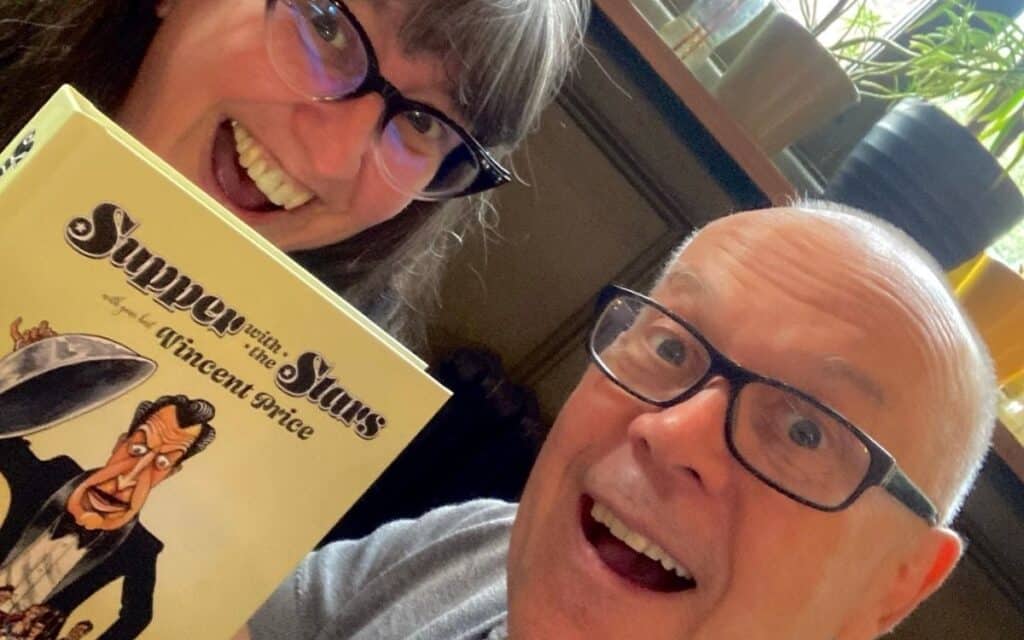 Peter Fuller "Supper with the Stars" Interview
Spooky Isles: Can you tell us how the idea for the book came about? 
Peter: It all began back in 2015. I had just put on a successful week-long series of events in London celebrating the life and career of Vincent Price. I had asked Jenny Hammerton, who runs the Silver Screen Supper website, to help me source some dishes that we could serve up at one of the events: a presentation by Vincent's daughter Victoria at the St Barts Pathology Museum.
Jenny has amassed a vast collection of celebrity recipes. She is also a big fan of Vincent's 1960s cookbooks A Treasury of Great Recipes and Come Into the Kitchen and his Cooking Price-Wise TV tie-in (which she has used so often it's almost falling apart).
We became great friends, and at a Vincent Price-themed lunch at hers one weekend, I was going through her recipe collection and recognised loads of famous and not-so-famous actors and actresses who had co-starred with Vincent at one time or other during his 50plus-year career.
Then came the light bulb moment: why not a cookbook feature these co-stars? Jenny thought it a terrific idea and added that we should pair the co-star dishes with ones from Vincent's cookbooks.
So the concept was born to fuse food, film history and Vincent Price. Now, Vincent made over 100 films spanning all manner of genres, so I decided on 52 – that way, you could prepare a two-course meal before settling down to watch a classic Vincent Price film.
So when did you start putting Supper with the Stars together?
It became my lockdown project. Quite by chance, I had taken voluntary redundancy from my publishing job after 27 years just as the Covid-19 pandemic began.
Being at home, with no prospect of securing another job at the time, meant I could concentrate on writing the film reviews and co-star biographies, sourcing all the pictures, and creating a design concept for my designer to execute.
I also engaged a talented young illustrator Ben Wickey (who is based in the US), to create 52 caricatures of the co-stars alongside four of Vincent (to capture a particular period of his film career). It kept me grounded throughout a challenging time. 
The caricatures have a Charles Addams/Edward Gorey vibe. Was that why you asked Ben to do them?
Yes, exactly! I had first seen Ben's work in his 2018 stop-motion short The House of the Seven Gables, which not only included a puppet based on Vincent Price but also featured one of Vincent's co-stars, David Frankham (who appeared in Return of the Fly, Master of the World and Tales of Terror).
All three films feature in the cookbook, and David kindly sent us a great pudding recipe.
It's more than a cookbook because there's a real insight into Hollywood's most celebrated lives. I knew Vincent Price had a long and colourful career, but it's only with this book that shows how many fantastic co-stars he had! Who were your favourites, and what did you learn about them in making this book?
The roll-call of co-stars includes screen legends Bette Davis and Ava Gardner, Hollywood heavyweights such as Robert Mitchum, plus horror icons and British greats, including Boris Karloff, Terry-Thomas and Dame Diana Rigg, character actors, such as Elisha Cook Jr and even Elvis.
But there are some co-stars which many people may not be familiar with, and they are my favourites. One example is Nan Grey, who appeared in three films with Vincent at Universal, including The Invisible Man Returns. She became the inventor of a cosmetic mirror for the near-sighted, and one of her customers was Princess Grace of Monaco. 
How did you find the recipes for this book?
Once we decided on the 52 co-stars, Jenny had the immense task of selecting the right ones from her collection, which she found in old Hollywood and women's magazines, newspaper columns and celebrity cookbooks. Then we had to go through Vincent and Mary's cookbooks to pair them up.
We  were also lucky to have some recipes sent to us personally. Alongside David's Late Summer Pudding, Return of the Fly's Brett Halsey sent in his Corn Pie dish, Tomb of Ligeia's Elizabeth Shepherd offered a Rabbit Stew, and Valli Kemp (AKA Vulnavia in Dr Phibes Rises Again) gave us her Lamb Shanks recipe.
There are over 104 recipes. Did you and Jenny test them all?
One of the unique aspects of this cookbook is that we had over 75 foodie film fans worldwide helping us do the testing. Jenny was in charge of overseeing that through her Silver Screen Suppers website.
Everyone chose a dish or two, tried it out themselves and with their families and friends, then sent in their verdicts. Their stories brightened the book's heart because they all highlighted how each tester was dealing with the pandemic and lockdown at the time, and everyone felt the challenge helped them during that difficult time. 
What was your favourite recipe?
During the lockdown, I must have tried around 85% of the dishes that you'll find in the book. But the ones that have become my go-to's are Peter Cushing's Beetroot and Onion Supper Special, Robert Quarry's Priceless Bread Pudding (a recipe that Vincent gave to him) and Jane Russell's Green Pepper Steak.
Of Vincent's recipes, I often make his Chilli, House Bread and Guacamole. Speaking of which, we've also included Boris Karloff's version so everyone at home can do a Guacamole challenge.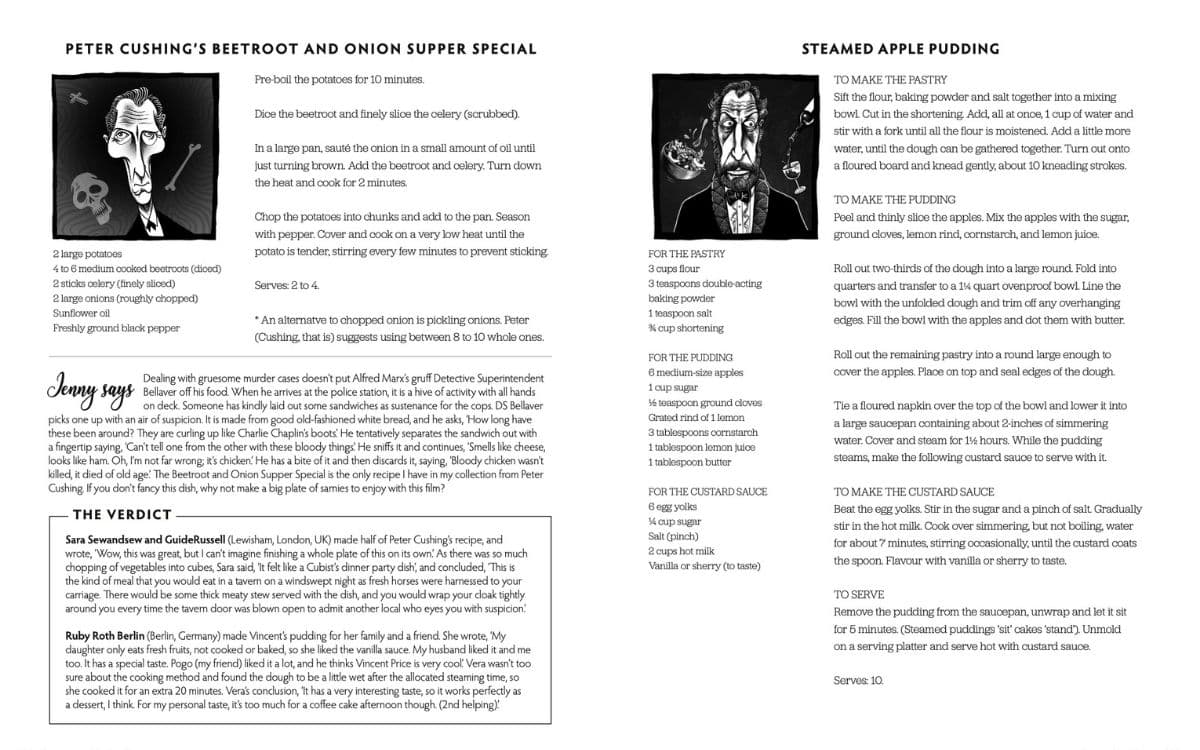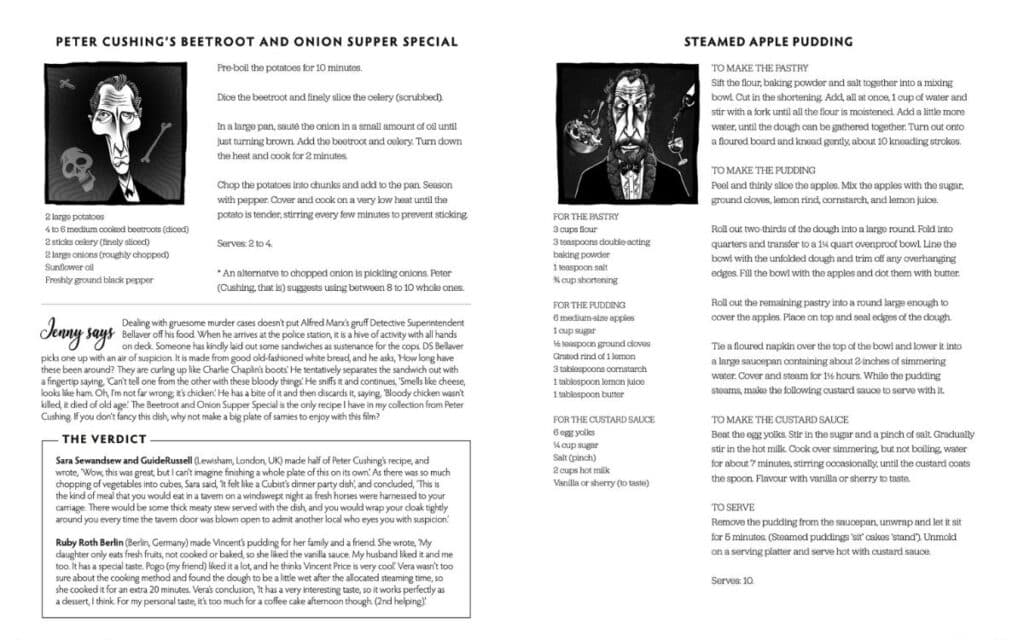 How has the response been to the cookbook?
I've been bowled over. We had a London book launch at the famed Phoenix Arts Club in the West End where I showed two episodes of Vincent's 1971 British TV series, Cooking Price-Wise, alongside clips from his films where food and drink play an important role (including, yes, the poodle pie scene from Theatre of Blood).
We also had Victoria beaming in live from the US to watch it. Everyone loved the event, and once they held the book in their hands, they realised it was no ordinary cookbook. The feedback has been marvellous, especially on social media.
On the Vincent Price Legacy UK Facebook group, Andrew Llewellyn (who some Spooky Isles readers may know from his stories in The BHF Book of Horror Stories) wrote an excellent note, which sums the book up perfectly: "It's not only a fabulously funny recipe book, but also a sumptuously illustrated treasure trove of wonderful images and filmic information! Looking forward to working my way through this beautifully designed tome…"
How can people get a copy of the book?
We only had 250 copies of the hardback printed, and over 150 have been sold. UK residents can get a signed or unsigned edition at: https://www.vincentpricelegacy.com/shop If you are based anywhere else, then head over to: https://www.vincentpricelegacy.uk/for-sale/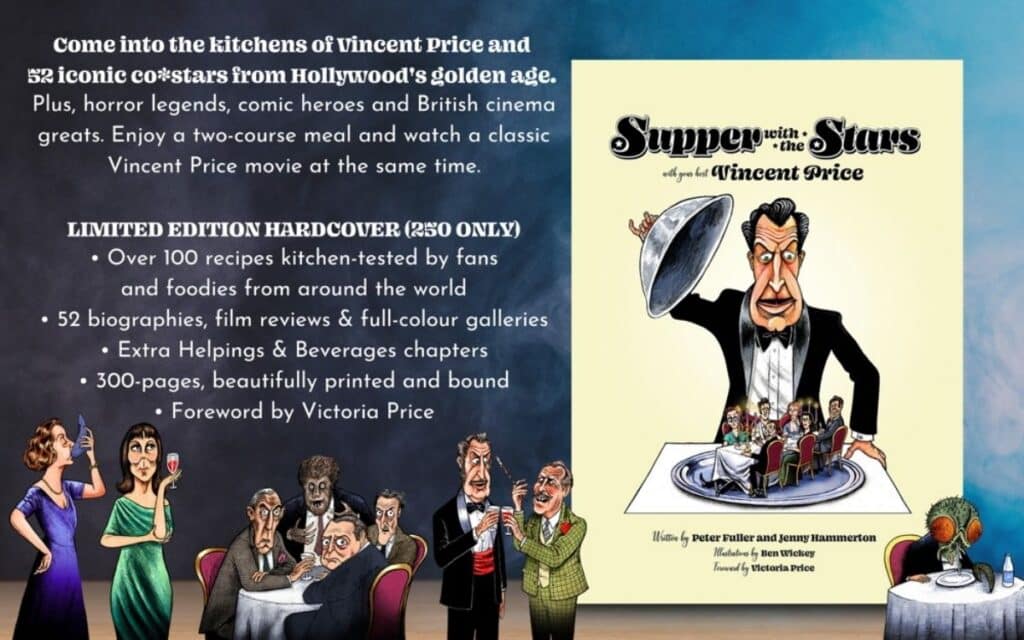 Will you do another print run of Supper with the Stars?
I only intended to do a limited edition print run of the hardback edition, which includes the full-colour galleries featuring rare lobby cards, posters and production stills, plus a lovely purple marker ribbon. We have had loads of enquiries from as far away as Argentina, but the cost of overseas postage is quite expensive. So I am looking at producing a print on demand softcover version, minus the galleries.
You've come a long way since you started the Vincent Price UK Legacy website, you host fabulous tours in the UK and the US – and have staged events here in London, like the Theatre of Blood locations tour at Kensal Green Cemetery. Now you have produced this excellent book – what's next?
There are a few things in the pipeline. Victoria and I are currently redesigning the official Vincent Price website and creating a new one, VP Culture, which will host all our tours and public events. We are aiming to launch these in the New Year.
Over the winter, we will be resuming our popular zoom events, but as for our live tours and my walking tours, it's all down to how long this pandemic lasts.
So, if we do find ourselves in another lockdown, then maybe I will start work on a follow-up cookbook. I was thinking about doing one on Vincent's TV career. Another project I am also working on is getting Cooking Price-Wise out on DVD/Blu-ray, so watch this space!
You can find out more about Supper with the Stars on the Vincent Price Legacy website and on Instagram and Facebook.
Watch Vincent Price cook a fish in a dishwasher!