Reading Time:
3
minutes
Tomb of Ligeia 1964 – directed by Roger Corman in England – reviewed by ADAM SCOVELL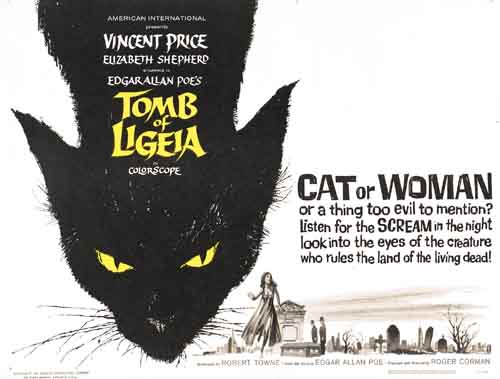 TITLE: Tomb of Ligeia
YEAR RELEASED: 1964
DIRECTOR: Roger Corman
CAST: Vincent Price, Elizabeth Shepherd and John Westbrook
Tomb of Ligeia Review
Roger Corman's adaptations of Edgar Allan Poe's short stories are just as vital to the classic horror canon as the films by Hammer and Amicus productions. 
Their influence is vast and the number of big names to come out from under Corman's wing is monumental.
Having set up a distinctive style to filming Poe's work by shooting them all on soundstages, Corman sort to go against his self-imposed restrictions and use location work to create Poe's world for his final adaptation of his work.
The Tomb of Ligeia takes full advantage of its British location and comes out looking extremely similar to a Hammer Horror.
This sets it apart in some ways from its cousins which often look sickly but wonderfully so.
The bright colours of The Pit and the Pendulum and Fall of the House of Usher are toned down by the film stock taking in the natural light meaning it simply isn't as visually as distinctive as the other Poe films.
There is however the inclusion of Corman's obligatory dream sequence which looks as heady and disorientating as usual.
Vincent Price takes the lime light as the tortured and layered character that is Verden Fell.
Vincent Price brings seriousness to Tomb of Ligeia
Price brings seriousness to Corman's films that make them far more plausible than they probably are.
However, with the colours toned down in Tomb of Ligeia, the action seems far more in fitting with a period drama and Fell could easily be a creation of Austin of Bronte.
Verden has lost his wife and is a light sensitive character straight out of Dickens or some other English Gothic novel.
With increasingly strange occurrences surrounding his life and that of his new love Rowena (Elizabeth Shepherd) it starts to appear that Ligeia isn't as dead as she first appeared…
There are several twists in the film, most dramatically the ending which does recall the tragic conclusions of Pit and the Pendulum (even using the same stock footage of a burning wooden building) but there's something distinctly lacking when compared to Corman's other work.
The use of a demented and vicious cat throughout the film seems more symbolic of Verden's previous relationship than anything actually justified by the narrative.
The location work and theme around fox hunting is well executed and something Hammer would also deploy well in their version of Hound of the Baskervilles, yet it seems Corman's experimentation only half paid off.
The Tomb of Ligeia is still a great film for fans of both Corman and Hammer Horror.
However those expecting more brilliance like The Masque of the Red Death should perhaps leave this dark and brooding instalment till last when first watching Corman's Poe films.
Vincent Price alone justifies a viewing (as he often does with even average films like The Bat becoming popular due to his casting) and no one plays the role of the tortured but dangerous lover quite as well as Price does.
Watch us talk Tomb of Ligeia on Spooky Isles
Did you enjoy Tomb of Ligeia 1964? Tell us about it in the comments section below!