Reading Time:
3
minutes
The Invisible Man Returns 1940 was Vincent Price's first starring role. PETER FULLER reviews the classic.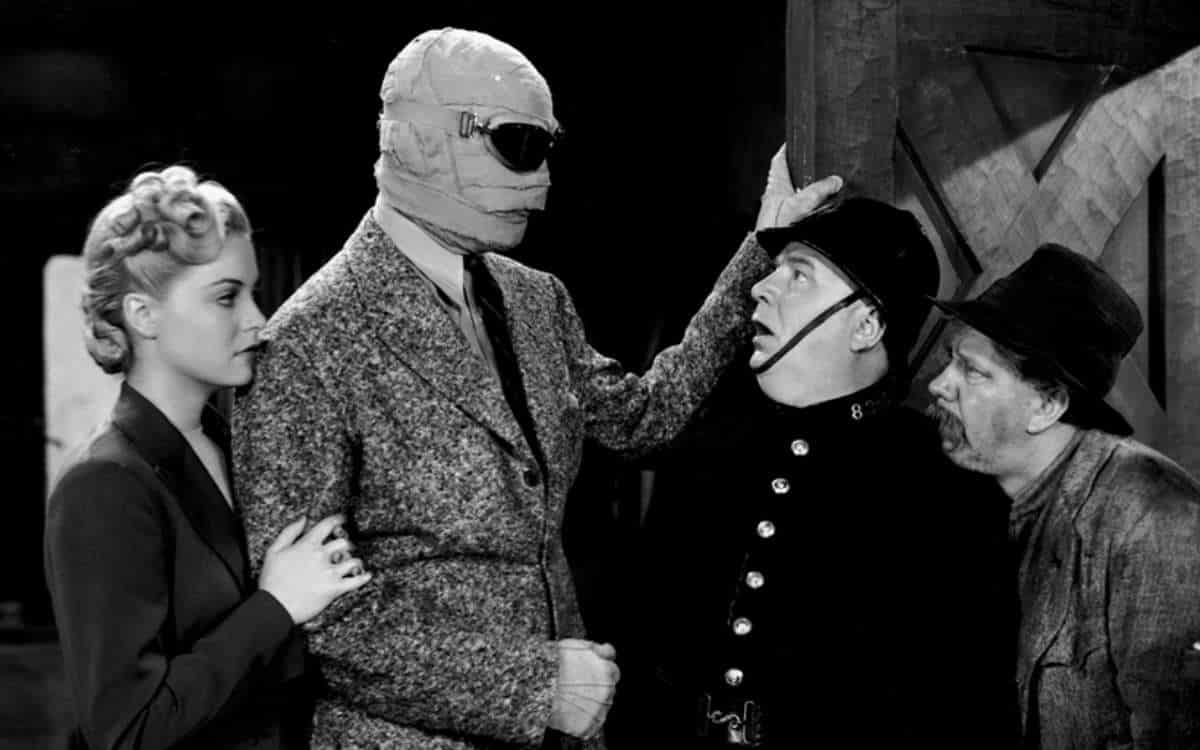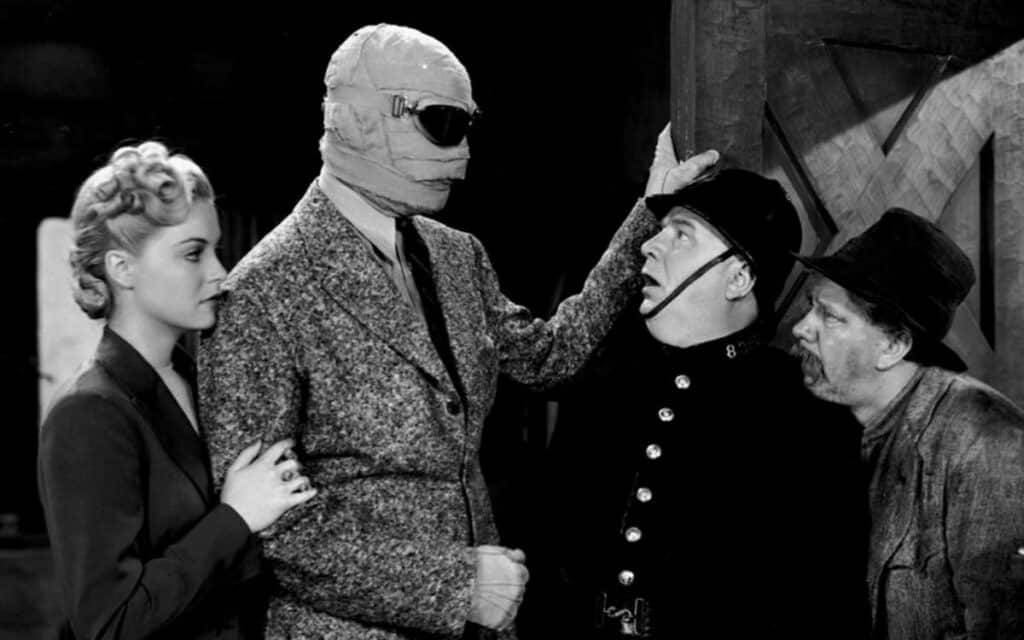 TITLE: The Invisible Man Returns
RELEASED: 1940
DIRECTOR: Joe May
CAST: Vincent Price, Sir Cedric Hardwicke, Nan Grey, John Sutton, Cecil Kellaway
The Invisible Man Returns 1940 Review
A Potent Drug Made Him INVISIBLE but insane!
Condemned to hang for murdering his brother, Sir Geoffrey Radcliffe (Vincent Price) turns to Dr Frank Griffin (John Sutton), the brother of the original Invisible Man, who injects him with an invisibility serum to allow him to escape prison.
Making his way to a remote cabin, Radcliffe joins fiancée Helen (Nan Grey) and tells her that time is at the essence for him to find the real killer because the drug will soon turn him violent and insane unless Frank can find an antidote.

At a coalmine owned by Geoffrey's family, Radcliffe uses his invisibility to scare arrogant recently promoted employee Willie (Alan Napier) into revealing that his cousin Richard Cobb (Cedric Hardwicke) is the real killer.
With his mental state rapidly deteriorating and Scotland Yard's DI Sampson (Cecil Kellaway) hot on his tail, our invisible fugitive finally gets Cobb to confess before pushing him to his death down a coal car, before heading back to Frank's lab, where he is giving a life-saving blood transfusion that also gives him back his visibility…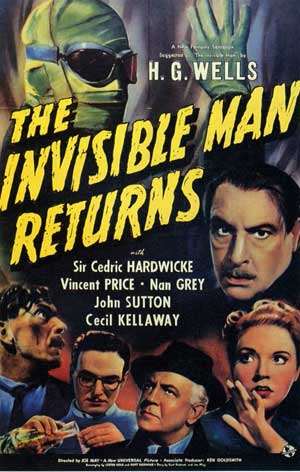 HG Wells' Fantastic Out of This World Show!
1940's The Invisible Man Returns was the first of four sequels to James Whales' 1933 classic based on HG Wells' original story, and features a 29-year-old Vincent Price in his first starring role.
Despite its modest $270,000 budget, Universal's sequel is a classy affair, boasting some fine monochrome cinematography from Milton Krasner (who'd gone on to win an Oscar for 1954's Three Coins in the Fountain), a lush romantic Salter and Skinner score, and John P Fulton's inventive Oscar-nominated special effects that actually surpass the groundbreaking effects he created in the original. The highlights include eyes that see inside of a bandaged head, Price putting on the clothes of a scarecrow, and invisible guinea pigs scampering about their cage wearing leather harnesses.
The screenplay, however, is pretty predictable and a tad dull. It's too bad really, as one of the film's four writers was Curt Sidomak (here credited as Kurt), who is best known for the genre classics The Wolf Man (1941) and Donovan's Brain (1953). Probably a case of too many cooks…
The best thing about the film, however, is Vincent Price – in his first 'horror' film role. He might get second billing, but he's the real star of the show and, like Claude Rains in the original, uses his mellifluous, theatrically trained voice to the full.
Being invisible throughout, except in The Invisible Man Returns' final sequence, Price relies solely on 'that' voice to maintain a sense of sympathy for his character while conveying the deterioration of his mental state which moves from being the humorous optimist: 'I can always get a job haunting a house' to excitable egomaniac: 'Free, I am free! I've never been more free in all my life!'
It's a fine balancing act that Price performs with aplomb, making this – the last of Universal's truly great horror classics – a fine introduction to the future king of horror. 'Drink to my invisible power… with me as its guiding genius!'
What did you think of The Invisible Man Returns 1940? Tell us in the comments section below!
Watch The Invisible Man Returns 1940 Trailer