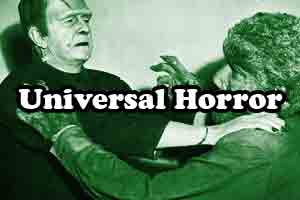 Universal Horror articles on Spooky Isles
HEATHER ANDOLINA takes a look at The Wolfman 2010, the remake of the classic Universal lycanthrope horror
Una O'Connor's shrieking is familiar to anyone interested in Universal Horror. TERRY SHERWOOD looks at the Belfast-born actress behind the screams
TERRY SHERWOOD surveys the horror career of Manchester-born Universal Horror player George Zucco, in his latest Sherwood After Dark
Lizard's Leg and Owlet's Wing saw Boris Karloff, Peter Lorre and Lon Chaney Jr guest star in popular 1960s TV drama Route 66. TERRY SHERWOOD takes a look at the episode for Sherwood After Dark.
Frenzy 1972 sees Alfred Hitchcock returning to his Jack the Ripper roots, says RICHARD PHILLIPS-JONES
Guest writer KEVIN NICKELSON explains how Abbott and Costello Meet Frankenstein made film history
RICHARD PHILLIPS-JONES celebrates the 60th anniversary of Hammer's Dracula UK premiere by unearthing 13 interesting facts around its production and release…
Hammer's Dracula (1958) celebrates its 60th birthday. RICHARD PHILLIPS-JONES looks back on its initial release and impact.
Guest writer MATTHEW E BANKS reveals a strange tale from Bela Lugosi's past in Hungary
RICHARD PHILLIPS-JONES reveals The Old Dark House aka what director James Whale did after 1931's Frankenstein...
Boris Karloff and Bela Lugosi's second collaboration, the Edgar Allan Poe-inspired The Raven (1935). Review by RICHARD PHILLIPS-JONES.
RICHARD PHILLIPS-JONES looks at The Black Cat 1934, the first encounter between Boris Karloff and Bela Lugosi!!
RICHARD PHILLIPS-JONES looks back on Mel Brook's horror comedy Young Frankenstein 1974
As Mel Brooks' stage musical Young Frankenstein makes its London debut, RICHARD PHILLIPS-JONES presents fun facts about the original 1974 horror comedy.
British talent was behind most of the legendary Universal Monsters of the 1930s and 40s. DAVID SAUNDERSON tips his lid to them.
The arrival of some of Universal's most beloved horror movies on Blu-ray is a mixed blessing, says RICHARD PHILLIPS-JONES
RICHARD PHILLIPS-JONES commemorates a great horror season from his youth - 30 years ago this week!
Just in time for Halloween, RICHARD PHILLIPS-JONES introduces "An Evening with Boris Karloff and His Friends"
House of Dracula 1945 reviewed by SIMON BALL
RICHARD PHILIPS-JONES would like to introduce you to the most frightening of beasts on film - British Werewolves!
TERRY SHERWOOD reviews Frankenstein Meets the Wolf Man 1943
TERRY SHERWOOD reviews Universal Horrorfest. House of Frankenstein (1944)
PETER FULLER reviews the classic 1940 The Invisible Man Returns with Vincent Price in his first starring role
Son of Frankenstein 1939 was one of Universal Studio's last great horrors, says DAVID SAUNDERSON