Titans of terror Boris Karloff and Bela Lugosi are pitted against each other for the first time. RICHARD PHILLIPS-JONES looks at The Black Cat.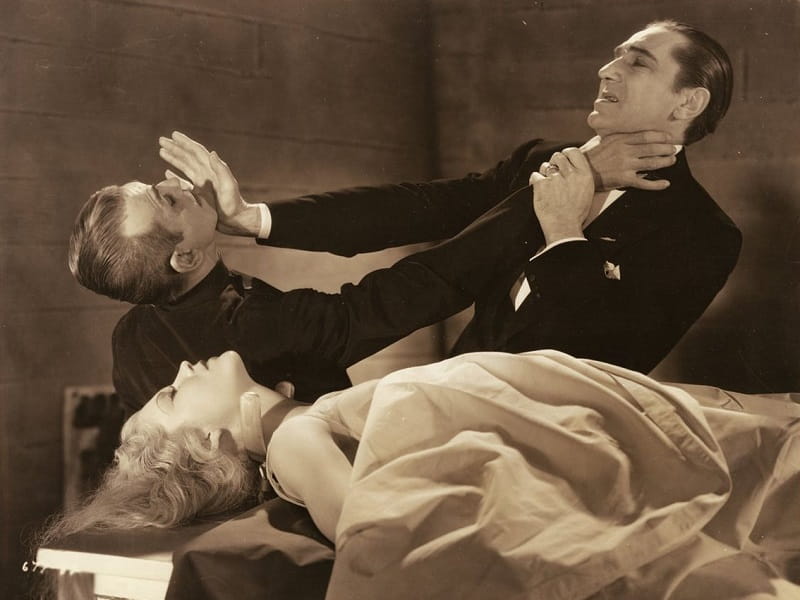 TITLE: The Black Cat
RELEASED: 7th May 1934
STARRING: Boris Karloff (Hjalmar Poelzig), Bela Lugosi (Dr. Vitus Werdegast), David Manners (Peter Alison), Jacqueline Wells (Joan Alison)
WRITERS: Edgar G. Ulmer and Peter Ruric (suggested by a story by Edgar Allan Poe)
DIRECTOR: Edgar G. Ulmer
An American couple (Peter and Joan Allison) are honeymooning in Hungary, and find themselves sharing a train compartment with a psychiatrist, Dr. Vitus Werdegast. Having spent 15 years in a Siberian prison camp, the doctor is on his way to visit Hjalmar Poelzig, who he describes as "an old friend".
The three transfer to a bus to continue their journey, and in driving rain the vehicle careers off the road and crashes, killing the driver. It seems fortunate that Poelzig's house is nearby, as Mrs. Allison is injured. However, it seems Dr. Werdegast hasn't been entirely honest about the reasons for his visit. Poelzig is far from a friend, a sadistic brute and the leader of a satan-worshipping cult to boot. Werdegast is seeking revenge for past evil deeds…
Any link to Edgar Allan Poe's story is pretty spurious, but no matter. This is an absolute cracker of a movie, unfolding in some kind of weird dream state and embracing necrophilia, torture and black mass along its route, not to mention (on Lugosi's part) a fear of cats. It hardly needs saying that it was one of the last horror films produced before the Hays production code came along and the Hollywood studios had to tread more carefully.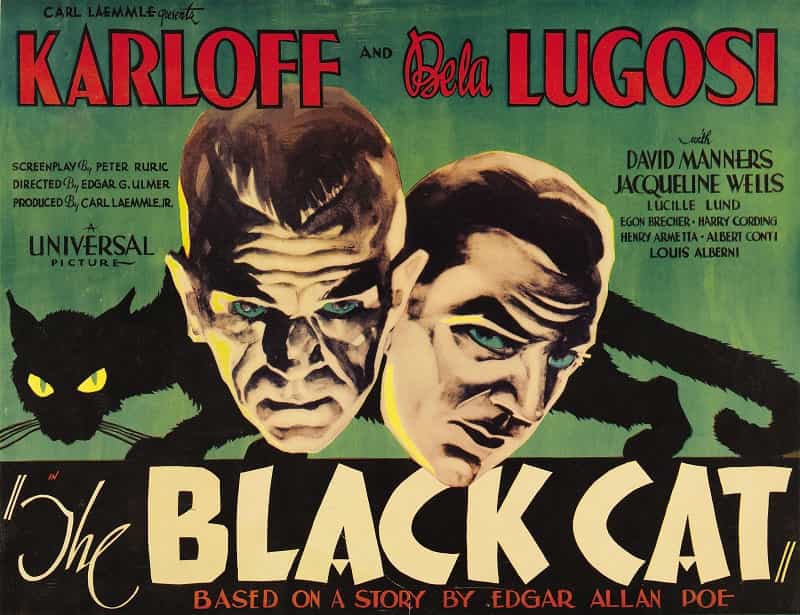 Edgar G. Ulmer's direction is, to be blunt, out there on its own tangent. It's no surprise to see such a strong expressionistic bent given Ulmer's cinematic roots as an art director in Germany (where he worked with Fritz Lang), but it's the seeming disregard for traditional narrative which is equally striking. Once the characters arrive at Poelzig's vast house, events just seem to enter their own realm of surreal logic until the survivors emerge from a finale which still has the ability to shock, even 80-odd years after the event.
In the first of eight films in which Karloff and Lugosi were paired, it's fantastic to watch the two play off each other in what is essentially a cat-and-mouse game of wits, with Lugosi refreshingly being the more sympathetic of the protagonists.
Quite unlike any other Universal horror film (although the company would seek to repeat the success with The Raven in 1935), The Black Cat is a real feast for the hardcore fan. If you've familiarised yourself with the acknowledged classics from the studio catalogue and are looking to delve deeper, start here.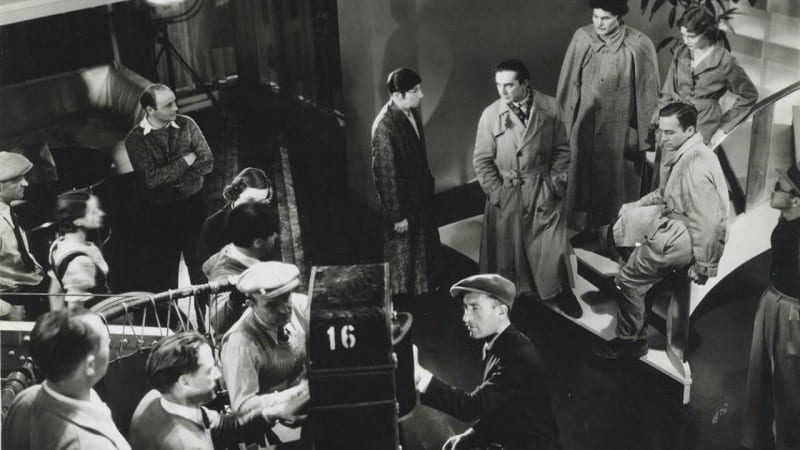 TRIVIA POINTS: Actress Jacqueline Wells later changed her stage name to Julie Bishop, after becoming a contact player with Warner Bros in 1941.
Boris Karloff is credited simply as Karloff.
The film was originally released in the UK as The House Of Doom.
A snippet of Lugosi's dialogue ("Supernatural, perhaps. Baloney, perhaps not") was later used in The Monkees' film and soundtrack album, Head (1968).
FOOTNOTES: The Black Cat was Universal's biggest box-office hit of 1934. You might think that Edgar G. Ulmer would have had a bright future ahead as a result. However, an affair with the wife of the nephew of Universal's founder and president, Carl Laemmle, led to Ulmer being effectively ostracised by the major studios. However, he married the lady in question and eked out a living in independent films and documentary shorts before re-emerging at poverty-row studio PRC in the 1940's. His cross-genre work from that point onwards has since garnered a considerable cult following.
Universal returned to The Black Cat for a 1941 film. Alongside Basil Rathbone and Hugh Herbert, Lugosi returned but his role was nothing more than a glorified supporting part, and he was given relatively little to do. Very much a haunted house/comedy yarn, modelled to cash in on Paramount's The Cat And The Canary (1939) and The Ghost Breakers (1940), it wasn't especially notable.
Watch The Black Cat 1934 Trailer
What did you think of The Black Cat 1934? Tell us about it in the comments section below!