Boris Karloff and Bela Lugosi's second collaboration, the Edgar Allan Poe-inspired The Raven (1935). Review by RICHARD PHILLIPS-JONES.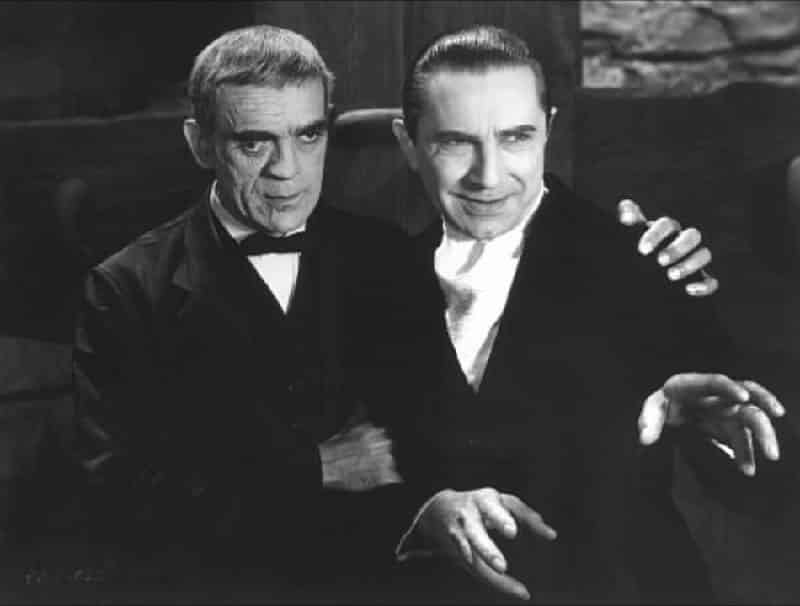 TITLE: The Raven
RELEASED: 8th July 1935
STARRING: Boris Karloff (Edmond Bateman), Bela Lugosi (Dr. Richard Vollin), Lester Matthews (Dr. Jerry Halden), Irene Ware (Jean Thatcher), Samuel S. Hinds (Judge Thatcher)
WRITER: David Boehm ("suggested by Edgar Allan Poe's immortal classic"))
DIRECTOR: Louis Friedlander (aka Lew Landers)
Dr. Richard Vollin is coaxed out of retirement by an influential judge, whose daughter is in a critical condition after a car accident. The surgery is successful, but Vollin becomes obsessed with her and intends to make her his wife.
When the judge objects to his intentions, Vollin recruits an escaped convict on the run named Edmond Bateman. Promising Bateman surgery that will change his features and make him unrecognisable, he instead distorts his features, telling Bateman that he will only put things right if he assists in getting rid of the judge.
As events gradually spiral out of control, the doctor becomes more and more deranged, and it appears that his love of Edgar Allan Poe extends beyond mere fandom – he has a Poe inspired torture chamber in the basement…
After successfully pairing Karloff and Lugosi in The Black Cat (1934), Universal were hungry for more. Despite being produced after the Hays production code became enforced in the US, this second teaming of its stars is still pretty strong stuff. Although not strictly based on Poe's classic poem, it does have nods to Poe scattered throughout.
Lugosi is reciting the poem early in the film, and Irene Ware is seen dancing in a ballet inspired by the same piece.
Then there's Lugosi's torture dungeon, with both pit and pendulum present and correct, amongst other Poe-inspired paraphernalia. Fans of the writer will enjoy plenty of reference-spotting.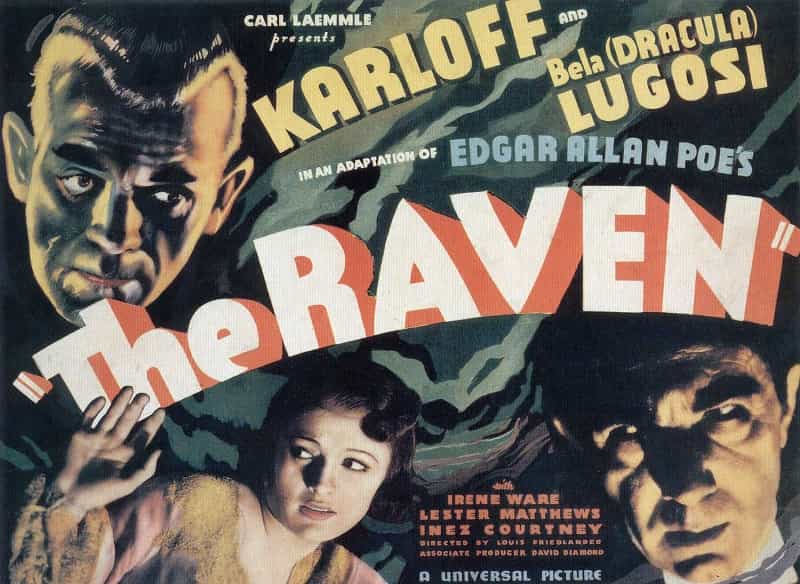 The Raven doesn't quite scale the heights of the star-pairing's previous collaboration, but there is still plenty to keep horror buffs gripped – a scene where a newly disfigured Karloff sees himself revealed in a row of mirrors and lashes out is especially memorable. Indeed, Karloff's sympathetic performance (despite only appearing about a quarter into the film) is a striking counterpoint to Lugosi's maniacal doctor.
The end result is a noteworthy film which deserves special mention for visually pre-empting Roger Corman's Poe series in some ways, but even putting that aside The Raven should be on the must-see list of any fledgling golden-age horror fan.
Trivia about The Raven 1935
Although Lugosi's was actually the lead role, Universal gave Karloff top billing.
Director Louis Friedlander changed his professional name to Lew Landers the following year, and embarked on a career as one of Hollywood's fastest working and most prolific directors. He would work with Lugosi again on Return Of The Vampire (1943).
Despite being conceived to capitalise on the success of The Black Cat (1934), The Raven was a box-office disappointment, and was partially (if unfairly) cited as a reason for a sharp decrease in horror film production over the next couple of years – for further detail on this, and on the enforcement of the Hays production code, I recommend Jim Ivers' excellent article, The Horror Film Hiatus of 1936-1938.
Watch The Raven 1935 trailer
Tell us your thoughts on The Raven 1935 in the comments section below!