Reading Time:
4
minutes
Lizard's Leg and Owlet's Wing saw Boris Karloff, Peter Lorre and Lon Chaney Jr guest star in popular 1960s TV drama Route 66. TERRY SHERWOOD takes a look at the episode for Sherwood After Dark.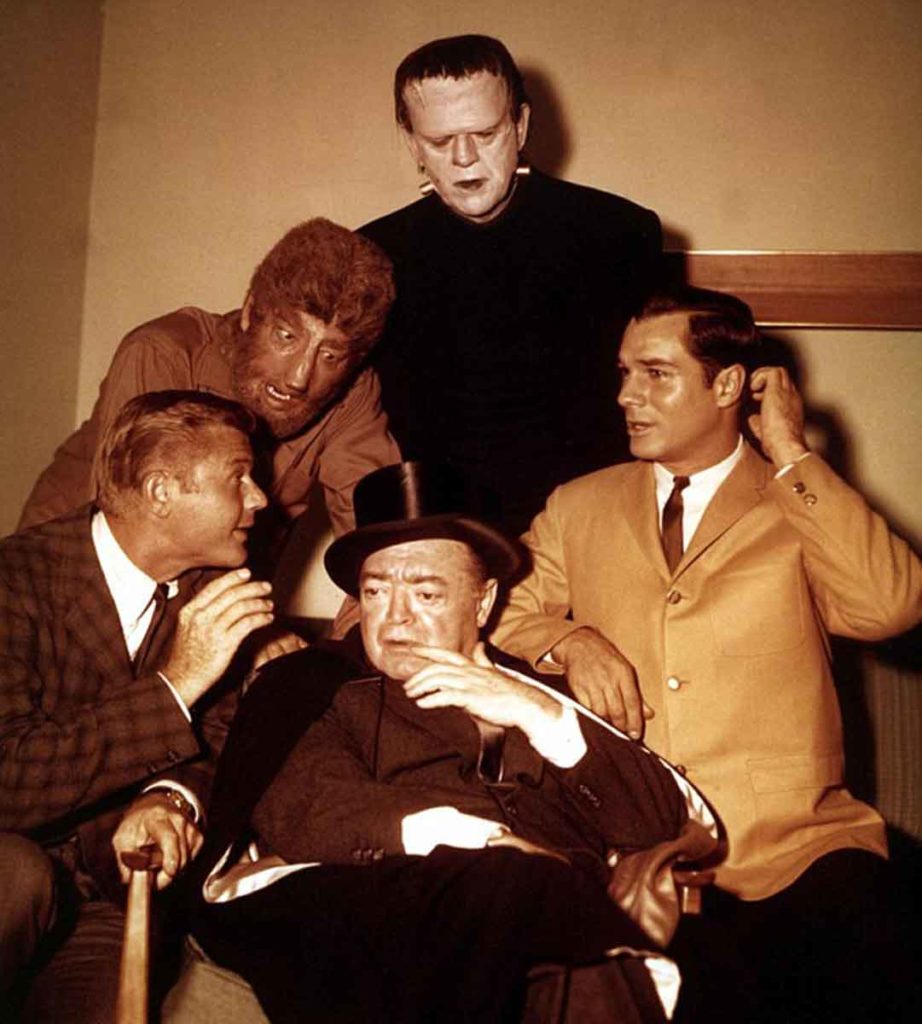 In 1962, Boris Karloff, along with Peter Lorre and Lon Chaney (who had dropped the 'Jr" from his name), came together to do an episode of the series Route 66 called Lizard's Leg and Owlet's Wing. The episode was broadcast October 26, 1962 as a sort of Halloween show. The program was broadcast without fanfare; later, it became a monster fan favourite and hailed as a high point of the series' run.
What was Route 66?
Route 66, which actually had nothing to do with the famous highway, followed two young men travelling the United States in a Chevrolet Corvette convertible.
The series combined anthology and drama each week, often with new cast and locations that followed the events and consequences surrounding their journeys.
Clean cut Martin Milner starred as Tod Stiles, a recent college graduate with no future prospects due to circumstances beyond his control. Buzz Murdock (George Maharis), meanwhile, was an orphan who had worked with Tod's father. The two symbolized the restless youth of the sixties trying to discover themselves and the true nature of their country.
On the Owlet's Wing and a prayer
Lizard's Leg and Owlet's Wing features series regulars Buzz and Tod each landing a job at Chicago's O'Hare Inn as, "junior executives in charge of convention liaison".
Tod ends up as liaison to the Gerenuk Society where he meets Peter Lorre. The Gerenuk is a creature similar to an antelope and is near extinction as explained by Lorre to a befuddled Tod.
Lorre arrives, sunglassed, in black hat and coat to the surprise of the hotel's front desk person who thinks he is a dead ringer for Peter Lorre.
Lorre has a lovely flair for deadpan comedy as he demonstrated in Roger Corman's The Raven (1963) and will show later in Comedy of Terrors (1963).
Todd learns that this mysterious "society" is a front for actors Boris Karloff, Peter Lorre, and Lon Chaney, Jr. Lorre wants to make new films in the old style.
Boris thinks that won't sell anymore and that they need to focus on contemporary horror foreshadowing his role of fading horror star Byron Orlock in the terrifying Targets (1968).
Monsters at the front desk
Boris Karloff has a wonderful entrance and he confronts Buzz from the corner of a long convention hall. Boris then shuffles forward, starring at the reacting Buzz, who is only able to smile.
Karloff befriends the lovesick secretary and solves her romantic problems. Karloff tells her employer, with whom she is in love, of this.
And when Boris Karloff calls you on the phone with those tones, one tends to listen and do his bidding.
Lon Chaney has some amusing scenes, especially when he's trying to frighten the lovelorn secretary while she appears oblivious to his Wolf Man makeup and ferocious growls. He also stalks the corridors of the hotel growling as the girls all faint to the floor.
Is my wig on straight?
For monster fans, the thrill of "Lizard's Leg and Owlet's, " is the opportunity to see Karloff in makeup as the Frankenstein Monster for the first time since 1939's Son of Frankenstein.
The mechanics of the makeup had changed. Gone were the methods of the unsung hero Jack Pierce.
Special makeup people Maurice Siederman and Ben Lane used plastic appliances and streamlined process for all the makeup.
The rubber nose aspect is particularity evident in Lon Chaney's Wolf Man makeup with its rather sloppy nose and cloth bound slippers he puts on for his feet.
The opening featured a Hunchback makeup similar to James Cagney in the contrived bio picture Man of a Thousand Faces (1957), in which Lon attempts to scare his grandson who is sleeping.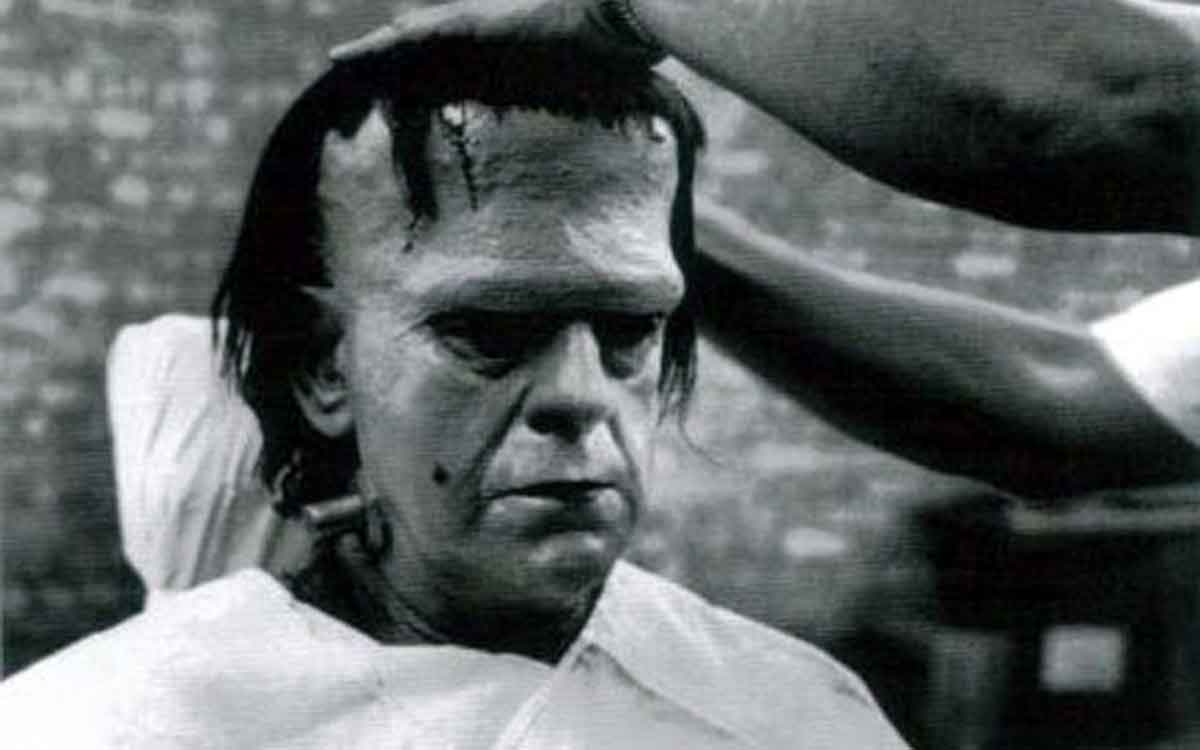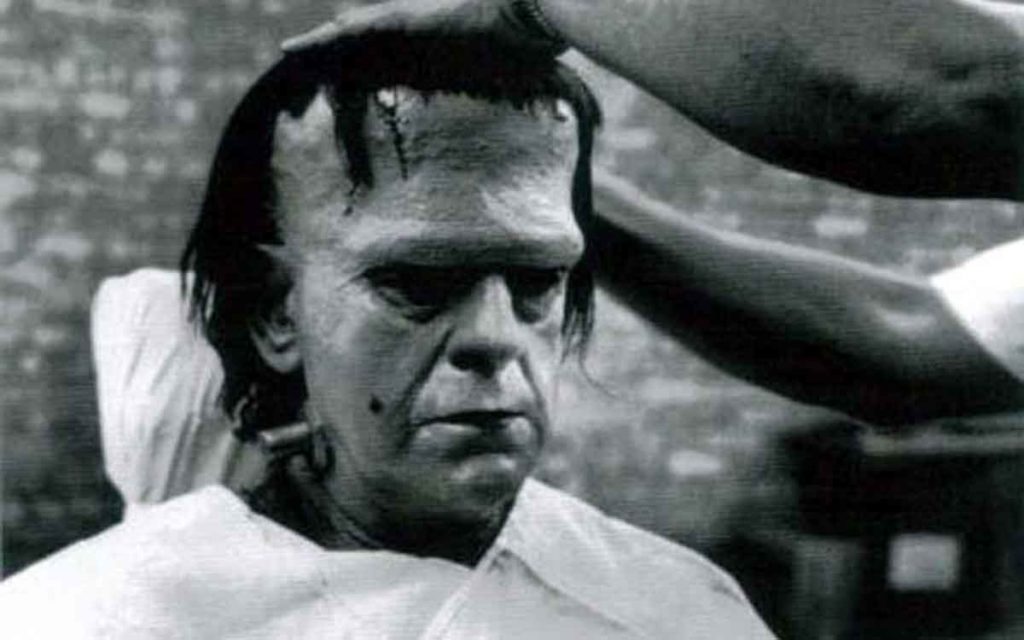 Monsters in Autumn
Boris looks comfortable in the makeup and moves well with the best moments at the end of the episode with all the monsters hiding in a janitor's room.
You can see evidence of the back injury Karloff obtained in the making of Bride of Frankenstein (1935) in his gait.
The three have their moment as they walk out the door with Tod and Buzz flanking them, and Chaney doing an impromptu growl to Maharis. One wonders how poor the makeup would have looked in today's high definition. It is a blessing of sorts to have this episode of film stock.
Across the river Styx we go
Lizard's Leg and Owlet's Wing features few other performances of note, aside from Marita Hunt as the society's legal advisor. Marita briefly gets to look wide eyed at Lon Chaney as he rises from a coffin as the Mummy. Marita Hunt appeared previously as Baroness Meinster in Hammer Studios' Brides of Dracula (1960).
The Lizard's Leg and Owlet's Wing episode represents the second ending of the Universal Monster cycle. For years, fans complained about the monsters' fate in numerous Abbott and Costello pictures.
The monsters in Abbott and Costello Meets Frankenstein (1948) were played seriously.
This episode leaves the impression that they have had their time and set off into history. There were new kids on the block.
The Munsters television show had been running since 1962, the Addams Family since 1964, and Shock Theatre were still running the Universal Horror films in edited form since 1957.
Hammer Films began unleashing the blood and gore that would become its trademark in theaters.
Famous Monsters of Filmland magazine was out in 1956, inspiring a new generation of monster fans.
It was a good time to be a monster fan. Even if you didn't know it then.
Watch Lizard's Leg and Owlet's Wing Route 66 Full Episode below