Reading Time:
3
minutes
RICHARD PHILLIPS-JONES reveals The Old Dark House 1932, aka 'what director James Whale did after 1931's Frankenstein'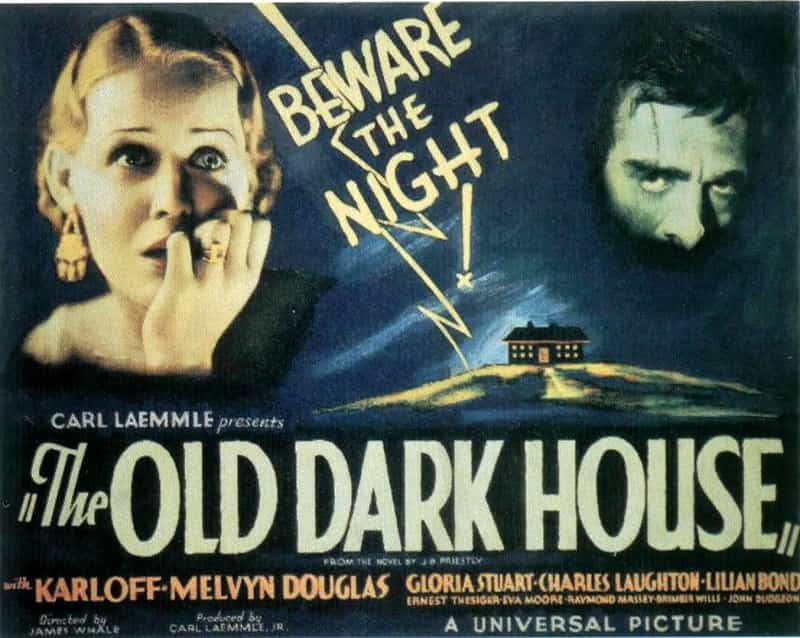 TITLE: The Old Dark House
RELEASED: 20th October 1932
WRITER: Benn W. Levy (from the novel Benighted by J.B. Priestley)
DIRECTOR: James Whale
CAST: Boris Karloff (Morgan), Melvyn Douglas (Penderel), Charles Laughton (Sir William Porterhouse), Lilian Bond (Gladys), Ernest Thesiger (Horace Femm), Eva Moore (Rebecca Femm), Raymond Massey (Philip Waverton), Gloria Stuart (Margaret Waverton)
An assortment of travellers seek shelter from a rainstorm, and find themselves in the mansion of the Femm family. They're a strange bunch: The gloomy Horace, his vicious sister Rebecca, and their bedridden father. Throw into the mix their mute servant Morgan, and an eventful night is promised… and, just why has that plate of food been left on the stairs?
Although it is often grouped with Universal's great horror cycle of the 1930's, and certainly shares a great deal with them in atmosphere and look, The Old Dark House is somehow out on its own tangent. It is more like a bizarre comedy of manners, until the lunatic-in-the-house horror element really comes to the fore in the closing stages.
Even in the anything-goes climate of that period before the Hays production code came along and spoilt the party, this is a very odd film. One can only guess that, following the astronomical success of Frankenstein, Universal gave James Whale carte blanche to make whatever he wanted and this was the result. It's almost like a group of Brits decided on a whim to put on a stage adaptation of JB Priestley on a Hollywood sound stage, and just let the cameras roll.
Whale's direction is superb, whilst the use of fast cutting between close-ups in places is extremely effective and quite an innovation for 1932. And just look at that cast! Boris Karloff, Melvyn Douglas, Charles Laughton, Gloria Stuart, Raymond Massey… plus delightful turns from Ernest Thesiger and Eva Moore as the Femm siblings.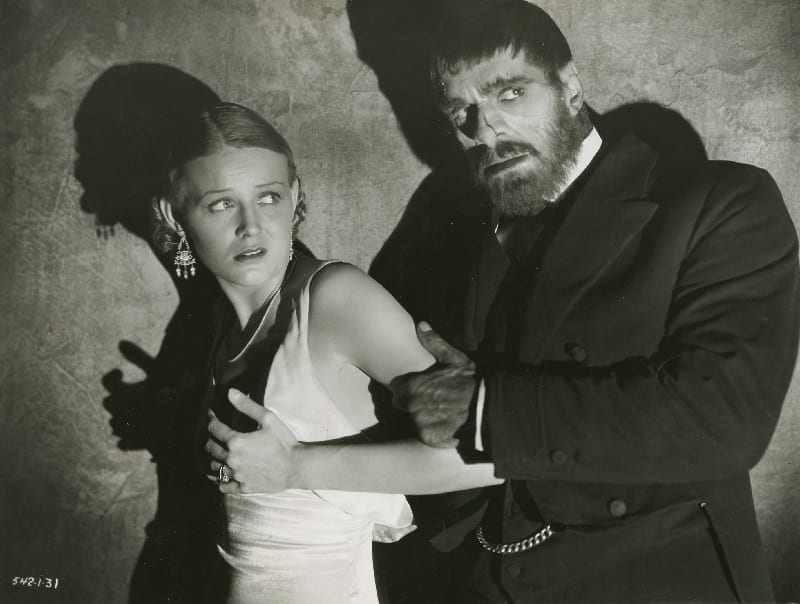 It bombed in the USA on its original release – after a very successful opening week, trade dropped off sharply. It's not surprising in retrospect, as it's a very, eccentrically British film. I'm not sure I've seen another Hollywood feature where a character has such a broad north of England accent, as utilised here by Laughton as Sir William Porterhouse. The humour throughout is very deadpan and macabre, and if that's on your wavelength then The Old Dark House, if only slightly stilted in places, is a real treat.
TRIVIA POINTS: The film went out of circulation after the rights were re-sold to Columbia for their remake (eventually co-produced with Hammer and William Castle in 1963). The deal prohibited Universal from commercially exploiting their original version. With no perceived commercial value in the film, it was left mouldering in Universal's vaults until fan/director Curtis Harrington retrieved the materials and arranged for a duplicate negative to be made.
Director James Cameron was reportedly so entertained by Gloria Stuart's audio commentary on the laserdisc release of The Old Dark House, that he cast her in his next film: Titanic (1997). Stuart would win an Oscar for the role.
Watch The Old Dark House 1932 Trailer
Tell us your thoughts on The Old Dark House 1932 in the comments section below.