Reading Time:
7
minutes
PETER FULLER reveals the London locations used for filming Vincent Price's 1973 horror masterpiece, Theatre of Blood (1973)
The 1973 black comedy horror, Theatre of Blood, gave horror icon Vincent Price one of his best roles. He played Edward Lionheart, a Shakespearian actor killing off London's leading theatre critics after they lambasted his 1970 season in a series of inventive deaths inspired by the goriest scenes from 10 of Shakespeare plays. The film's other big star was the city of London, for director Douglas Hickox dispensed with the studio to shoot the film entirely on location.
Peter Fuller, curator of the award-winning Vincent Price Journal blog, now takes Spooky Isles back to those locations as they unfolded in the course of Lionheart's diabolical revenge plot.
Digby Mansions, Hammersmith, W6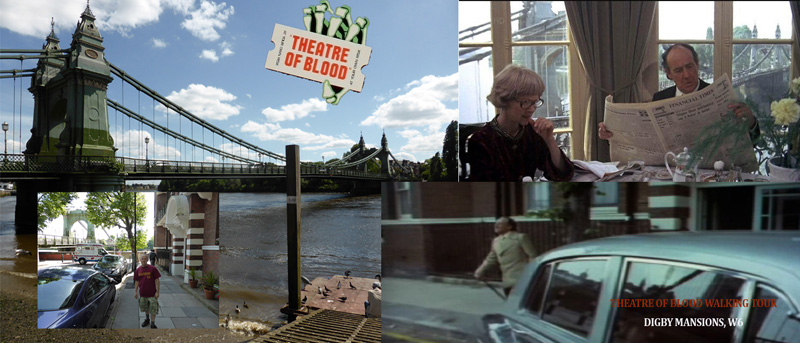 Theatre critic George Maxwell (Michael Hordern) lived with his horoscope-reading wife (Renée Asherson) on the top floor of Digby Mansions, Hammersmith at Lower Mall, which overlooks Hammersmith Bridge.
Weimar Street, Putney, Sw15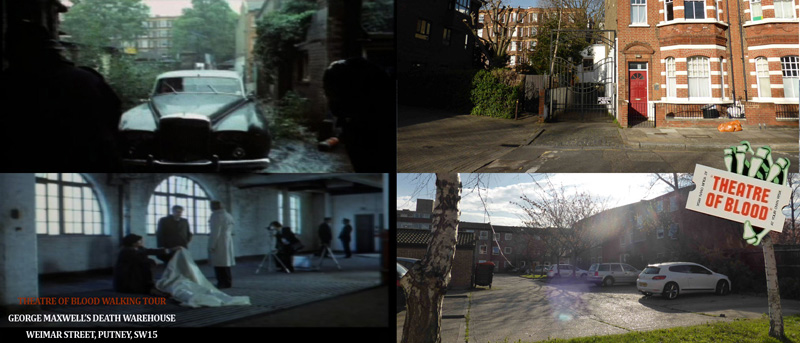 Maxwell is called to an old tenement on the Ides of March (15 March 1972), where he is cut down by a drunken mob in the same fashion that Julius Caesar was in Shakespeare's play. This warehouse, now replaced by a 1980s housing estate, was located in Weimar Street in Putney SW15.
Putney Hippodrome, Putney, SW15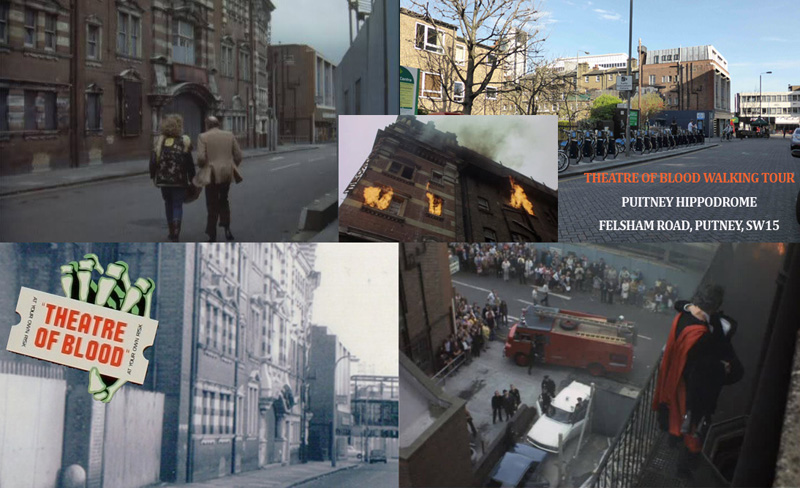 Hector Snipe (Dennis Price), who gave a damning review of Lionheart's Troilus & Cressida, is speared to death at the derelict Burbage Theatre, where Lionheart staged his last season in 1970. This was actually the Putney Hippodrome (built 1906), which stood on the corner of Putney High Street and Felsham Road, SW15, but was demolished in the late 1970s to make way for the same housing estate where the Weimar Street warehouse.
Kensal Green Cemetery, NW10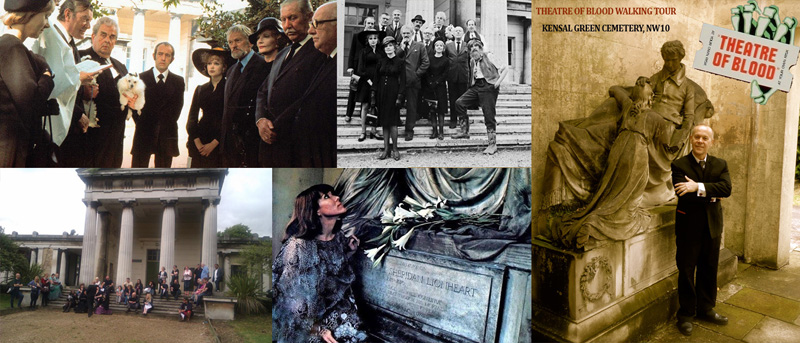 George Maxwell's funeral was held at Kensal Green Cemetery in NW10, during which Lionheart's devoted daughter Edwina (Diana Rigg) tends to her late father's monument on the steps of All Souls Chapel. This 1865 monument actually belongs to sculptor Robert William Sievier, one of the original board members of the cemetery when it was established in 1833. This is also where the body of Hector Snipe is dragged behind a horse as his namesake in Troilus & Cressida, in full view of the mourners.
Room 103 at Oakley Court, Windsor SL4 5UR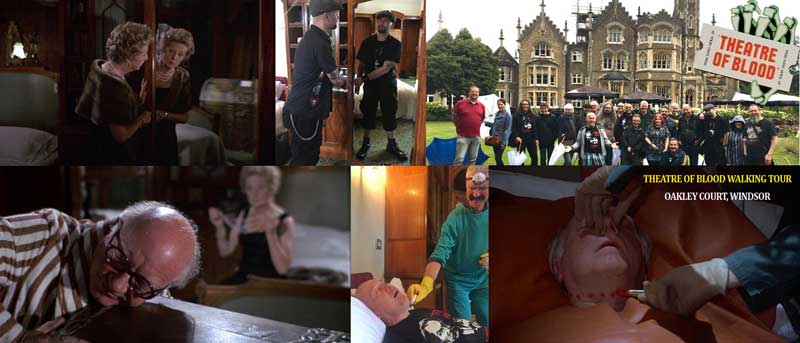 Horace Sprout (Arthur Lowe) is decapitated while sleeping beside his wife (Joan Hickson) in a bloody, funny restaging of a key scene from Cymbeline. This took place in Room 103 at Oakley Court, Windsor, SL4 5UR, which today still retains much of the original wood panel furnishings you see in the scene.
Serpentine Restaurant, Hyde Park, W2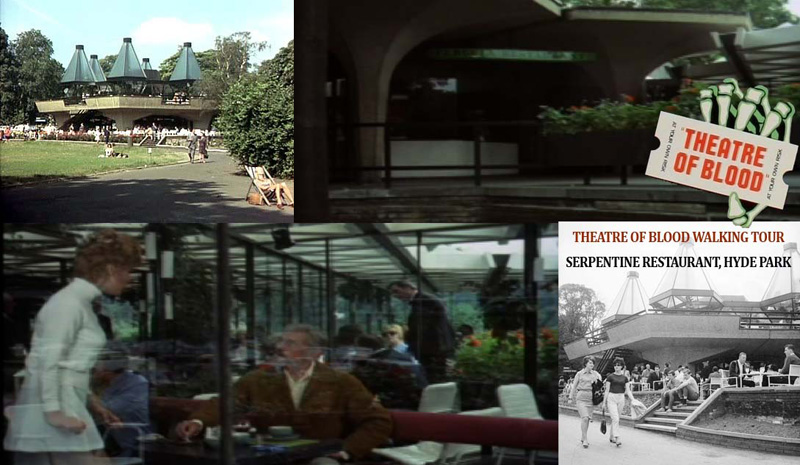 Edwina seduces Trevor Dickman (Harry Andrews) at the Serpentine Restaurant in Hyde Park (called Perggla in the film), and invites him to join her Living Theatre troupe's staging The Merchant of Venice. It's an invitation that results him loosing his heart – and his life. Built in 1964 by architect Patrick Gwynne, the Hyde Park restaurant and bar was a modern take on 19th-century conservatories. The glass and steel extension that Andrews and Rigg are filmed in was executed in 1971. The restaurant was eventually demolished in 1990.
Peninsula Heights, Lambeth, SE1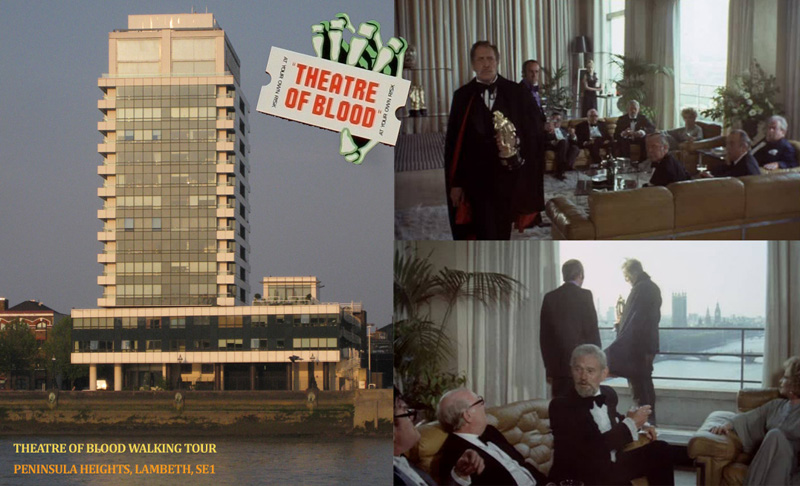 The luxury penthouse occupied by Peregrine Devlin (Ian Hendry) is the location for the Critics Circle meetings and the setting for Lionheart's suicide attempt, where he gives a moving recitation of Hamlet's 'To Be or Not to Be' soliloquy. This took place at Peninsula Heights (formerly Alembic House) at 93 Albert Embankment between Lambeth and Vauxhall Bridges. The tower block was owned by actor Stanley Baker and producer Michael Deeley until 1973, when it was sold to Bernie Ecclestone, who then sold it onto Lord Jeffrey Archer around 1980.
Justice Walk, Chelsea, SW3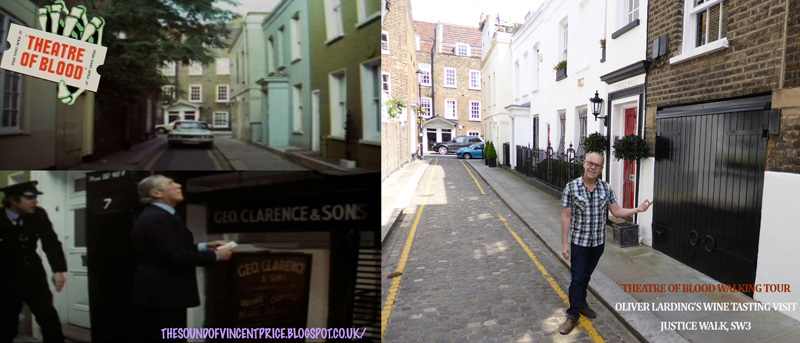 Oliver Larding (Robert Coote) is given a police escort to a wine tasting at George Clarence & Sons in Justice Walk, Chelsea, SW3, where the real-life wine merchants Herbert Allen Smith Ltd occupied the premises from 1903 to 1985. Today, it's a 7-bedroom private residence, which recently went up for sale to the tune of £14.5m.
The London Dungeon, Tooley Street, SE15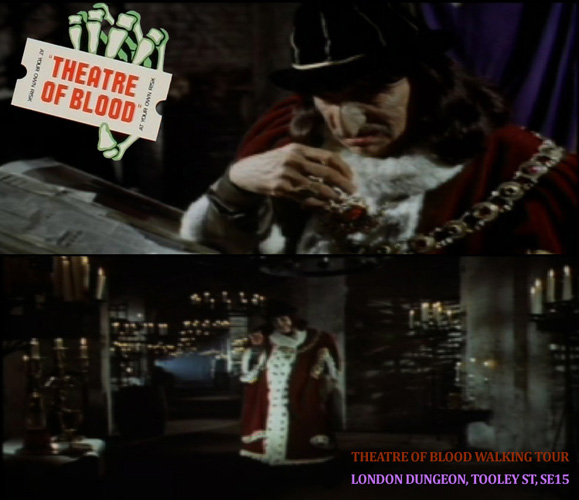 Larding's wine tour continues into the vast cellars of the wine merchants, where Larding is drowned in a barrel of Chambertin 64, just as George, Duke of Clarence was in a butt of Malmsey wine in Shakespeare's Richard III. This action took place at the site of the London Dungeon, which opened to the public in 1975 in Tooley Street (it moved to its new premises at County Hall in 2013).
Windsor Great Park, SL4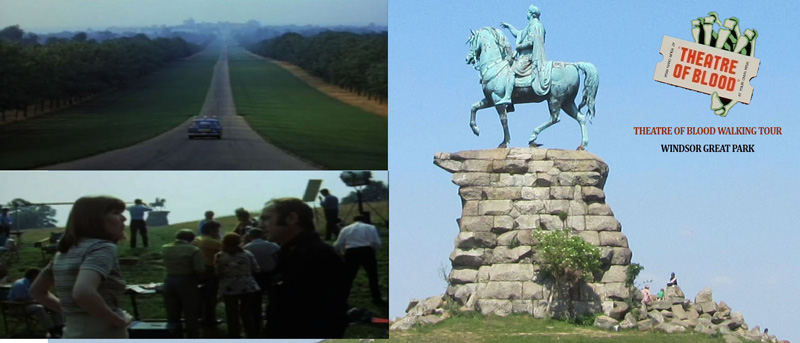 Devlin, accompanied by Inspector Boot (Milo O'Shea) and Sergeant Dogge (Eric Sykes), question Edwina, who is working as a make-up artist on a period drama being made at the Long Walk, which leads from Windsor Great Park to Windsor Castle. The equestrian statue of George III can been seen on Snow Hill in the distance.
Loudon Road, St John's Wood, NW8


Devlin attends a fencing class at the De Toqueville School of Fencing, where he and Lionheart reenact the duel scene from Romeo & Juliet. The opening scenes were shot outside the old entrance of The American School in London opposite Loudoun Road in St John's Wood, NW8. The premises were radically altered in 2000. Film location watchers are unsure as to whether the interior scenes were also shot at the famed independent school.
Dock Road Bridge, Brentford, TW8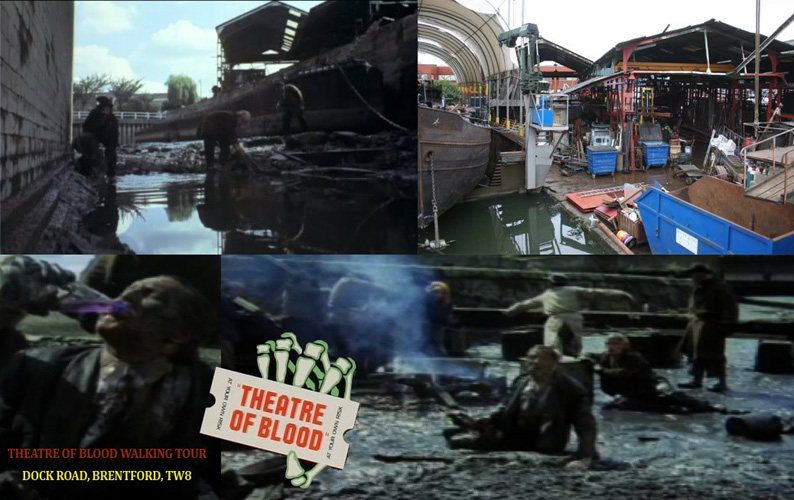 In a flashback sequence, Lionheart recounts to Devlin his resurrection on the muddy banks of a Thames foreshore by a group of meths drinkers. The location was a canal overflow channel that bypasses Thames Lock in Brentford beside the pier of the Dock Road Bridge. It makes for a visually realistic scene, but along way from Albert Embankment where Lionheart jumped. Today, the location is totally unrecognisable.
Cheyne Walk, Chelsea, SW3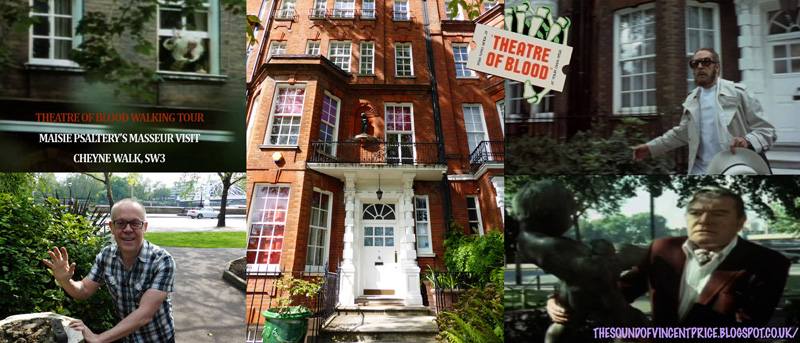 In an elaborate modern take of Othello, Solomon Psaltery (Jack Hawkins) strangles his wife Maisie (Diana Dors) at their swanky Chelsea Embankment townhouse, located at No8 Cheyne Walk in Chelsea. The Grade II listed Queen Anne style house is sandwiched between the former homes of poet Dante Gabriel Rossetti and writer George Eliot, which have long been a favourite stopping off point for London Blue Plaque spotters.
Brompton Road, Knightsbridge, SW3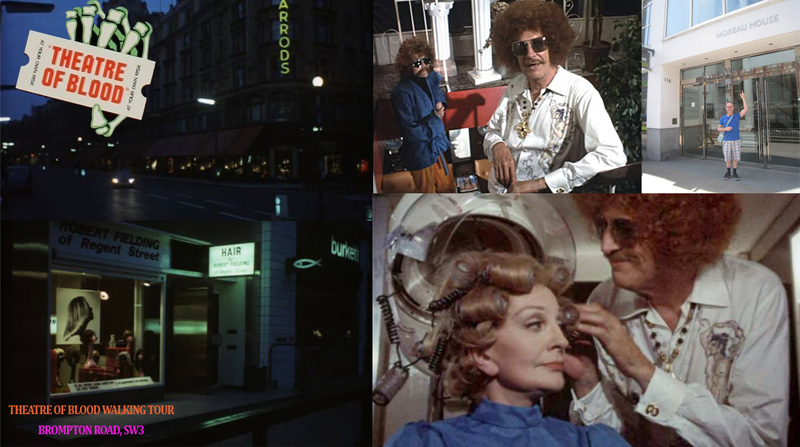 Standing in for Joan of Arc in Henry the Sixth: Part One, Chloe Moon (Coral Browne) gets her ash highlights and high voltage pedicure at the Robert Fielding Salon, opposite Harrods department store on 122 Brompton Road in Knightsbridge. Today, the whole block has been redeveloped, but location watches have located the premises, which was actually No 116, as being the Moreau House complex, built in 1992-3. In 1972, when the film was shot, Robert Fielding had 11 salons in inner London, including the one seen in the film.
Charlwood Road, Putney, SW15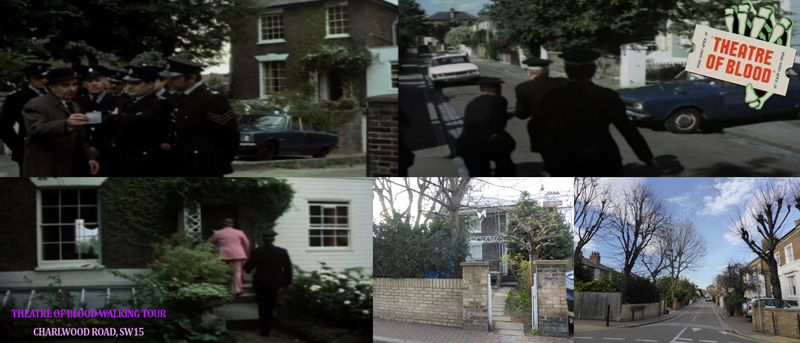 As Inspector Boot gives chase to a taxi driven by what looks to be Lionheart, Meredith Merridew (Robert Morley) arrives at his terrace house to discover he's the celebrity diner on This is Your Dish and is force-fed his poodles baked in a pie a la Queen Tamora in Titus Andronicus. This house is located at No19 Charlwood Road at the corner with Lacy Road in Putney, just a stone's throw away from the site of the old Putney Hippodrome. This private home was sold for £1.5m in 2011.
The Westway, North Kensington, W10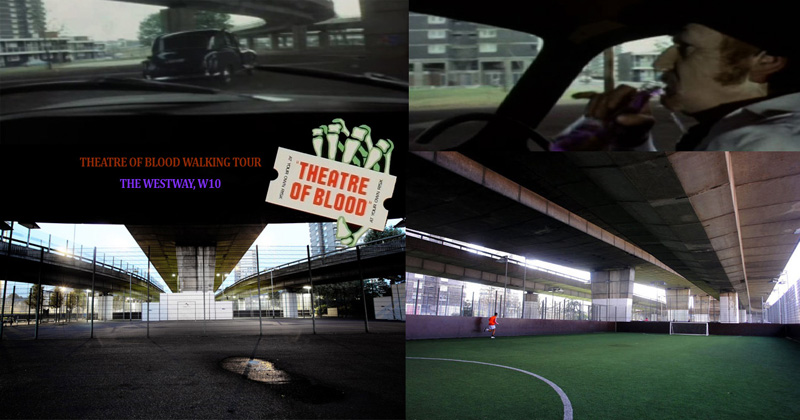 The taxi chase took place on the Westway and nearby Darfield Way in North Kensington, London W10. Today, five-a-side football pitches take up the space between the support piers where these scenes were filmed.
The Causeway, Wandsworth, SW18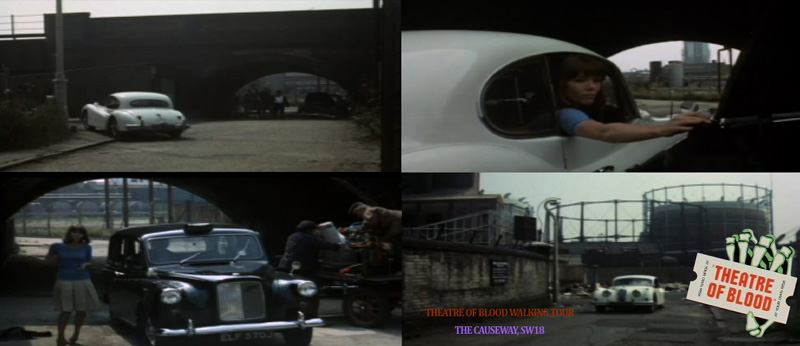 Prior to the film's fiery climax in which Lionheart makes his final curtain call quoting King Lear, Devlin is knocked out near a railway bridge and the Calor gas works. This was The Causeway in Wandsworth. Today, only the shape of the road remains.
A big thanks goes out to www.reelstreets.com and britmovie.co.uk, whose tireless efforts in pinpointing the locations made compiling these walking tours possible, and to Mike Kent for his better quality screengrabs. Also thanks again to reelstreets for supplying the Causeway shots. Also check out Theatre of Blood Facebook Group.