Reading Time:
18
minutes
Peter Fuller continues his series on Vincent Price's love for the UK with an exploration of the films he made here from 1963 to 1973.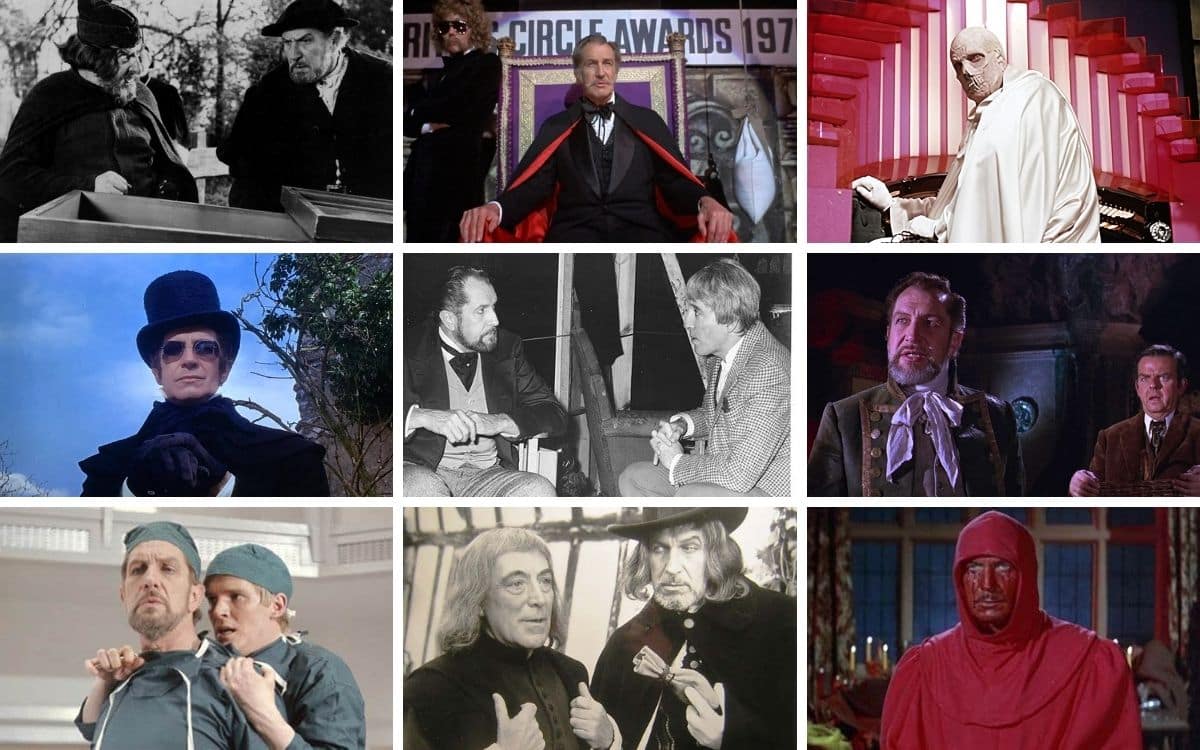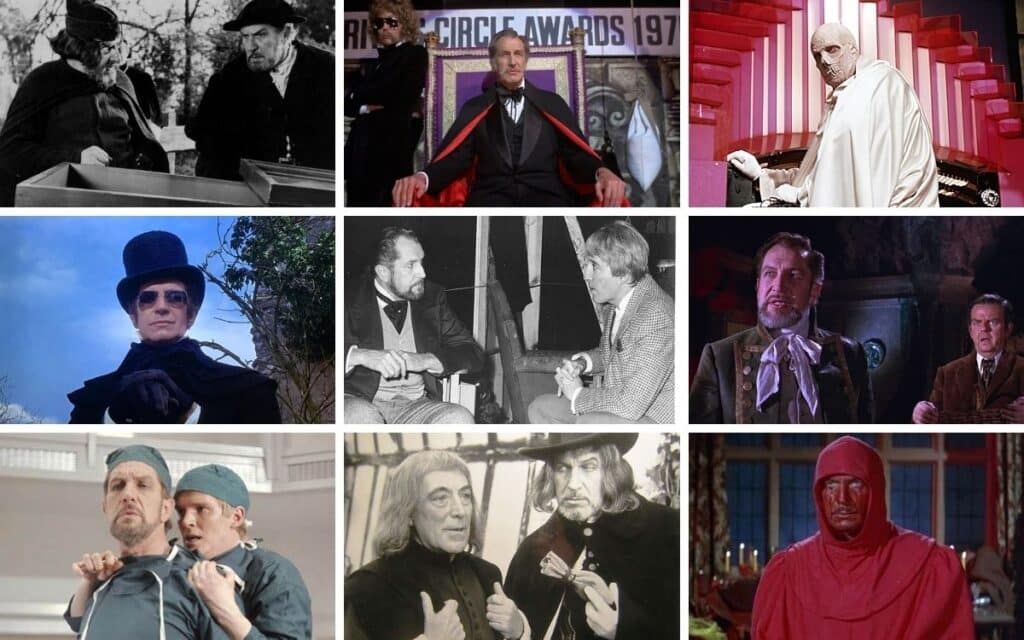 Table of Contents
Released 24 June 1964, UK & US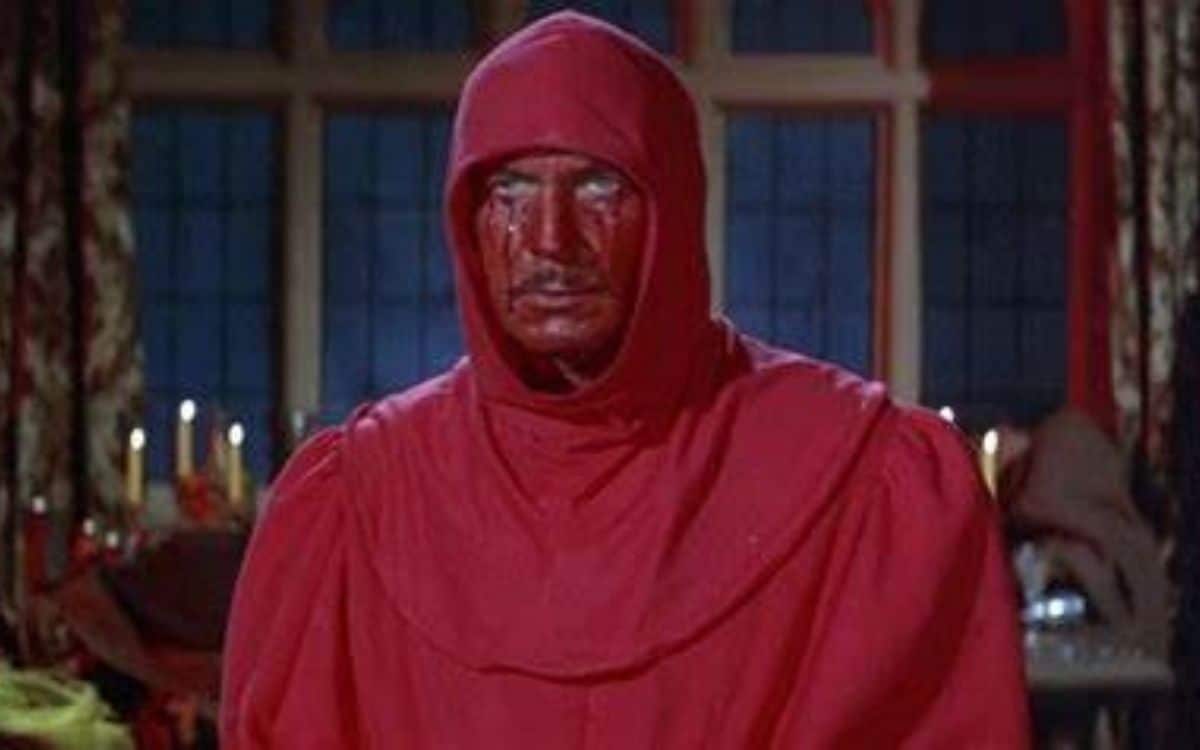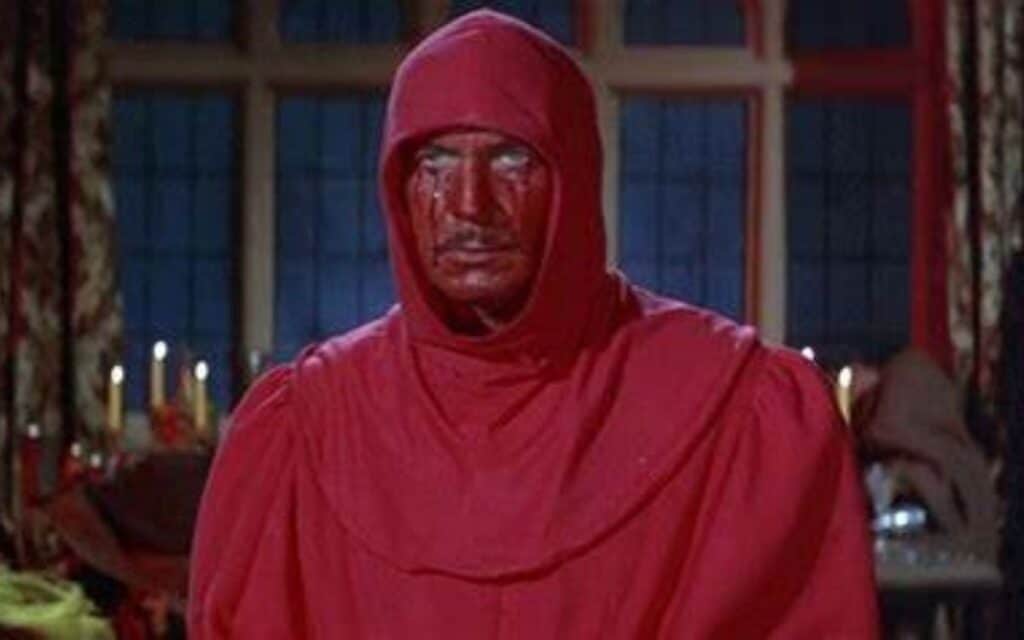 In late November 1963, Roger Corman swapped Hollywood for Elstree Studios in Hertfordshire for the seventh AIP Poe adaptation. A UK exhibition tax gave him a bigger production budget and a more extended shooting period in which to film his stylishly choreographed tale of satanic worship set in a plague-infested 12th-century Italian countryside where darkness and decay held dominion over all.
Vincent is supremely chilling as Prince Prospero, who offers protection within his castle walls to a select few as the Red Death passes.
Hazel Court is his voluptuous mistress of the dark arts; Patrick Magee, the nobleman who makes the murderous mistake of dressing up in a gorilla suit; and 17-year-old Jane Asher plays the innocent Christian peasant who moves Prospero's cold, dead heart.
The film was more a critical favourite than a box office one, and while Corman regarded it as being too 'arty farty', it is one of the best in the Poe/Corman cycle.
And that's down to Nicolas Roeg's camerawork, which drips with colour and imagination, the cannily borrowed sets, and the screenplay, which shows a rare intelligence in crafting a poetic meditation on physical and moral corruption.
Returning to the capital after nearly three decades allowed Vincent to reacquaint himself with his beloved British Museum and trawl through Portobello Road market, searching for paintings, sculptures and furniture to add to his collection.
But also to buy works of art for Sears in the US, who had commissioned him to assemble a collection of art to be made available to the general public in their department stores.
The Vincent Price Collection programme ran from 1962 to 1971, with over 50,000 original works selling. While filming in London in 1963, Vincent spent some £20,000 buying Japanese paintings, Rembrandts and Goyas.
Released 7 December 1964 UK; 20 January 1965 US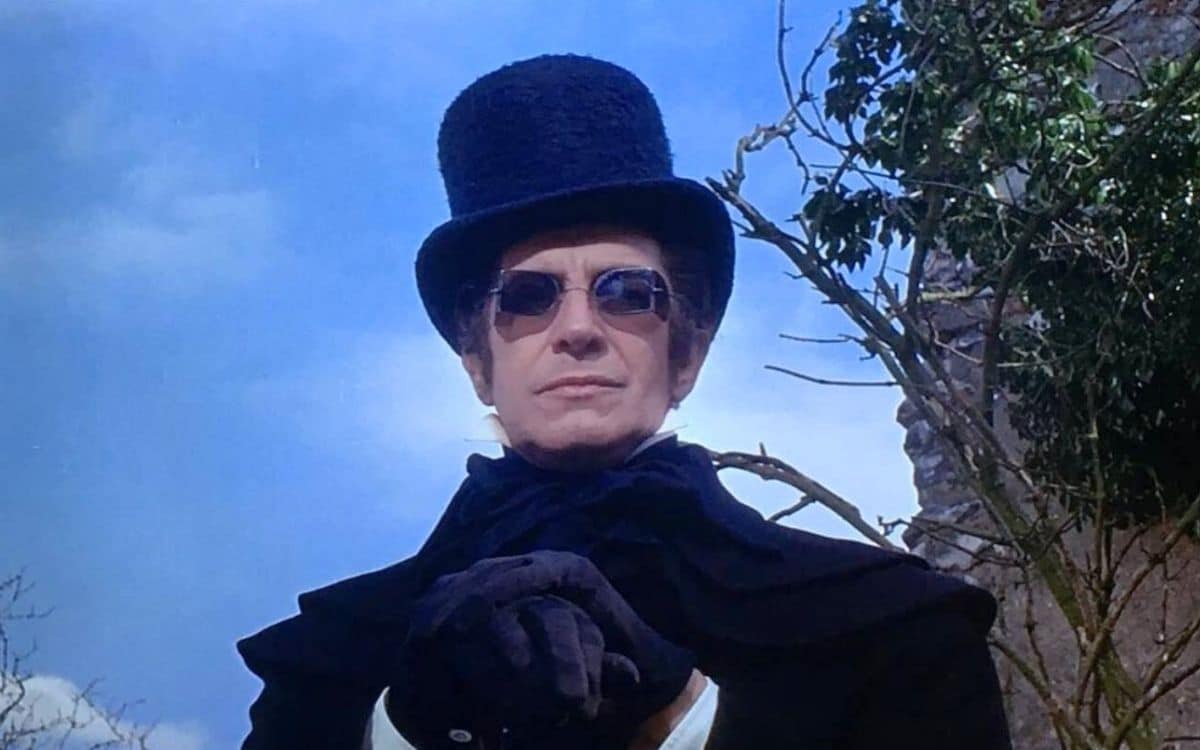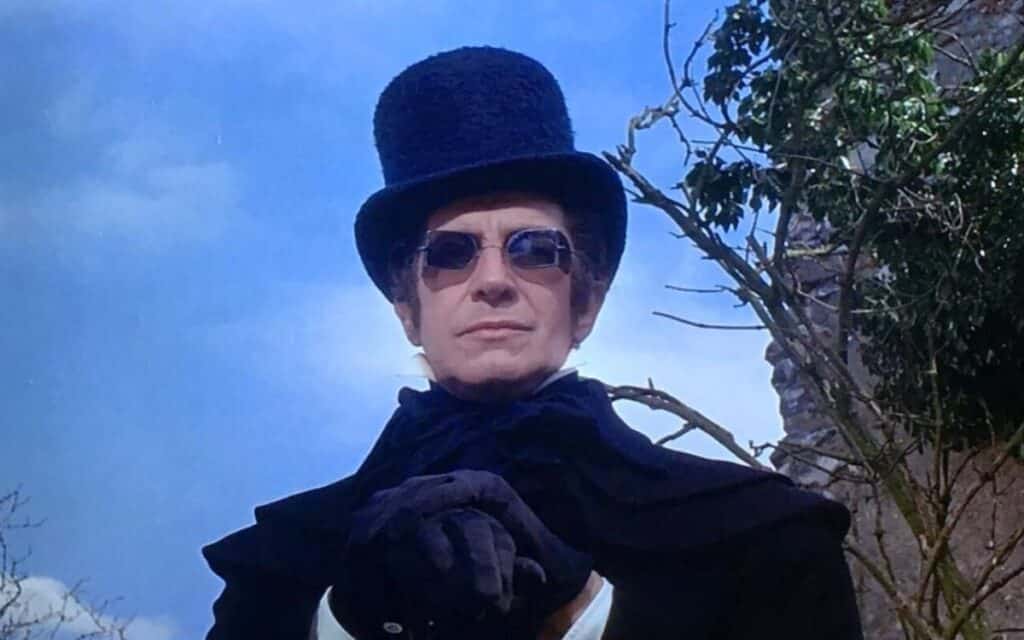 Roger Corman got some of the best reviews of his entire career with this Gothic love story fused with black magic and melodrama.
Shot over five weeks, beginning in late June 1964, on location at the 11th-century Castle Acre Priory in Norfolk and at Shepperton Studios in Surrey, it has Vincent Price playing widower Verden Fell, who is possessed by his dead wife's spirit, while Elizabeth Shepherd shines in the dual role of the witchy Ligeia and spirited heroine Rowena.
While the film's romance went over the heads of many horror fans, the film scored well at the box office and is Corman's finest achievement as a director.
He brings a Euro arthouse feel to the proceedings, thanks to the lush lens of Hammer cinematographer Arthur Grant and solid screenplay by Robert Towne, who stays faithful to Poe's 1838 short story but adds his own twisted conclusion to the author's unfinished scenario, plus a heady dose of necrophilia, the occult and drug addiction. Full of striking images, it is a stylish, masterful end to Corman's Poe/Price cycle.
At 53, Vincent was too old to play the Byronic protagonist, but he came along with the film deal (Corman's original choice was 29-year-old Richard Chamberlain, who was riding high at TV's Dr. Kildare). Vincent wore a black wig to make him look younger, and he was clean-shaven, which he rather liked: 'I looked in the mirror, and for once Vincent Price doesn't look back.'
Asked if his horror films frightened him, Vincent often said, 'I was never frightened by the plots. The scariest thing was all those fires blazing.'
Fire was a standard film device in the Corman/Poe films, and it became a running joke for Corman to use stock footage of a burning barn roof, which was first seen in House of Usher, over and over.
While filming the climactic scenes at Shepperton, the fire effects got out of control (the set was painted with flammable liquid rubber cement), which saw Vincent becoming a real-life hero when he had to help Elizabeth to safety.
City Under the Sea
Released 26 May 1965 US; June 1965 UK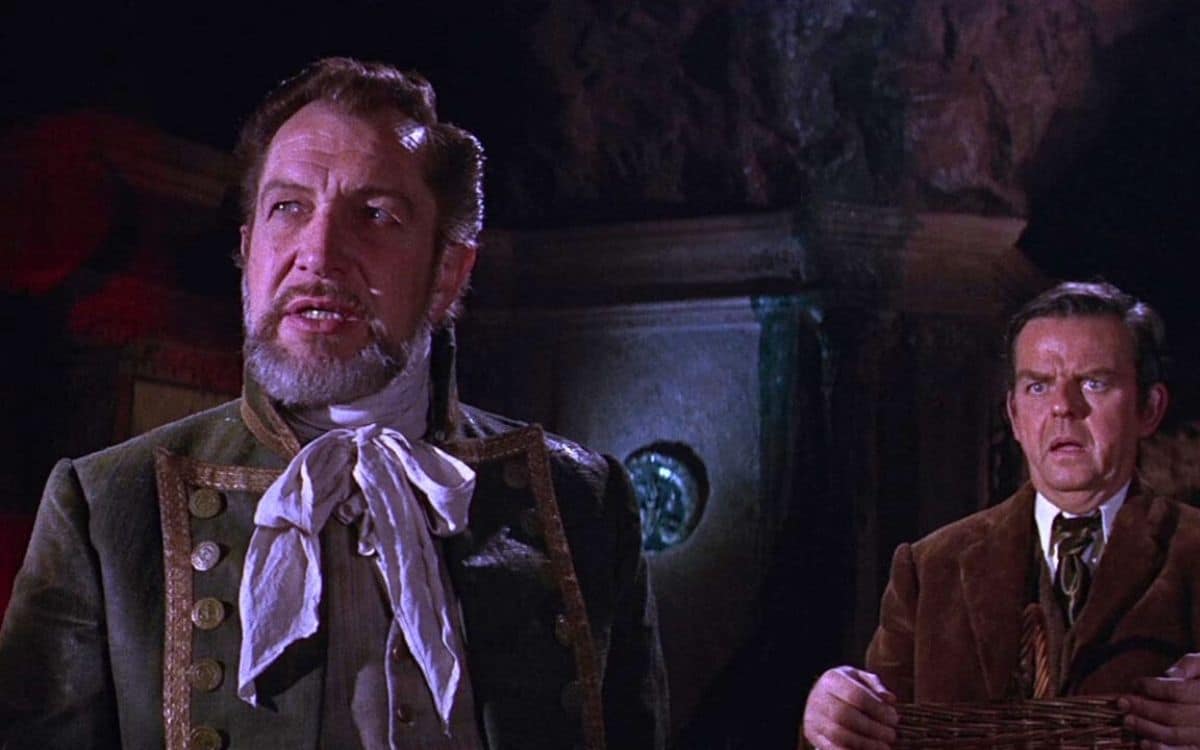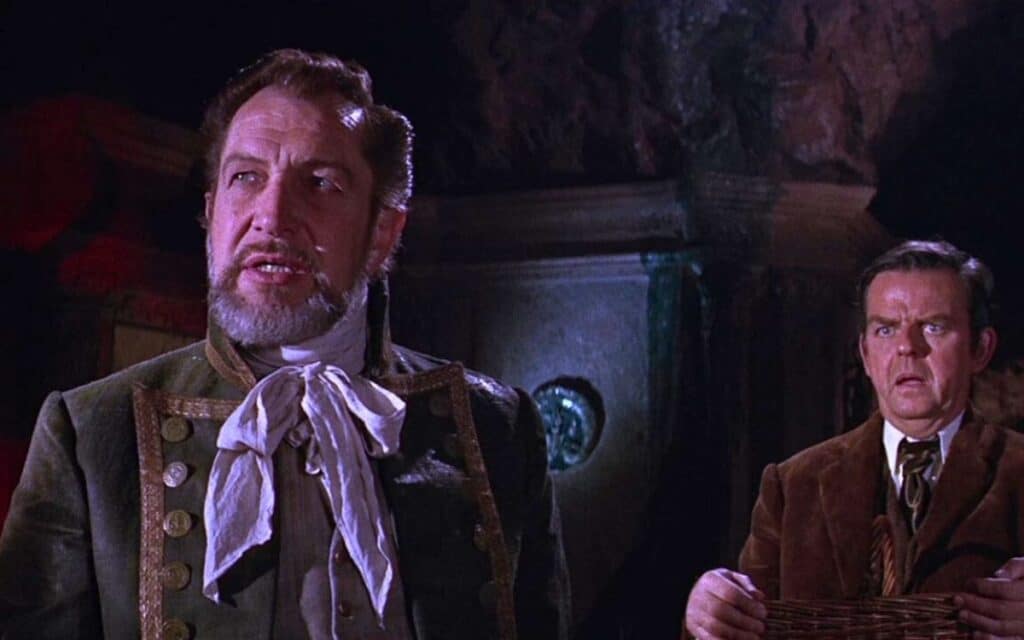 The box office success of Tomb of Ligeia gave AIP reason to continue plundering Poe with their No. 1 marquee star Price at the helm. First up was this Jules Verne-inspired fantasy adventure (titled War-Gods of the Deep in the US).
The title came from Poe's 1864 poem, City in the Sea, and AIP had Vincent recite a truncated version at the film's beginning. But that's where the Poe link ends.
Vincent is cast as an another tormented soul alongside US teen heart-throb Tab Hunter and Mary Poppins' David Tomlinson, who play an engineer and an eccentric artist investigating the disappearance of a young tourist (Susan Hart).
Channeling Captain Nemo and Roderick Usher, Vincent heads up a crew of smugglers who have been stranded in an undersea city off the coast of Cornwall for over a century, and believes Hart to be the reincarnation of his lost love.
Dad's Army's John Le Mesurier pops up as a kindly vicar, while the city's seaweed-encrusted inhabitants and a volcano attempt to keep the plot bubbling.
But despite the colourful Atlantis meets ancient Egypt-styled sets (shot at Pinewood) and rousing Stanley Black score, this cheap take on 1954's 20,000 Leagues Under the Sea and 1959's Journey to the Centre of the Earth is a soggy affair.
It's also a sad final feature for director Jacques Tourneur (best known for his work with Val Lewton in the 1940s) and writer Charles Bennett (who had worked with Alfred Hitchcock on his 1930s British features and with Irwin Allen on his sci-fi TV shows, including Voyage to the Bottom of the Sea).
Also appearing is a pet chicken called Herbert, who keeps popping up inside a diving helmet during the film's 10-minute underwater chase sequence. The man responsible for this rip-off of Gertrude the duck from Journey to the Centre of the Earth was Louis 'Deke' Heyward, AIP's new head of European productions, who would be responsible for all of Vincent's film output for the company until his departure in 1972.
Reflecting on filming City Under the Sea, Deke said of Vincent: 'Occasionally, he would read a line, then look at me and say, "Deke, dear, sweet Deke; You are screwing my career into the ground!" And indeed, I may have. Vincent was a delight to work with!'
Released 17 May 1968 US; 19 May 1968 UK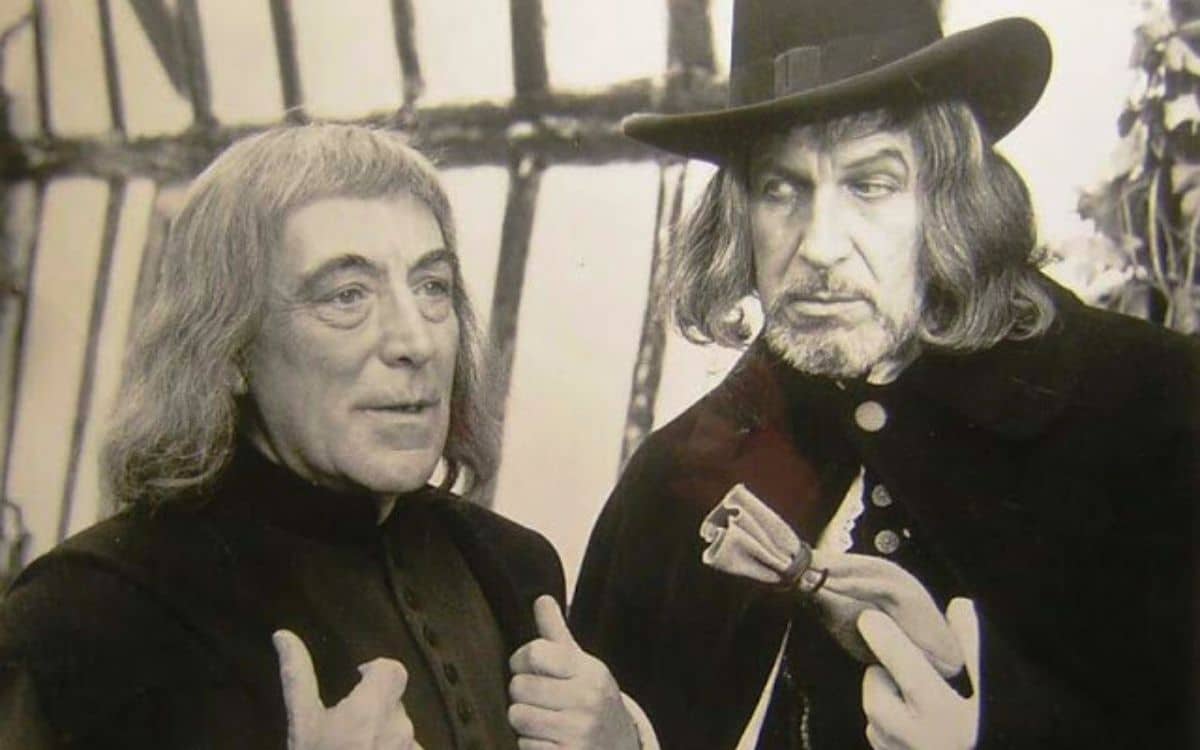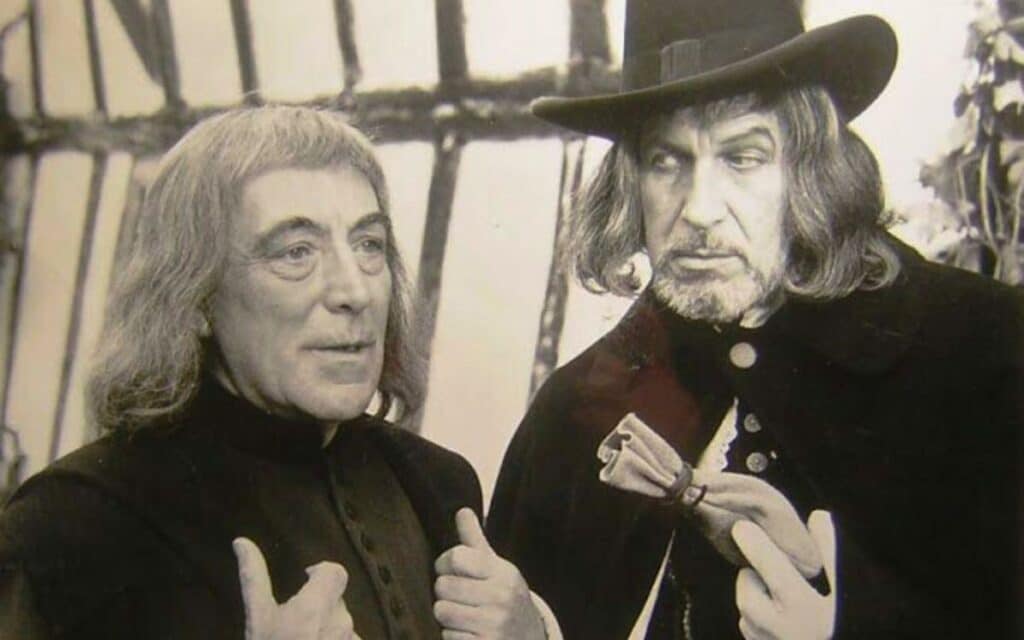 A violent, powerful film that's more revenge Western than traditional horror, Witchfinder General was based on a 1966 historical novel by Ronald Bassett.
With just two features to his name (The Sorcerers with Boris Karloff and The She Beast with Barbara Steele), 23-year-old British filmmaker Michael Reeves took up the reins of the 17th-century set saga after Tony Tenser's British outfit, Tigon, made a co-production deal with AIP to greenlight the film.
Of course, Vincent was part of the package – just one of the reasons why Reeves clashed with Vincent during filming, as he wanted Donald Pleasence for the title role of the 17th-century self-appointed witchfinder, Matthew Hopkins.
Vincent's acting prowess was tested in the film, which started shooting on location in East Anglia on 17 September 1967 and wrapped on 13 November.
But he has never been more convincing playing the real-life Ipswich lawyer earning bags of silver for getting hundreds of unfortunate souls to confess to consorting with the devil.
His Hopkins is a butcher for profit hiding behind a veneer of educated Puritan aloofness, and Vincent played him with subtle nuance and conviction: ideally restrained, cold and calculating.
Ian Ogilvy also shines as the young Civil War soldier who vows to end Hopkins' reign of terror when his fiancée (Hilary Dwyer) is sexually assaulted by Hopkins' sidekick John Stearne (Robert Russell). The cast also included TV favourites Patrick Wymark, Rupert Davies and Wilfrid Brambell.
Getting the Hopkins character right proved arduous for Vincent, as Reeves didn't know how to deal with actors, especially veteran professionals like Vincent, who fought him all the way.
In one now legendary exchange, during the witch burning scenes being shot in the historic market town of Lavenham, Vincent got annoyed with Reeves telling him not to gesticulate, and shouted: 'Young man, I have made over 70 films, how many have you made?' To which Reeves replied, 'Two good ones!'
However, when Vincent saw the results on screen, he found himself writing an apologetic thank you letter to Reeves: 'My dear Michael, in spite of the fact that we didn't get along too well – mostly my fault, as I was physically and mentally indisposed at that particular moment in my life (public and private) – I do think you have made a very fine picture, and what's more, I liked what you gave me to do.'
On its release, Witchfinder General (retitled The Conqueror Worm in the US to tie in with AIP's new Poe cycle) was met with a mixture of disgust and interest by critics and cinemagoers in the UK, despite being censored, while in the US it was shown virtually intact and was a box office success. Today, it is rightly regarded as a bona fide British classic.
Released 11 June 1968 US; 19 July 1968 UK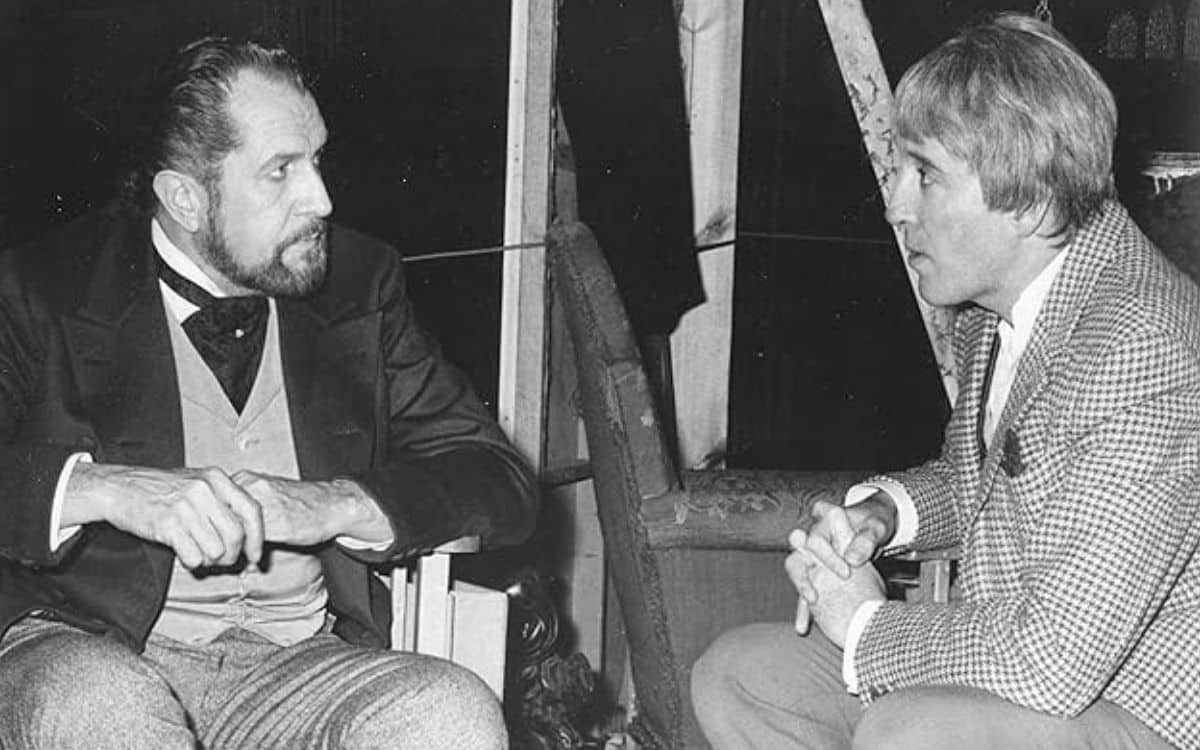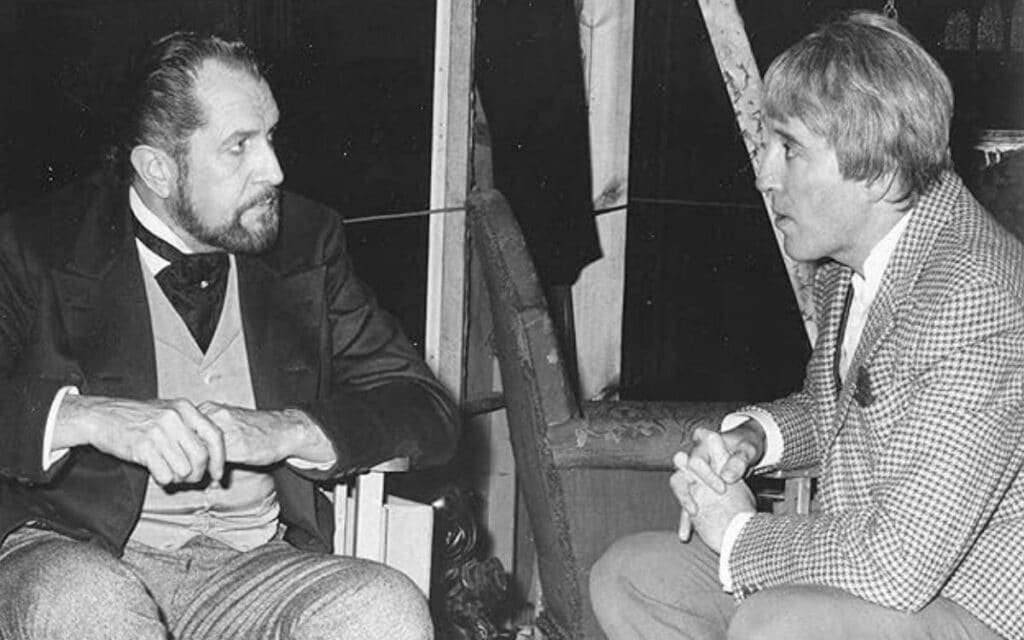 Following Witchfinder General's box-office success, director Michael Reeves was scheduled to work on two more projects for AIP. The first was The Oblong Box, a tale of voodoo, grave robbing and a secret family curse that was intended to be shot on location in Ireland.
However, it ended up being directed by Gordon Hessler at Shepperton Studios (over three weeks in late November 1968) after Reeves pulled out due to ill health. He later tragically died on 11 February 1969 from a barbiturate overdose.
Although billed as a Poe adaptation, it has virtually nothing of Poe in it, save the title, and Vincent doesn't even get to recite a poem as he had in the previous Poe films. However, it did manage to pair Vincent with British horror star Christopher Lee (albeit all too briefly), who would become a lifelong friend.
Often overlooked as the poor relation in AIP's Poe family, The Oblong Box does manage to generate a melancholy atmosphere that somewhat channels Poe, and (according to Vincent) Hessler and screenwriter Christopher Wicking did their best despite the circumstances, while John Coquillon's point of view camerawork is suitably creepy.
After his restrained performance in Witchfinder General, Vincent reverted to his usual eye-rolling and eyebrow arching. Now, Hessler could have reined in the actor but felt Vincent's tendency towards high melodrama would bring more life to the proceedings. Here, he plays Julian Markham, a Victorian manor lord with no end of spine-chilling trouble, when his disfigured brother, Sir Edward (Alister Williamson), escapes from the room he's been locked in and sets about getting revenge.
Lee, who plays an anatomist blackmailed into sheltering Sir Edward, loved Vincent's wicked sense of humour, which he later recalled, saying: 'While we were filming one scene, I was lying on the floor, expiring in a welter of blood, and he was wearing this big voluminous cape. He had to kneel down and ask me, "Who did this to you?" which didn't make sense because I would be able to talk if I had my throat slit. All I can remember is him saying to me under his breath, very slowly, "You are lying on my train."' Lee couldn't keep a straight face, precisely what prankster Vincent intended.
While the critical reception was mixed, The Oblong Box did well at the US box office. However, its underlying theme of imperial exploitation in Africa led to it being banned in Texas for being 'pro-Black'.
Released 8 February 1970, UK & US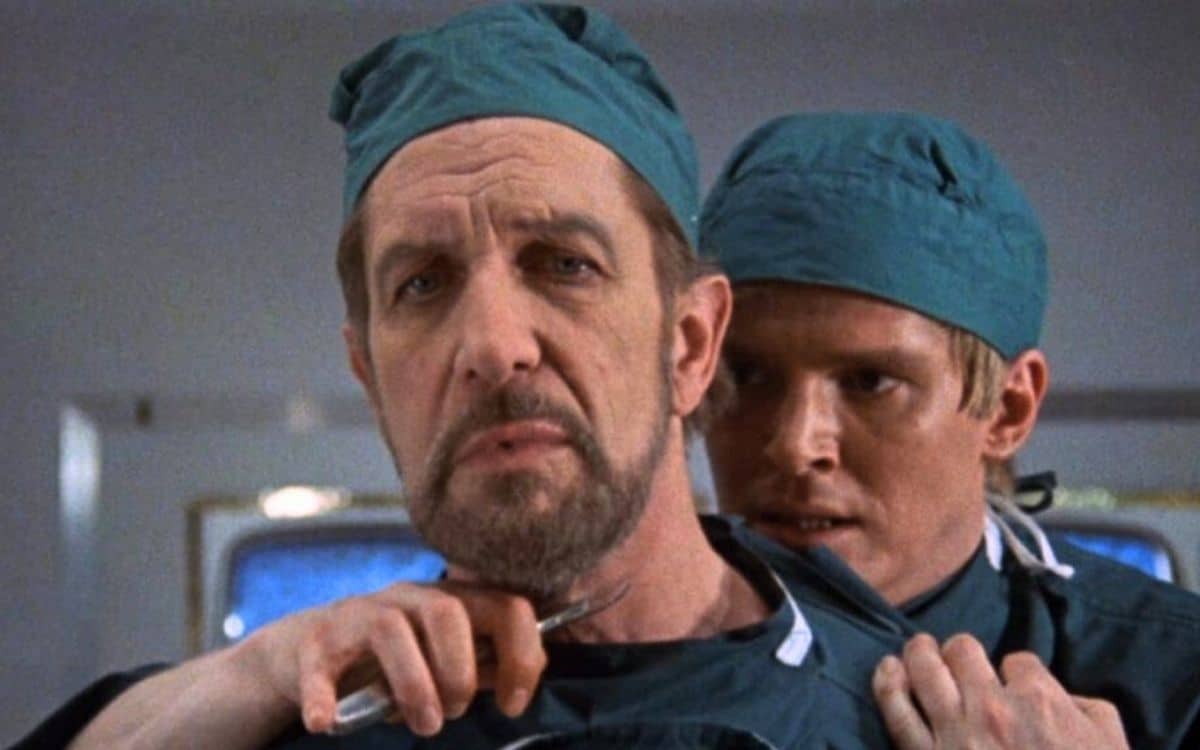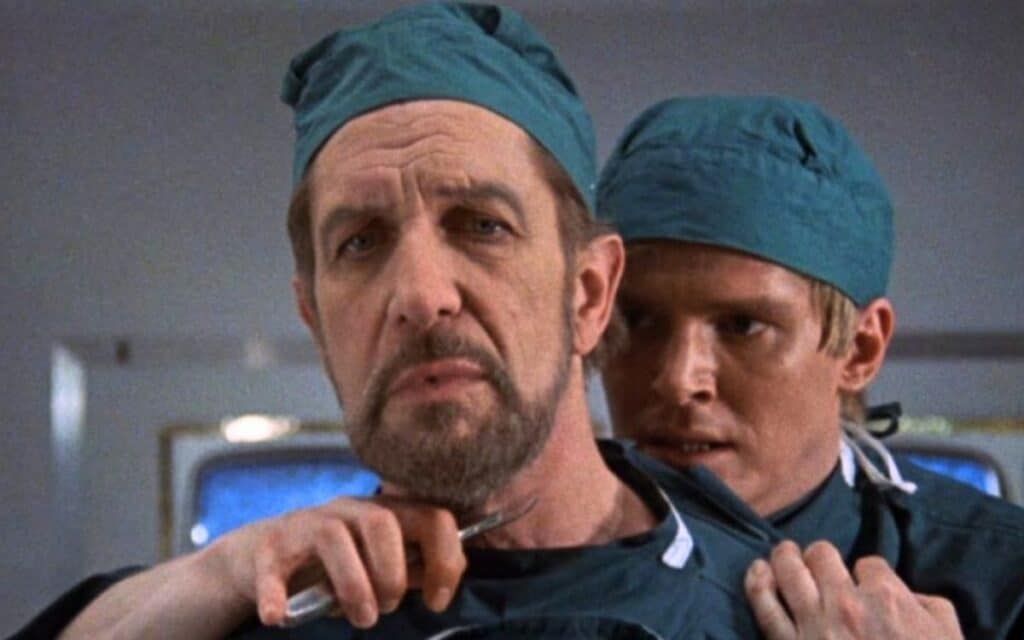 Featuring the same crew from The Oblong Box, plus stars Vincent Price and Christopher Lee, this sci-fi horror conspiracy thriller was a co-production between AIP and Milton Subotsky's Amicus Productions. Adapted from the pulp novel The Disorientated Man, it's bizarre, complex, surreal, and confounds horror film stereotypes.
Vincent plays a mysterious scientist, Dr Browning, who is creating composite super-beings in his secret lab in the Surrey countryside, and one of them (Michael Gothard) has gone rogue and is gorging on some mini-skirt lovelies dancing away to Welsh pop rockers The Amen Corner at the Busted Pot nightclub.
While a curious pathologist (Christopher Matthews) and mouthy detective inspector (Alfred Marks) investigate the trail of corpses left behind by the so-called Vampire Killer, an Eastern European agent (Marshall Jones) is putting the Vulcan death grip on his superiors as he to tracks down Browning. Phew! You got it? No? Neither did Vincent, who said of his role in the film: 'I really don't know what Scream and Scream Again was about – nor which Scream I was playing.'
In a last-minute decision, AIP brought in Peter Cushing for a cameo, thus bringing together the three titans of terror (AKA the Triple Distilled Horror advertised on the film posters). However, fans were left disappointed as Vincent and Lee got just one scene together (lasting 50 seconds), Cushing got just a single three-minute scene before expiring from that Vulcan nerve pinch, and Vincent made just two brief appearances at the start of the film before returning for the film's rousing climax.
Shot in May and June of 1969 at Shepperton Studios and on location in and around London and Surrey, Scream and Scream Again gave AIP one their best money spinners, despite the convoluted plot.
Reflecting on the film, Vincent later said: 'The only thing I remember about this odd film is that I die at the end by falling into a vat of acid or some such nonsense.' He certainly did – by Lee's senior Government officer, Fremont, who disposes of Vincent in a bath of bubbling yellow goo – through sheer willpower.
It was a scene that required the two actors to try and keep a straight face despite the fact the yellow tinge of the water resembled pee. But there was a serious side to this scene. Price was severely affected by the chemicals used in the water and had nasal sinus problems for many years afterwards.
Released 29 July 1970, US, 6 December 1970 UK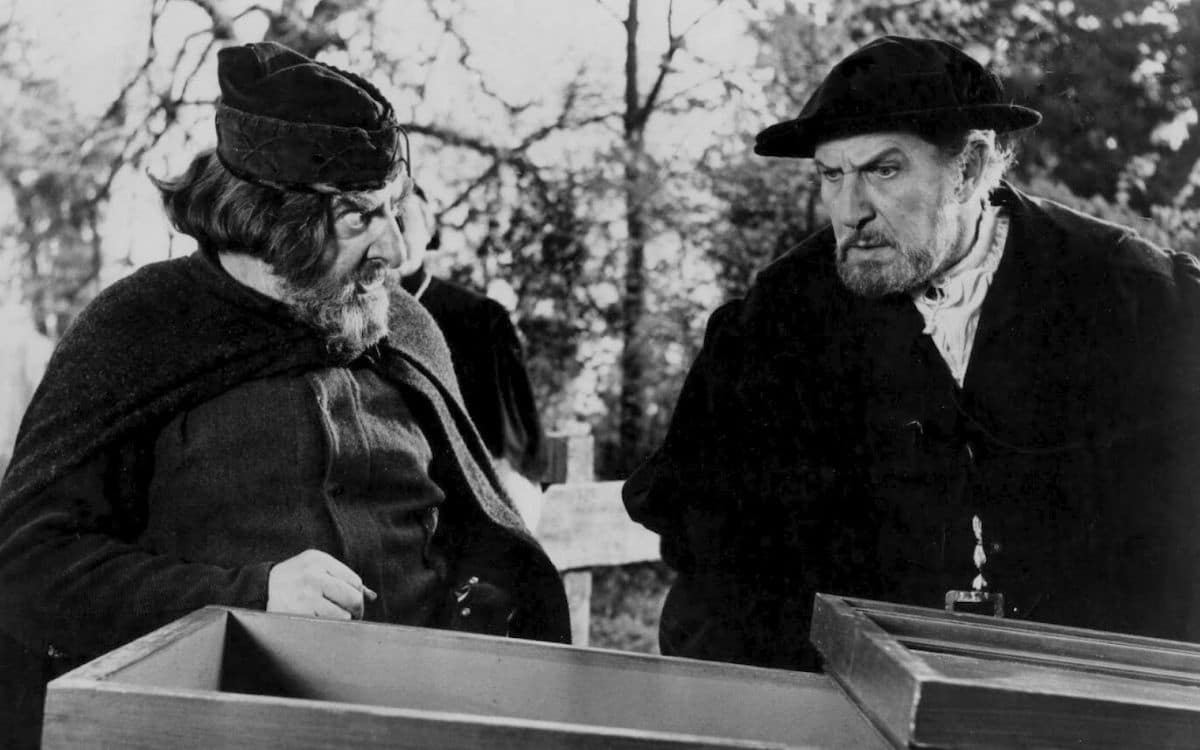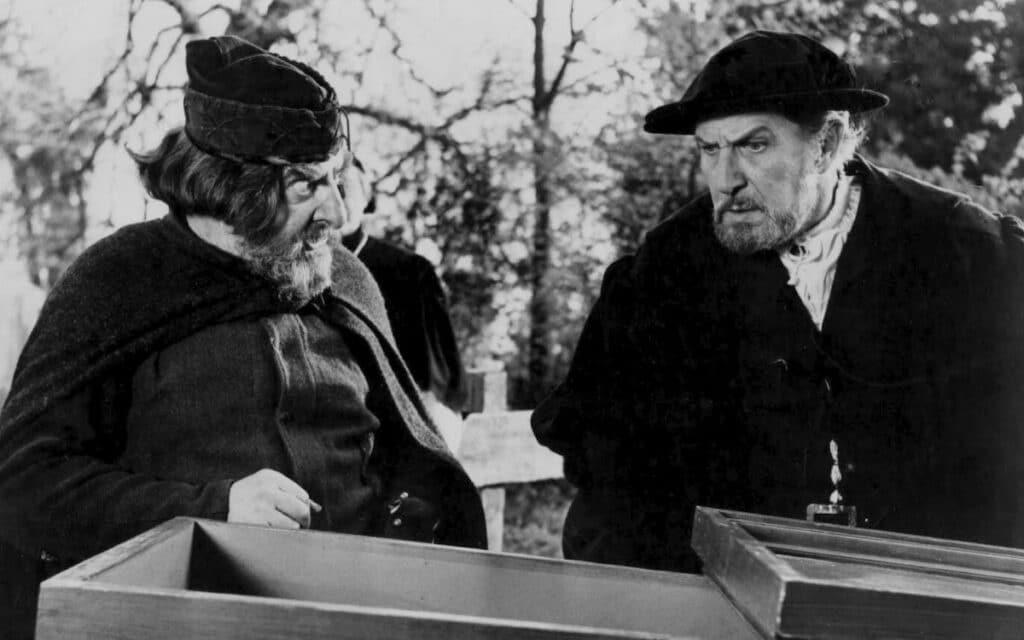 Another wonderfully ripe performance from Vincent is the best reason for watching this muddled chiller, which was the last of AIP's faux Poe films and Vincent's final period-set horror. He plays Lord Edmund Whitman, a magistrate in Elizabethan England, whom a pagan high priestess curses after he attacks her coven. 1930s German stage actress Elisabeth Bergner made her comeback to the screen as Oona, who summons up an avenging spirit to pick off Lord Whitman's dysfunctional brood, including daughter Maureen (Hilary Dwyer).
Filming took place over four weeks in October 1969 on location at Grim's Dyke House in Harrow, north London – the former home of WS Gilbert of Gilbert and Sullivan fame. With its modest budget, botched script and terrible make-up (especially the banshee mask worn by Patrick Mower in the climax), it was a troublesome affair for director Hessler and screenwriter Wicking, making their third film together. But the cobbled-together results aren't that bad – mainly thanks to John Coquillon's moody mis-en-scene cinematography. On its release, Cry of the Banshee suffered big time. In the UK, Hessler's edit was released uncut with a film score by Wilfred Josephs and an animated title sequence by Monty Python's Terry Gilliam. In the US, however, AIP re-edited the film and added new titles and a new score (from AIP's go-to composer Les Baxter).
Vincent was not a happy bunny on this shoot because he had contract issues with AIP. At the wrap party, head honchos, Sam Arkoff and James Nicholson, paid a rare visit to the UK. When it came to cutting the giant cake that had been made to celebrate Vincent's 100th film (which, of course, it wasn't), no knife could be found. Vincent, who had downed quite a few drinks, then turned to Arkoff and said: 'Why not use the knife that's in my back!'
While Cry of the Banshee was a disappointment, and Vincent was in a bad place with his AIP handlers, he would soon get his mojo back in a couple of roles that perfectly captured his 'tongue-in-cheek with a hint of menace' horror persona. He finished 1970 with a cameo as a moustache-twirling villain in the Bee Gees TV special Cucumber Castle, which aired on Boxing Day on BBC2.
Released 18 & 20 May, 5 August 1971 US; 26 August & 3 October 1971 UK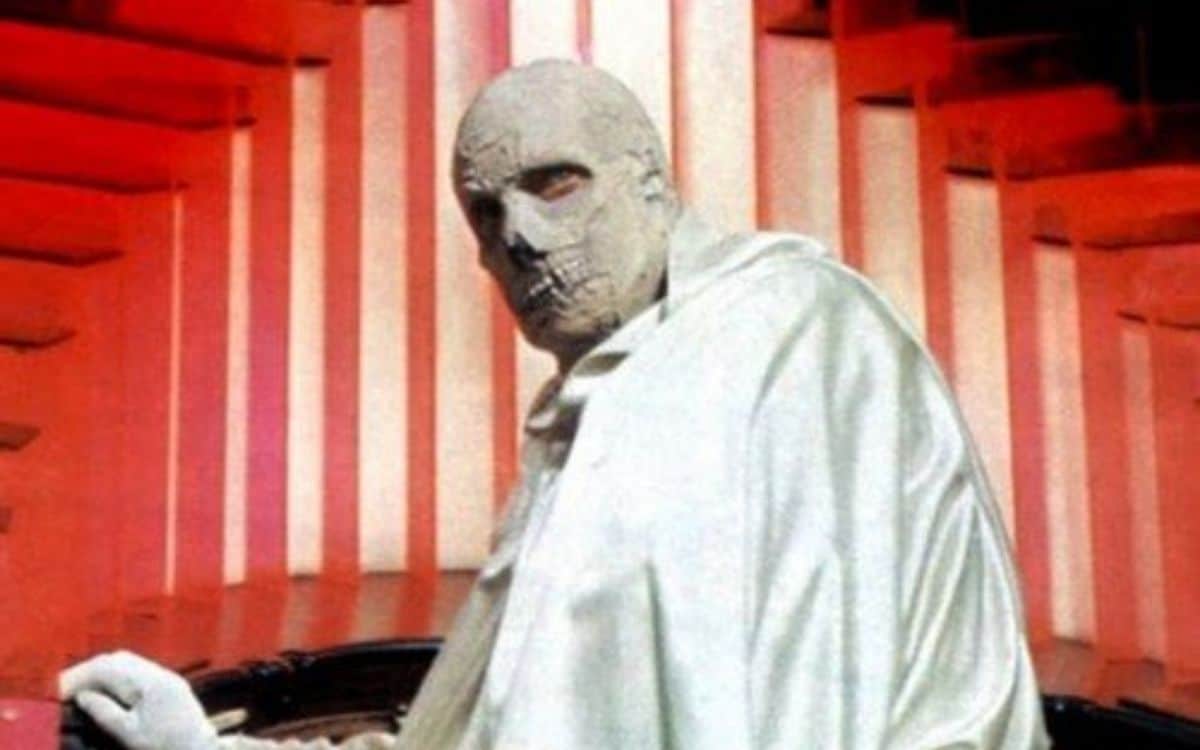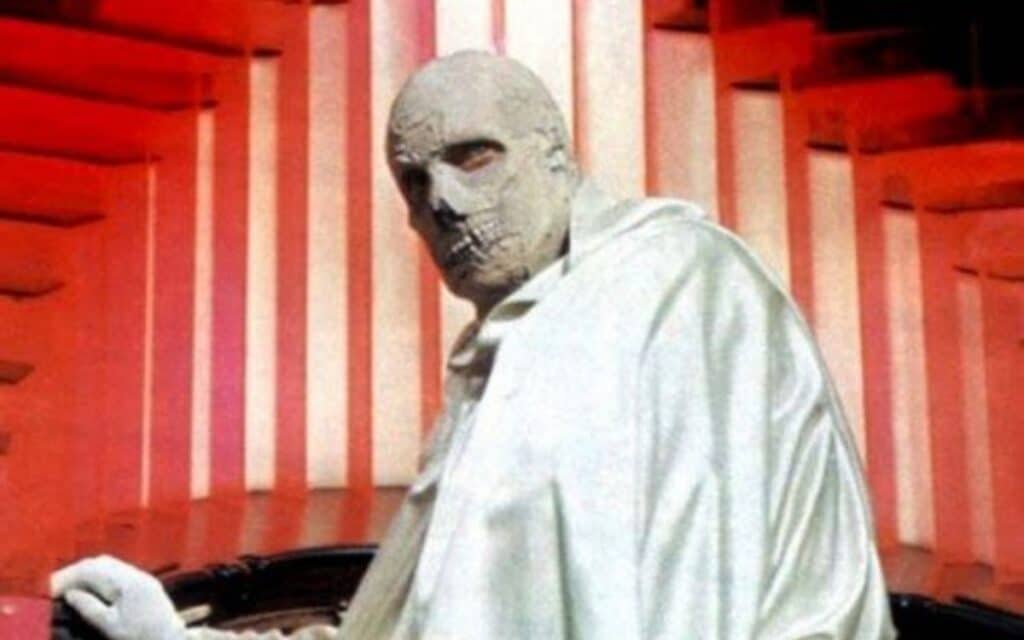 'What more could a horror freak desire?' Asked the Motion Picture Guide of The Abominable Dr. Phibes, the Robert Fuest-directed horror from AIP in which Vincent scored his only recurring horror character, Dr. Anton Phibes, a classicist and organ player, atrociously maimed in a car crash and now able to speak only through an electronic gadget in his neck, who still plays the organ wonderfully. The plot has him exact a macabre vendetta against the doctors who left his beloved wife Victoria (played by an uncredited Caroline Munro) to die on the operating table – resolving to dispatch each of his victims by one of the 10 curses of Pharaoh. The result was a horror picture where all the ingredients came together: ingenious concept, stylish production design, evocative art deco sets, excellent score, witty script and elegant direction.
Filmed over eight weeks at Elstree Studios in Hertfordshire, beginning 9 November 1970, it became one of the AIP biggest hits on both sides of the Atlantic on its release in 1971. Not only did it provide Vincent with one of his signature roles, but it also reunited him with Joseph Cotton, whom he had worked with at Orson Welles' Mercury Theatre in the late-1930s and who was now taking on the role of Phibes' adversary Dr. Vesalius, initially intended for Peter Cushing, who declined as his wife Helen was gravely ill (she died on 14 January 1971).
Vincent completely immerses himself in the role despite the discomforts caused by having his face covered in colloidal, a plastic substance like a new skin. It required Vincent to be in makeup by 6am. But the early morning wake-up call didn't stop him from making great bowls of homemade pâté the night before to feed the crew. As the makeup made his face immobile, Vincent didn't have to speak his lines on set (as they would be dubbed in post), which somewhat annoyed Joe Cotton, who said to Vincent: 'You're unfair! You're not speaking the lines, and I'm having to remember all mine and say them,' to which Vincent replied, 'Yes! But I remember them, Joe.'
While filming Phibes, the ever-busy actor was the subject of a London Weekend Television special, Vincent Price is in the Country, and headed north to Pebble Mill Studios in Birmingham, where he filmed his six-part Thames Television series, Cooking Price-Wise, in which he got to share his knowledge of cuisine from different parts of the world, which could be replicated in the home, quickly and cheaply. The series aired on ITV between 13 April and 18 May 1971, at the same time that The Abominable Dr. Phibes went on general release, and Vincent was back at Elstree in December to start work on the film's sequel.
Released 18 July 1972 US; 15 October 1972 UK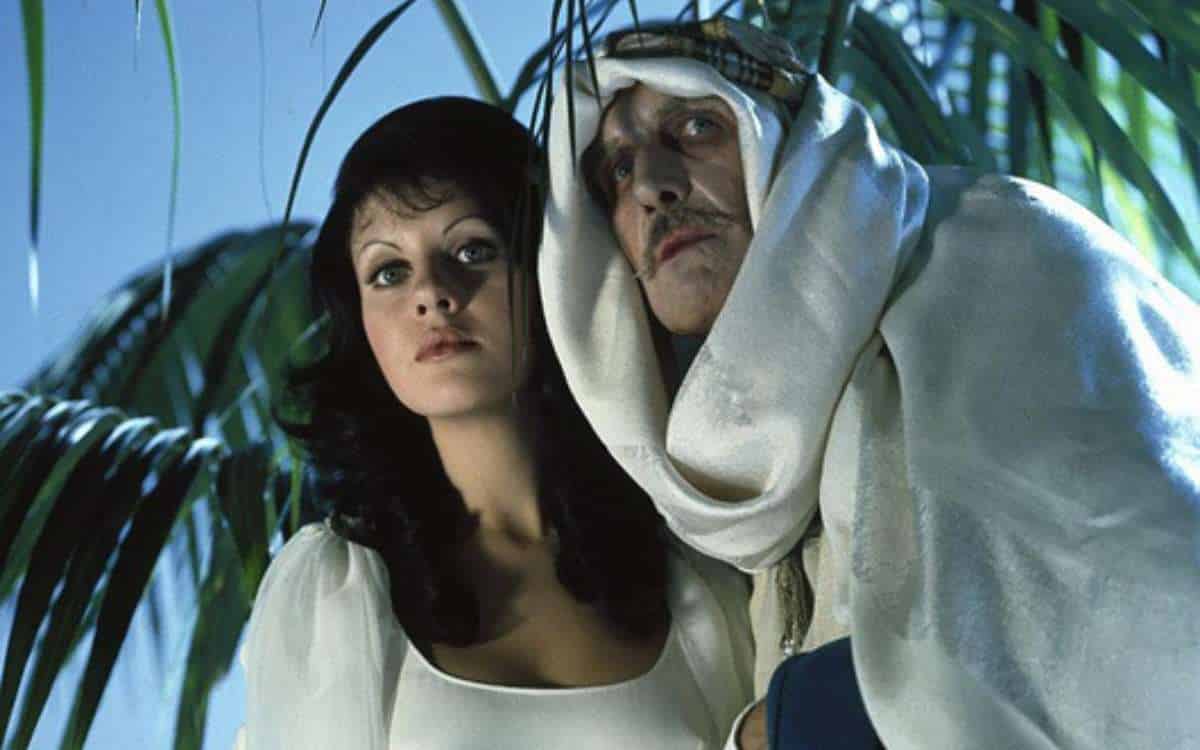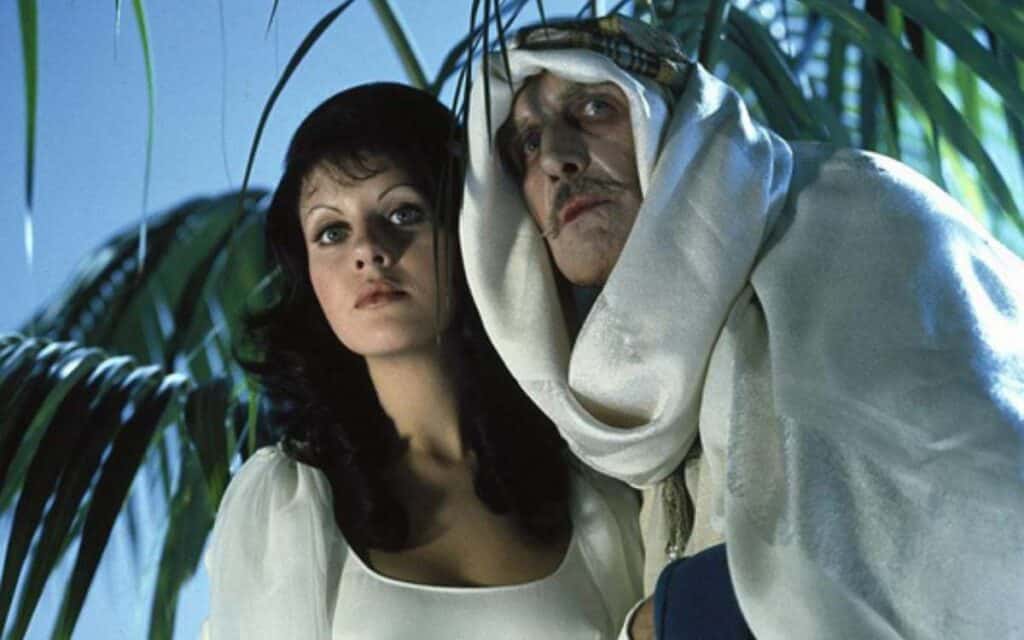 Following the success of The Abominable Dr. Phibes, AIP hatched a plan to resurrect the character in what they hoped to be the first of five new adventures for Vincent's diabolical genius. Filmed over Christmas 1971 and early January 1972 at Elstree, and with some location work in Almería, Spain, Dr. Phibes Rises Again was rushed into cinemas in 1972.
This time around, Phibes heads into the Egyptian desert with his mute assistant Vulnavia (now played by Valli Kemp), seeking an elixir of life to reawaken his beloved Victoria, but when he learns that ruthless Egyptologist Darius Biederbeck (Robert Quarry) is also searching for the river of life, he uses all his ingenuity to dispatch the members of his rival's expedition one by one.
Again, lavish sets, inventive death scenes (the scorpion's embrace is a stinger) and superb one-liners like 'The Devil take you Phibes' – 'Not for some considerable time, I trust'. Oh! And Vincent singing Somewhere Over the Rainbow over the closing credits. Peter Cushing, Beryl Reid and Terry-Thomas make brief appearances, future Inspector Morse John Law plays one of the unfortunate victims, and Fiona Lewis is Quarry's love interest.
As Phibes' new adversary, Quarry was being groomed by AIP to become their new big marquee name, having scored much success playing the titular role in 1970's Count Yorga, Vampire and its sequel, and the story goes that Vincent clashed with his so-called heir apparent.
But here's what Quarry had to say: 'Vincent was a lovely man. He was a terrific, marvellous guy. We put each other on so terribly all the time; some people thought we were at odds about something, but it was just our way of showing affection. We had a good time.' One of those 'times' comes from director Robert Fuest, who recalled: 'In make-up, Quarry use to sing Gershwin and Vincent Looked around the corner, and Quarry said: "You didn't know I was singer, did you, Vincent?" And Vincent replied: "Well, I knew you weren't a f**king actor".
Behind the scenes, however, drama was brewing at AIP as Sam Arkoff and James Nicholson were at loggerheads and parted company after the sequel's completion, while Deke also quit, effectively ending any more Phibes adventures.
Vincent, meanwhile, wanted out of his AIP contract but was committed to one last film. However, before that, he scored his horror film Opus.
Released 5 April 1973, US; 24 June 1973, UK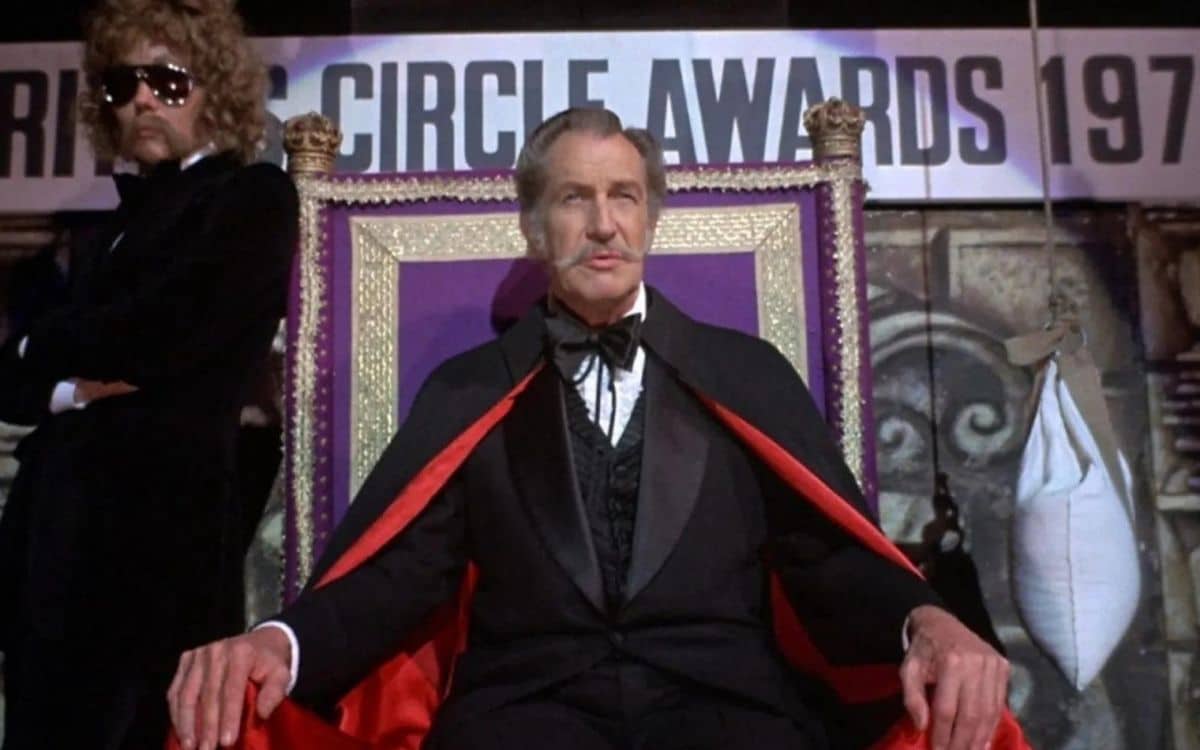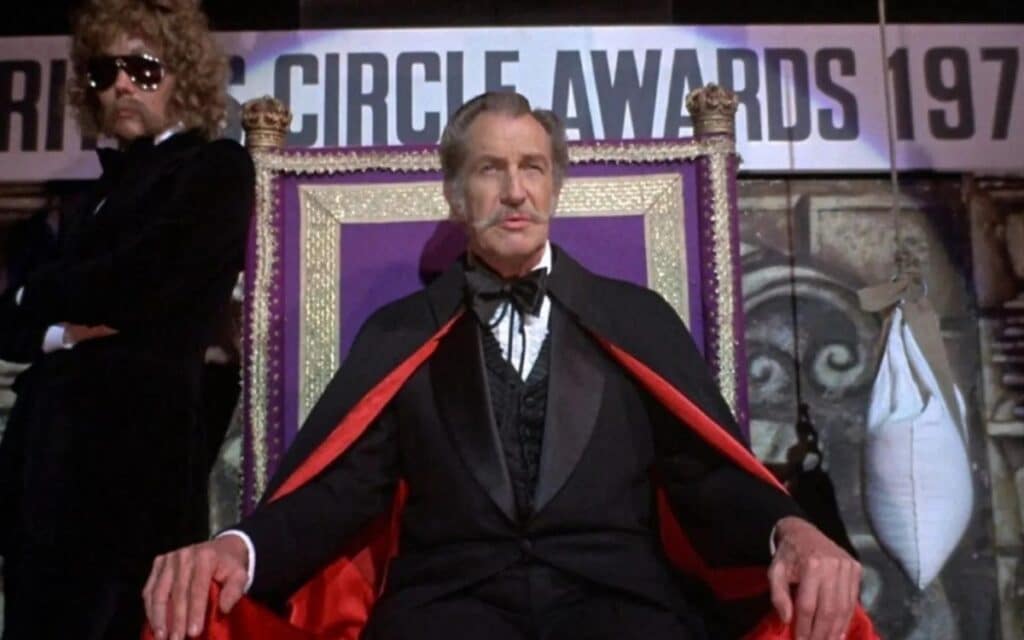 Shot on location in and around London from 10 July to 17 August 1972, this British black comedy horror was a tour de force for Vincent, giving him one of the choicest roles of his career (horror or otherwise). At 61 years old, Vincent was facing an uncertain future. His contract with AIP was almost done, and he wasn't looking for another horror picture to do. But when he read Anthony Greville-Bell's script for Much Ado About Murder, he got rather excited as it offered him the chance to perform Shakespeare (something Vincent hadn't done since 1953, when he starred in Richard III on Broadway). As Edward Kendall Sheridan Lionheart, a deluded Shakespearean thespian out for revenge on the 10 critics who criticized his 1971 season dedicated to the 'immortal Bard', Vincent brought much depth to the 13 characters he adopts in the film while also being outrageously over the top, ironically menacing and poignantly tragic.
With its great London locations, director Douglas Hickox's eye for action, and Michael Lewis' lush music score, Theatre of Blood is a triumph of stylish, witty Grand Guignol. Hickox also draws together a 'Best of British' cast, and part of the joy of the film is in spotting well-known figures amongst the victims, including Michael Hordern, Arthur Lowe, Dennis Price, Robert Morley, Jack Hawkins and Diana Dors, while Diana Rigg, who was performing for the Royal Shakespeare Company at the same time, excels as Price's devoted daughter, Edwina.
In later interviews, Vincent called Theatre of Blood his 'favourite funny film'. And it's easy to see why. The gruesome, inventive murders made it a worthy companion to the Phibes films. The role of Lionheart was Vincent personified. And it boasted that classy cast whom Vincent cited as 'the finest ladies and gentlemen of the English stage.' Among them was Australian-born actress Coral Browne, playing one of the doomed critics. During filming, Vincent and Coral fell madly in love despite Vincent being married (to his second wife Mary). The couple's affair continued after filming ended, and they would later marry (on 24 October 1974) and settle down to a new life together following Vincent's divorce in Los Angeles while continuing to maintain Coral's London flat at 16 Eaton Place.
Released 24 May 1974 US; 1 & 8 December 1974 UK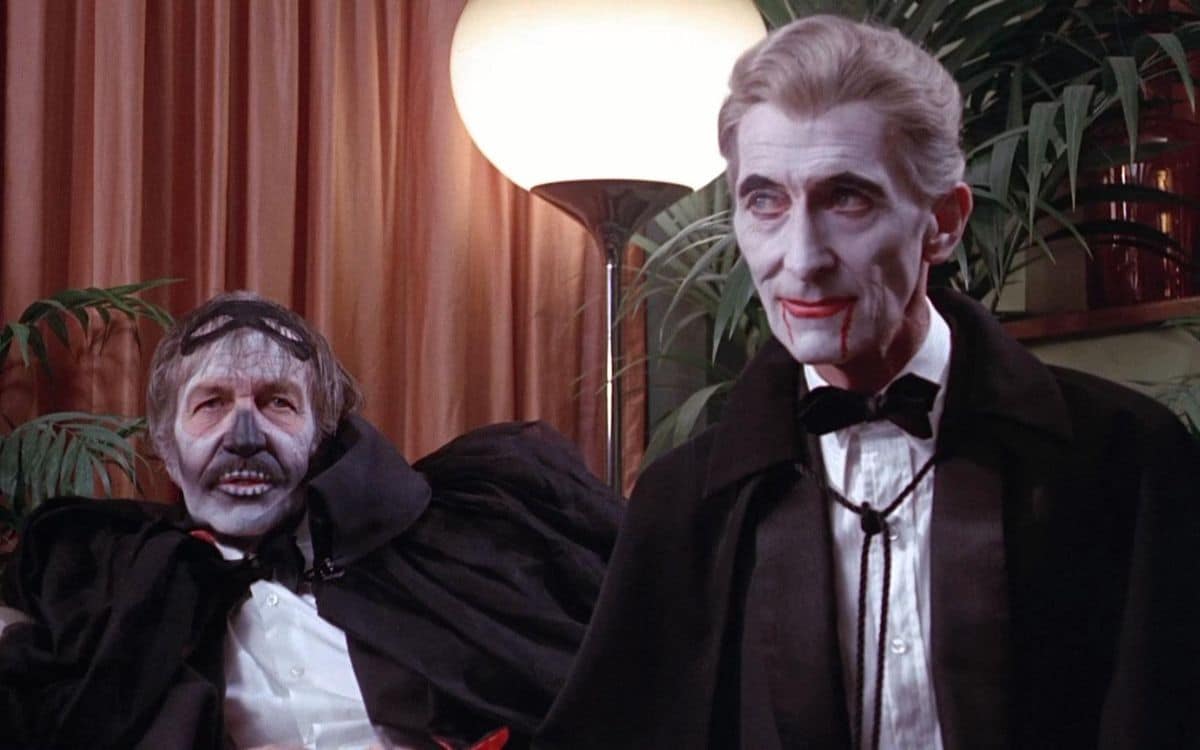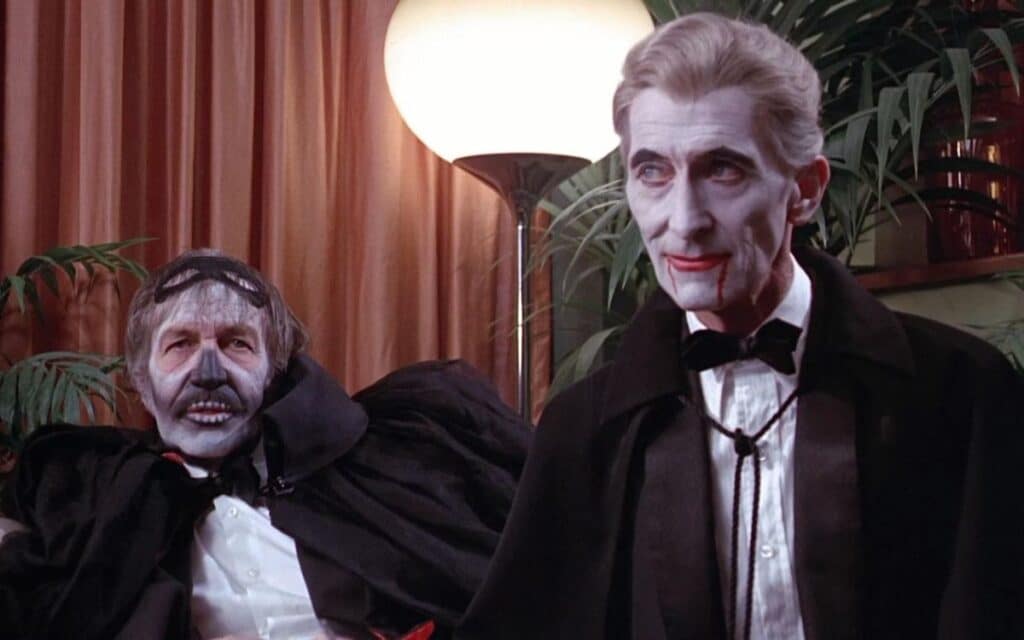 1973 marked a significant turning point for Vincent, both professionally and personally. First up was his last assignment for AIP (again co-produced with Amicus). Initially titled The Revenge of Dr. Death, Madhouse marked the end of an era for Vincent as a horror star and continues to divide fans today. While it cannot match the superior Theatre of Blood, it does give Price a poignant, self-reverential send-off while also allowing him some quality screen time with Peter Cushing. Based on the 1969 Angus Hall black magic novel Devilday, Madhouse was filmed over 13 weeks at Twickenham Studios and on location around London beginning 15 April 1973, during which time Theatre of Blood premiered in London's Leicester Square (on 24 May).
In a vehicle fit for purpose, Vincent plays Paul Toombes, a once-famous Hollywood horror star attempting a TV comeback in England in the role that made him famous, Dr. Death, only to find that much has changed since self-imposed exile following his fiancée's shocking murder several years earlier. But when his alter-ego starts stalking the TV studio corridors, Toombes' frail mind begins to crack.
Playing Toombes was undoubtedly no stretch for Vincent. But watching his disillusioned, fed-up character on screen, you can't help but think that Vincent was playing himself – especially when he finds himself sitting through his old movies while being interviewed by a young Michael Parkinson. But being the dedicated trouper he was, Vincent gives the ridiculous script one last hammy shot. Alongside Cushing, Robert Quarry, Adrienne Corri and Linda Hayden join the Master of Menace, who also gets to show off his Glee Club baritone voice in a rendition of the 1926 Robert Katcher/ Buddy De Sylva song When Day is Done over the closing credits.
Read Peter Fuller's Madhouse 1974: 13 Things You Didn't Know
While Madhouse marked Vincent's horror swansong with AIP, it wasn't the end for the veteran horror actor, as he scored a BBC radio series, The Price of Fear, in which he 'brought his own elegant eeriness to a series of dramatisations that were sometimes horrific, sometimes with a macabre sense of humour, but always with an inescapable element of fear.'
Vincent initially recorded five episodes for the BBC World Service, which aired in the first week of July 1973, and when the repeats on BBC Radio 4 proved popular, six new stories were broadcast weekly from 6 April to 11 May 1974. The series was resurrected in 1983 for a final batch of six tales (going out 30 May to 4 July).
Vincent finished 1973 by making a cameo in the British sex comedy Percy's Progress (released 1 September 1974, UK). Produced by the makers of the Doctor series of film comedies and TV's Up Pompeii, it was a sequel to the 1971 box-office hit Percy, based on Raymond Hitchcock's 1969 novel, with Leigh Lawson playing the titular sexed-up anti-hero with a rather enviable manhood.
Featuring a 'who's who' of comic greats, including Barry Humphries in the dual role of a 'whistling' scientist and an 'Australian TV lady' who resembles a certain Dame, the sequel should have been a saucy delight.
But it's as flaccid as the vulgar jokes about impotence that drive the film's far-out plot (only Percy can repopulate the Earth when every male is rendered infertile).
Among the embarrassed faces on display in the messy farce are Elke Sommer, Milo O'Shea, Denholm Elliott, Bernard Lee and Ronald Fraser, while jumping into bed with Lawson is Hammer glamour stars Jenny Hanley, Madeline Smith, Julie Edge and Judy Matheson. The film was released in the US in November 1978 under a new title: It's Not the Size That Counts.