Reading Time:
3
minutes
Award-winning Vincent Price blogger PETER FULLER gives us the low down with these fun 1971's The Abominable Dr Phibes facts!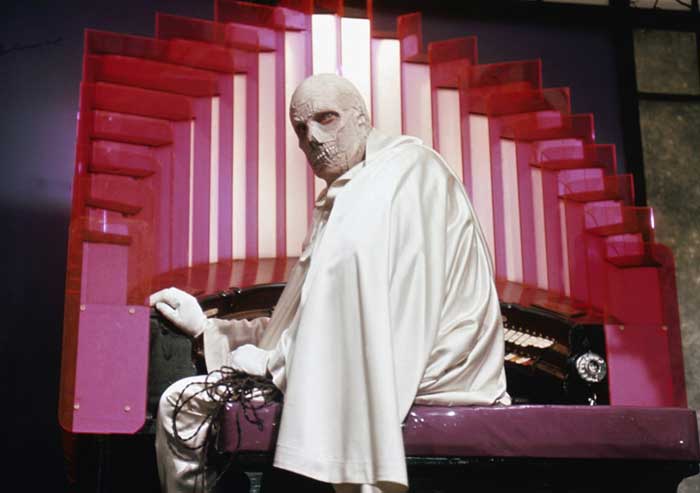 Plot of The Abominable Dr Phibes: In 1925, wealthy classicist Dr Anton Phibes (Vincent Price) takes revenge on the medical team headed up by Dr Vesalius (Joseph Cotton), who, he blames for failing to save his wife Victoria four years earlier.
His nine victims are all dispatched using the Old Testament's 10 Plagues of Egypt. With faultless precision, Phibes and his mysterious assistant Vulnavia (Virginia North) carry out their diabolical plan, baffling Scotland Yard's Inspector Trout (Peter Jeffrey) and his superiors along the way…
Abominable Dr Phibes facts
1.) Robert Fuest directed the 1971 period horror spoof. He was the art designer and director on 10 episodes of The Avengers, and used the crew from that TV series on the film, including screenwriter Brian Clemens.
2.) The story began life as a 17-page 1964 treatment The Fingers of Dr Pibe by James Whiton and William Goldstein before turning into the 1969 screenplay The Curses of Dr Pibe. Goldstein has continued the Phibes character in two tie-in novels and two new e-book/print adventures.
3.) The original script had the ending set in Wembley Stadium with Dr Phibes sailing off in a balloon.
4.) Phibes' main protagonist, Dr Vesalius, was played by Joseph Cotten, whom Price had worked with on stage in the 1930s as part of the Orson Welles Mercury Theatre repertory company.
5.) Peter Cushing was initially approached to play the role of Vesalius, but was looking after his ailing wife Helen, who died in January 1971.
6.) Model and actress Virginia North, who was Diana Rigg's new young step-mother Olympe in the 1969 Bond film On Her Majesty's Secret Service, played the mute Vulnavia.
7.) Actress Caroline Munro is uncredited as Victoria, appearing in the slide show that Phibes projects while reciting poetry, and in the double coffin in the film's climax.
8.) The lavish art deco sets were by designer Brian Eatwell, who also worked on Nicolas Roeg's films, including The Man Who Fell To Earth.
9.) Vincent Price's make-up by Trevor Crole-Rees, who also did the grisly disfigurements in 1965's Circus of Horrors, and turned Ralph Bates into Martine Beswick in 1971's Dr Jekyll and Sister Hyde.
10.) Standing in for Dr Phibes' Maldine Square mansion is Immanuel College (formerly Caldecote Towers) in Elstree Road. It was also used in The Avengers episode, Master Minds, and pops up in The Saint.
11.) Dr Phibes rides in a 1926 Rolls-Royce 20-horsepower touring car, which is now in private hands.
12) The film's music score was by avant-garde composer Basil Kirchin, who also scored The Shuttered Room (1967) and Mutations (1974). Director Fuest disliked the music, having preferred library music. A vinyl recording was put out in 1971 with Paul Frees doing vocal impersonations, while a CD version of the entire score was released in 2003.
13.) The theatrical trailer features animation that mimics Terry Gilliam's cutout technique on the Monty Python TV series.
14.) The film was touted as Vincent Price 100th film. It wasn't. But it sounded good. The tag line was, however, a winner: 'Love means never having to say you are ugly'.
15.) A sequel, Dr Phibes Rises Again, followed in 1972. A third film, The Bride of Dr Phibes was mooted by Roger Corman's New World Pictures in 1976. The title was later changed to Phibes Resurrectus, but nothing came of it.
16.) Rocky Horror's Richard O'Brien also played a character called Phibes in the 1995 episode of The Detectives, starring Robert Powell and Jasper Carrott, called On Thin Ice.
17.) The Green Mile director Frank Darabont paid homage to Fuest's film by including Guy Lombardo's 1927 song Charmaine in his 1999 film adaptation of Stephen King's novel.
18.) The 2002 film adaptation of Bret Easton Ellis' novel The Rules of Attraction features an ER doctor called Phibes, played by Paul Williams (who was originally cast to appear in Phibes Resurrectus).
19.) In 2009, a series of comics were released by Bluewater in the US featuring the character of Dr Phibes as part of their Vincent Price Presents series.
BONUS: Keith Moon, the drummer with The Who, was watching The Abominable Dr Phibes on TV on the night he died of a drug overdose in 1978.
Watch The Abominable Dr Phibes 1971 trailer