Reading Time:
2
minutes
English-born horror legend Boris Karloff was a fading star in the 1960s. But he still produced some genuine classics. STEPHEN JACOBS, author of Boris Karloff: More than A Monster, selects some of the best of Karloff's later films.
---
READ: 7 horror stars memorialised in London's Actors Church in Covent Garden in London
---
Corridors of Blood (1958)
"An underrated historical drama based, in part, on the sad life on Horace Wells, an American dentist who, in the mid 19th Century, became addicted to the nitrous oxide he was using – with tragic consequences."
CLICK HERE FOR MORE ON CORRIDORS OF BLOOD
---
The Raven (1963)
"Roger Corman's comedy is great fun. Vincent Price plays Dr. Erasmus Craven, a magician who discovers his wife (Hazel Court) is not dead but resides with rival sorcerer Dr. Scarabus (Boris Karloff)."
CLICK HERE FOR MORE ON THE RAVEN
---
Black Sabbath (1963)
"This is a great anthology film by celebrated Italian director Mario (Black Sunday) Bava."
CLICK HERE FOR MORE ON BLACK SABBATH
---
The Comedy of Terrors (1964)
"This is a fun comedy with Price as undertaker Waldo Trumball with Peter Lorre as his put upon assistant Felix Gillie and Rathbone as Mr Black, a prospective customer who just won't stay dead."
CLICK HERE FOR MORE ON THE COMEDY OF TERRORS
---
The Sorcerers (1967)
"This film is almost a return to Karloff's 'mad doctor' series for Columbia almost three decades years earlier."
CLICK HERE FOR MORE ON THE SORCERERS
---
Targets (1968)
"Karloff is great playing, essentially, himself. His recitation of 'Appointment in Samara' (which caused the film crew to spontaneously applause) is a highlight."
CLICK HERE FOR MORE ON TARGETS
---
Curse of the Crimson Altar (1968)
"This is a tale of witchcraft and revenge in which Robert Manning (Mark Eden) goes to Craxted Lodge looking for his brother and finds more than he bargained for."
CLICK HERE FOR MORE ON CURSE OF THE CRIMSON ALTAR
---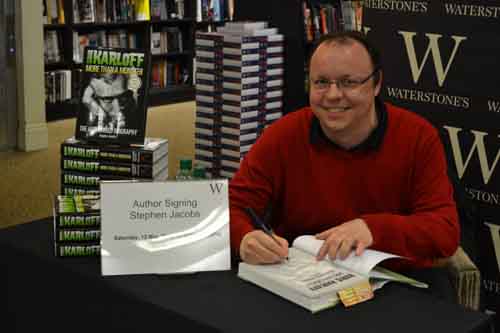 Award-winning Boris Karloff historian STEPHEN JACOBS is the author of Karloff: More than a Monster. You can buy his book here from Amazon and read his interview with The Spooky Isles here. He also wrote an Spooky Isles article Karloff's London, a location guide including Boris Karloff's childhood homes and filming locations around the English capital.
These were some of Stephen Jacobs favourite Boris Karloff films from his later years – but what did you think? Comment below if you agree or disagree.
---