DAVID SAUNDERSON lists seven actors with connections to horror who have been honoured with memorials at the Actors Church in London
St Paul's Church in Covent Garden is known as the Actors Church. It's connection to the theatre and acting community stretches back to the late 1600s when theatres began popping up around that area.
Over the years, memorials have been placed inside the church noting some very famous actors, including the following who left a mark in their own way on the history of British horror. Calling them horror stars – besides Boris Karloff – is probably a bit of a stretch, but clearly the films they were in were definitely in the genre.
Apologies for the quality of the photographs of the memorials; it was quite dark inside the church and I was using my phone when I visited today.
1. Ivor Norvello (1893-1951)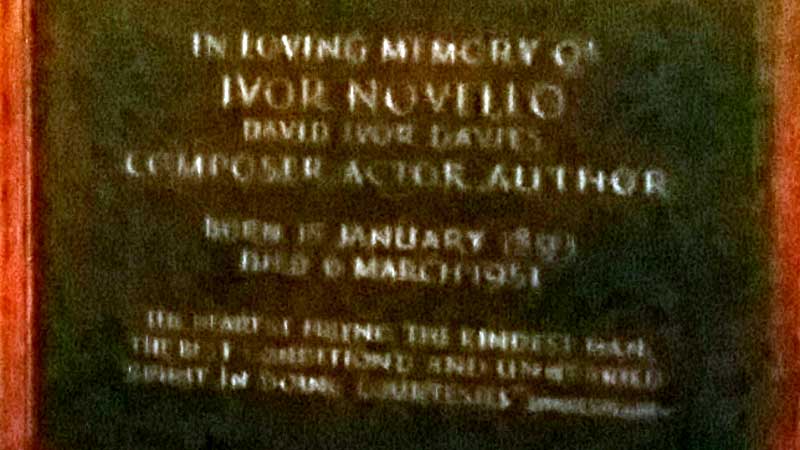 Ivor Novello was a hugely popular British entertainer of the first half of the 20th century. He gets on this list for his role in The Lodger (1927). Directed by Alfred Hitchcock, The Lodger stars Novello in the title role about a Jack the Ripper type murderer.
2. Dennis Price (1915-1973)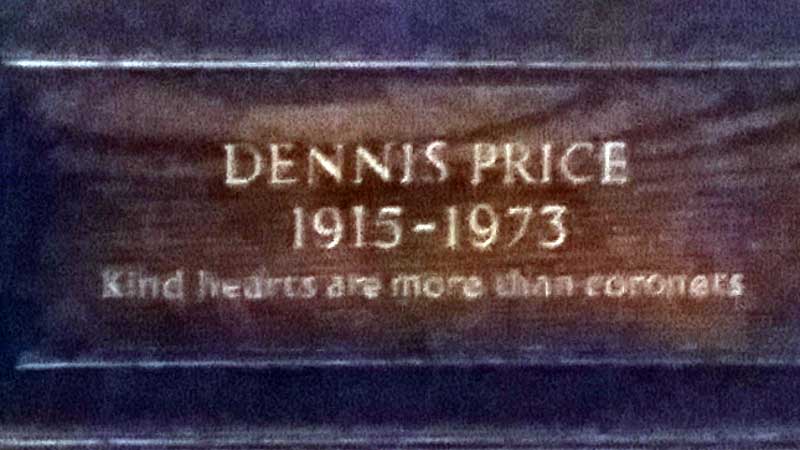 At first I thought it a stretch to call Dennis Price a horror actor because I only knew he was in Twins of Evil (1971) and Horror of Frankenstein (1970). But after looking over his filmography on Wikipedia, I see the versatile actor spent the later part of career almost entirely appearing in some very awesome (and dubious) horrors, including  Dracula, Prisoner of Frankenstein (1972), Theatre of Blood (1973), Horror Hospital (1973) and Son of Dracula (1974) to name a few.
3. Robert Shaw (1927-1978)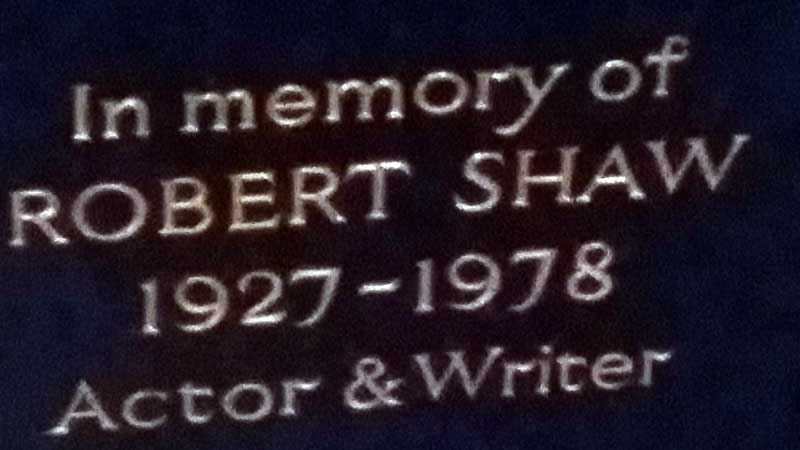 Robert Shaw gets his name on this list thanks to his role as the crusty shark hunter Quint in Jaws (1975), one of the biggest grossing horror films of all time.
4. Boris Karloff (1887-1969)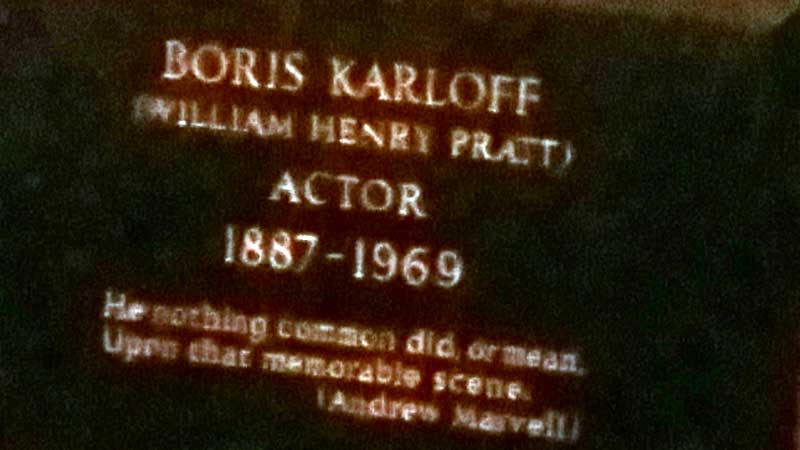 This is the personal favourite for me and the reason I guess most horror fans visit the Actors Church. I touched the memorial when I first visit a few years ago out of excitement. I couldn't do it today because there was something in front of it, which made me sad. Boris Karloff is a legend. He needs no introduction. You can read about Karloff films from his last decade here.
5. Donald Wolfit (1902-1968)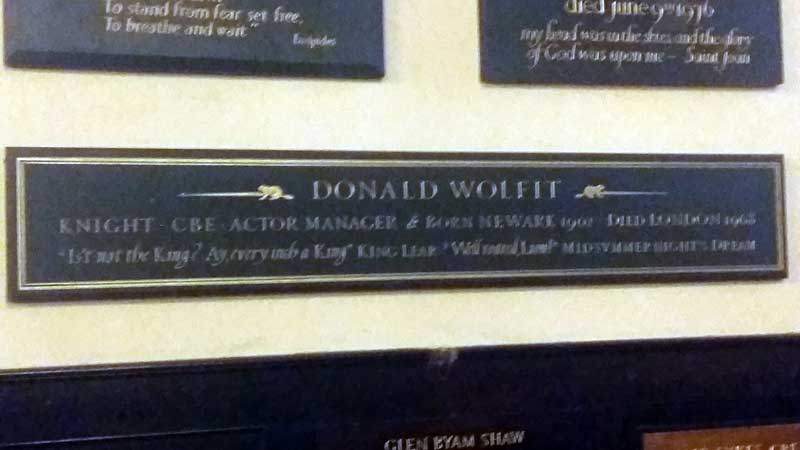 Sir Donald Wolfit didn't get his knighthood or CBE for his role as Callistratus in Blood of the Vampire (1958), but he's on the list here for that very film. Wolfit's career was long and varied but Blood of the Vampire is clearly a favourite of mine. Wolfit also appeared in a lesser role in The Hands of Orlac (1960) which also starred horror knight, Sir Christopher Lee.
6. Andre Morell (1909-78)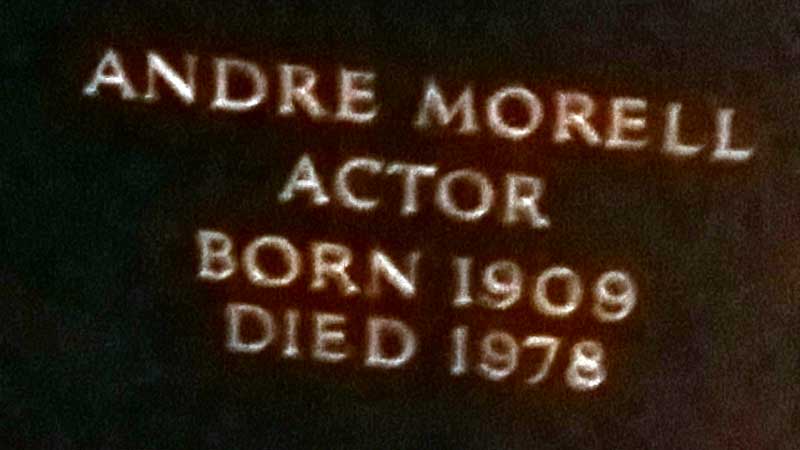 Respected actor Andre Morell found himself in many Hammer horrors from the late 1950s to the 1960s. His most notable roles include Dr Watson in Hound of the Baskervilles (1959) with Peter Cushing, She (1965), The Plague of the Zombies (1966) and The Mummy's Shroud (1967). He also played Professor Bernard Quatermass in the BBC TV serial Quatermass and the Pit (1958-59).
7. Michael Redgrave (1908-1985)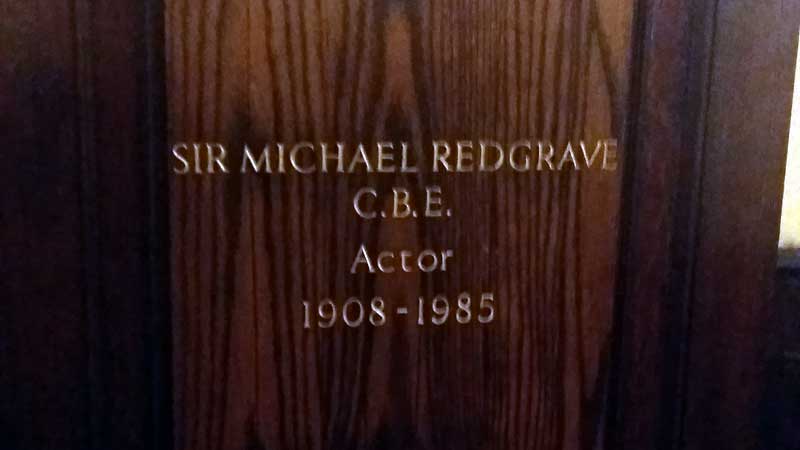 Another knight and one of the biggest British stars of all time, Sir Michael Redgrave had a long and varied career, but it's his turn as the demented ventriloquist in Dead of Night (1945) that gets him on this list. That anthology horror is classed as one of the greatest British horrors of all time and Michael Redgrave had a big part in making it so.
The Actors Church is a lovely building and well worth a visit.
Did I miss anyone? Tell us in the comments section below!