Reading Time:
4
minutes
Targets 1968 – the gritty Peter Bogdanovich psycho thriller – was a perfect bookend to the career of monster maestro Boris Karloff, says TERRY SHERWOOD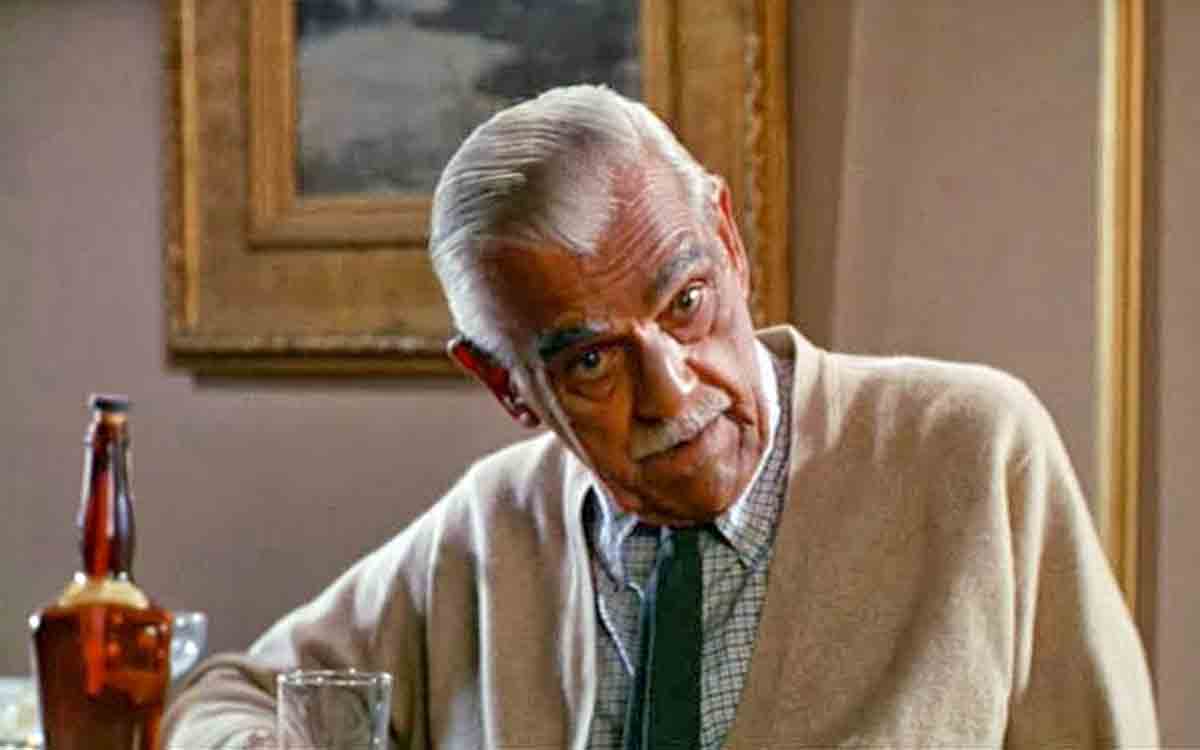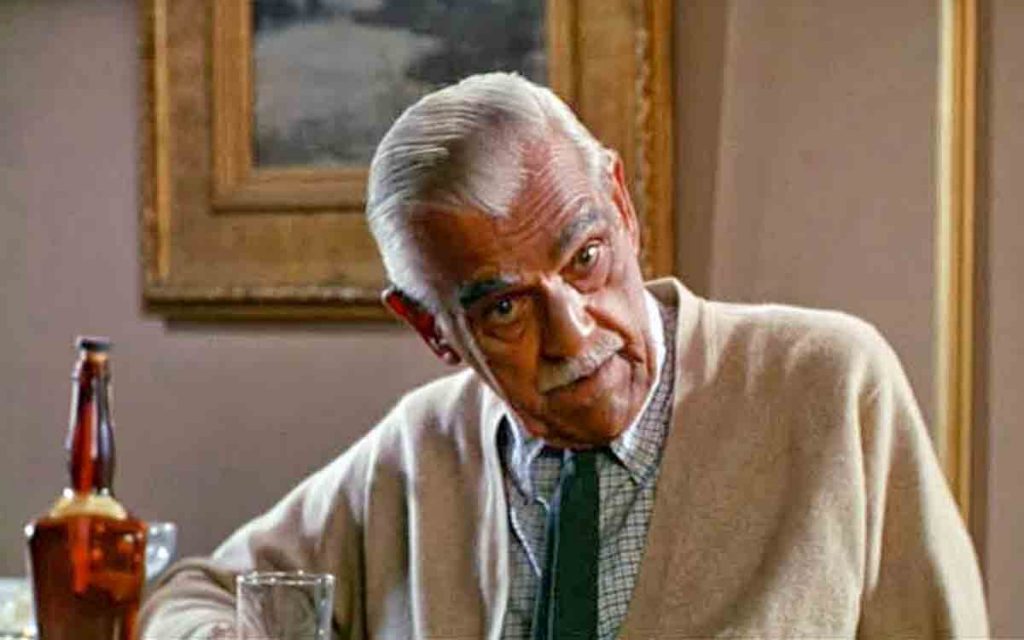 TITLE: Targets
YEAR RELEASED: 1968
DIRECTOR: Peter Bogdanovich
CAST: Boris Karloff, Tim Kelly and Arthur Peterson
Targets 1968 Review
Actors lucky enough to have a signature role are blessed in the profession that chose them. Boris Karloff who will always be associated with the neck bolts, flat-top head and concrete fitters boots of the no need to be named creature was lucky to have many.
However, book-ending a career, if you take the Monster as "ground zero' you have an extraordinary characterisation of Baron Orlok by Mr. Karloff in the often-overlooked film, Targets 1968.
This is a crime film produced by Roger Corman, directed by Peter Bogdanovich, and written by Polly Platt and Bogdanovich. The film works on two parallel stories that meet in a shattering climax of urban violence. Bobby Thompson (Tim O'Kelly), a wholesome young man that American television loved during the fifties and sixties suddenly embarks on a killing spree. Thompson is a quiet, clean-cut insurance agent, Vietnam War veteran and a disturbed gun collector.
In terms of 1968 cinema, Targets 1968 is devastating in its subtle impact. The picture was not released until after the assassination of Martin Luther King Jr. and that of Robert F. Kennedy in the spring of 1968. It was not very successful at the box office but it did get director Peter Bogdanovich noticed.
Kiss, Kiss, Bang, Bang
Bobby Thompson smiles at his mother during breakfast, says "Yes Dad, No Dad", pokes fun at his kid sister, then calmly walks into his home and kills them all. The events are methodical and chilling in the film with Tim Kelly giving Bobby a unique almost robot-like mannerism as he kills with a 'matter of fact' purpose. Tim Kelly does not go over the top with actions, speech patterns or movement, making Bobby more lethal since there is literally no soul in him except the need to kill.
In another chilling sequence, Bobby drives to a water tower near a highway. There he methodically climbs up positions himself to randomly shoot motorists as they drive on the road or get out of their vehicles and start to run. The spectacle unfolds without music, just the sound of the traffic and the gunshots blended with skidding vehicles.
"A Dowager in Hot Pants"
What does this have to do with Boris Karloff? The second story concerns Byron Orlok (Boris Karloff), an iconic horror film actor who is disillusioned by real-life violence and is contemplating retirement. He despairs society and the look of Hollywood itself, now with streets filled with sex shops, massage parlours, trash and beggars. Orlok is on a film shoot and has been asked to make an appearance at a local drive-in where one of his pictures will be playing.
Byron Orlok wants to retire and return to his native England. The actor considers himself outdated because he believes that people are no longer frightened by old-fashioned horror, citing real-life news stories as more horrifying than anything in his films. The obviously-aged Boris Karloff is restrained to the point of being himself, a citizen waxing upon changes he doesn't like. In a legendary moment of this film Karloff as Baron Orlok delivers a monologue directly to the camera on the state of horror and society.
The film's director, who is actually played by Peter Bogdanovich, and the crew are mesmerised by Orlok's' presence which actually was recorded in a single take.
Bobby Thompson continues his killing spree that evening at the same drive in that Baron Orlok will be. He cuts a hole in the theatre screen and begin shooting theatre patrons in the cars, using a telephone or walking to get snacks. The violence ends in a confrontation of new and old horrors that still resonates. In the film's finale at a drive-in theatre, an old-fashioned, traditional screen monster who always obeyed the rules—confronts the new, late-1960s "monster".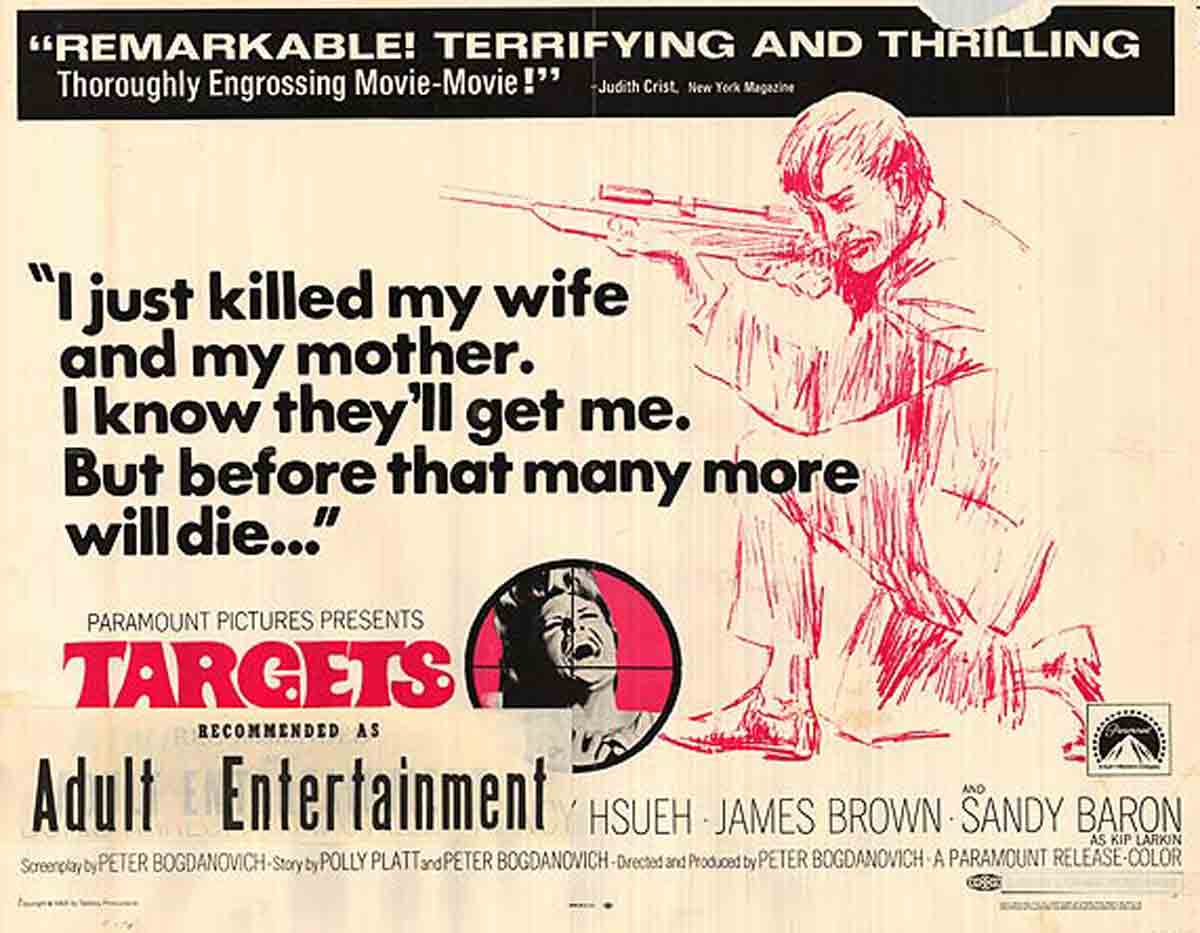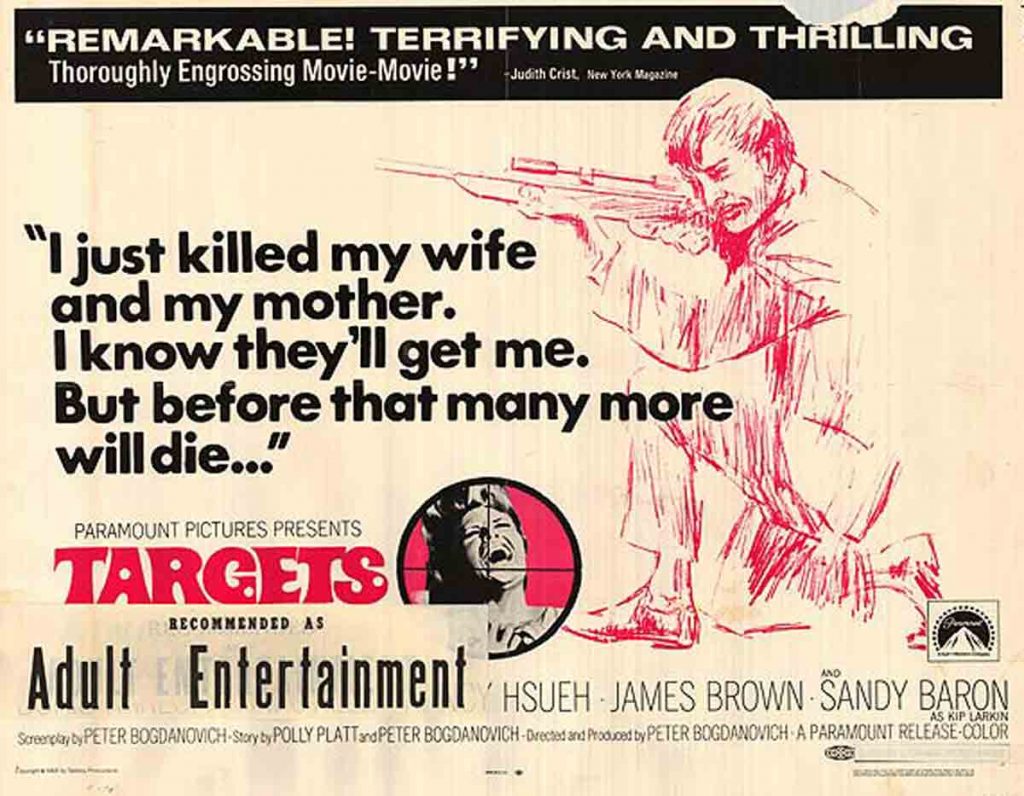 Targets 1968 is still a stunning film given the current state of America. In fact, the film again shows the death of Sixties idealism put forth in music festivals as original Woodstock had happened. The actual ending was the Hells Angels Rolling stones show at Altamont Speedway where the Angels, acting as security killed a black spectator. The "Summer of Love' would later end with events at Kent State in 1970.
Boris Karloff was under contract with Roger Corman for three days, so the producer used him in this project with lasting effect. The stark urban violence along with an admission that the world is changing not for the better in terms of what scares people may seem trite to some. There has long been a debate regarding the use of gore in the film as opposed to being less direct.
Meal with a Monster's Daughter
Recently I was privileged to have a lunchtime conversation with Sara Karloff, Boris Karloff's daughter and I made the remark that someone should remake Targets 1968 as it was one of my favourites. Sara looked me in the eye and said 'Why? She went on to say that her father was very proud of that role and it reflected the time and his views on society at that time. I was good-naturedly corrected and you don't argue with the gentle monster's daughter on the subject of her father's work. Targets 1968 is a must-see film.
Tell us your thoughts about Targets 1968 in the comments section below!
Watch Targets 1968 Trailer with Boris Karloff