Reading Time:
3
minutes
Corridors of Blood 1958 with Boris Karloff and Christopher Lee is a solid yet slightly clichéd historical horror film, says TERRY SHERWOOD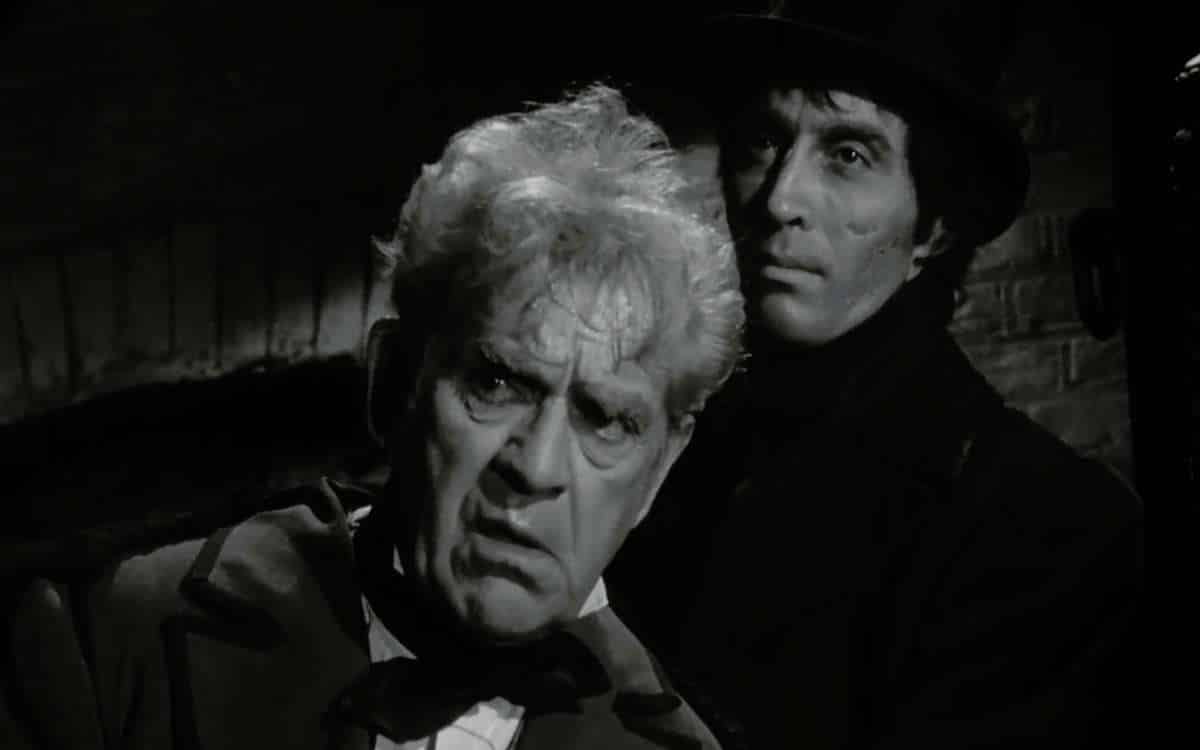 TITLE: Corridors of Blood
YEAR RELEASED: 1958
DIRECTOR: Robert Day
CAST: Boris Karloff, Christopher Lee, Betta St. John, Finlay Currie and Francis Matthews
Corridors of Blood 1958 Review
Corridors of Blood 1958 aka The Doctor of Seven Dials would yield another Boris Karloff late-career literate horror film performance.
Shades of The Body Snatcher 1945 ring in this one as the Victorian medical community is once more the setting.
You toss in one screen presence of the up-and-coming Christopher Lee as grave-robber Resurrection Joe and Francis Matthews, one gets a glimpse of Hammer Studios to come.
Trying to repeat the success of the underrated and little-viewed The Haunted Strangler 1958 you the made in England Corridors of Blood 1958.
The picture was actually made in 1958 but not released until 1962 due to labour unrest at MGM caused by the advent of the one-eyed monster known as television. The film is quite worth the wait as you have again an aging Karloff wonderfully cast among well-supporting players and a story.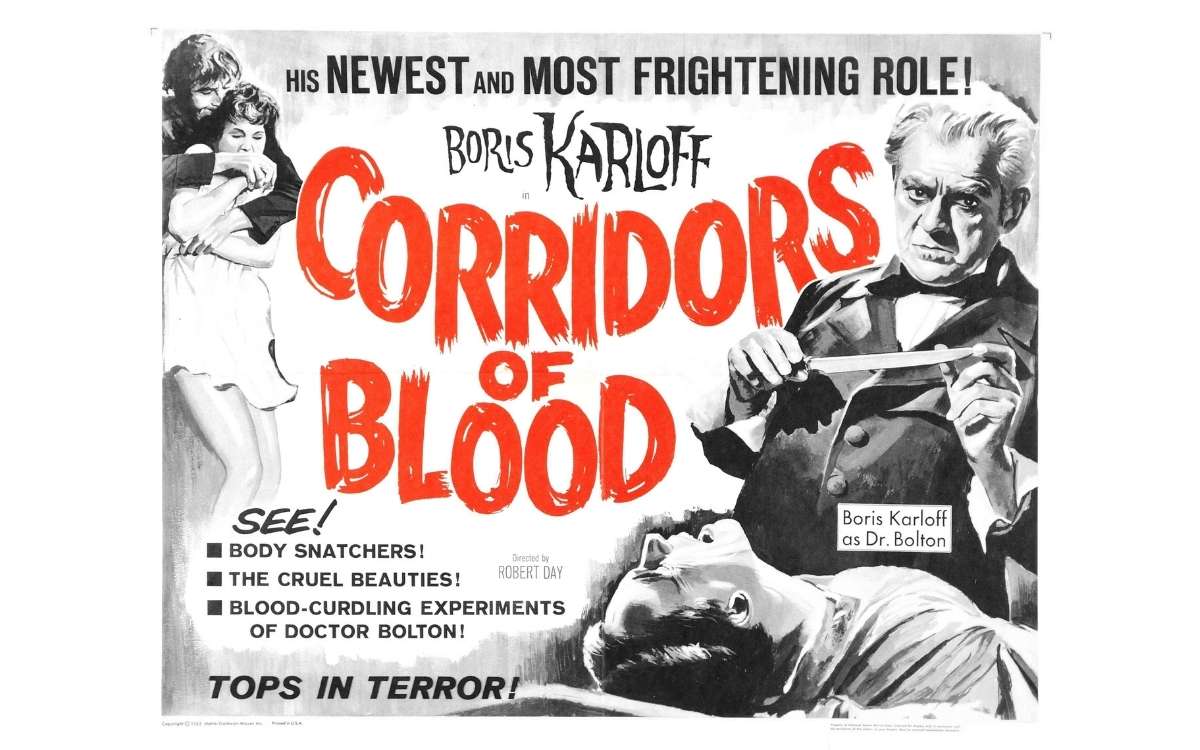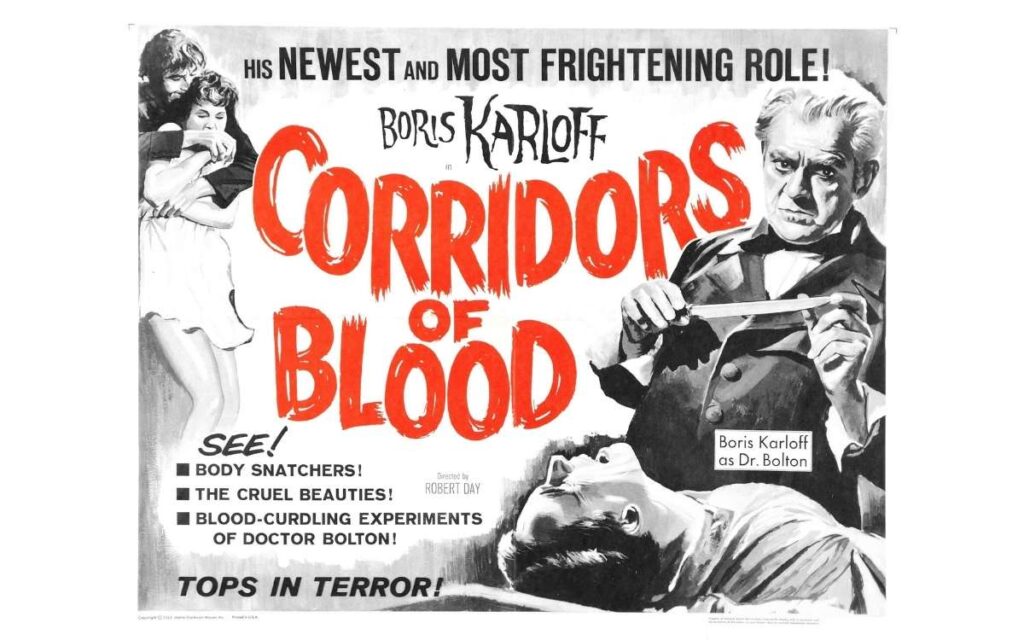 It's A Gas
Dr. Thomas Bolton (Karloff) is an established surgeon before anesthesia had been discovered. The crusading Doctor is tired of seeing patients undergo agonies on the operating table so he works to find a drug that will stop the pain. A failed demonstration where Bolton's professional credentials and sanity are questioned only makes him more determined.
Bolton conducts experiments upon himself, becoming addicted to his own formula. Changes begin to happen, hands now shake and betray him. Memory fails as he experiences blackouts when under the influence of the formula.
The result is he is suspended from practice and source of supplies. To continue the work and fuel his addiction Bolton turns to a criminal element the menacing Resurrection Joe (Christopher Lee), who smothers victims with pillows. To get the drugs he needs the criminals who regularly kill patrons to medical schools for money now to get Bolton to sign the death certificates.
Corridors of Blood 1958 is a well-shot thriller making use of good black and white cinematography, The actors throughout the story all make the best of somewhat cliché roles overshadowed in a good way as they are familiar faces. Frances Mathews, Nigel Green, Yvonne Romain, all give credibility within the world of the film.
Shine The Light On Me
The film also features Boris Karloff relying on facial expressions when he is under the influence of the drug. Gone are the heavy makeups and other processes to render a change relying on the actor's body, stature, gait, the voice in short actual theatrical training to bring forth the menace. One could argue that it was a cost-cutting measure however it harkens back to Stevenson's duel personality story The Strange Case of Dr. Jekyll and Mr. Hyde. The text states Mr. Hyde's evil personality was showcased by an 'evilness of expression"
Screams of Reason
Corridors of Blood 1958 features some unsettling moments for the time in terms of blood, contorted faces in agony, particularly in the operating room moments. Screams and shrieks also abound on the soundtrack with an intensity that does not distract from the subtle and direct on-screen horror of Karloff's Dr. Bolton even when he is reduced to a pathetic mass. The literate script does the trick and impassioned portrayals if not slightly cliché make for a good solid film.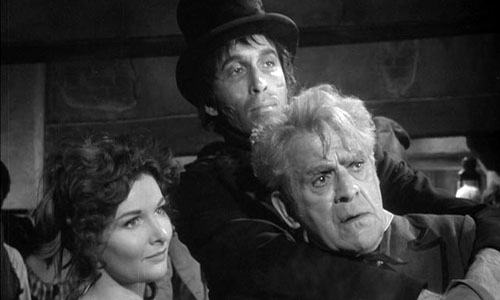 MINI-REVIEW FROM STEPHEN JACOBS (originally published on Spooky Isles on 15 March 2012): "An underrated historical drama based, in part, on the sad life on Horace Wells, an American dentist who, in the mid 19th Century, became addicted to the nitrous oxide he was using – with tragic consequences. Karloff plays Dr. Thomas Bolton, a surgeon whose search for anaesthesia leads to an addiction to the drug. In order to fuel his work (and addiction) the doctor falls in with a bunch of criminals, one of which – Resurrection Joe – is played by Christopher Lee. Lee took a break from filming to attend the New York opening of Dracula (U.S. Horror of Dracula)."
What did you think of Corridors of Blood 1958? Tell us in the comments section below!
Watch Corridors of Blood 1958 Trailer