Boris Karloff eats up the screen in The Mask of Fu Manchu 1932, says DAVID SAUNDERSON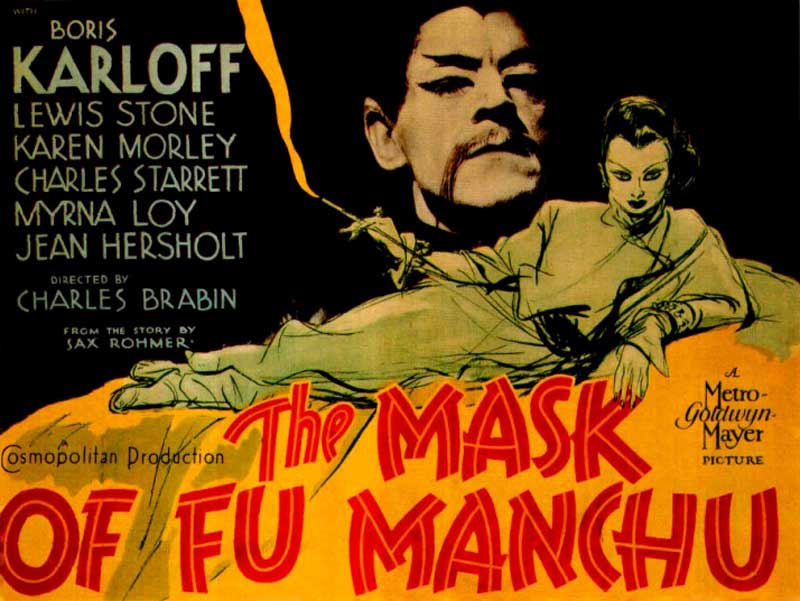 TITLE: The Mask of Fu Manchu
YEAR RELEASED: 1932
DIRECTOR: Charles Brabin
CAST: Boris Karloff, Lewis Stone, Myrna Loy, Karen Morley, Charles Starrett
The Sax Rohmer-created Chinese mastermind Dr Fu Manchu has long been a controversial character.
Even when The Mask of Fu Manchu was first screened in 1932, there was hollers of condemnation over the depiction of Asians. Nowadays the racism seems so over the top, it is almost laughable.
So putting the notion aside that The Mask of Fu Manchu 1932 is a dreadful display of Asian stereotypes, let's just look at the film as horror entertainment from a bygone era.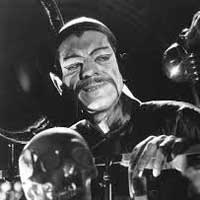 The plot of The Mask of Fu Manchu 1932 is fairly simple. British secret serviceman Dr Denis Nayland Smith (Lewis Stone aka Judge Hardy from the Andy Hardy movies) warns archaeologist Sir Lionel Barton (Lawrence Grant) that he must beat evil genius Fu Manchu in the race to finding the tomb of Genghis Kahn.
Inside the tomb is Kahn's mask and sword – which Fu Manchu wants to use to proclaim himself the leader of the Asian races and use that power to destroy "white people".
Sir Lionel leads a team to the Gobi desert to search for the tomb, but before he can get there is kidnapped by Fu Manchu.
Fu Manchu is at first sickly charming, even offering up the pleasures of his daughter Fah Lo See (Myrna Loy) to Sir Lionel to get him to tell him the location of the tomb. But Sir Lionel withstands Fu Manchu's offerings and is submitted of "the bell" – one of many outstanding tortures from the fiendish doctor throughout the film. (I loved the tortures including all sorts of creepy crawlies like spiders, snakes and alligators!)
The Mask of Fu Manchu 1932 was not the first time Sax Rohmer's evil mastermind was portrayed on screen. It was also not the first Fu Manchu talkie. Warner Oland – the Swedish-American actor most famous for his Charlie Chan films and his appearance in Werewolf of London (1935) – portrayed Fu Manchu three times before Karloff took over the role.
It was Karloff's only time as Fu Manchu and it is a great pity because Karloff is simply magnificent as the power-hungry Fu Manchu.
Despite the stench of racism that permeates the film, Karloff's performance is quite considered and he does not put on a silly accent, which lesser actors may have attempted.
Fu Manchu is a fantastic villain and I found myself cheering him on as he sought to thwart his British adversaries. Even the proclamation by Fu Manchu for his followers to "Kill the white man and take his women" seems so delightfully OTT that I wanted more, more, more!
I'm yet to see any other Fu Manchu films, so I don't know if my love of the evil genius is because of Boris Karloff or the character. I suspect it will a bit of both. The Mask of Fu Manchu is great stuff!
Tell us your thought on The Mask of Fu Manchu 1932 in the comments below!
Watch The Mask of Fu Manchu 1932 clip