Reading Time:
4
minutes
Curse Of The Crimson Altar 1968 is a good-dated thriller with moments of fun, says TERRY SHERWOOD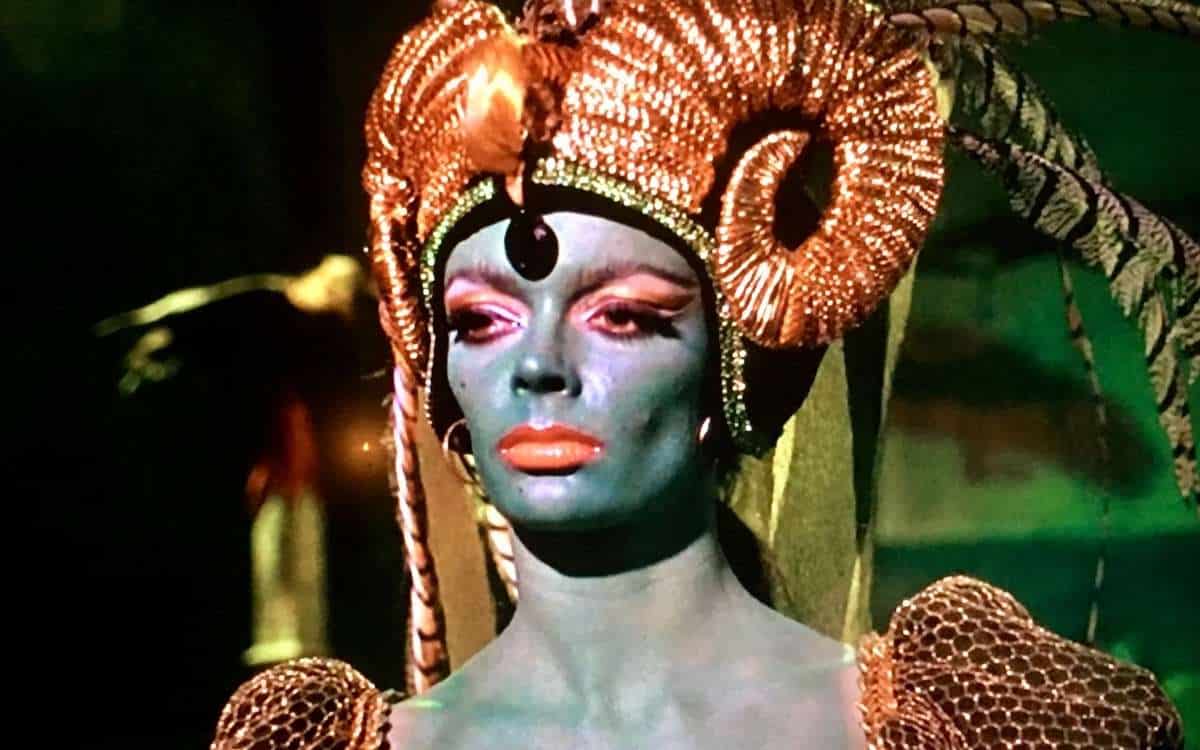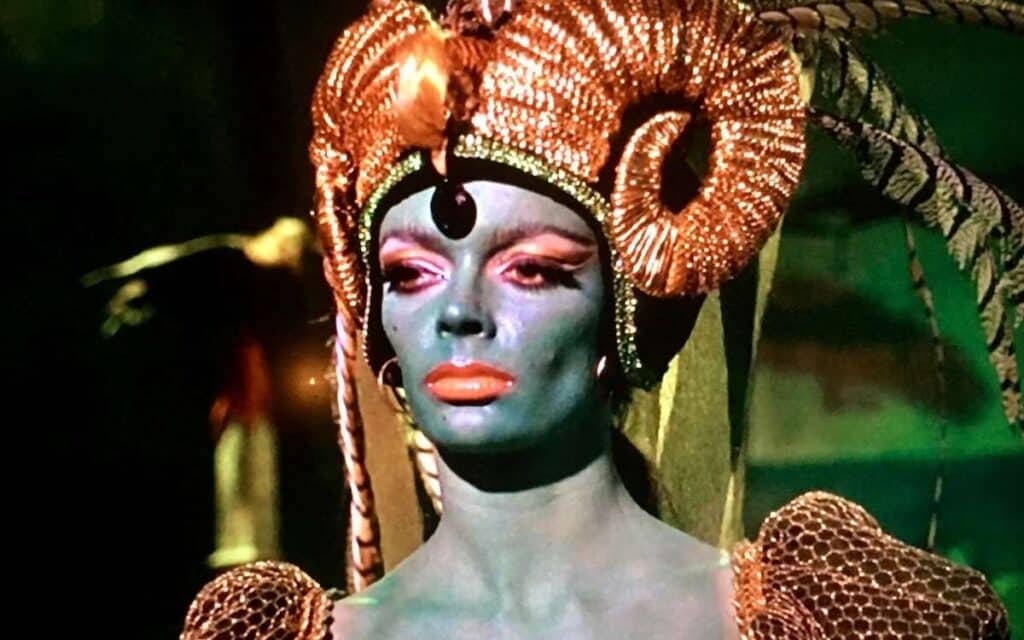 TITLE: Curse of the Crimson Altar
YEAR RELEASED: 1968
DIRECTOR: Vernon Sewell
CAST: Christopher Lee, Boris Karloff, Mark Eden, Barbara Steele and Michael Gough
Curse Of The Crimson Altar 1968 Review
Genre films often get accused of following a formula. The truth from my perspective is that that does often not be somewhat inventive in approach. The drawback being is one can become jaded when viewing or ladling heavy often bitter criticisms.
You don't have to 'reinvent the wheel' each time or expect astounding shifts in lore, sometimes the work fits within the means.
This late Boris Karloff film titled Curse of the Crimson Altar 1968 is one example of a good-dated thriller with moments of fun.
'Your Face Has Interesting Possibilties"
I use the phrase a Boris Karloff film loosely as he is barely present in the finished print. His image is featured in the poster, likely as a way to bring in an audience. At the time in his career Mr. Karloff was barely holding on to health and you can see this in the film. Make no mistake the professionalism, the performance, the voice, the eyes are all vintage Boris yet it's encased in a rapidly failing body.
Curse of the Crimson Altar 1968 represents a chance to see the "Old Monster" himself and I mean that affectionately in terms of Boris sharing scenes with the growing popular presence of Christopher Lee and Michael Gough.
Toss in the painted green and gold dressed Barbara Steele in a wasted, reverb-sounding performance for box office appeal and you get the spirit of the film.
Death At Bargain Prices
The film features a simple story of a London Antique dealer Robert Manning (Mark Eden) in search of his lost brother. Peter disappeared in a small village that happens to be in the midst of its annual festival of a burning of a witch. The people seem no regard going to the home, not with the usual we won't tell you attitude. The film was produced by Tony Tensor so that means one gets those scenes of late sixties decadence like party moments with women in low cut clothes or underwear pouring champagne or painting each other, The Free love society lives again In this little town on this night.
Manning crashes the party which no one notices, views this goings-on only to be picked out of the crowd by Eve Morley (Virginia Wetherall). Eve promptly smooches him lustily, offers to get him a drink then escorts him to meet her father (Christopher Lee) in the library. While being escorted by Eve, Manning makes the remark that the home looks like it is from a horror film then adds that Boris Karloff could pop out.
Morley is reading when Manning enters and is soon joined by Professor John March (Boris Karloff) who is confined to a wheelchair is an expert on local history, brandy, and later Witchcraft. The three discuss Manning's brother's disappearance over a drink. Morley denies anything in the disappearance even when the note was written on his own stationery. You have a muddled story of sliding doors, clues in candlesticks and graveyards add to this hallucinated encounters with a green Barbara Steele and devil worshippers.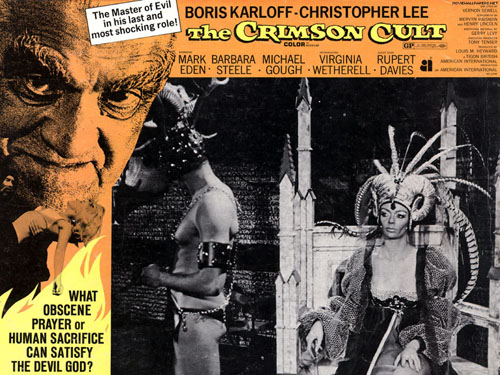 'People. People Who Need People'
What pulls this film altogether is the cast besides the mentioned Lee and Karloff you Michael Gough doing himself good a meek butler with a secret. Gough while doing the standard warning to get away before it's too late speech actually gives his role of Elder a sense of vulnerable purpose. Virginia Wetherall who has the look of Barbara (Judith O Day) from George Romero's Night of the Living Dead 1968 is faced with looking pretty in short skirts and falling in lust with Manning.
Many reviews pan Mark Eden's work as Manning for being dull and colourless. I don't agree with that as he delivers his dialogue which is what keeps the facts and the story moving with the precision of today's police procedural dramas. When are saddled with a routine script spiced up by nudity and LSD effects, you need someone to anchor that story which he does well if not rather by the numbers.
Rising Damp
Curse of the Crimson Altar 1968 directed by Vernon Sewell who directs with an eye for police dramas then a horror genre tries his best to make the story move. The film was Boris Karloff's final British film of his long career. Physical troubles necessitated him being pushed around in a wheelchair by a mute servant (Michael Warren). Dr. Morley seems to have only one jacket and tie ensemble as he wears the same throughout the film.
The night scenes that appeared to be shot in some cold damp weather gave Mr. Karloff a case of pneumonia on the set. One wonders during a fireworks moment in which a rocket appears to strike Karloff's lower blanket when he is sitting in his wheelchair was planned or not. The reaction he gives is not one that this was supposed to happen. Nevertheless, the moments with Christopher Lee are worth seeing the actors working in tandem in speech and ideas in spite of what is being said. Those moments could be cast as being an unofficial changing of the Horror guard.
Journey's End
Curse of the Crimson Altar 1968 or Crimson Cult is a good comfortable film to watch just for the moments with Karloff and Lee. Those that enjoy whips, Barbara Steele, women pretending to be fighters, and painting each other along with procedural script will have an as comfortable time with this film as they would a cup of hot chocolate on a winter's night.
MINI-REVIEW FROM STEPHEN JACOBS (Originally published on Spooky Isles on 15 May 2012): This is a tale of witchcraft and revenge in which Robert Manning [Mark Eden] goes to Craxted Lodge looking for his brother and finds more than he bargained for. This is a lesser film from Karloff's final years, and the last film he made in Britain. Still, it is worth seeing Karloff and other horror stalwarts – Christopher Lee, Barbara Steele and Michael Gough – all in the same picture.
Tell us your thoughts on Curse of the Crimson Altar 1968 in the comments section below!
Watch Curse of the Crimson Altar 1968 Trailer