TITLE: Curse of the Crimson Altar
YEAR RELEASED: 1968
DIRECTOR: Vernon Sewell
CAST: Christopher Lee, Boris Karloff, Mark Eden, Barbara Steele and Michael Gough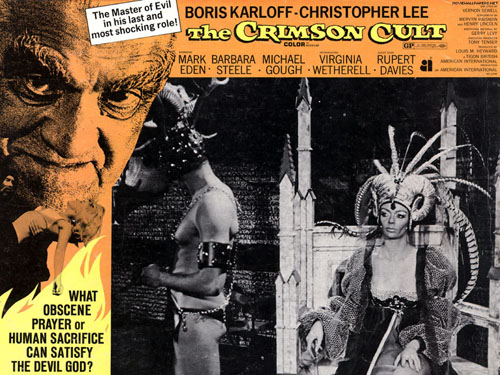 MINI-REVIEW FROM STEPHEN JACOBS: This is a tale of witchcraft and revenge in which Robert Manning [Mark Eden] goes to Craxted Lodge looking for his brother and finds more than he bargained for. This is a lesser film from Karloff's final years, and the last film he made in Britain. Still, it is worth seeing Karloff and other horror stalwarts – Christopher Lee, Barbara Steele and Michael Gough – all in the same picture.
WIKIPEDIA ENTRY: Click here
IMDB ENTRY: Click here
BUY FROM AMAZON: Click here