Reading Time:
5
minutes
The Comedy of Terrors 1963 brings together horror's finest, but wastes the opportunity, says TERRY SHERWOOD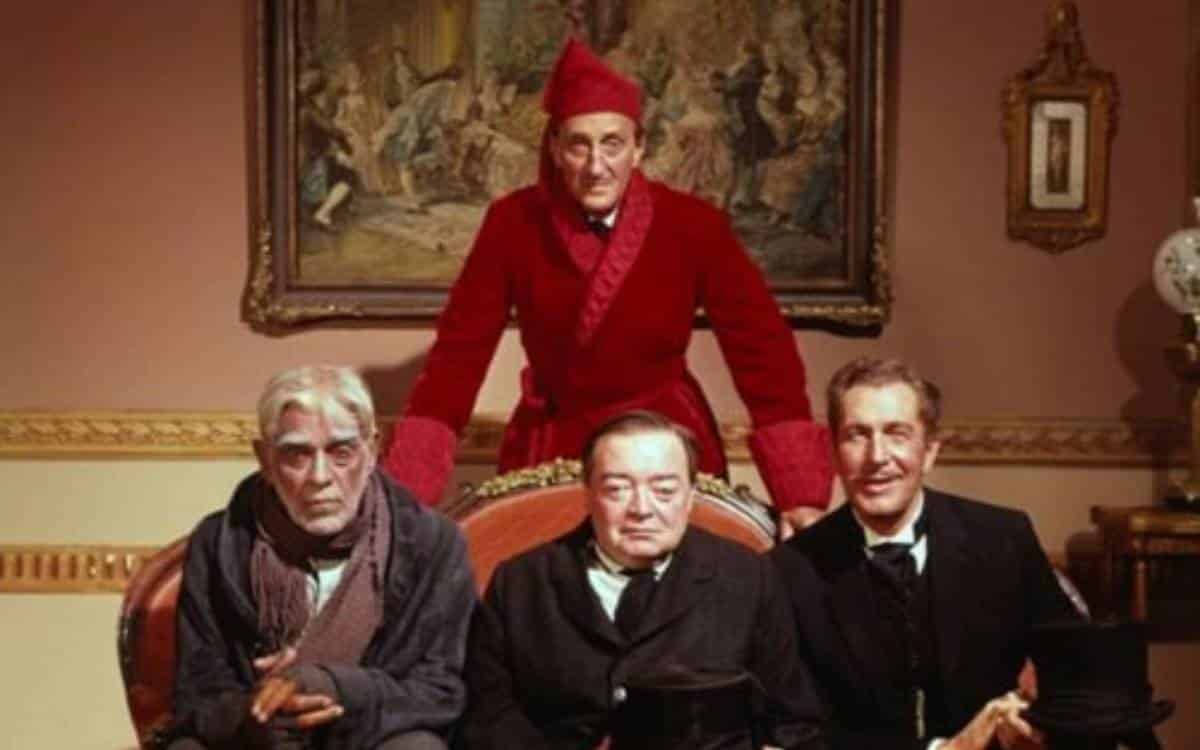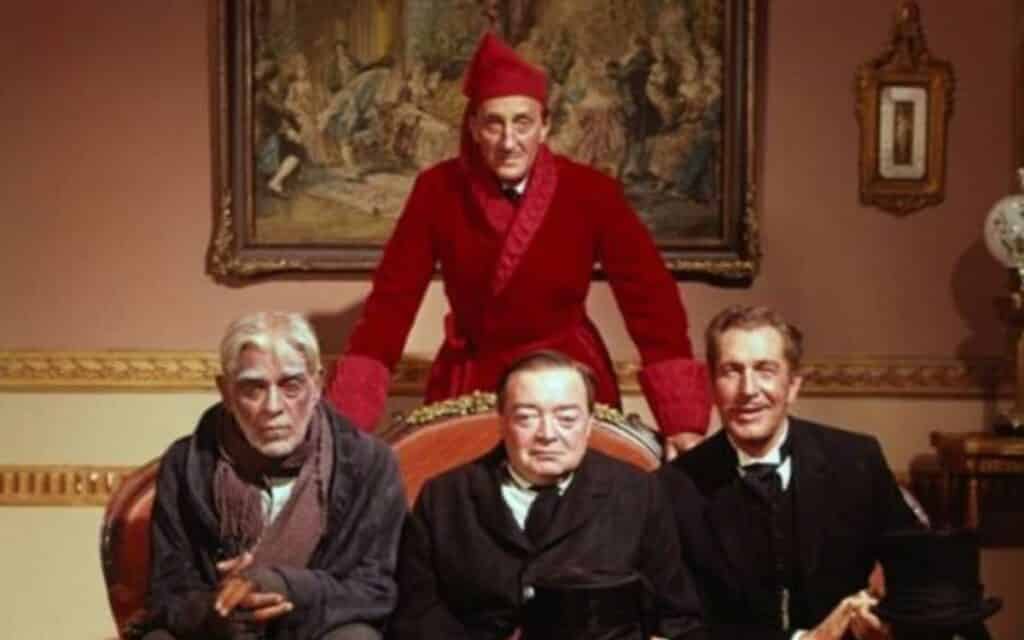 TITLE: The Comedy of Terrors
YEAR RELEASED: 1963
DIRECTOR: Jacques Tourneur
CAST: Vincent Price, Boris Karloff, Basil Rathbone and Peter Lorre.
The Comedy of Terrors 1963 Review
The French have a word for it and it's called a farce. The Comedy of Terrors 1963 featured a script by Richard Mathison, on-screen performances by Vincent Price at the height of his power coupled with Peter Lorre and Boris Karloff. Jacques Tourneur who gave the genre the Val Lewton produced classics plus Curse or Night of the Demon 1957 and the benchmark Film Noirs of Out of the Past 1947 and Nightfall 1956 in the director's seat. These factors should all bring together a rollicking film, razor-sharp in its focus and fun. The French had another word for it and that word is "Merde".
Before people say that's not fair and it should be judged for the time period it was done as harmless fun, I say "pish- posh' on that sentiment. The Comedy of Terrors 1963 with very few exceptions looks like a farce comedy done without speed or finesse by actors out of time. Even Boris Karloff in the minor role of a senile, deaf, drooling older father Amos Hinchley looks like a walk-on. Mr. Karloff can be forgiven due to his age the physical troubles he had during the filming. For me, it is still painful to see him and the others reduced to spoofing their images in a dreadful way. 
A Film On Its Face
The Comedy of Terrors 1963 was produced by American International Pictures which at that time also had a hand in making the teenage Beach rock and roll films. The teenage genre cross-pollinated with the horror comedies by having Vincent Price and Basil Rathbone in pictures like Dr Goldfoot and the Bikini Machine 1966 and The Ghost in the Invisible Bikini 1966.
The pictures opens promisingly for a sixties horror film with funeral and wonderful fog reminiscent of the Corman Poe films. Drunkard Waldo Trumbull (Vincent Price) runs the funeral parlor he acquired from Amos Hinchley (Boris Karloff) after marrying his daughter Amaryllis (Joyce Jameson). Trumbull's assistant is Felix Gillie (Peter Lorre) who builds cheap coffins in the basement and assists in you guessed it, the acquiring of bodies or customers. The business has fallen off so there must be ways of getting more bodies so Trumbull and Gillie resort to murdering clients then conventionally showing up to offer services.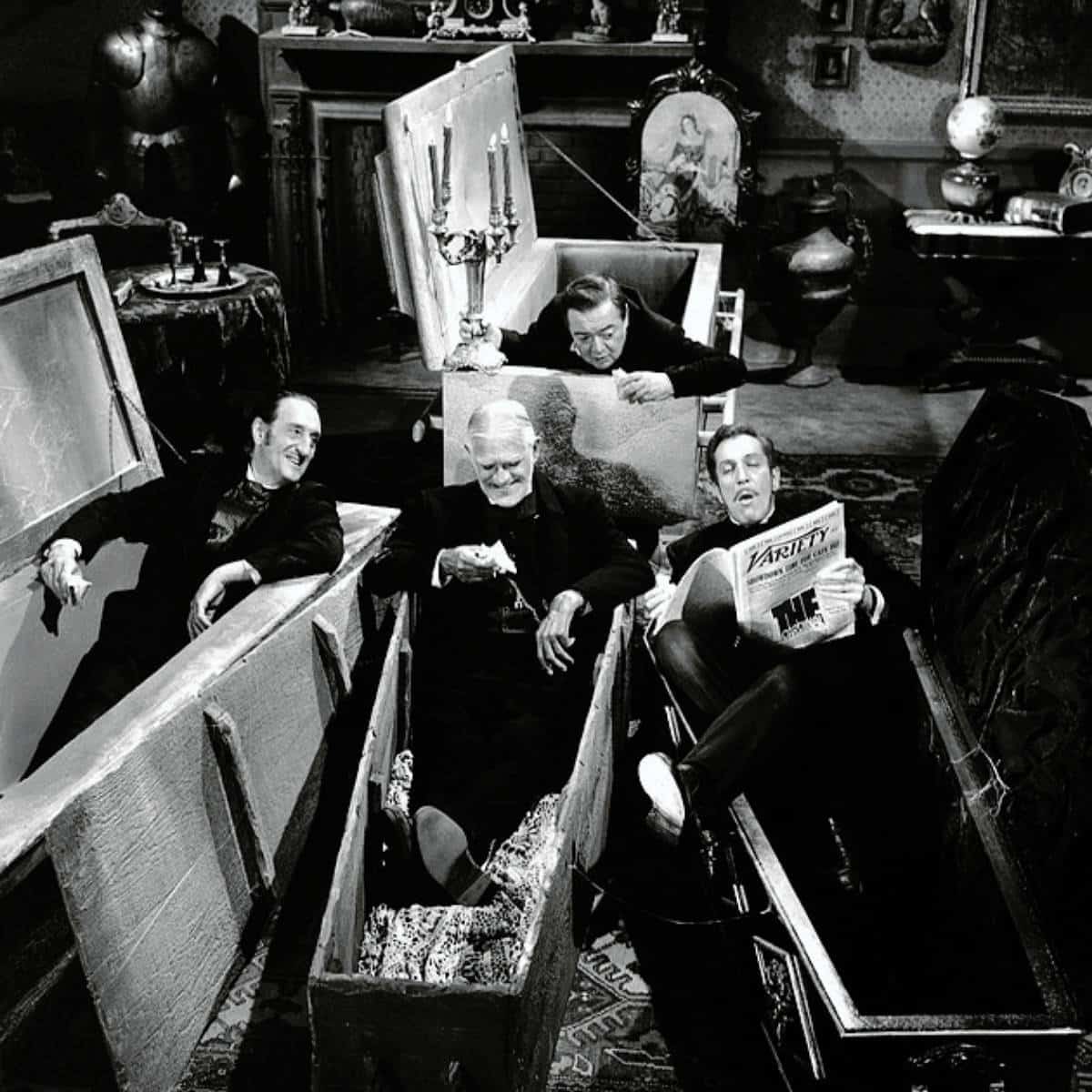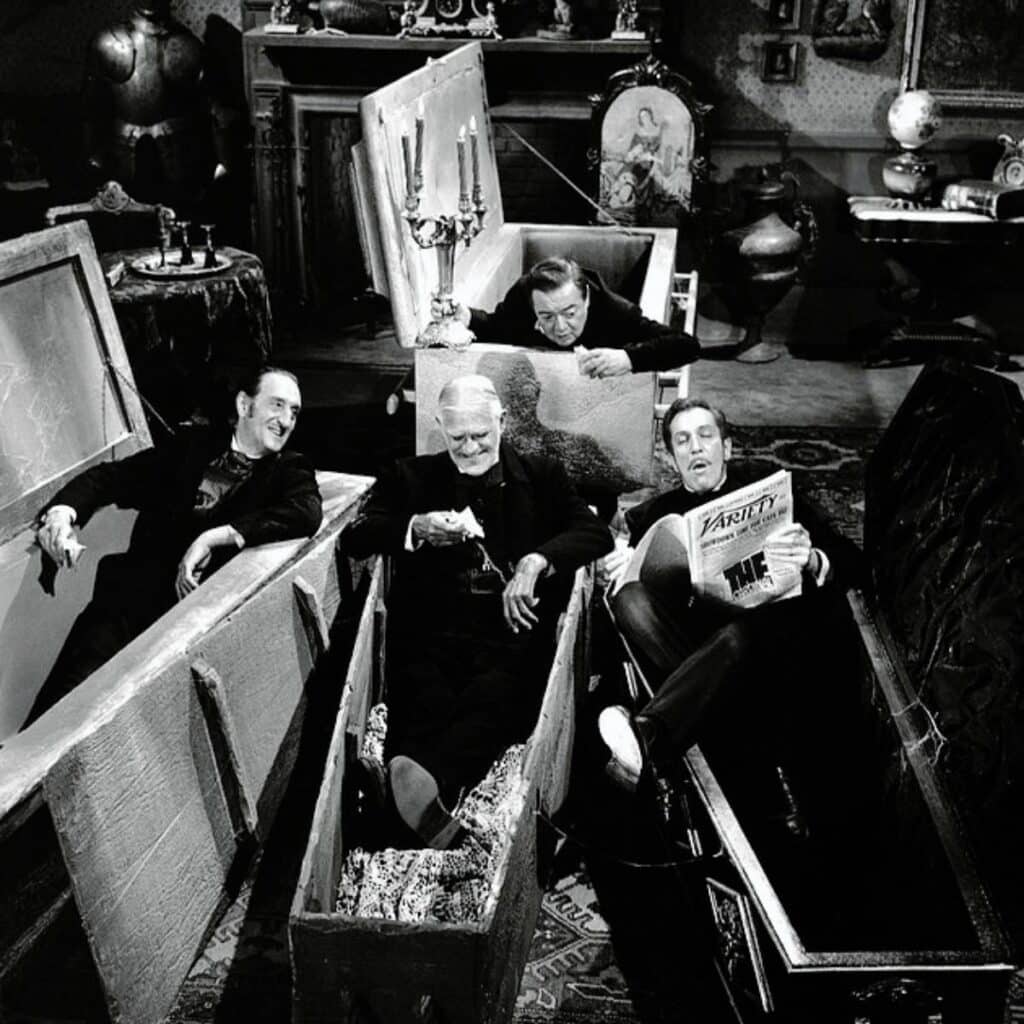 Amaryllis, Waldo's wife spends her time bemoaning she had to give up her Opera career, while Trumbull consistently yells at her to shut her mouth with various phrase variations. She does all this while walking about in hugging clothes and descending necklines like Ingrid Pitt. Waldo apparently doesn't notice this, instead spends his time battling her and drinking.
Boris Karloff's father character spends most of his time babbling inane phrases, being slapped by stew in the face, and narrowly avoiding being fed poison by Waldo. Waldo and Gillie kill people in between bouts of Who's Afraid of Virigina Woolf (1966) bickering with Amaryllis. The murders all have a Laurel and Hardy or Abbott and Costello tinge to them as predictably the smaller Peter Lorre gets to climb walks, fall downstairs, hide behind curtains, and sword fight.
The bright spot of the film that seems to be indulged is Basil Rathbone with his love of Shakespearean dialogue. Rathbone owns the film from the first time he appears to warn Waldo of the consequences of not paying rent to his brilliant yet hammy interpretations of the Bard.
To spoof something you must understand it and Rathbone clearly draws on his theatrical background in delivery, action, and voice quality. Vincent Price has the majority of the screen time but Rathbone steals the film with his sword fighting with Lorre to his deadpan reaction to waking up in a coffin.
Tragedy and Comedy
The Comedy of Terrors 1963 features the final screen appearance of Joe E Brown doing his trademark big mouth yell as a gravedigger. Brown was American born but his family was of Welsh descent. He had a stellar career in film, radio, and television where his elastic face, yell, and comic timing was plainly evident.
Vincent Price in the role of Waldo tries hard but he makes a lousy drunk on-screen even in a farce which this tries to be. He is at his best trading barbs with his on-screen wife and ordering Lorre around to do his bidding. He is perhaps having fun with the dialogue but for myself, he seems to be trying too hard.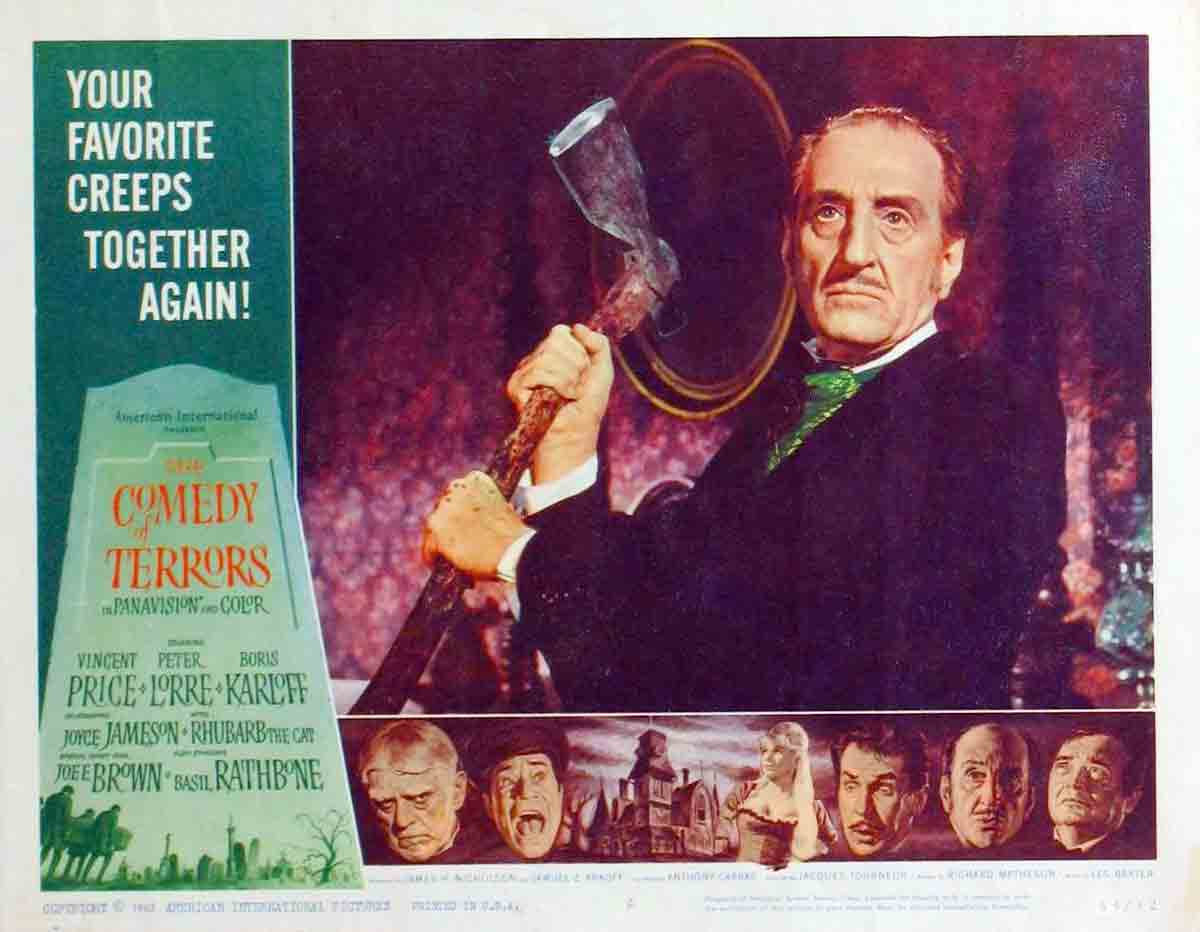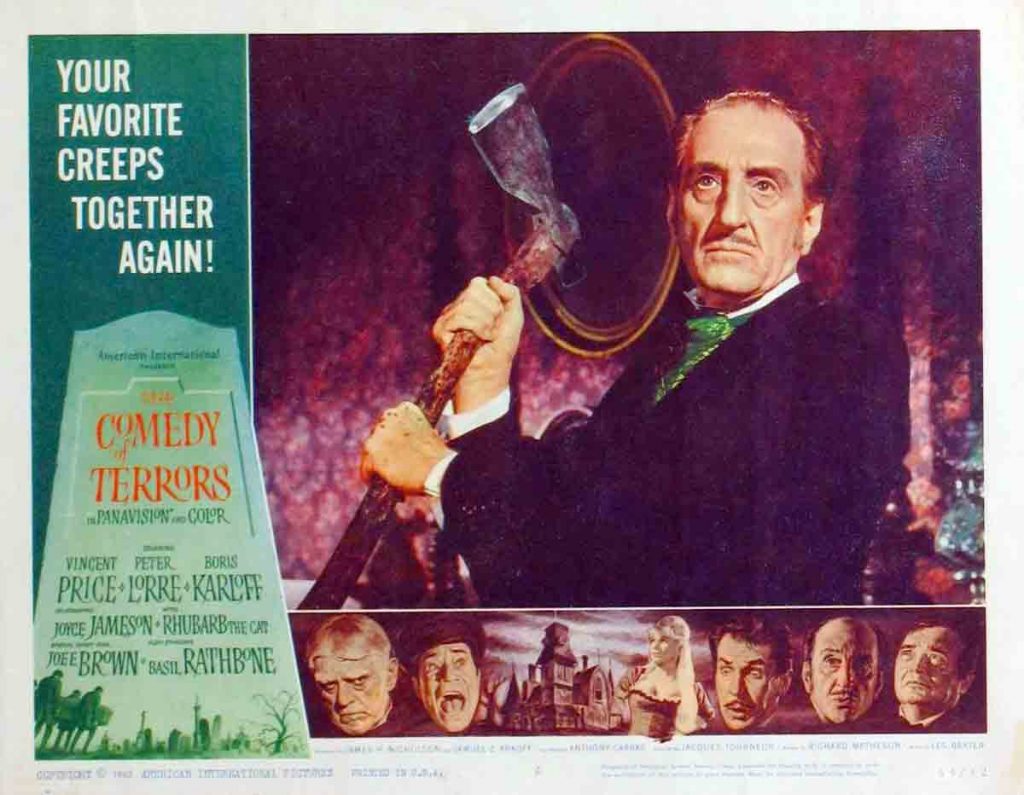 Peter Lorre plays the perfect foil to Waldo. Lorre allows his character to be the straight man for the jokes yet gets most of the physical comedy to do with his falls, bumping into things. He accents it well with the lovely onscreen delivery of that sneering voice.
Boris Karloff was to have played the Basil Rathbone role but the producers found him unable to do the physical requirements due to his persistent leg and back pain. The roles were switched and we have Boris being inane, looking grizzly except for a moment toward the end when he gives lovely if not slightly off speech over a dead body.
The film has a Carry On comedy flavor to it with the presence of buxom women albeit in window dressing roles. Beverly Hill, or Beverly Powers, appears as a sleepy moaning woman in a revealing nightdress that attaches Waldo. When she wakes up to find her husband a victim of Waldo and Gillie all she can say is 'what' as Waldo eloquently explains what is happening
Joyce Jameson playing Waldo's wife does best with what she is given, singing in a screechy voice that breaks the glass, to dancing wildly which Boris Karloff's character plays a fiddle. Jameson appeared in television and on Broadway reviews. Her forte was the dippy blonde that she did many times in film and television. 
Robert Vaughan with who she starred in an episode of The Man From U.N.C.L.E. television series mentioned in his biography that Jameson suffered from depression. She was also an insomniac and regularly took tranquilizers to help her sleep. On January 16, 1987, Jameson committed suicide by overdosing on pills at the age of 54
Comedy of Errors
The Comedy of Terrors 1963 is not a total waste of time or talent even for its time. To me, it seemed slightly rushed in execution which may appeal to some people. The gags were predictable except for Rathbones' lovely sword fight in his home. The most solid supporting role with no flourishes is Rhubarb who plays the cat, Cleopatra. 
This sorry dribble of a film, with a little thought as to who these actors were playing and what they were trying to spoof would have worked wonders with the sound and fury.
What did you think of The Comedy of Terrors 1963? Tell us in the comments section below!
MINI-REVIEW FROM STEPHEN JACOBS (Originally published on Spooky Isles 1n 15 May 2012): "This is a fun comedy with Price as undertaker Waldo Trumball with Peter Lorre as his put upon assistant Felix Gillie and Rathbone as Mr. Black, a prospective customer who just won't stay dead. Originally, Karloff was set to play Mr. Black but the physicality of the role was too much for him and Karloff suggested he and Rathbone swap roles. It was a good move for Rathbone – he steals the show. Instead Karloff played Trumball's aged father-in-law, Amos Hinchley. Although Karloff didn't have much to do, he gets to deliver the picture's funny, if macabre, denouement."
Watch The Comedy of Terrrors 1963 Trailer!