Reading Time:
2
minutes
The Oblong Box 1969 is a Poe adaptation horror classic of revenge, justice and murder, reviewed by CHARLIE ALBERTSON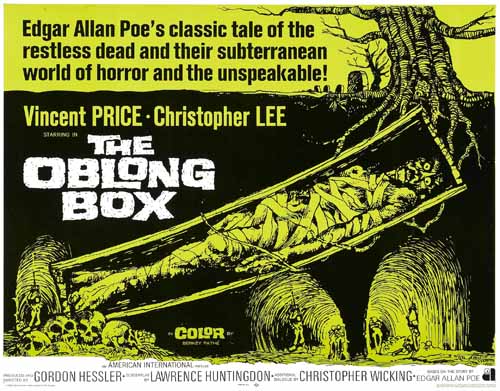 TITLE: The Oblong Box
YEAR RELEASED: 1969
DIRECTOR: Gordon Hessler
CAST: Vincent Price, Christopher Lee, Alister Williamson, Rupert Davies, Uta Levka and Sally Geeson
PLOT: Revenge, justice and murder served up at knife point in Hessler's tale of brotherly love and Voodoo.
Review of The Oblong Box 1969
Sir Edward Markham (Alister Williamson) is cursed by a Voodoo Witch Doctor for an unidentified transgression.
Held captive by his brother, Julian (Price), he longs for freedom and so fakes his death to escape his brother's control.
However, it all goes wrong when crooked family lawyer, Trench, leaves Sir Edward in the grave, expecting him to die.
Cue hapless grave robbers who, upon "resurrecting" Sir Edward, deliver the "corpse" to Dr Newhartt (Lee), where he revives.
Having first-hand knowledge of Lee's illegal activities, Sir Edward blackmails the unlucky Doctor in to giving him shelter and a base of operations from which to plan and execute his bloody revenge.
This movie is a thickly cut slice of gothic horror coupled with post-Colonial guilt, boasting lush, Hammer-like sets and top notch directing.
Originally, The Oblong Box 1969 was intended to be directed by Michael Reeves but, owing to his untimely death at the age of 25 a substitute had to be found.
Hessler does a good job and would go on to distinguish himself in several modestly successful genre films, but one can't help but imagine what this movie could have been with Reeve at the helm.
Ultimately, the main weakness of this tale is the make-up job used to realise Sir Edward's "curse". It looks like a bad case of acne.
Hessler does do a first rate job of gradually revealing Sir Julian's crime for which he was cursed.
I won't spoil it for you but the denouement does pack a bit of a punch. Poignant also is Price's fate.
There are no winners in this movie and one is left with the inescapable conclusion that one's sins will always find one out.
What did you think of The Oblong Box 1969? Tell us in the comments below!
Watch The Oblong Box 1969 Retrospective with Peter Fuller
Guest writer CHARLIE ALBERTSON was born in Yorkshire but has lived in Northamptonshire for 24 year where he teaches Media Studies and English. Married with two children, obsessed by horror movies, prog rock and PS3, Charlie's own blog can be read here.