Reading Time:
3
minutes
The Abominable Dr Phibes 1971, starring Vincent Price, is worth the highest of praise, says ANDREW GARVEY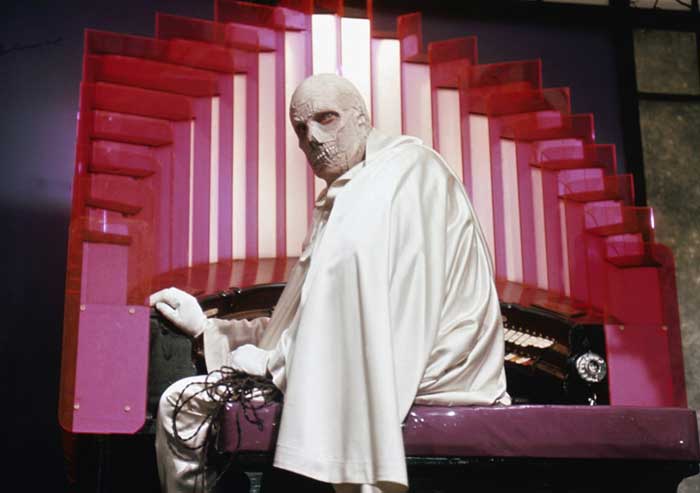 TITLE: The Abominable Dr Phibes
YEAR RELEASED: 1971
DIRECTOR: Robert Fuest
CAST: Vincent Price, Joseph Cotten, Peter Jeffrey, Virginia North, Caroline Munro
Promoted with a beautiful but spoiler-laden poster and the very fitting tagline 'Love means never having to say you're ugly' Vincent Price's first outing as the manically calculated, vengeance driven The Abominable Dr Phibes 1971 is a genuine masterpiece of early 70s British genre film.
A longtime cult favourite, the decades have lessened the originally X-rated film's horror but there's still so much to enjoy, not just once but on repeated viewings.
An American International Pictures production filmed at Elstree Studios and locations in Hertfordshire and London, this fantastical tale of tragic love and murder is one of Price's most fondly remembered performances despite, or perhaps because of, the plot requiring him to mostly perform without speaking and act with his eyes and eyebrows. The 60-year-old Price was, of course, more than up to the task.
Slowly revealing its story, the film sees a gaggle of bumbling detectives trying to solve a series of murders where doctors, all of them connected to each other, have been offed in a wide variety of gruesomely inventive ways.
Safe in his art deco lair, Phibes, a world famous organist in another, happier life plays his music, accompanied by his mechanical band, the fantastically creepy 'Clockwork Wizards'.
His mysterious, silent, exotically dressed and stunning assistant Vulnavia (played by Virginia North in a role that largely demands she sashays about the place looking gorgeous) is his only companion as he plots, executes and afterwards ritually celebrates his murders.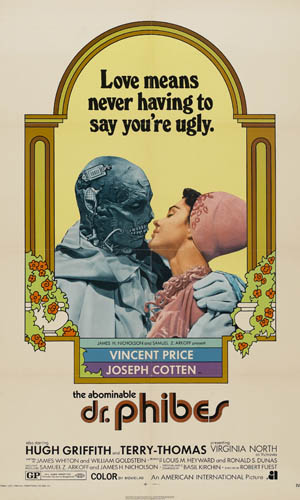 Price is superb, North is beautiful and the rest of the cast do a great job. The beloved Terry-Thomas has a bit part while Joseph Cotten, Hugh Griffith, Peter Jeffrey and Aubrey Woods, hugely experienced, respected actors to a man, are highlights of a great supporting cast.
One of the most visually distinctive horror films ever made, this would still be worth a watch even if the story was non-existent and the performances terrible. A stylised, elegant treat, this is also a very, very funny one, rich with dark humour and stuffed with slyly humorous lines.
And Phibes' crimes are the twisted result of his love for his dead wife, giving the story further depth and making his macabre quest not just understandable but almost sympathetic. He may be a monster but, like all the best villains he does what he does for a reason that makes perfect sense to him.
I watched this recently for the first time as part of my own personal Vincent Price season. I sat and watched sixteen of the most iconic films covering his career from his supporting role as the dastardly Richelieu in 1948's The Three Musketeers to 1980's The Monster Club.
Of them all, The Abominable Dr Phibes 1971 stands shoulder-to-shoulder with such classics as House of Wax, The Masque of the Red Death and Witchfinder General. I'm not sure I can offer higher praise to a film.
Tell us your thoughts on The Abominable Dr Phibes 1971 in the comments section.
Discover 17 Things You Didn't Know about The Abominable Dr Phibes 1971
Watch The Abominable Dr Phibes 1971 Trailer