Reading Time:
3
minutes
Sara Karloff joins author Stephen Jacobs to pay tribute to horror legend Boris Karloff at rare London event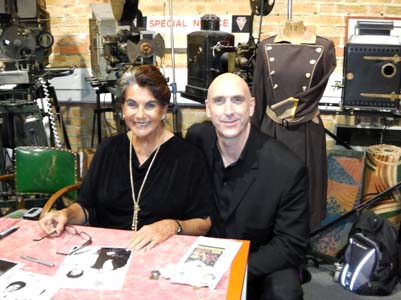 Sara Karloff – the only child of English Horror Film Legend Boris Karloff – was in London this week for a visit and appeared at a number of special events to honour her late father.
Spooky Isles was fortunate to attend a joint talk by Sara and Karloff biographer Stephen Jacobs, who wrote the award-winning More than a Monster, at The Cinema Museum in South London on Wednesday night.
Boris Karloff was born William Henry Pratt in South London in 1887. He immigrated to Canada and later the United States in the early 1900s, where he worked in numerous labouring jobs before becoming an actor.
It took nearly 20 years for him to become an overnight success when he appeared as the Monster in Frankenstein (1931) and the rest, as they say, is horror movie history.
Sara Jane Karloff was born in the US on her father's birthday on November 23, 1938. I understand while her father returned often to the UK from the 1930s – she rarely made it across the pond.
So she used her visit to appear at numerous events to meet fans and help causes like a local church appeal in the town her father once lived.
While Karloff made his name and lived much of his life in the United States, he always considered himself British and never sought US citizenship.
His daughter's visit to London was a great opportunity for fans to meet a woman who has spent much of her life protecting and promoting her father's legacy.
Wednesday night's event at The Cinema Museum began with a talk by Stephen Jacobs, who is a regular contributor to The Spooky Isles.
Stephen used his considerable knowledge to present a wonderfully-informative discussion and video presentation about Karloff's private and public life.
Some of the clips were very rare and perfect examples of why the screening room at The Cinema Museum was packed to the rafters – Boris Karloff was a brilliantly engaging and talented actor.
After Stephen's talk, Sara presented some lovely home movies showing her father playing with her a baby. They were from around the time Karloff was filming Tower of London and Son of Frankenstein.
After the home movies, Sara sat down with Stephen for a Question and Answer session, which was insightful and a lot of fun.
Afterwards, Sara signed copies of Stephen's book – which won the Rondo Hatton Award for Book of the Year this year – and chatted with fans.
Everyone commented how pleasant and engaging she was – spending plenty of time with each fan answering the questions and hearing about their favourite moments from his films.
Unfortunately, I had left my copy of More than a Monster at home, so I couldn't get it signed by Sara Karloff (its author had signed it previously) so I grabbed one of her business cards and got her to sign that instead. I am not much for autographs but to have memento of her visit was important.
I have been a huge fan of Boris Karloff since my early teenage years and any night dedicated to the great man is worth remembering.
Check out our interview article: Horror Film Confessions of TV Bassist, Dave Swift

You can buy More than a Monster here from Amazon and read author Stephen Jacobs' interview with The Spooky Isles here. Stephen also wrote an Spooky Isles article Karloff's London, a location guide including Boris Karloff's childhood homes and filming locations around the English capital.