English actress Hazel Court (1926-2008) appeared in some of best and most influential horror films of the 1950s and 60s. Her autobiography reveals why she rightfully deserves the title of Horror Queen.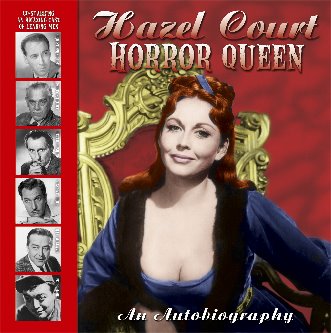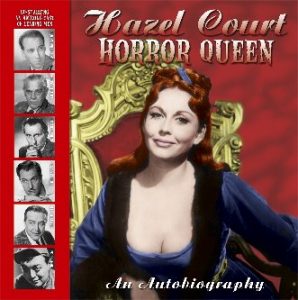 Plenty of actresses claim to be Horror Scream Queens. They all seem to be American bikini models who have run around scantily clad in low-budget 80s splatter films that were lucky to go straight to video.
Hazel Court, on the other hand, was an old school actress who could rightfully claim to be a Horror Scream Queen.
Court published her autobiography shortly before her death in 2008 and the book reminds us what important and landmark horror films she appeared in during the 1950s and 1960s. In fact, she is probably the only actor/actress who worked the gamut of 1960s horror – ie. Hammer and Roger Corman's Poe Adaptations and US suspense series, including Alfred Hitchcock Presents and The Twilight Zone.
The cover of Hazel Court Horror Queen includes photos of her leading men – Christopher Lee, Peter Cushing, Boris Karloff, Vincent Price, Ray Milland and Peter Lorre.
The autobiography follows Hazel Court's career as a teenage model through her work in film and television, and her entry into horror.
She had appeared in Ghost Ship  in 1952 but it was as Elizabeth opposite Peter Cushing in The Curse of Frankenstein (1957) that her reign as Horror Queen began.
Her work at Hammer was brief but she went on to become a mainstay in Roger Corman's Edgar Allan Poe adaptations as well as spooky television shows. To be fair, she probably has a better horror pedigree than some of the blokes on the front cover of her book (ie. Ray Milland and Peter Lorre).
The book is easy to read and includes lots of great pictures and wonderful anecdotes. Not surprisingly, it includes a lot about her family and clearly Hazel Court was not a ditzy actress – she had the looks, but the brains too.
Here is an anecdote from Premature Burial – one of my favourite Corman Poe Adaptaions.
"At the end of the picture, I had to be buried alive. Roger asked me if I would do it or if I would rather have someone double for me. I said, "Heaven's no! I will do it." Well, I lay in the ground with a straw in my mouth so that I would have air, as they shovelled the earth over me. The straw was removed when the director said, "Action!" I was to hold my breath for as long as possible. I made it for over one minute – long enough to get the shot. As I got to the end of the minute, the pressure on my body began, as the claustrophobia was setting in. It was one hell of an experience."
I recommend Hazel Court Horror Queen to anyone who likes horror films and would like to see them from a female perspective for a change.
Now, having said that and sounding all "new age male", I shall leave you with this photograph from the filming of The Raven that Court published in her book. I find this hilarious for the reason that I love Boris Karloff so much. The photograph might have only captured one second of time and only a brief glance, but Boris is clearly enjoying the sights. (I try to keep The Spooky Isles family friendly but this photo shows that while Boris Karloff was known as the "Gentleman of Horror" at the end of the day, he was just a dude.)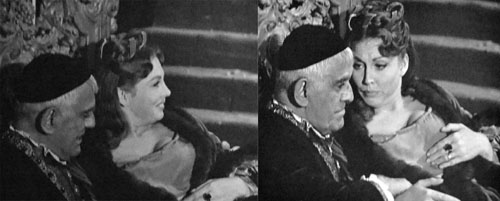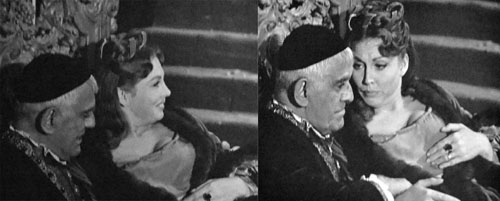 ---