Reading Time:
2
minutes
The Curse of Frankenstein is Hammer's first Frankenstein film, released in 1957, and still holds up today as one of the greatest interpretations of this classic story. Here are KAYLEIGH MARIE EDWARDS' 10 amazing facts about this incredible film…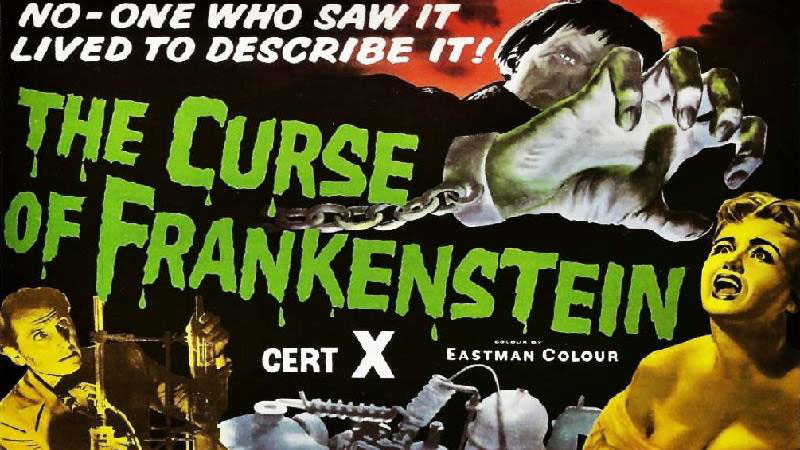 1.) Colour me intrigued…
The Curse of Frankenstein is not only Hammer's first colour film, but it is also the first ever Frankenstein movie to be shot in colour.
2.) Dress for success…
Elizabeth's clothes aren't costumes. They are actually real Victorian clothes inherited from a Victorian wardrobe.
3.) Third time's the charm…
Though appearing in previous movies together (Hamlet, 1948 and Moulin Rouge, 1952), Christopher Lee and Peter Cushing didn't actually meet until they began filming The Curse of Frankenstein. They became dear friends during production and this friendship lasted their entire lives.
4.) It's all relative…
The actor who plays young Elizabeth, Sally Walsh, is the real-life daughter of Hazel Court (adult Elizabeth). This decision was made because the casting director was trying to find a child that resembled Court, and the mother/daughter likeness was uncanny. However, unlike her mother, Sally Walsh hated being on set and hated being on camera.
https://www.youtube.com/watch?v=Np6uboP_g54
5.) The film is close to perfection, but not quite…
There are several noticeable mistakes in this film, which include:
the breaks in the balcony railing are clearly visible before Victor 'breaks' it when he pushes the Professor over it
during the close-up of Professor Bernstein's corpse, you can see him breathing
the puppy is moving before Dr. Frankenstein examines it, when it's supposed to still be dead
6.) Apparently you CAN buy happiness. Or at least success and a life-long horror legacy…
Bernard Bresslow was considered for the same role that Lee achieved. As a taller actor, it was thought that he'd make a great 'Creature'. However, Bresslow's rate of pay was £10 per day, and Lee's was £8, so Lee got the role. After this, Lee went on to play many of Hammer's most beloved monsters, including Dracula.
7.) No pain, no brain…
The stunt double for Professor Bernstein was mildly injured during the scene in which Frankenstein pushes him over the balcony so that he can kill him and steal his brain. The stunt was rigged so that the stunt double would land on a padded area, which he did… except for his head, which hit the floor.
8.) The art of dismemberment…
The painting at the top of Frankenstein's staircase is a replica of Rembrandt's "The Anatomy Lesson of Dr. Nicholaes Tulp". This was a deliberate choice to reflect Frankenstein's behaviour (in particular, dismembering a hanged criminal).
9.) Ka-ching…
For many years, The Curse of Frankenstein was the most profitable film produced in Britain (it's still included in the list of the most profitable films made in the U.K). It cost around £65,000 to produce but made more than 70 times this figure.
10.) 'A rose by any other name…'
Christopher Lee played Frankenstein's monster, but couldn't be credited is such because Universal Pictures still held the copyright for the term 'monster' (but only in the context of Frankenstein's Monster). Instead, Lee was credited as 'The Creature' in order to avoid a lawsuit.