Reading Time:
4
minutes
Celebrating 60 years of Hammer's classic first Frankenstein picture, The Curse of Frankenstein, RICHARD PHILLIPS-JONES presents 20 interesting factual tidbits from the Baron's laboratory…
Under the title Frankenstein and the Monster, the idea and original screenplay was first proposed to Eliot Hyman of Associated Artists Productions by two Americans: Milton Subotsky and Max J. Rosenberg. Hyman in turn passed it to his friend, James Carreras of Hammer.

Hammer first considered the project as a black-and-white quickie starring Boris Karloff, but the threat of legal action from Universal Pictures forced them to change tack.

Subotsky and Rosenberg were pushed out of the project, and their original script was completely overhauled by Jimmy Sangster, but the pair would come back to haunt Hammer. A few years later, they formed Amicus Productions, the company's biggest Brit-horror rival.

This is believed to be the first Frankenstein film made in colour. Universal had considered shooting Son Of Frankenstein (1939) in Technicolor, but Boris Karloff's make-up was considered unsatisfactory in that process.

Eliot Hyman was apparently keen to cast a known American actor as the Baron, and Hammer didn't initially rule this out, but eventually opted for Peter Cushing off the back of several successes for BBC-TV including a now legendary star turn in 1984 (1954). Hazel Court was cast as his love interest, Elizabeth.

Cushing would often visit his GP and ask questions to ensure that he portrayed the Baron's surgical prowess as authentically as possible. He once said "[My doctor] often says it makes a change to see someone who is not ill, but just wants to know how to remove a brain!"

Future sitcom favourite Melvyn Hayes was cast as the younger Frankenstein for the flashback sequences, whilst Hazel Court's own daughter Sally Walsh was cast as young Elizabeth. "I don't think she liked it much", said Hazel.

Hayes claimed that Bernard Bresslaw was first choice for the part of the creature, but his agent asked for 10 pounds a day. Christopher Lee's agent only asked for eight. So, for the sake of a couple of quid a day, Lee became an international star.

Bernard Bresslaw survived this career misstep to become a much loved comedy actor, and would star for Hammer in The Ugly Duckling (1959), a comic take on Jekyll & Hyde.

Although not the first film in which the two were cast, this was the first time Cushing and Lee appeared on-screen together. They would make 20 films as co-stars, the last being House Of The Long Shadows in 1983.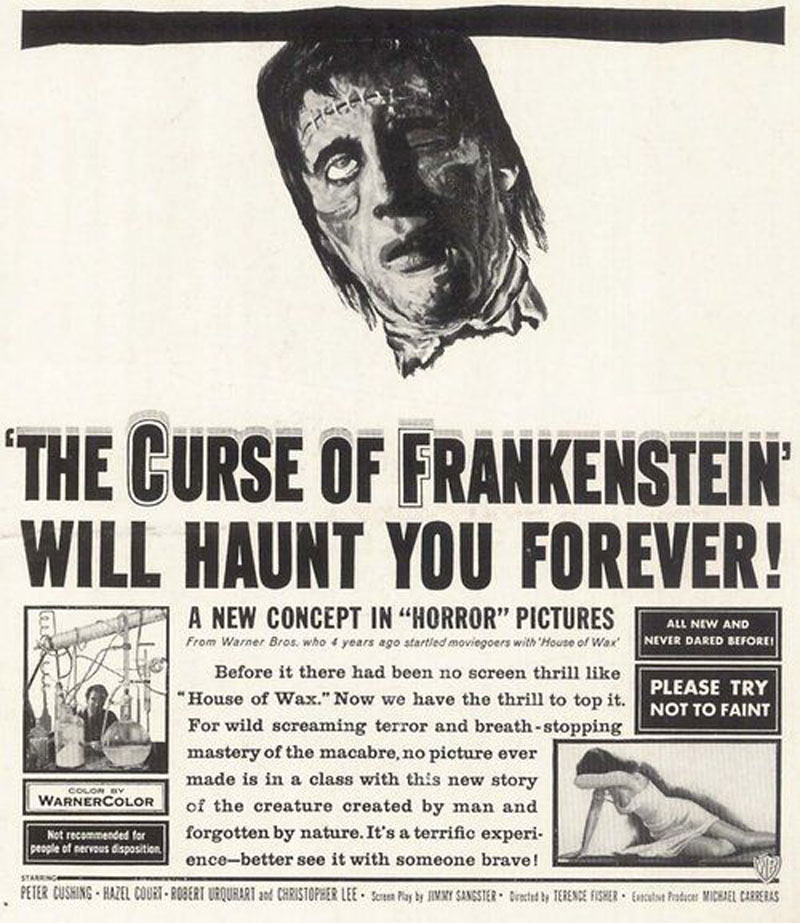 A lifelong friendship between the two was said to have started with Lee complaining about the fact that he had no dialogue in the film, to which Cushing apparently replied: "You should count yourself lucky. I've read the script."

Lee went through hours of make-up for each day's shoot, carefully eating mashed potatoes for lunch so as not to damage the delicate applications.

The effect of steam leaving the creature's body as he emerges from the laboratory bath was achieved by pouring hot water over Lee's bandages. Unfortunately, the set was freezing cold, and the water froze on the bandages. Lee (usually a teetotaller) later said he went through half a bottle of brandy in an effort to keep warm.

Robert Urquhart was loaned from ABPC to play Frankenstein's assistant, Paul. Urquhart would adopt the puppy which the pair appear to bring back from the dead in the film, naming him Frankie and raising several generations of puppies as a result.

Patrick Troughton was cast as a mortuary attendant, but his scenes were missing from the finished film. However, in a fitting turn of events, he would play a grave-robber in the series swan song Frankenstein and the Monster From Hell (1974).

Director Terence Fisher claimed that he only got the job directing The Curse Of Frankenstein because Hammer owed him one more film on an existing contract. However, producer Anthony Hinds disputed this, saying he wanted Fisher all along.

Director Terence Fisher chats with actors Hazel Court and Peter Cushing during making of The Curse of Frankenstein

Fisher was asked if he wanted to see the Universal Frankenstein films before shooting began. He declined, saying "If one is going to make this film, I think one has got to start from a personal concept and what you yourself think".

Hammer attempted to avoid concerns from the BBFC about the film's goriest aspects by submitting the film for classification in a black-and-white print. However, following recommendations on cuts, the board insisted on seeing the material again in colour. Hammer would try this trick again in the future, but with little success.

One legendary scene cut on BBFC orders involved a severed head being dissolved in an acid bath. At the time of writing, this scene is believed lost, despite great efforts and appeals to find it.

Made on an estimated modest budget of £65,000, the film is believed to have grossed $7,000,000 in the USA alone. In today's terms, that would be a budget of approximately £1,134,000, with a US gross of over $63,000,000.

If that wasn't enough, here's another 10 more things you probably didn't know about The Curse of Frankenstein!