Reading Time:
5
minutes
Do you dare spend a night with Vincent Price in the Madhouse 1974? PETER FULLER shares 13 fun facts about the 1974 classic.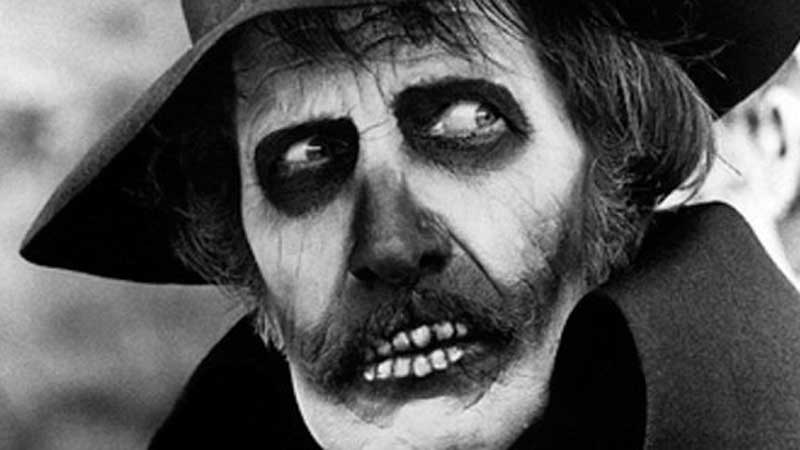 When his new wife is murdered on their wedding day, American horror star Paul Toombes (Vincent Price) has a breakdown and is institutionalised. A decade later, he returns to the spotlight when his Doctor Death character is resurrected for a British TV series, written by his long-time friend Herbert Flay (Peter Cushing) and produced by his old rival Oliver Quayle (Robert Quarry). But a series of new murders in the style of his screen character tests his sanity once again… Here are 13 fun facts about the 1974 horror.
1.) Madhouse was based on Angus Hall's Devilday
Angus Hall's 1969 paperback novel was a sordid tale of black magic in which a TV reporter investigates an over-the-hill horror star Paul Toombs (famous for appearing as Dr Dis in a series a films), who may be connected to a series of brutal murders. A reprint (under the title Madhouse and with a picture of Price on the cover) appeared in July 1974 to tie-in with the film's release (which was delayed until November). Only the character name (although now Toombes rather than Toombs) and his horror star status were retained in the screenplay. Hall also wrote the novelisation for Hammer's Scars of Dracula (1970).
2.) It was originally called The Revenge of Dr Death
American International Pictures (AIP) bought the rights to the novel in 1970, with Dr Phibes director Robert Fuest in line to direct. Nothing came of it until 1973 when AIP secured a co-production deal with Amicus (whom they had worked with on Scream and Scream Again) to film it as The Revenge of Dr Death. The film's title was changed to Madhouse during post production.
3.) It could have been Vincent Price's Sunset Boulevard. But it wasn't.
Madhouse isn't a bad film, but it could have done with a decent script, one that could have played on Price's horror persona in the same way that Theatre of Blood did to perfection. The original screenplay, by publicist Greg Morrison, was so bad that Price pressured the producers to bring in Ken Levinson (the brother in law of his British agent) to do the rewrites, while Robert Quarry rewrote much of his and Price's dialogue.
4.) It was directed by a future Academy Award winner
Jim Clark began his career as an editor, and worked on The Innocents in 1961. Madhouse was his third feature and his last, mostly due to having such a bad time on the production with the poor script and constant meddling by Amicus producer Milton Subotsky whose tactless edit he described as 'pure butchery.' Moving back into editing, Clark ended up receiving an Oscar and a Bafta for The Killing Fields, and another Bafta for The Mission, and had a 16-year collaboration with Midnight Cowboy's John Schlesinger. He published an autobiography Dream Repairman: Adventures in Film Editing in 2011 and died in 2016.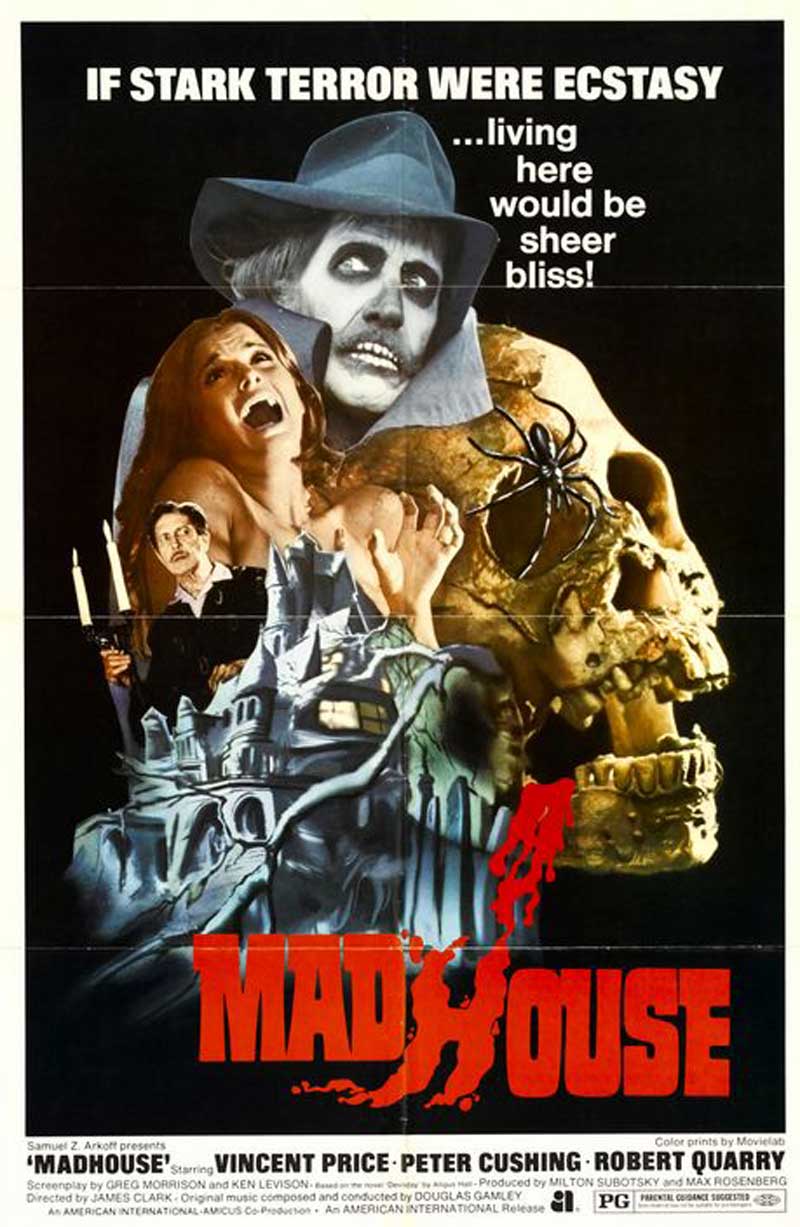 5.) It made great use of some London locations
While most of the interiors were shot at Twickenham Studios, the TV studio where Toombes begins work on the Dr Death series is the London Weekend Television Studios (today's ITV). Other locations used included Royal Victoria Dock, the Wey Navigation Canal in Weybridge, Millbank Tower and an Esso Motor Hotel. Herbert Flay's house was Pyrford Place in West Byfleet, Surrey, sadly demolished and replaced in the 1990s. It was a 15th century residence given by Elizabeth I to the Lord High Admiral, the Earl of Lincoln, and where John Donne wrote many of his poems. At the time of filming, Lady Sinclair, widow of one-time Aviation Minister Sir Archibald Sinclair, owned it.
6.) There's a lot Vincent Price in the Paul Toombes character
With his character signing autographs, appearing on a young Michael Parkinson's TV chat show, and reminiscing with Cushing about the good old days, the role of a popular horror star wasn't much of a stretch for Price – in fact, it mirrored it. Interestingly, Theatre of Blood premiered in London on 24 May 1973 just as Madhouse started shooting in the capital, and Price was capitalising on his own horror screen persona in the BBC radio show The Price of Fear, which featured Price's Madhouse co-stars Peter Cushing (in The Man Who Hated Scenes) and Adrienne Corri (in Guy Fawkes Night).
7.) It was the first time Price and Cushing appeared in equal roles
Having appeared in Scream and Scream Again and Dr Phibes Rises Again but not having any scenes together, Cushing finally got the chance to team up with Price properly. They are so good its mores the pity that they hadn't done it sooner – like with The Abominable Dr Phibes. Cushing was first choice for the Dr Vesalius role that went to Joseph Cotton, but had declined the role to spend time with his ailing wife, Helen. The next time Cushing and Price would appear together on screen would be in 1982's House of the Long Shadows. They also reunited in 1977 for the one-off BBC radio drama, Aliens of the Mind.
8.) Vincent's horror co-stars Boris Karloff and Basil Rathbone get a special participation credit
Even though Rathbone and Karloff died in 1967 and 1969, respectively, they appear in clips from Tales of Terror and The Raven, which are screened during a Halloween party sequence, alongside ones from The Haunted Palace and Masque of the Red Death. However, the dialogue was changed to make them appear from the Dr Death films. Cushing's Flay also has a private screening of Pit and the Pendulum.
9.) Robert Quarry's Count Yorga makes an appearance
During the costume party, Quarry wears his costume from Count Yorga: Vampire, while Cushing dresses as Dracula as an in-joke to him playing Van Helsing in the Hammer series.
10.) The music is by Amicus favourite Douglas Gamley
The Australian-born composer (1924-1998) is best known for adapting Mussorgsky's Night on Bald Mountain for the Amicus horror anthology, Asylum (1972). His association with Amicus began with 1960's City of the Dead and ended with 1980's The Monster Club. Gamley also worked with the Monty Python team on 1971's And Now for Something Completely Different, created a load of stock music for Doctor Who, and was Oscar-nominated for his adaptation of Lerner and Loewe's score for The Little Prince (1974).
11.) Vincent sings the theme song
Just as he had done in Dr Phibes Rises Again (with Somewhere Over the Rainbow), Vincent sings over the end credits. The song, When Day Is Done, was adapted in 1926 by Buddy DeSylva (the founder of Capitol Records) based on the German 1925 song Madonna du bist schöner als der Sonnenschein. Everyone from Frank Sinatra to Perry Como and Jimmy Durante have covered the nostalgic track.
12.) Vincent Price was a real trouper
At the end of the 13-week shoot (15 April-8 July 1973), Price gave the entire film crew a pound each to bet on the races at Ascot, while the technical staff also got gifts of wine and liquor.
13.) Madhouse was a watershed moment in the history of British horror
It marked the end of the classic horror cycle, with The Exorcist and Texas Chain Saw Massacre lying in the wings to usher in a new visceral style of film-making, and it was a swansong of sorts for Price who hung up his horror crown after 14 years with AIP to embark on a new life in the US (with his third wife Coral Browne), and set his sights on a return to the stage (with Diversions & Delights). Missed opportunity or misjudged? I'll let you decide.