Reading Time:
4
minutes
Here are PETER FULLER's 17 facts you must know about Scream and Scream Again 1970, a most unusual sci-fi horror thriller co-production from genre favourites Amicus and American International Pictures (AIP).
'Composite beings, half-synthetic, half-human transplant. They live, they kill, but they cannot die. Only boiling acid will dissolve them, halt their unearthly lust.' So went the promotional taglines on the posters of Scream and Scream Again – a bizarre, complex, surreal 1970's British feature, which famously teamed up Vincent Price, Christopher Lee and Peter Cushing for the first time – well, almost.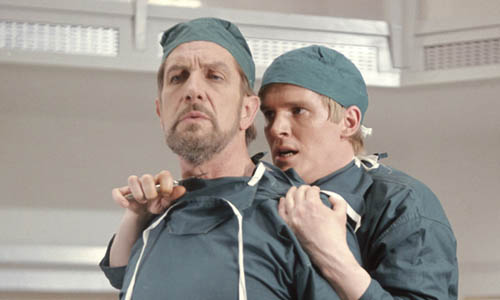 1.) Amicus' Milton Subotsky and Max Rosenberg had a script entitled Screamer (by Subotsky) based on the 1967 pulpy trash magazine-type story The Disorientated Man by Peter Saxon, which dealt with an alien attempt to colonise the Earth using superhuman creatures assembled Frankenstein-style from murder victims.
2.) Peter Saxon was originally a pen name of W Howard Baker, but it came to be used by a number of writers working the same circuit, including Martin Thomas and Stephen Frances. The original novel was a collaborative effort between these three men.
3.) Amicus scored a £180,000 investment from AIP's Sam Arkoff and Louis 'Deke' Heyward – but on the condition they use the same crew that worked on their previous feature, The Oblong Box – including its director Gordon Hessler and scriptwriter Christopher Wicking, and its stars Vincent Price and Christopher Lee.

4.) Hessler hated the script and Wicking felt the original story's realistic violence of rape, murder, political terrorism and torture, gave him goosebumps – but Subotsky's script left him flat, 'like watching a soufflé dying'.
5.) Hessler and Wicking decided on a Don Siegel styled Coogan's Bluff meets Invasion of the Body Snatchers, so they ditched the alien element and made genetic experimentation for political gain the central theme.
6.) Wicking also kept the novel's original structure which unfolds in a series of seemingly unrelated events – intrigue in a totalitarian foreign country, psycho sex killings in London, and the amputation of the limbs of a jogger – which all have a link to Price's cancer specialist Dr Browning and the machinations of a race of composite super-beings aiming to take over the world.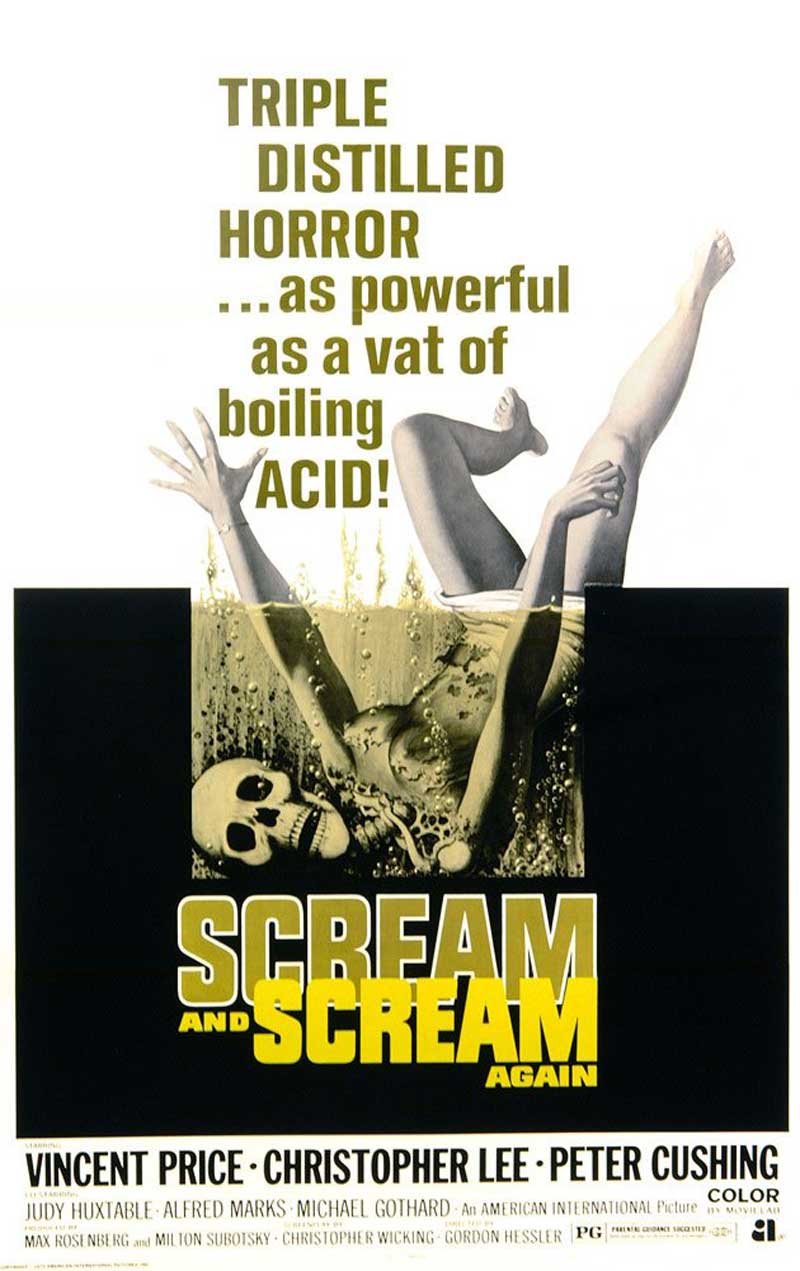 7.) Filming commenced on 5 May 1969 at Shepperton and on location in Trafalgar Square and Chertsey, Surrey, and wrapped in June.
8.) For the film's Busted Pot Disco scenes, the film-makers used Hatchetts Playground Disco at 67a Piccadilly, which played host to the likes of Edwin Starr and Status Quo.
9.) Welsh rockers Amen Corner, who scored a UK No1 hit with (If Paradise Is) Half as Nice also gigged at Hatchetts and composed two tracks for the film, Scream and Scream Again and When We Make Love, which both ended up on their 1969 album, Farewell to the Real Magnificent Seven.
10.) Warner Pathe released the film in the UK on 8 February 1970 (according to the BFI) with the US following on 13 February, and it became AIP's most successful film made in the UK until The Abominable Dr Phibes.
11.) The reviews on both sides of the pond were mixed…
'Director Gordon Hessler is a low-budget, sado-masochistic Hitchcock' Variety
'…a superb piece of contemporary horror, a science fiction tale possessed of a credibility infinitely more terrifying than any of the Gothic witchery of Rosemary's Baby' Los Angeles Times
'It's appalling. Where was the moral censor?' Penelope Mortimer (wife of Rumpole of the Bailey author, John).
12.) The film's funniest review comes from Price himself who wittily mused: 'I really don't know what Scream and Scream Again was about – which Scream I was playing'.
13.) In Germany, the film was released as Die lebenden Leichen des Dr Mabuse. Given Price's mad scientist's similarities to the eponymous character created by Norbert Jacques and made famous in three movies by director Fritz Lang, it was a perfect fit. And accordingly to Price, Lang loved the film so much, he sought out Wicking to tell him personally that the film was 'suspensefully developed'.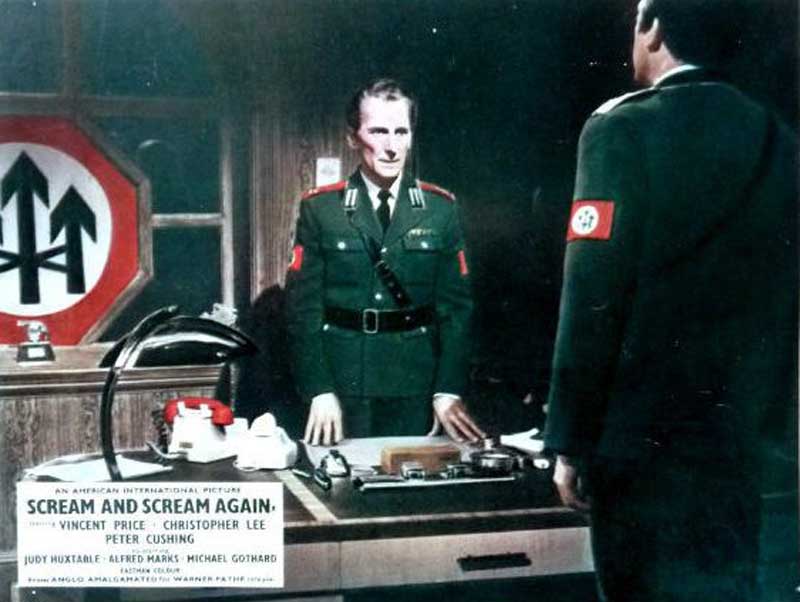 14.) This first teaming of the three titans of terror, Vincent Price, Christopher Lee and Peter Cushing, was a disappointment for horror fans. Cushing was a last-minute cameo to help box office receipts and appears in a single three-minute, eleven second scene in which he gets a Vulcan death grip from Marshall's Konratz. Lee, playing the stiff upper lip man from the ministry, scores eight minutes, and he and Price have but one scene together lasting 50-seconds (but its a doozy).
15.) The real stars of this Franken-sci-fi are future Bond villain Michael Gothard as Keith the vampire lothario (the removal of his own hand to escape his police handcuffs is a horror film classic moment), and comedian Alfred Marks as Detective Superintendent Bellaver, whose witty improvisations with lines like 'That bloody chicken wasn't killed, it died of old age' was the perfect antidote to the film's gritty violence.
16.) The red sports car driven by Gothard's Vampire Killer is a 1955 Austin-Healey 100/4, while the police drive 1965 Jaguar S-Types and a 1965 Austin 1800 MkI.
17.) Vincent Price refused a stunt double for his acid bath death scene and his nose was badly affected by the chemicals used – causing him to have problems with his nasal sinus for years afterwards.
Watch Scream and Scream Again trailer