The Innocents 1961 is a masterpiece of the ghost story genre, says L.H. DAVIES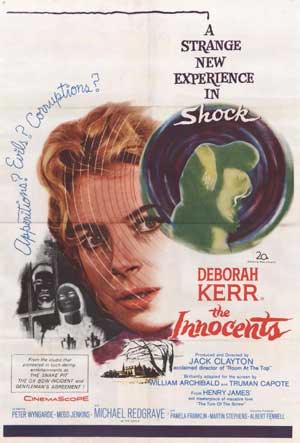 TITLE: The Innocents
YEAR RELEASED: 1961
DIRECTOR: Jack Clayton
CAST: Deborah Kerr, Peter Wyngarde and Megs Jenkins
PLOT: A young governess for two children becomes convinced that the house and grounds are haunted.
Adapted by Jack Clayton for screen from Henry James's novella, The Turn of The Screw, The Innocents was filmed at Shepperton Studios in 1961.
The film stars Deborah Kerr, in what she and others believe to be her best ever performance. She plays Miss Giddens, a young woman who has just left home to become a governess to two orphaned children, Miles and Flora, played excellently by Martin Stephens and Pamela Franklin.
The children's uncle is seemingly uninterested in the care of the children, making sure Miss Giddens agrees that she must "take full responsibility" for the welfare of the children.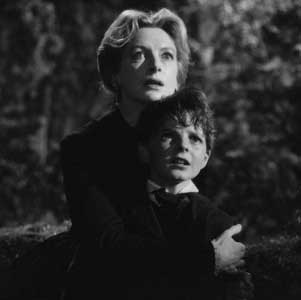 A series of wide shots impresses upon the viewer how isolated and remote the house and gardens where she is to reside, are. Not long after her arrival we meet Flora for the first time. A seemingly sweet child, Miss Giddens is warned that she should never mention the old governess to the girl as it upsets her too much. She is taken aback to discover a letter informing her that Miles has been expelled, and will be returning home, having just been told by Flora that her brother will soon be with them.
Initially unnerved by what might have been the cause of the boy's expulsion, Giddens is then (if only for a short time) relieved by the apparently adorable boy. Her happiness however is short lived as she soon begins witnessing the apparitions of a man and a woman around the house and gardens.
Freddie Francis now uses multiple point of view shots and close ups, increasing the level of creepiness to the point, we're uncertain of what might lurk behind the next corner. The children's behaviour begins to worry Giddens, as they appear to be sweet children one moment only to exhibit traits of calculating adults the next. Miles's sexually forward manner in particular is unnerving to say the least; all leading Miss Giddens to the conclusion that they are possessed.
Throughout the film, Flora sings the song Willow Waly, the lyrics of which are highly suggestive to Giddens that she is indeed correct. Furthered more so by the words to the poem which Miles narrates as they play. Snippets of information about the children's past relationships with Quint and Miss Jessel only serve to aggravate the increasingly unstable young governess, all the way to its tragic end.
This is a fantastic mixture of quality cinematography, music and great acting that creates a wealth of eerie ambiguity leaving you contemplating what you've seen long after it ends.
Watch The Innocents Trailer
Tell us what you thought of The Innocents in the comments section below!