Reading Time:
2
minutes
Frightmare 1974 – an old school British slasher – is reviewed by RICHARD GLADMAN aka Cyberschzoid of the Classic Horror Campaign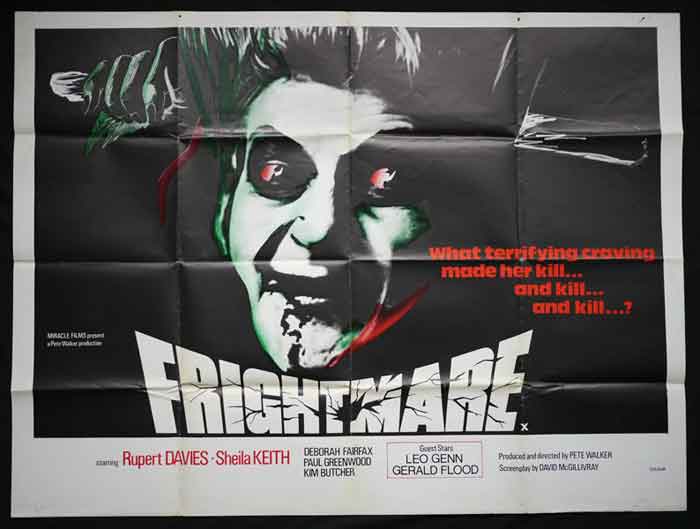 TITLE: Frightmare
YEAR RELEASED: 1974
DIRECTOR: Pete Walker
CAST: Rupert Davies, Sheila Keith, Deborah Fairfax, Paul Greenwood, Kim Butcher
"The family that slays together, stays together" could be the twisted mantra of this particular family in a British horror that aims to shock and generally succeeds.
Frightmare 1974 tells the tale of an old couple living in a deserted farmhouse who hide a terrifying secret… a taste for human flesh!
Their estranged stepdaughter begins to suspect that her stepsister has inherited her parents' cannibalistic tendencies and is drawn into a hideous nightmare of horror!
Directed by cult horror director Pete Walker (The Flesh and Blood Show, House of Whipcord, The Comeback) and written by David McGillivray, Frightmare 1974 sees Walker at the top of his game in a movie sometimes referred to as the British "Texas Chainsaw Massacre" with its perverse story of a sick family involved in violent murder and cannibalism.
Reviled by the British press upon its initial release, as with Walker's other seventies horror output Frightmare's reputation has grown in the intervening years and is now regarded by many critics as a minor cult classic.
Sheila Keith outstanding as psychotic mother
Particularly praised is the outstanding performance from Walker regular Sheila Keith as the psychotic mother, creating one of the most sinister and genuinely creepy characters ever to be found in a low-budget b-movie.
Also of note are the attempts at social commentary regarding the British legal system (a recurring theme in Walker's films) and care-in-the-community and the fact that neither of them worked particularly well!
In fact, Frightmare 1974 presents a fascinating snapshot of contemporary British society at the time; biker gangs, flares, attitudes to young people and indeed young people's attitudes.
In stark contrast to Hammer Films' often laughable attempts to appeal to seventies youth (Dracula AD 1972, The Satanic Rites of Dracula), Walker's movies had more of a gritty realism and an awareness of how bleak life could often be in Britain at that time.
Social commentary aside, Frightmare 1974 is an extremely satisfying viewing experience.
An engagingly lurid storyline, reasonably well-drawn characters, a tour-de-force performance from Sheila Keith and enough twists and turns to draw you in and hold your attention.
There is also a fair amount of gore and suspense and an atmosphere of impending doom which permeates throughout. If you like seventies splatter you really will love "Frightmare".
Tell us what you thought of Frightmare 1974 in the comments section!
Watch Frightmare 1974 trailer