Reading Time:
3
minutes
Dracula AD 1972 is an iconic film – but is it any good? DAVID SAUNDERSON takes his first look at the film…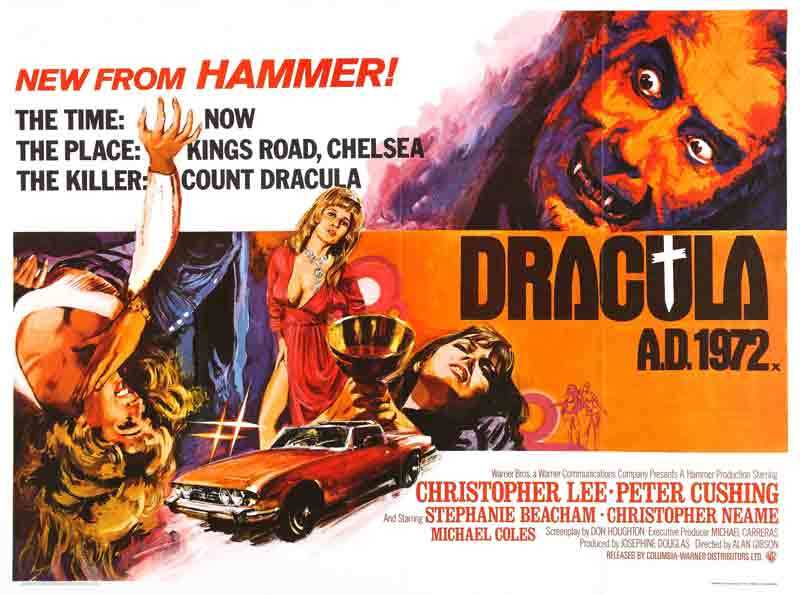 TITLE: Dracula AD 1972
DIRECTOR: Alan Gibson
YEAR RELEASED: 1972
CAST: Peter Cushing, Christopher Lee, Stephanie Beacham and Christopher Neame
Forty years ago today, the grooviest of Hammer's Draculas was released in cinemas – Dracula AD 1972.
The film – directed by Alan Gibson – was the first Hammer film to set the never-ending battle between Dracula and Van Helsing in the modern day. When I say modern day, I mean it was filmed in 1972 but it looks very 1960s, so I wonder if it was dated at the time.
The story begins with the death of Lawrence Van Helsing during a clash with the Prince of Darkness in 1872.
We flash forward to 1972 and meet his grandson Professor Lorrimer Van Helsing, who is following in his grand-daddy's footsteps. We also meet his great-granddaughter Jessica and her groovy, swinging, young friends (who to my mind could have died in the first five minutes and done us all a favour.) 
The film follows Johnny Alucard (Christopher Neame) – a disciple of Dracula – who uses the groovy young people to resurrect his master and cause havoc. Fortunately, bad ass Van Helsing (Cushing) is there to kick their backsides back to hell.
Thoughts on Dracula AD 1972
Some thoughts after watching Dracula AD 1972 the other night:
1.) It shouldn't really be called Dracula as he's only in the film for less than 5 minutes if you add it all up.
2.) If Christopher Lee and Peter Cushing weren't in the film you would say it was a really shit film.
3.) Peter Cushing is probably the only good thing in it.
4.) I hated all the young people in it (and I am glad a lot of them
5.) You have to feel sorry for Christopher Lee for basically having to play an angry cat in most of his Dracula films (if not all of them).
6.) It is a bit surreal watching Dracula and Van Helsing do battle in a graveyard while funky 70s music is playing in the background. I felt like I was watching Man About the House or On the Buses at times.
7.) For a man "who commands nations", it doesn't take much to take Dracula down. You could also call the Count clumsy.
8.) Unfortunately all the laughs in the film were unintentional – including Dracula's lines.
9.) I now know why Lorrimer Chesterfield, Professor of at London University in The Monster Hunters is called Lorrimer, after Lorrimer Helsing, Professor at London University, in Dracula AD 1972 (which I thought was a pretty cool homage).
10.) It was awesomely bad in parts but it is definitely watchable and I have seen worse horror films that Dracula AD 1972.
Watching the film today, it is clearly bad. Bad, as in, I am only watching this because it is Peter Cushing and Christopher Lee. Watching 1970s London is always a hoot and I enjoyed that. The story is quite compelling but the script is shocking and some of the acting – bar Peter Cushing's – is terrible. I do like Stephanie Beacham and Caroline Munro though. They were fab.
All in all the film is nuts. There is nothing really scary about the film – it is just trying to be really groovy and hip and happening and whatever slang the screenwriter could throw in.
I've read that it was inspired by the Highgate Vampire scare in the early 1970s – I guess the black magic stuff is where that's at. But all in all, it was a wasted opportunity.
You can also read this previous article by Dom Cooper in The Spooky Isles about the film's roaring '70s soundtrack.
What did you think of Dracula AD 1972? Tell us about it in the comments section below!