Reading Time:
3
minutes
TITLE: The Mummy
YEAR RELEASED: 1959
STUDIO: Hammer Films
DIRECTOR: Terence Fisher
CAST: Peter Cushing, Christopher Lee, Yvonne Furneaux, Eddie Byrne, George Pastell
REVIEW BY ADAM SCOVELL
Having hit gold with their adaptations of Universal classic horrors Frankenstein (Curse of Frankenstein, 1957) and Dracula (Horror of Dracula, 1958), Hammer delved further into the back catalogue of monsters and villains in its 1959 production, The Mummy. Unlike the previous two adaptations, this one seems relatively similar to its Universal predecessor in tone and feel, making it feel like a necessity for the company rather than a genuinely good idea or exciting film for that matter.
The film opens in 1890 at an excavation of a tomb in Egypt. Stephen Banning (Felix Aylmer) is in charge of the excavation team along with his son, John (Peter Cushing). Mysterious happenings start to befall the excavation as Banning senior witnesses something terrifying in the tomb while an odd local tries to warn them off their exaction with stories of a curse that will put them in the gravest of dangers. A few years later, Stephen is now in a local home and has called John to see him after a few years gap to explain his worry about the living mummy appeared to him at the excavation and how his worry of its return is taking over.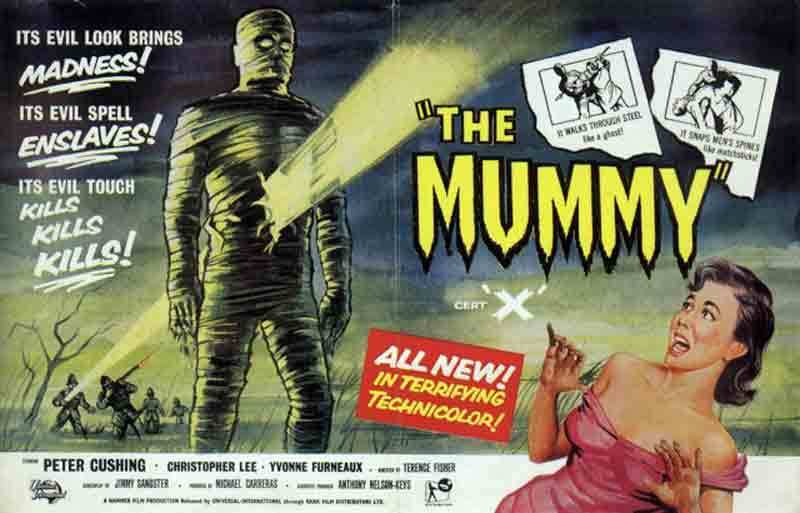 The Mummy is one of Universal's weaker films anyway, even with the presence of its stunning regular team. The Hammer adaptation simply doesn't innovate enough to make up for the originals slightly stifled narrative and tone. The film is strongest once it has moved away from Egypt and back into tradition Hammer territory of the English countryside as its Egyptian visuals have a bi-polar colour palette and a surprisingly slapdash approach to the often meticulous use of colour in Hammer films.
Cushing and Lee are the obvious reasons to watch. It goes without saying that both give excellent performances, even with Lee in particular having very little dialogue (as we learn his punishment for his current mummified condition cost him his tongue) still coming out strong as the menacing creature. However some of the supporting cast fare less well with often clichés and jokes making up their dialogue. George Pastell (a Hammer regular perhaps better known as the ambitious Logician Erik Klieg in 1967's Tomb of the Cybermen for those literate in Doctor Who) bears the brunt of this and is given some horrendously dated "death to the infidels" themed monologues.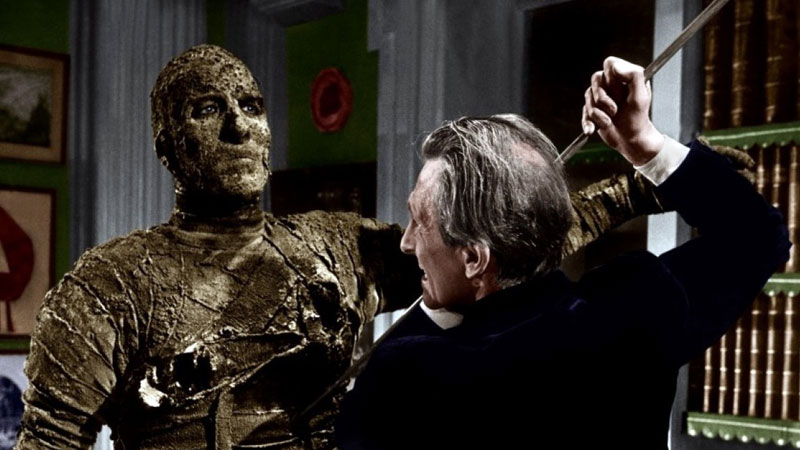 However the film does boast some great moments of tension. Cushing's usual fast paced agility is replaced thanks to his characters limp which adds a great deal of suspense to his chase scenes, especially with Lee being such a dominating and relentless on screen presence. Like its Universal predecessor, The Mummy is one of the weaker titles in the Hammer canon. Its fantastic leads do make it worth watching (as per usual) but without the tags of Cushing and Lee, this would no doubt be one of the few Hammer's to become entombed in its own sarcophagus.