Reading Time:
3
minutes
Film was historically seen as a temporary and ephemeral medium, cast aside once their initial theatrical runs had ended, and in some cases, never seen again. MARK FRYERS reveals five from the lost annals of British horror.
1. The Vampire (1913)
A real curiosity to start with- the synopsis offered sounds intriguing. Set in India, it seems to have been at least partially inspired by Rudyard Kipling's works. A man shoots a vampire woman who has killed his friend. She then turns into a snake and pursues him. Interestingly, there are a number of 'vampire' films of this era, and more often than not, the 'vamp' is a dangerous 'femme-fatale,' who seduces a man away from the path of 'goodness'. Sadly, we'll probably never know if the titular ghoul was as terrifying as the recently-deceased Jacqueline Pearce's turn in The Reptile (1966).
2. Black Waters (1929)
Alfred Hitchcock's Blackmail is credited as being the first British 'Talkie', but this horror film, from British mogul Herbert Wilcox, was produced and trade-screened first. Wilcox had to film it in the US though as British studios were not properly fitted with sound recording equipment. Perhaps more of a murder mystery with gothic elements, and based on a story by The Cat and the Canary writer John Willard, this centred around a murderer aboard a fog-bound 'death ship', not dissimilar to the later 1935 Bela Lugosi Hammer Studios film, The Mystery of the Mary Celeste.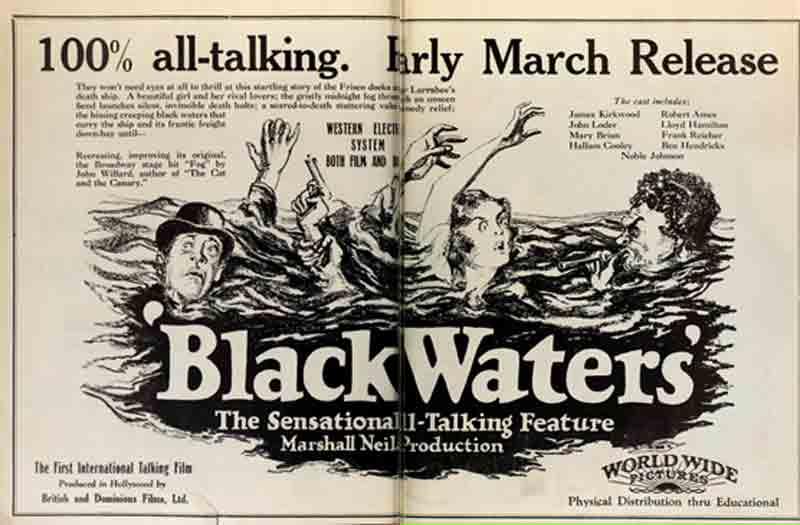 3. The Bells (1931)
Keeping with the Blackmail connection, Donald Calthrop, who portrayed the antagonist in that film, also starred in the title role of Mathias, a man haunted by the voice of the man he murdered, in this British adaptation of the Alexandre Chatrian play. Filmed several times in the silent era and beyond, it would have been interesting to see how this British film utilised the new technology of sound to render its spectral aural manifestations.
4. The Unholy Quest (1934)
Writer, producer, director Widgey R. Newman was a prolific purveyor of 'quota quickies' (cheap films made to fulfil a quota for British films) in the late twenties to the early forties, churning out some 50 plus films in 17 years. He is best-associated with another missing horror film, Castle Sinister (1932). The Unholy Quest, at least as far as the few trade reviews that exist document, was similar in plot, cashing in on the Hollywood trend for 'crazed scientist' narratives, in this case, the offending doctor attempts to bring the dead back to life via a special serum.
5. Frankenstein (1930)
Sadly, not only is this not in existence, it never was. Yet it is a tantalising 'what if'? Trade paper Kinematograph Weekly reported in February 1930 that Gaumont British were 'clearing their schedules' for a big screen adaptation of Mary Shelley's gothic tale. This was almost two years before the release of Universal's iconic 1931 James Whale-Boris Karloff rendition that seared the image of a flat-fringed, neck-bolted monster into the popular consciousness. It is not clear why the project never materialised, but it is fascinating to ponder whether the creature created here would have proven to be as iconic, or if this film may have similarly created a 'gothic cycle' in Britain at the time.
It's comforting to remember that Boris Karloff's The Ghoul was thought lost for many years, before a copy turned up in former Czechoslovakia, then a more complete copy in a storeroom at Shepperton. Who knows, maybe one of these lost horrors is gathering dust in a garden shed or attic, next to the missing episodes of Dr Who…