Reading Time:
5
minutes
Jack Palance as Dr Jekyll and Mr Hyde? TERRY SHERWOOD explores Dan Curtis' The Strange Case of Dr Jekyll and Mr Hyde 1968 in his regular column, Sherwood After Dark
The Strange Case of Dr Jekyll and Mr Hyde is one of the most filmed in the horror genre: even more than Phantom of the Opera.
For many, the most celebrated version remains the 1932 one with the effective Fredric March from Paramount Pictures.
What of new interpretations of the story and characters? A television version was done in 1968, filmed in Toronto, Canada that rivals any of the larger budget films.
The Strange Case of Dr. Jekyll and Mr. Hyde (1968) was a co-production between Dan Curtis Productions and ABC television. Jack Palance held the title role. Palance is supported by such dramatic heavyweights as Denholm Elliot, Oscar Homolka, Torin Thatcher and Billie Whitelaw.
Dark American Shadows
Dan Curtis made his name producing the Dark Shadows franchise of television series and later the films.
For those not knowing, Dark Shadows (1966-1971) was an American daytime soap opera about the Collins family. Not your average family. They had Barnabas Collins, a vampire, Quentin Collins, a werewolf, plus witches, ghosts and other goings on at the desolate Collingwood home.
The series spawned two feature films with the original stars plus a new adaptation in 2012 with Johnny Depp and a brief revival on television with Barbara Steele.
Dan Curtis wanted to make a television version of Robert Louis Stevenson's novella that he would shoot in England with Jason Robards in the Jekyll role.
The script was supplied by the multi award winning writer extraordinaire Rod Serling. Everything was set to go when Robards determined he was unhappy with the script and dropped out.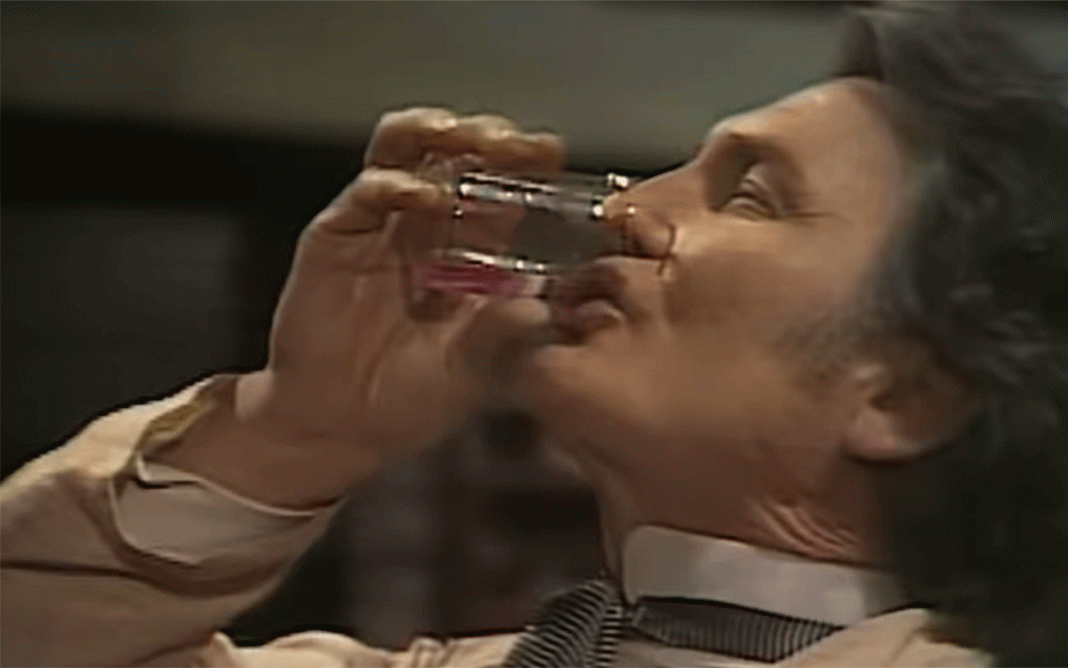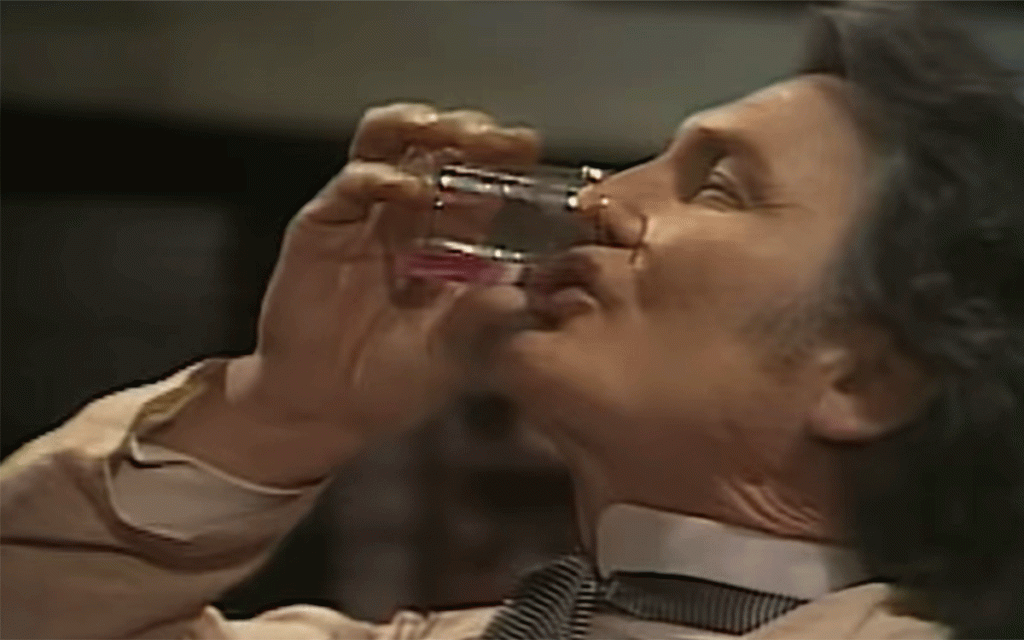 A strike of the film technicians union at that time in the UK made filming difficult. Curtis and ABC television network in the USA decided to move the filming to Canada due to cost and Jack Palance stepped in the role after much consultation.
British writer Ian McLellan Hunter supplied a new script that was agreed upon. Hunter was actually a 'front' for black listed writers Dalton Trumbo and Ring Lardner Jr; he submitted their work either under his name, or another.
In charge was British television and film director Charles Jarrott. He was best known for working for Hal Wallis on costume dramas. Jarrott would go on later to direct Anne of a Thousand Days (1969), Mary Queen of Scots (1971) and Lost Horizon (1973) among many others.
"That man is a success who has lived well, laughed often and loved much"
The Strange Case of Dr. Jekyll and Mr. Hyde (1968) is an astounding work for the time it was produced.
Technically, the television cameras are not as good when viewing the footage today. That does not take away from the actors and the solidly adapted story. The scenes in the London streets with fog, mud and hawkers walking up and down flogging whatever wares to the public work.
The story opens with Jekyll defending his theory of the duality of man to a group of scientists in a lecture chamber. Sir John Turnbull (Torin Thatcher) leads the spirited verbal assault that almost turns physical.
Jack Palance is well cast with his smooth speaking voice and with no attempt at an accent, delivers a sensitive, crusading Dr Jekyll.
The action moves fast as Jekyll, the evening after the lecture meeting, takes the potion for the first time.
The film wisely segues to the next morning and the aftermath of the first encounter with Edward Hyde.
Jekyll is woken by his faithful butler Poole (Gillie Fenwick) to find his clothes in disarray and that he has spent nearly 65 pounds.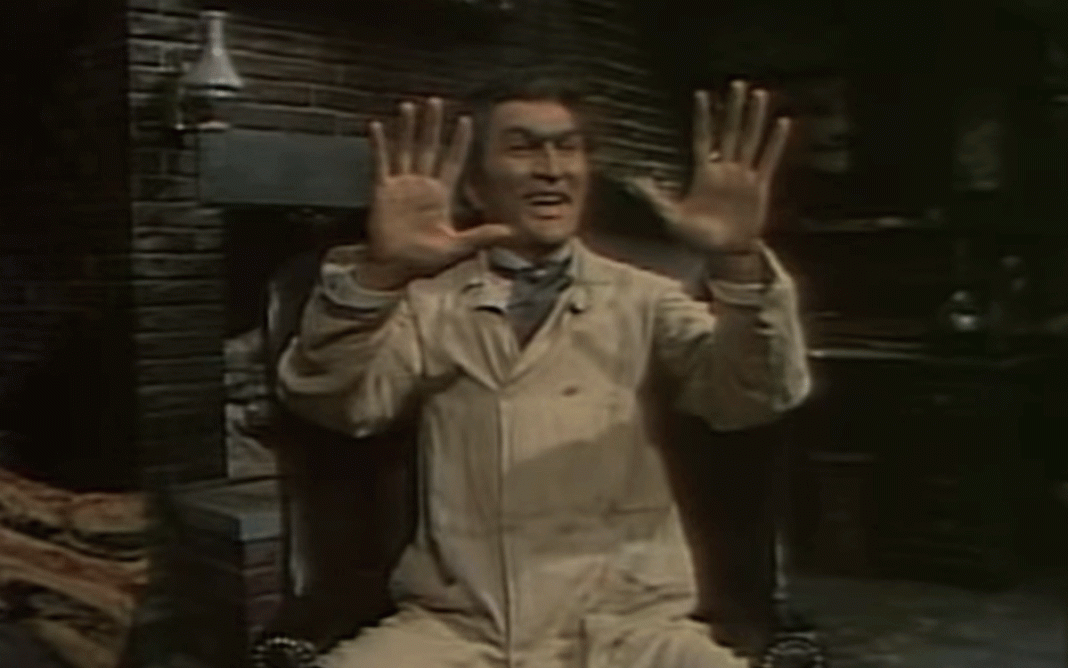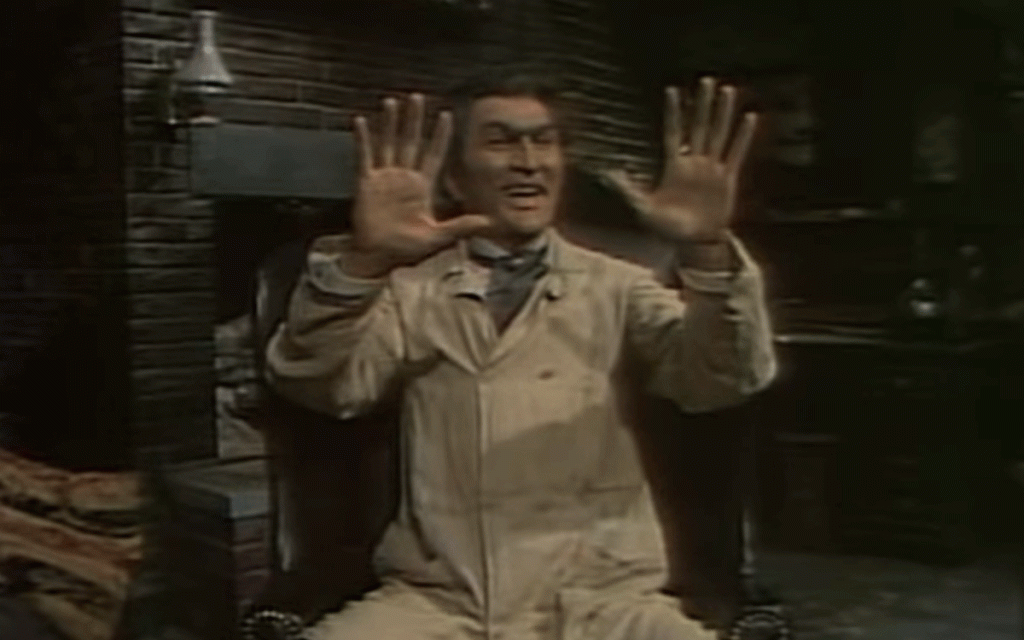 Jekyll also finds a paper advertisement for a club, The Windmill, and a brooch with an initial on it. Jekyll proceeds to the Windmill, a drinking and brothel establishment, where he is regaled with Hyde's exploits of the previous night by Madame/Owner Tessie O'Toole (Tessie O Shea).
She tells him how full of life Hyde was. He bought champagne, tossed money around, romanced several women, notably Gwyn Thomas (Billie Whitelaw), much to the anger of her self-appointed lover Garvis (Donald Webster).
Dr Jekyll meets Gwyn, who owns the brooch he had in his possession. Jekyll offers to pay for damages and rebuffs the amorous attempt by Gwyn. She gives him her address and he says that he will be back and hurries away.
Jekyll drinks the liquid again, and this time we see the change.
The camera relies on some shaking point of view work showing hands on furniture. Wild shrieks from Palance in a fit; he ends up in a chair with head down. He raises his head and we see Edward Hyde for the first time.
Hyde gives off this staccato laugh and speaks with bombastic tones. Palance gives his Jekyll a strong sense of pathos, particularly when he suffers 'the morning after' effects. There is also genuine alarm when the transformations to Hyde become uncontrolled, leading to further chaos.
"If I am the chief of sinners, I am the chief of sufferers also"
What's the point of makeup if you cannot get a good performance out of an actor?
This approach allows Jack Palance full range of emotion, expression both verbal and with the eyes and body without being distraction.
The Palance Hyde takes advantage of the actor's natural bone structure, building it up in places.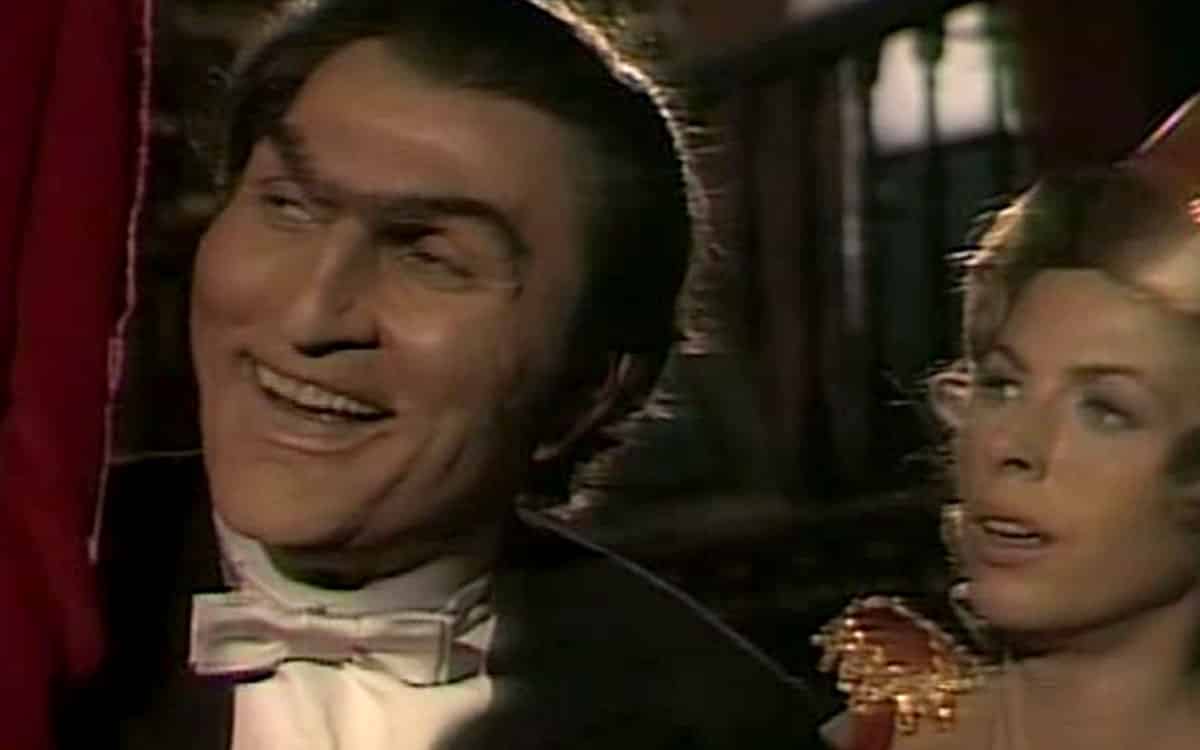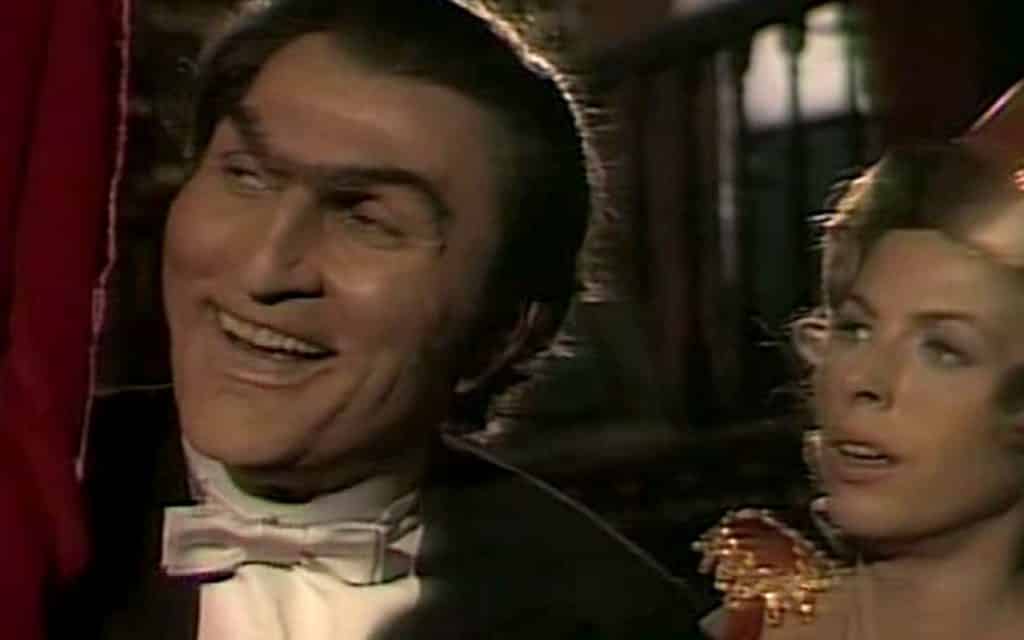 His eyebrows are thicker with a similar look as Fredric March, whose makeup was based on a neanderthal man.
Palance has a nose that when in makeup in profile, reminds one of John Barrymore, who played the role in one of the silent versions. The makeup and movement are effective and understated, drawing inspiration from Stevenson, who said it was "the evil of his expression."
I had not read the Stevenson novella in a while so I am unable to say if the story deviated or characters were added. I do know that the section in the original story where Hyde takes a cane to a child on the street was omitted.
The Shadows Lift
Denholm Elliot as Jekyll's friend and confidant Mr George Devlin, and Leo Genn playing rival Dr Lanyon are solid in their roles.
In a moment similar to Dracula, where Mina says to Jonathon, Van Helsing, Seward and Quincy Morris that when they want to get revenge on the Count that "he is the sorriest of all and deserves pity".
Denholm Elliot's George Devilin, when holding a gun at Edward Hyde, states that it is Jekyll that deserves to die for his actions, not Hyde.
Billie Whitelaw who is billed as 'introduced' in the opening credits is most effective as Gwyn. Oddly, this picture is not her debut as she had many credits previously. It could be her first time being on North American television.
The Strange case of Dr Jekyll and Mr Hyde (1968) is a worthwhile production to seek out.
It is not as controversial as the Spencer Tracy/Ingrid Bergman version, or as well-known as the Fredric March Academy Award winning production, yet it's worthy for its detail and interpretation.
Technically, it is slightly dated with the video resolution of the time. Ultimately, the co-production between the American ABC network and Canadian Broadcasting Corporation is excellent in scope and depth.
Watch Strange Case of Dr Jekyll and Mr Hyde 1968
Have you seen The Strange Case of Dr Jekyll and Mr Hyde 1968 with Jack Palance? Tell us what you thought of it in the comments section below!