Reading Time:
3
minutes
The Two Faces of Dr Jekyll 1960 continues to be a strong, intriguing film to watch, says ANDREW GARVEY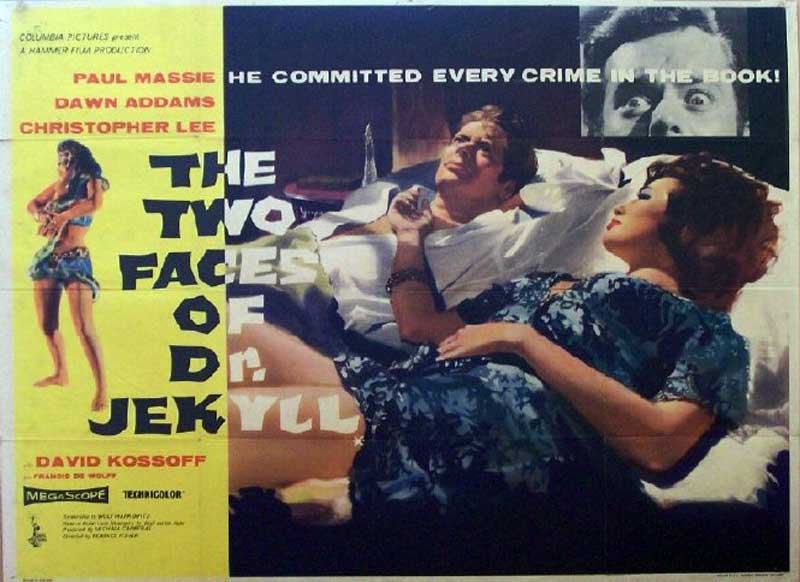 TITLE: The Two Faces of Dr Jekyll
YEAR RELEASED: 1960
DIRECTOR: Terence Fisher
CAST: Paul Massie, Dawn Addams, Christopher Lee, David Kossoff, Francis de Wolff
Review of The Two Faces of Dr Jekyll 1960
Hammer's first re-interpretation of Stevenson's story is an unusual one.  Like most of the company's adaptations of existing material, they took the bare bones of the story and put their own spin on things.  In this case, legendary Hammer director Terence Fisher (in his eighth film in the studio's directing chair) focused on the glamour and charm of evil in a film featuring a surprising amount of sexual themes and imagery.
British-based, BAFTA award winning Canadian actor Paul Massie plays both Jekyll and Hyde in a then-underappreciated film (it reportedly lost £30,000 at the box office on its initial run).
As with most adaptations of the tale, Jekyll is a decent, hard-working man searching for a chemical solution to a scientific or philosophical problem. And as usual, he pays no attention to a kindly warming from a friend about meddling with things he doesn't fully understand.
Jekyll's unusual appearance is oddly off-putting until you realise that Massie was wearing a wig, false beard and eyebrows and heavy make-up. Presumably his acting in the role of the dull doctor was intentionally understated to highlight the contrast between him and the licentious, nastily wild-eyed Hyde. As the mental, physical and emotional strain of his alter ego's adventures mount Jekyll does become a more interesting character but remains very firmly in Hyde's shadow.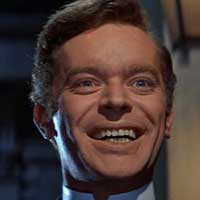 As good as Massie's disturbing Hyde is, and he, Fisher and the film's writer Wolf Mankowitz put together a very different, compelling Edward Hyde, the show is stolen by – who else? – Christopher Lee.
Unwilling to take on the Jekyll and Hyde role and play the monster again after his roles in Hammer hits the Curse of Frankenstein, Dracula and the Mummy, Lee instead shines as the urbane, feckless and amoral Paul Allen. Jekyll's 'friend', Allen spends the film boffing his wife while shamelessly tapping him for money to pay off his gambling debts. A thoroughly contemptible man, Allen is a great supporting villain.
Not really a horror film, though there are moments of violence and some unpleasant themes being explored, this is more of a character study following the vengeance-fuelled Hyde (and by extension, the increasingly tortured Jekyll) through increasing levels of degradation in 1870s' London's opium dens, pubs, sex clubs and gambling houses.
Of course, things ultimately go badly for several of the main characters (and Oliver Reed, whose angry confrontation of Hyde definitely doesn't go to plan) but the ending is an original one for such an old story that had already been adapted dozens of times.
Even now, over fifty years on, it's a very watchable, intriguing film with a surprising amount of sexual imagery and two very strong performances from Massie (in his only Hammer outing) and company legend Lee.
Tell us your views on The Two Face of Dr Jekyll 1960 in the comments section!
Watch The Two Faces of Dr Jekyll 1960 Trailer
ANDREW GARVEY lives in Staffordshire. He writes (infrequently) about mixed martial arts, professional wrestling, history, horror and folklore. Follow him on Twitter: @AMGarvey Check out more Andrew Garvey articles for the Spooky Isles here.