Ken Russell sticks his fingers up to the critics with his final full-length film, The Fall of the Louse of Usher, says SIMON BALL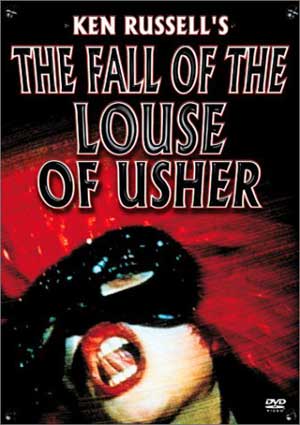 TITLE: The Fall of the Louse of Usher
YEAR RELEASED: 2002
DIRECTOR: Ken Russell
CAST: Ken Russell, James Johnson, Marie Findley, Lissi Tribble, The Medieval Babes
Rock star Roddy Usher (James Johnson), a kind of glam Nick Cave, albeit with bad teeth, has been sectioned and condemned to the local lunatic asylum for killing his wife Madeline.
At the asylum Dr Calahari (Russell) and Nurse Smith (Marie Findley) devise a series of treatments for Roddy that mostly involve bizarre sex and being boxed up alive in a coffin.
This was Russell's final full length picture as director and was shot at his home on digital video and bugger all budget.
Props are home-made: Calahari's doctor's outfit is a set of chef's whites with a CD mounted on a tennis sweatband around his forehead, Nurse Smith's naughty nurse costume looks like it came from Anne Summers while the defibrillator is a pair of steam irons.
It does riff off a couple of Edgar Allan Poe stories including: Murders In The Rue Morgue, Ligeia, The Premature Burial and The Facts In The Case Of M. Waldemar as well as The Fall of the house of Usher although it's mostly completely crazy loopy stuff involving topless nuns, a bouncy castle and an inflatable dinosaur.
I can't help thinking that the elderly enfant terrible of British cinema was just sticking two fingers up at the critics who had dogged him throughout his career.
Watch Fall of the Louse of Usher 2002
What did you think of Fall of the Louse of Usher 2002? Tell us in the comments section below!