Reading Time:
2
minutes
PETER FULLER reviews The Premature Burial 1962, directed by Roger Corman with Ray Milland and Hazel Court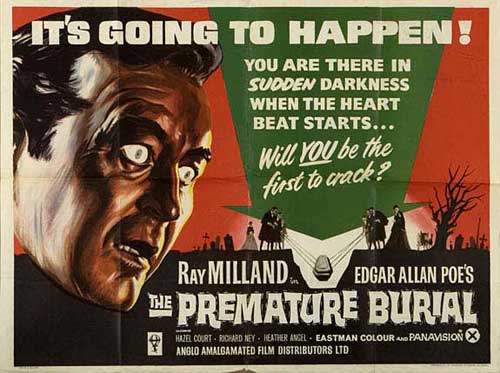 TITLE: The Premature Burial
YEAR RELEASED: 1962
DIRECTOR: Roger Corman
CAST: Ray Milland, Hazel Court, Alan Napier, Heather Angel, Richard Ney
This Vincent Price-less horror piece by cult director Roger Corman into the morbid world of Edgar Allan Poe doesn't somehow carry quite the same unseen terror as the first two films in the series.
Believing that his father was buried alive while in a cataleptic trance, wealthy Victorian Guy Carrell (Ray Milland) is haunted by the fear that the same fate will befall him.
He marries Hazel Court (in her first of two Hollywood pictures for Corman), but becomes obsessed with his new custom-built coffin with special escape devices.
When his worst fears are realised, he returns from the grave with homicide on his mind.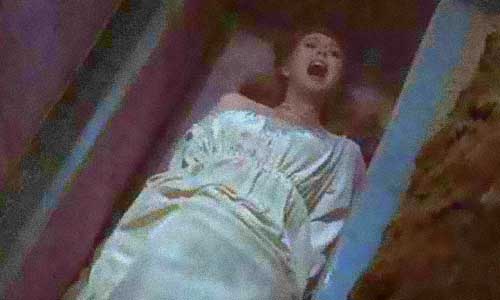 Corman's film started out as a project for Pathé Laboratories.
Because Vincent Price's contract prevented him from working on horror films outside of American International Pictures, Ray Millard was cast as the lead instead.
But the film ended up back in the hands of AIP when they bought out Pathé.
A shocker rather than a chiller, Corman conjures up some colourful, cobwebbed Poe atmosphere with swirling mists, petrified corpses and dank atmospheric suspense; and Milland's dream sequence is genuinely frightening.

But while Premature Burial 1962 does have the same rich décor and Gothic trappings as House of Usher and The Pit and the Pendulum, the screenplay relies too heavily on elements from those films, and Milland lacks Price's barnstorming qualities.
Watch out for Alan Napier (Alfred from TV's Batman) and Corman regular Dick Miller in the supporting cast.
NOW READ: Real life Premature Burials in England
Tell us your thoughts on The Premature Burial 1962 in the comments section below!
Watch The Premature Burial 1962 Trailer