---
---
TITLE: X: The Man with the X-Ray Eyes
YEAR RELEASED: 1963
DIRECTOR: Ray Corman
CAST: Ray Milland, Diana Van der Vlis, Harold J. Stone, John Hoyt, Don Rickles, Cathie Merchant
---
PETER FULLER reviews X: The Man with the X-Ray Eyes (1963)
---
King of the B-s director Roger Corman excelled himself with this allegorical sci-fi thriller about medical researcher Dr Xavier (Ray Milland) inventing a serum to improve the capacity of the human eye, and took the top honours at the 1963 Trieste Science Fiction Film Festival as a result.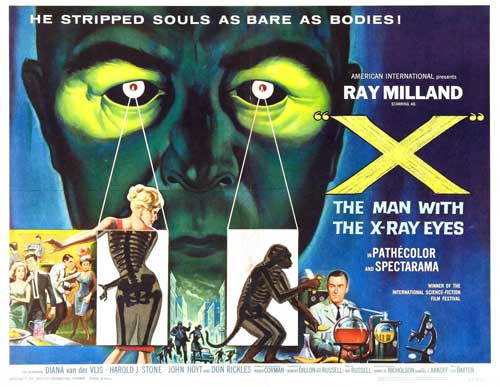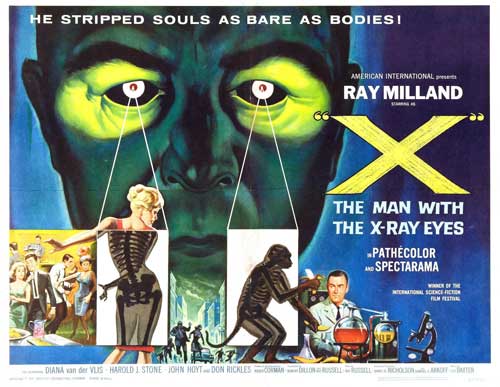 Using himself as a guinea pig, Xavier's experiments with special X-ray eye drops to allow him to see his patients' internal organs and make spot-on diagnoses. It also means that he gets to see through women's clothing (although discreetly covered by objects which his special vision cannot penetrate). However, Xavier's sight gets increasingly stronger until he can see through everything – even into eternity. Ouch! At a revival meeting a preacher yells out: 'If thy eye offend thee…'
The Spectarama special effects may come off cheap looking (most of the budget went on Milland's salary), but Milland's performance is one of his finest, and lifts this sci-fi onto a whole different level. Slick, thoughtful and wholly original, it's a powerful modern parable, with an eye opening shock ending that still disturbs. Among the cast are comedy legend Don Rickles, and Corman regulars Jonathan Haze and Dick Miller.
---
PETER FULLER is a writer and sub-editor for some of the UK's leading TV listings magazines. A big fan of Vincent Price since the age of eight, Peter runs The Sound of Vincent Price blog and website; and reviews classic, cult and contemporary films on his Kultguy's Keep blog. Follow him on Twitter: https://twitter.com/kultguy and check out his blogs The Sound of Vincent Price and KultGuy's Keep.
---