Reading Time:
2
minutes
PETER FULLER gives the low down on Frogs 1972 starring Ray Milland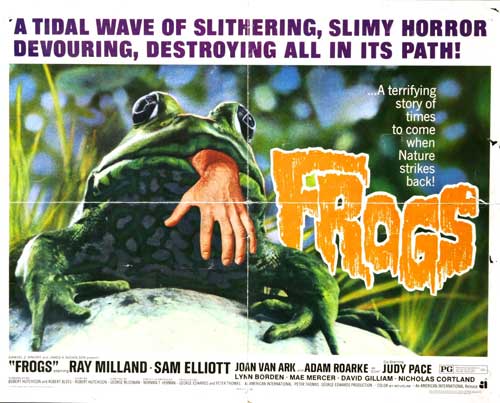 TITLE: Frogs
YEAR RELEASED: 1972
DIRECTOR:George McCowan
CAST: Ray Milland, Sam Elliott, Joan Van Ark, Adam Roarke, Judy Pace, Lynn Borden, Mae Mercer, David Gilliam
Nature-hating wheelchair-bound patriarch Jason Crockett (Ray Milland) gathers his upper class family around him on his private island in Florida for their annual celebration of his 4th of July birthday. In the surrounding swamps, a caretaker sprays poison to cut back the growing amphibian population. An air of menace hangs heavily over the reunion. It's nothing you can put a finger on, but soon they come – tarantulas, toads, lizards, snakes, even leeches and turtles – closing in, bent on revenge…
 
From Ssssnake to Squirm to Day of the Animals, man took quite a beating from nature in the cinema of 1970s, but this is one of the best eco-horror films of the era; a compelling tale that's both a disquieting vision of what might just happen and an allegory in the manner of Alfred Hitchcock's The Birds.
Director George McCowan (who ended up working on US prime time TV shows like Charlie's Angels) makes most of the satirical script, and weaves the real-life animal footage into the horror narrative with complete conviction.
While the invading wildlife shown is quite subtle, the startling soundtrack: a symphonic cacophony of rustling, slithering, hissing and croaking, is truly disturbing. The post credit scene is a hoot.
'Millions of slimy bodies squirming everywhere – millions of gaping mouths!' is the way the original ads put it. In the US, the film played with its Japanese cousin Godzilla vs the Smog Monster. Playing members of the Crockett clan are Sam Elliott and Joan Van Ark (Knots Landing).
Tell us what you thought of Frogs 1972 in the comments!
Watch Frogs 1972 trailer