Reading Time:
5
minutes
Black Sunday 1960 is an all-time must-see for students of horror, says BARRY McCANN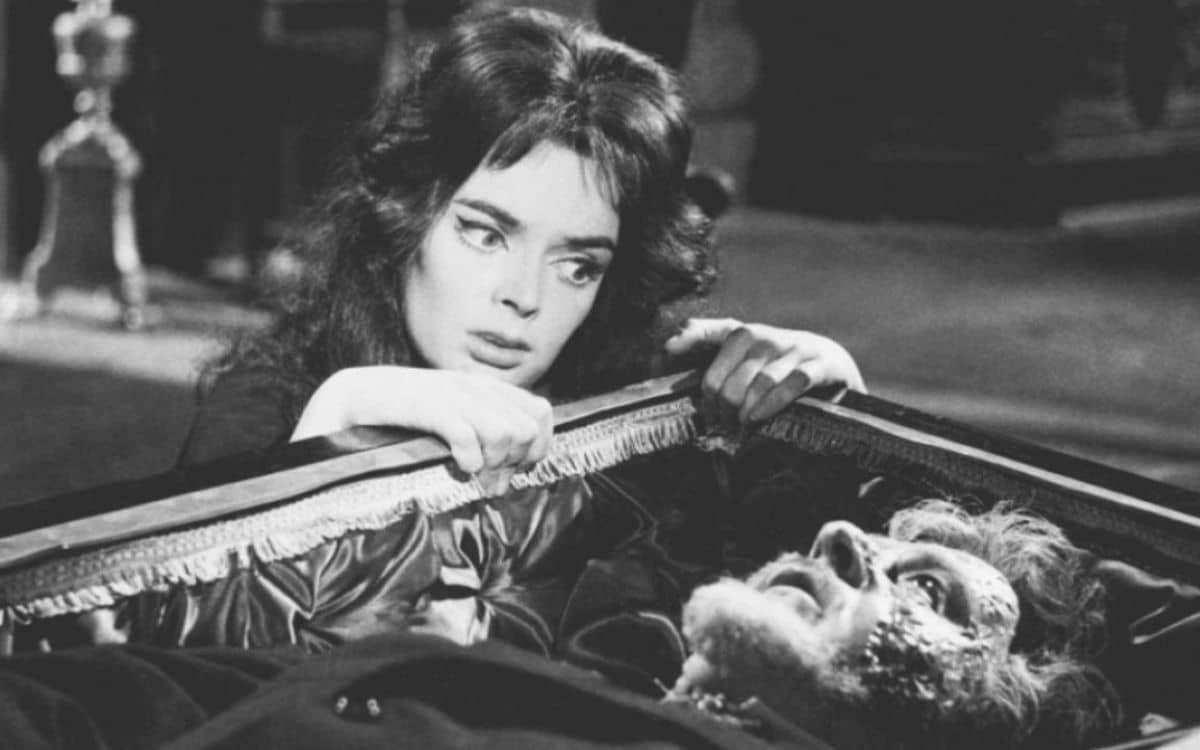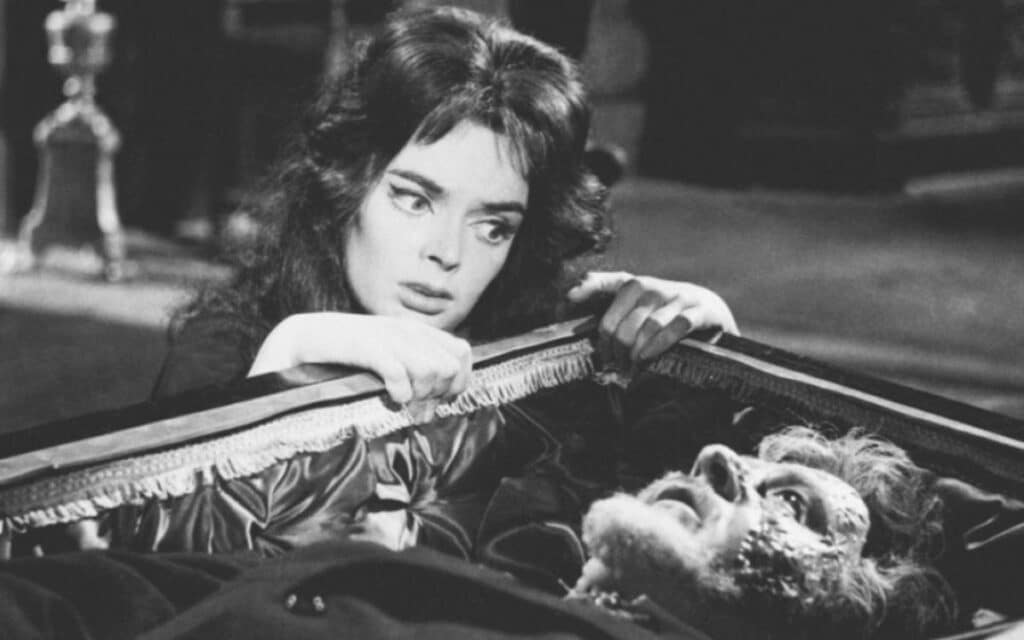 Review of Black Sunday 1960
TITLE: Black Sunday aka La maschera del demonio
RELEASED: 11 August 1960
DIRECTOR: Mario Bava
CAST: Barbara Steele, John Richardson, Andrea Checchi, Ivo Garrani, Arturo Dominici, Enrico Olivieri
In 1960 the Italian film industry offered the world a very strange and compelling gothic horror film, which marked the directorial debut of Mario Bava. In the years that followed, Bava would go on to become a legendary name in horror cinema, while his debut feature would be known by a number of names. The title which has stuck, however, is Black Sunday.
In Seventeenth Century Moldavia, Princess Asa Vajda and her lover Prince Javutich are brutally executed by her brother on the charge of witchcraft. A mask of Satan lined with spikes is hammered onto each to their faces, Asa cursing her brother and swearing vengeance on his descents. Her body is then interred in the family tomb with a cross over it to keep her evil soul dormant.
Two hundred years later, Professor Thomas Kruvajan and Dr. Andre Gorobec accidentally find the tomb. Kruvajan breaks the cross which allows Asa to rise from the dead, turning him into her vampire servant. She also resurrects her lover who had been buried in unconsecrated ground. Meanwhile, Dr. Andre meets and falls in love with Princess Katia Vajda, a descendant of Princess Asa and physically identical to her. As such, Asa's seeks to possess Katia's body to live again.
The Mask of Satan as originally titled was based on Nikolai Gogol's Viy, published in 1835 and chosen by director Mario Bava himself as he frequently read it to his children at bedtime. The tale concerned a group of students encountering an old witch who transforms into a beautiful woman, and itself was transformed for the big screen into a feature length horror incorporating vampirism.
The Italian film industry had little track record in the genre at that time, as Italian censorship introduced under Mussolini during the 1920s was particularly strict when it came to depictions of violence, cruelty and sensationalist fantasy. In fact, the 1920 Il Mostro di Frankenstein (Frankenstein's Monster), a now lost adaptation of Mary Shelley's novel, proved to be Italy's last horror flick until I Vampiri in 1956.
Post war (and post Mussolini) relaxation of the country's censorship let the Italian film industry off the leash and producers began exploring the fantasy and horror genre. During the late 1950s, the production company Galatea kicked off the sword-and-sandal genre with Hercules (1958) and Hercules Unchained (1959), which both scored on the international box office and American distributors particularly began importing more Italian fantasy flicks.
Taking advantage of the situation, Galatea commissioned cameraman and effects designer Mario Bava to devise a film aimed more squarely at foreign markets for what would be his debut as a director. Inspired by the success of Hammer's Dracula (1958), he came up with a four-page outline based on Gogol's story, which was then fleshed into a script by a number of writers, credited and uncredited.
Galatea had wanted the film to be Technicolor but Bava insisted on black and white which, being an experienced lighting cameraman, he stylistically exploited to give the production a near expressionist atmosphere and look. However, there was a more practical reason in that required transformation sequences could only be achieved with red and green light filters which could not work with colour.
While production was based at the Scalera Film studios in Rome, Bava opted to go on location to Castle Massimo in Arsoli and make use of real graveyards as opposed to recreations. With his use of angles, delicate gloom and lighting, he composed some of the most visually memorable and hauntingly poetic scenes to ever grace a horror film.
There are also the nerve wracking scenes where the faces of the two vampires are impaled by the spike lined masks, and the later shot of the undead Asa whose face not only bears the deep wounds from the spikes but is infested with insects and spiders. Her body is later revealed to be in a similar state when her cloak is pulled back to reveal the putrefying corruption behind.
Bava cast British actors Barbara Steel and John Richardson in the leading roles to boost its appeal in English speaking markets. Both had formally been contract players with the Rank Organisation who had come to Italy seeking work, and their involvement in the film was to further both their careers.
Richardson played love interest Andrej and would go onto to become one of Hammer's leading men in She (1965), One Million Years B.C. (1966) and The Vengeance of She (1968), but lost out to George Lazenby after auditioning to be the cinema's second James Bond. 
Barbara Steele, Britain's first Lady of Horror
Barbara Steele, with her striking dark eyes, managed to embody both light and dark in her dual role as Katia and Asa. It is not surprising she became a star in Italy in addition to winning roles in Roger Corman's The Pit and the Pendulum (1961), and starring alongside Christopher Lee and Boris Karloff in The Curse of the Crimson Altar (1968), earning her the title of Britain's First Lady of Horror.
Surprisingly, The Mask of Satan achieved only limited success during its initial 1960 Italian release. It really found its audience when Galatea sold an English dialogue version to American International Pictures (AIP) for distribution in the United States. The company re edited the movie to remove three minutes of material they considered too strong, and redubbed the soundtrack to replace Roberto Nicolosi's original music score with a new one by Les Baxter. Because the name of Satan was still considered taboo, the title was changed to Black Sunday.
Released in the United States in 1961, it proved to be AIP's biggest grossing film to date. However its graphic content got it banned from UK distribution until 1968 when censorship began to relax. It was then released by Border Films as Revenge of the Vampire, and to great acclaim.
In more recent years, the original English language cut with Roberto Nicolosi's score has been made available as the standard edition, though still bearing the American title of Black Sunday as it has become popularly known. It is considered the masterpiece of Italian gothic, its mix of eroticism and graphic violence influencing other emerging Italian cinema genres like the Spaghetti Western and Giallo thrillers. For students of the horror film, it remains an all-time must see.
Tell us your views of Black Sunday 1960 in the comments section below!
Watch Black Sunday 1960 trailer
BARRY McCANN has a new book out: Now is the Night is now available from Amazon.