Reading Time:
3
minutes
To commemorate the 100th anniversary of Sir Christopher Lee's birth, RICHARD PHILLIPS-JONES takes us back to where the actor's association with cinematic chills began, with a 1955 short-film: Cross-Roads.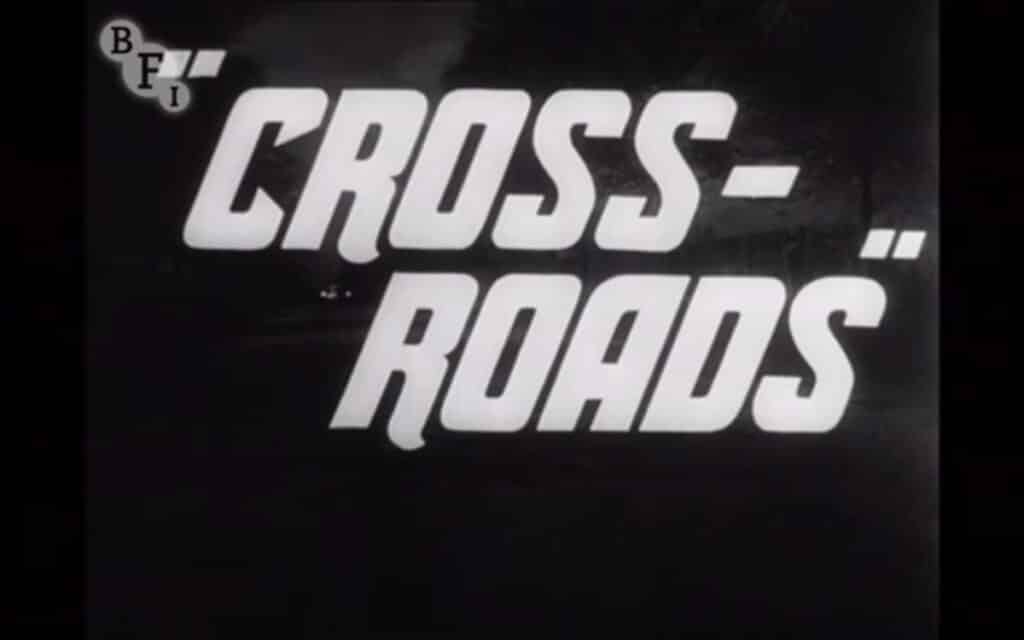 TITLE: Cross-Roads
RELEASED: 1955 (exact date unclear)
CAST: Christopher Lee, Ferdy Mayne, Mercy Haystead, Janet Richards, Beryl Nesbitt
WRITERS: Richard Griffith (story), John Fitchen (screenplay)
DIRECTOR: John Fitchen
A deserted road, late at night. A sports car comes haring along, the male driver apparently rushing his female passenger to hospital following a suicide attempt. She passes out, distracting the driver who fatally crashes the car into a tree.
The scene changes to daylight, and we see Harry Cooper (Christopher Lee) apparently examining the very same tree, before hitching a ride to London from passing motorist Betty (Haystead). Harry explains to Betty that he is heading to the city on business, and slightly unsettles her by referring to an upcoming date in her social calendar which she hasn't mentioned.
At her passenger's request, Betty pulls up by a phone box, where Harry (giving the false surname Benton) confirms an appointment with sleazy theatre producer Bernard J. Maskell (Mayne), who is concurrently occupied with trying to seduce his secretary.
Arriving at his destination, Harry is initially genial to Maskell, but notices a picture of his deceased sister Susan in his office. Harry drops the bombshell that Susan was carrying Maskell's child at the time of the fatal car crash (seen at the start of the film) and reveals his true identity, as Susan's brother.
"But, he was killed in a car crash with her!" says Maskell.
"Was I?" says Harry, approaching menacingly…
A slight if still entertaining creepy tale, this two-reel short may well have been consigned to the footnotes of cinema history if not for the fact that it marked the first leading role in a supernatural tale for one Christopher Lee, a good two years before a fortuitous casting in The Curse Of Frankenstein launched him to global stardom.
There's an interesting harbinger of sorts with a close-up, spot-lit shot of Lee's eyes glaring menacingly. The only thing missing is Technicolor and some red contact lenses, but (albeit accidentally) it's a classic Hammer Dracula image in prototype and Lee's combination of leading-man charisma and that gift for underplayed, unsettling menace are already clear to see.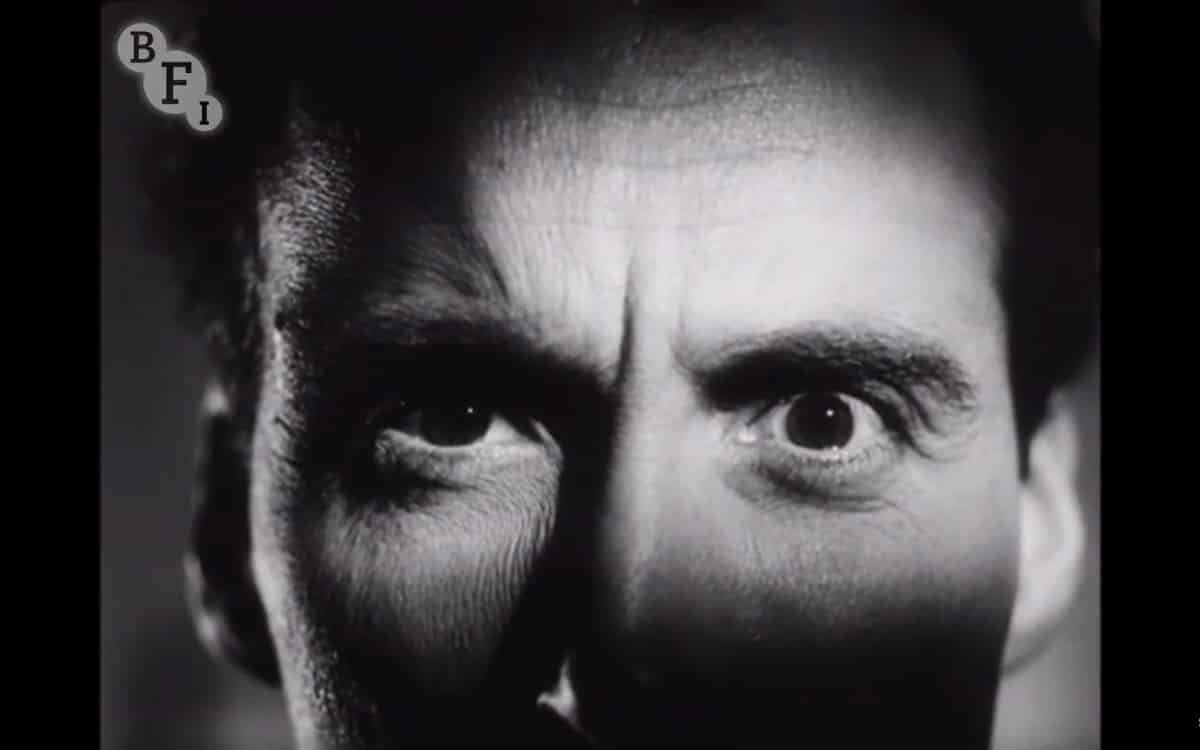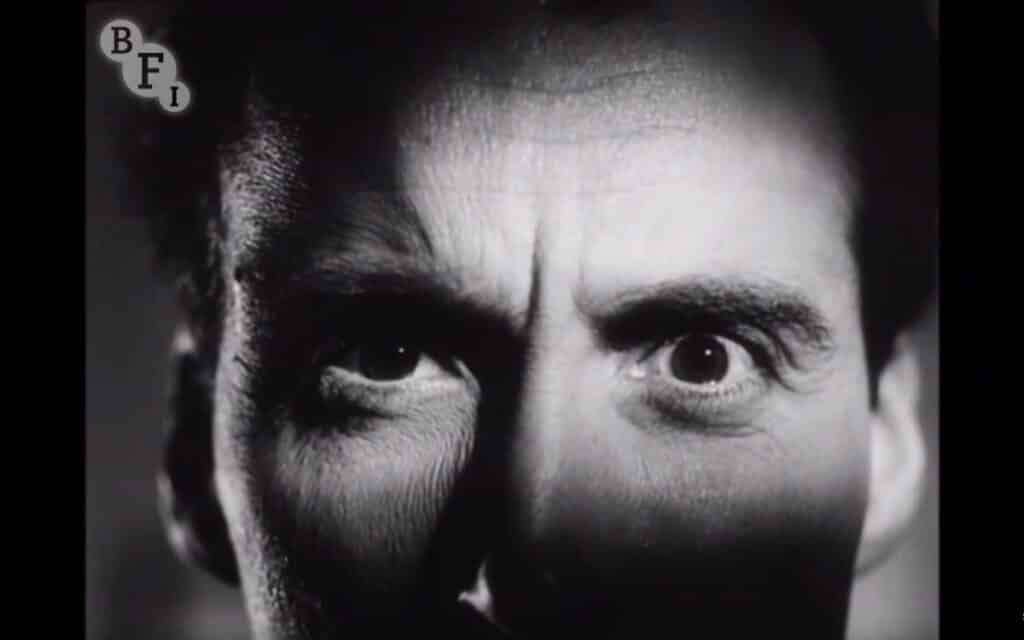 True, Cross-Roads is not a particularly polished production: the library-sourced musical cues seem somewhat casually layered over the images (and aren't always appropriate for what is meant to be a spine-tingler), whilst the occasionally clumsy film cuts and somewhat laboured dialogue are just the kind of thing that Harry Enfield & Chums (1990-98) later lampooned in the Mr. Cholmondley-Warner skits.
Still, one should perhaps be charitable towards the film's technical flaws since such a low-budget effort was likely working to a very tight schedule with limited time available for post-production. Whatever the shortcomings of Cross-Roads, Lee's burgeoning star quality still shines through in what is overall an enjoyable yarn, with a well-mounted car chase leading to a climax which nicely brings the story back to where it began.
The branding and pigeon-holing of the horror genre may have been a source of frustration for the actor as the years rolled by, but nevertheless it was the cinematic form that made Christopher Lee a much beloved international star. In commemorating the 100th anniversary of his birth, it seems somehow appropriate to go back to where his association with screen chills tentatively began, before Hammer Films came calling and set him firmly on that path.
Whilst not truly his first genre appearance (perhaps 1954's The Mirror And Markheim holds that distinction), Cross-Roads is nevertheless the first one where Lee is clearly the lead attraction and on that level alone, it's an important historical gem for any fan of the British horror film.
You can see Cross-Roads 1955 for yourself, as part of the BFI's National Archive collection below.
Watch Cross-Roads 1955 with Christopher Lee
TRIVIA POINTS: There is, of course another Hammer link here in the form of Ferdy Mayne. The German-born actor would send up the company's output as Count von Krolock in The Fearless Vampire Killers (aka Dance Of The Vampires, 1967), before playing the doctor in Hammer's own The Vampire Lovers (1970).
Whilst Cross-Roads would be a stepping-stone to greater things for Christopher Lee, the same could not be said for director John Fitchen. Despite showing promise here, he would not direct another film.