ANDREW GARVEY has watched the first series of Dracula starring Jonathan Rhys Meyers and this is what he thought …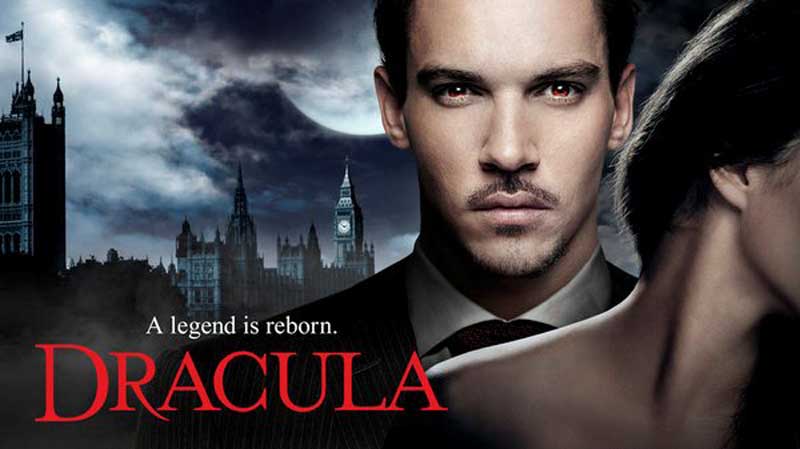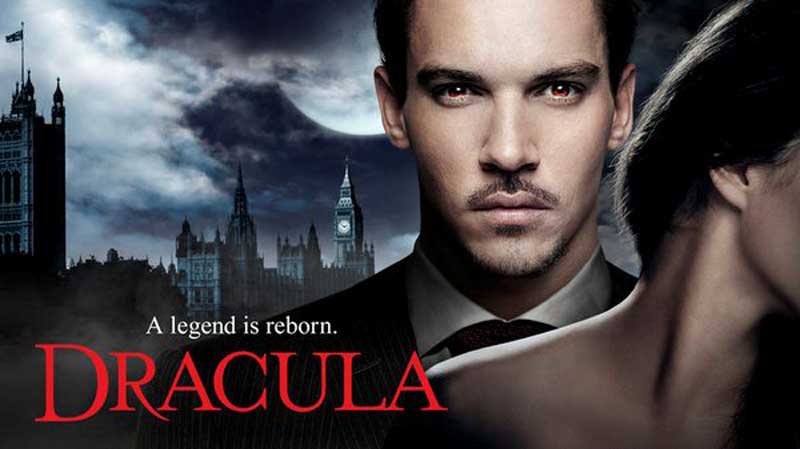 Straying into the well-trodden territory of Bram Stoker's seminal vampire for a big budget American network television series (co-produced with British company Carnival and boasting a cast stuffed with English and Irish actors) was always going to be fraught with problems.
How exactly do you make things different enough to be new and intriguing while staying true enough to the source material to not thoroughly piss off its loyal army of fans?
The original book's main characters all have roles in NBC's gore-and-sex-drenched re-imagining of Bram Stoker's story and some even bear at least a passing resemblance to the author's creations.
Some are very, very different.
Take Renfield for instance.  Here, the imposingly stoic lawyer and loyal servant of Dracula is worlds away from the wild-eyed, animal-scoffing nutjob of Stoker's novel.
As for Van Helsing? Let's not get started on this odd iteration of Dracula's arch enemy.
Showrunner Daniel Knauf, a writer and producer here who had similar roles on sadly missed, lesser-known HBO gem Carnivale (which he also created) and madcap swords, sand and sex saga Spartacus: Blood and Sand heads up a very different version of Dracula which sadly, despite some good ideas and strong moments, just doesn't work out anywhere near as well as it could, and should have.
Firmly planting it's flag in the 'sexy vampires' territory instead of treading the more challenging path taken by F. W. Murnau's silent classic Nosferatu or one of the greatest vampire tales to hit the small screen in Stephen King's Salem's Lot (the full three-hour miniseries, not the shorter theatrical cut) in which vampires are repellent, rapacious monsters, this telling of the story is clearly designed to appeal to as many people as possible.
To criticise it too much for that is to completely miss the point.
NBC is a commercial network which needs to sell advertising space and pull in big ratings.
Ominously, they have been very quiet about a possible second season and the ratings had to be a huge disappointment given the premiere pulled in over 5 million, dropped to less than 3 million by episode three and only just scraped back over that 3 million mark for the gruesomely compelling tenth and final episode.
Jonathan Rhys Meyers is best known for playing Henry VIII of all time on the Tudors and does a fine job as Dracula's alter ego, wealthy industrialist Alexander Grayson.
Oliver Jackson-Cohen plays the most irritatingly dimwitted Jonathan Harker since Keanu Reeves Ted 'Theodore' Logan'ed his way through the role in 1992's big budget adaptation of the story.
German actor Thomas Kretschmann plays the complicated Van Helsing.
Funnily enough, in 2012, he took the title role in Italian horror legend Dario Argento's messy Dracula 3D.
As for the obligatorily attractive female cast, Katie McGrath's Lucy is manipulative and petulant while Jessica De Gouw does well as the conflicted Mina, torn between her gormless fiancé Harker and the far more interesting Grayson who she also has a deeper, fated connection with.
Vampire hunter Lady Jane Wetherby, invented for the series, is basically a strong, lascivious MILF and killing machine with an unfortunate (and ridiculous) soft spot for Grayson.
While there are far too many lines, even entire scenes, meant to be profound and dramatic which instead draw only giggles and far too much thoroughly idiotic behaviour on show, there are some great moments.
Early in the season there's a clever reference to Jack the Ripper (who was at large eight years before the story is set) which neatly ties his grisly exploits into the overall narrative.
Later, we get some great deaths, even some decent comedy and one truly inspired visual reference to Vlad the Impaler.
Visually lavish, with big sets, fine costumes, some good TV-level CGI and, of course, plenty of classic Hammer-esque heaving bosoms, Dracula still lacks any real grit and is overall, just far too glossy.
While there's some surprisingly graphic bloodletting, the series is just never frightening.
Perhaps the biggest problem is that the writers just can't seem to decide whether Dracula is a villain or not and he lurches wildly from one thing to another.
Yes, he's an undead blood-slurper hiding behind a carefully constructed facade, but he's also fighting to take down a murderous secret society, spends time tenderly looking after his wounded assistant, is motivated by love and frequently does heroic, even kind things.
And even when he's callously manipulating the thoroughly boneheaded Harker and slaughtering a dodgy policeman he's still easy to root for, even likeable.
If you can ignore the series' weaknesses and inconsistencies, there's a lot to like along the way.
Dracula mashes together elements of the original story, Steampunk science and medicine, sacred Christian relics, secret society rituals and oaths, international politics, terrorism, war and intrigue, big business and nineteenth century lipstick lesbianism to name a few.
There's plenty going on.  There just might not be enough that's good, or interesting to enough people, to earn it a second season.
What did you think of the Dracula TV series starring Jonathon Rhys Meyers? Tell us in the comments section below!
Watch Dracula 2012 TV Series Trailer