CHRIS NEWTON reviews the revamped BBC 2020 miniseries adaptation of Dracula, starring Claes Bang and Dolly Wells
With their three-part TV series, showrunners Steven Moffat and Mark Gatiss gave us both a faithful(ish) interpretation of Bram Stoker's classic and a re-vamped, 21st Century Dracula.
This approach divided critics and viewers alike, but there was no denying how bold and inventive their take was. 
Arguably their most daring move was to make Dracula – who is largely absent from the eponymous novel and most film adaptations – the main character.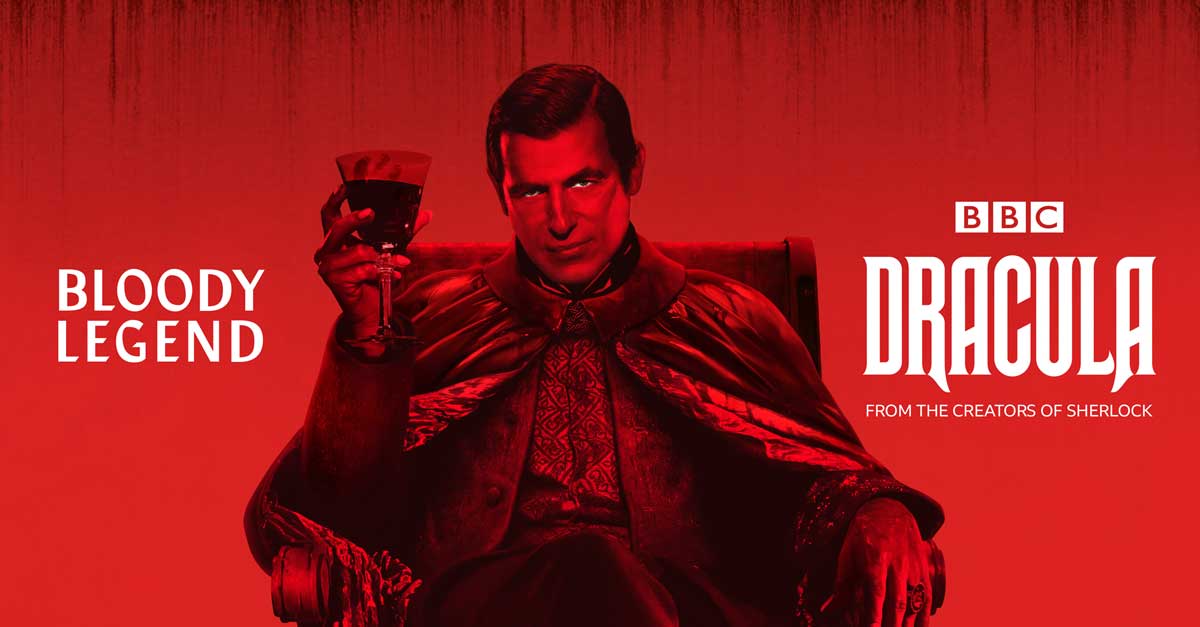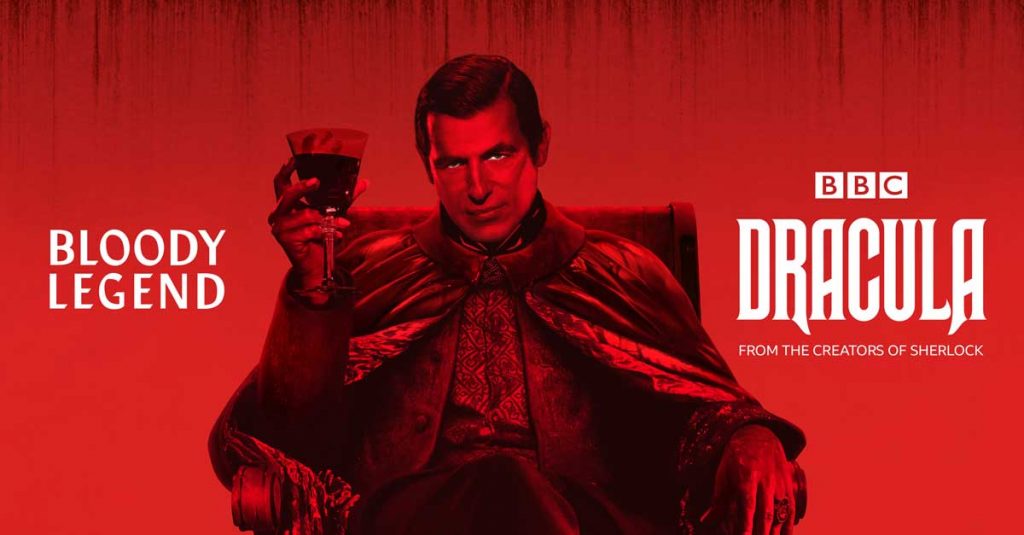 In 2017, when asked which Doctor he would most like to take a trip in the TARDIS with, Moffat replied: "Absolutely none of them. He's an adrenaline junkie. He's erratic, he's not safe. I'm a coward. I would not journey with any of those unreasonable men. They're all maniacs."
Interestingly, the same could be said of Sherlock Holmes, another literary behemoth that Moffat and Gatiss famously brought to screen. They're clearly attracted to these dangerous, narcissistic geniuses. Yet where the Doctor has human companions and Holmes is anchored by Dr. Watson, here we have a different kind of charming, charismatic dandy. One with absolutely no moral compass, and no human companion to guide him towards the light.
Or do we?
Episode One: The Rules of The Beast
Original BBC Transmission date: 1 January 2020
Synopsis: In a Romanian convent, a harrowed husk of a man relates the horrific details of his imprisonment at the hands of Count Dracula.
Dialogue Triumph: 'When you stand in the deepest pit, alone without hope or help, and yet still know right from wrong. When there is only darkness and despair and yet you feel humming in your blood the difference between good and bad. When you are beyond rescue or reward or judgement and you still look evil in the face and say 'No! This far but no further! No!' Whose voice is that? Who is with you in that darkness?' – Mother Superior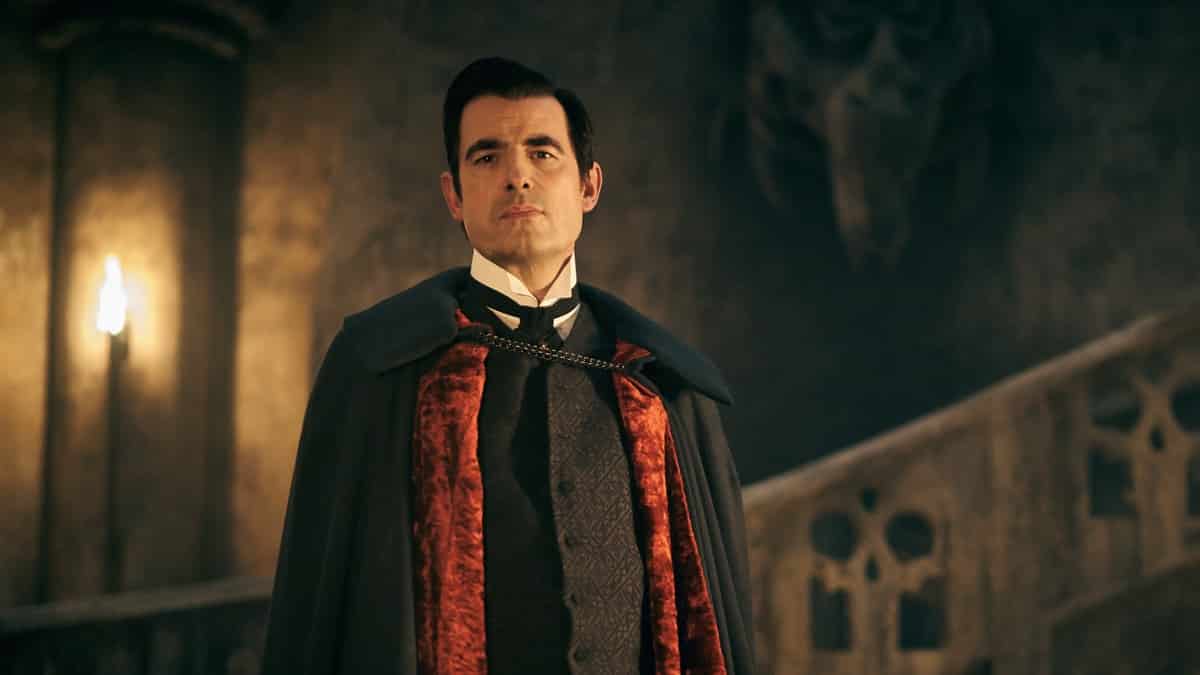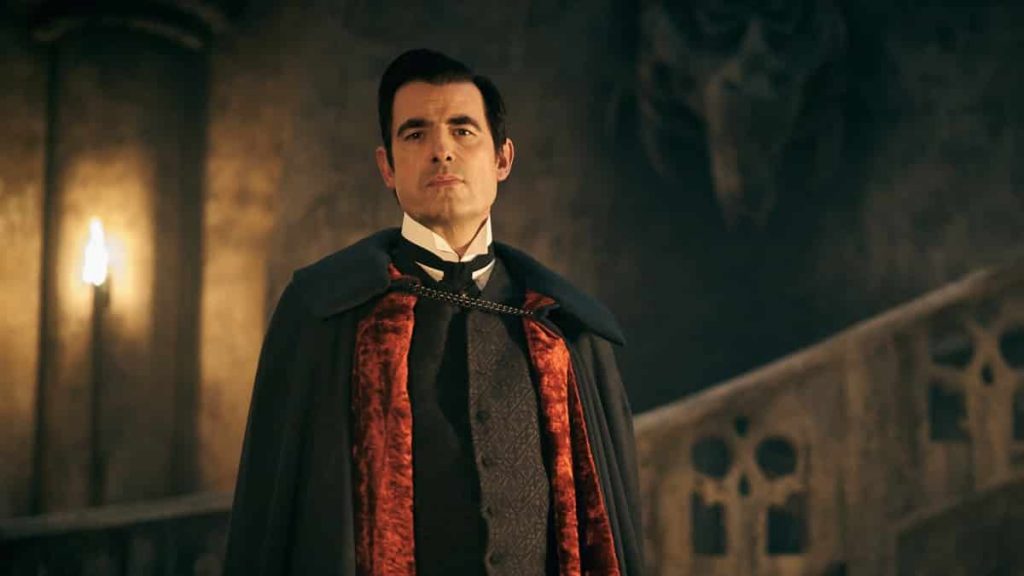 Trivia: Moffat and Gatiss are best known for writing (and in Gatiss' case, starring in) Sherlock and Doctor Who. Unsurprisingly, there are references to both of these in Dracula. Sister Agatha refers to 'a detective acquaintance in London', whilst Mina Harker refers to 'the adorable barmaid at the Rose and Crown'. In the Doctor Who episode 'The Snowmen', set in 1892, Clara Oswald works as a barmaid in a London pub of the same name.
Slovakia's Orava Castle is used for the exterior shots of Castle Dracula. If it looks familiar, that's because it was also Count Orlok's castle in 1922's Nosferatu.
Interiors were filmed at the legendary Bray Studios in Berkshire, shot on the same soundstages as Hammer's 1958 Dracula.
Scariest Moment: There are plenty of visual horrors, from the un-dead springing from their boxes, to Dracula's wolf transformation, but the most chilling moment of the episode is when Jonathan Harker succumbs to his vampiric lust after tasting Mina's blood. 'Please… Let me!'
Read full review of Dracula BBC 2020 Episode 1 The Rules of the Beast.  
Episode Two: Blood Vessel
Original BBC Transmission Date: 2 January 2020
Synopsis: Dracula travels to England onboard The Demeter, picking off the crew one by one to sustain himself throughout the journey. But who is the mystery passenger quarantined in Cabin No.9?
Dialogue Triumph: 'There is a Vampire on board this ship! I am Sister Agatha Van Helsing of St. Mary's Convent, Budapest. Captain Sokolov? You are relieved of command.' – Agatha
Trivia: Before his Sherlock fame, Mark Gatiss was known for his work with The League of Gentlemen. His League co-stars, Reece Shearsmith and Steve Pemberton, went on to create the critically acclaimed 'Inside No.9', which is referenced in this episode with mysterious 'cabin no. 9'. 
Patrick Walshe McBride's ill-fated character, Lord Ruthven, is named after the eponymous villain in John Polidori's 'The Vampyre'.
Scariest Moment: 'It's me. I'm in Cabin No. 9.'
Read full review of Dracula BBC 2020 Episode 2 Blood Vessel.
Episode Three: The Dark Compass
Original Transmission Date: 3 January 2020 
Synopsis: Count Dracula arrives in Whitby 123 years later than planned, but Dr. Zoe Van Helsing and the Jonathan Harker Institute are waiting for him. Van Helsing claims to know Dracula's greatest fear – but does he? 
Dialogue Triumph: 'Dying is the only remaining novelty. Every other human experience is catalogued somewhere in your endless chattering libraries. Nothing comes fresh. Every living instant is shop-soiled and second hand except that one moment in life that no one can report back on.' – Count Dracula
Trivia: Renfield's descent into madness is touched upon when the lawyer 'solves' a cryptic crossword ('unscrupulous doctor deployed tanner's knife [12]') with the words 'Dracula is my lord'. The correct answer is actually 'exsanguinate'. The crossword itself is set by 'Sphinx', which 'Inside No.9' fans will know is Steve Pemberton's setter pseudonym, in reference to the masterpiece that is 'The Riddle of the Sphinx'. 
Zoe Van Helsing's leap across the table to tear down the curtain and expose Dracula to sunlight is a straight up homage to Peter Cushing's same leap in Hammer's Dracula. 
Scariest Moment: 'Peekaboo…. Bloofer Lady… Peekaboo!'
Read full review of Dracula BBC 2020 Episode 3 The Dark Compass.