Reading Time:
6
minutes
CHRIS NEWTON recalls the horrific but hilarious The League of Gentlemen Christmas special 2000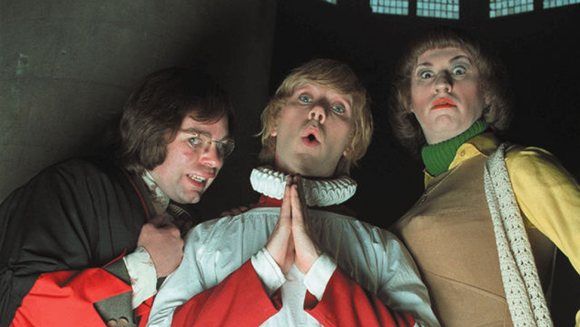 From the moment in The League of Gentlemen's first episode, 'Welcome To Royston Vasey', when local shopkeeper Edward all but quoted The Wicker Man's Lord Summerisle ("You did it beautifully, Tubbs!") we knew we were in for something special.
The League of Gentlemen always walked a fine line between comedy and horror, but the 2000 Christmas Special marked a turning point.
Gone were the live studio audience and the sketch show punchline-like endings to individual scenes.
This episode feels less like a comedy with horror elements, and more a horror film with a lot of jokes.
In particular, an Amicus portmanteau horror film.
For anyone who grew up watching Joan Collins being terrorised by a homicidal Santa Claus in 1972's Tales From The Crypt (The League of Gentlemen certainly did), Christmas will always vaguely synonymous with horror. We fear for our lives when we hear 'O Come All Ye Faithful'.
The Christmas Special opens in a snowy graveyard with a mournful rendition of 'God Rest Ye Merry Gentlemen' that bares more than a passing resemblance to a Danny Elfman arrangement.
In fact, the atmosphere is oddly reminiscent of Tim Burton's Batman Returns, which is probably the last time Christmas was ever this dark.
The unseen hands which desecrate the festivity of the churchyard (and throw a pissy snowball at a passing Santa) are revealed to belong to Bernice Woodall, foul-mouthed vitriolic vicar of Royston Vasey. ("Are you the Priest here? / "No, I'm the fucking gardener!") Played with acrimonious excellence by Reece Shearsmith, she drinks on the job, uses confession booths to stash dodgy cigarettes and is as un-PC as she is ungodly: "They get the mongs from Stanhope Park to do it." She complains about the church's Christmas decorations.
(Although this line is sadly bleeped out for anyone watching on Netflix.) Bernice's disdain for (seemingly) everything provides a framing narrative, within which three self-contained stories are told, and it's here that the Amicus-homage becomes obvious.
The first visitor is Charlie Hull (Steve Pemberton), who is invited to literally "take a pew" as he relates his recurring dream to Bernice. He is plagued by a nightmare blend of voodoo and line dancing in the episode's most conventional horror tale, reminiscent of 'Sweets to the Sweet', from the Amicus 1971 anthology The House that Dripped Blood.
It's a great vignette, side-splittingly funny in some places, genuinely creepy in others and almost worth if for Guest Star Liza Tarbuck's facial expressions alone. The final sting in the tale takes its' cue from Tales of The Unexpected, and feels like something of a precursor to Shearsmith and Pemberton's subsequent collaboration Inside No. 9.
Bernice is unmoved by Charlie's turmoil. "Is that it? You think you're the only person who's ever had a shit Christmas?" She sneers, and her misanthropy is revealed to be the result of a traumatic childhood Christmas when her mother was kidnapped by an evil Santa. (They've definitely been watching Tales From The Crypt.)
The second instalment is a 70s-set vampire story rife with Nosferatu references. It also features a younger Herr Lipp, so you can be sure of a side helping of puns and double-entendres. ("You have splashed all over me!" Lipp trills after being doused in holy water.)
Mathew, a young choir boy (or "queer boy" as Herr Lipp pronounces it) goes to Duisburg for Christmas, and when they start singing 'O Come All Ye Faithful' we know he's really in trouble. The numerous pastiches aren't all vampire related, though. The choir look suspiciously like the kids from Village of the Damned, and the scene where Lipp watches Mathew undress through a peephole is a fairly faithful recreation of the same voyeuristic scene in Psycho. Despite the Carry On dialogue, the dream sequences are genuinely unsettling (although not quite as unsettling as Mathew's underpants), and its climactic fanged feeding frenzy brought to mind another Amicus moment – Midnight Mess from 1972's The Vault of Horror.
Over the course of the episode night has fallen and it is beginning to snow as the third visitor appears. "Oh God, it's getting like bloody Jackanory in here." Sighs Bernice as Edmund Chinnery (Mark Gatiss), the local vet tells the story of his great grandfather's arrival in Royston Vasey in 1985. This is by far the silliest story, but with easily the best in terms of its atmosphere, outlandish characters and attention to periodic detail (which Gatiss would revisit in his 2005 Doctor Who episode The Unquiet Dead).
There are further echoes of Tim Burton in Chinnery Senior, a young rationalist sent from the city to the superstitious country, ('the north country' in this case) who resembles Ichabod Crane in 1999's Sleepy Hollow (which itself was something of a love letter to classic Hammer Horror).
Elements of Susan Hill and M.R. James in League of Gentlemen Christmas Special 2000
There are also elements of Susan Hill and M R James, with Chinnery joining the veterinary firm Purblind, Boothby and Canker, where the reclusive invalid Mr. Purblind lives on the 3rd floor, and is never to be disturbed. Chinnery predictably disobeys this instruction and visits the old man, who accompanies his tale of 'The Curse of Karahpur' with a shadow puppet show, which is one of the visual highlights of the episode.
The sinister use of the Indian shehnai theme which accompanies Purblind's tale, hinting at esoteric mysticism, very much reminded me of This Trick'll Kill You, another tale from The Vault of Horror.
The real highlight of this segment, however, is the Victorian recreation of The League's first episode, down to visual poster gags and brief appearances from Pauline, Mickey and a transgender handsome cab driver. (Eagle eyed viewers might also notice a cameo from Jeremy Dyson, the elusive fourth member of The League in the opening scene.)
Amicus are not the only obvious inspiration here, and there are parallels with Charles Dickens, the Godfather of the Christmas Ghost Story. Like Ebenezer Scrooge, the curmudgeonly Bernice is beginning to see the error of her ways by the end of her three visitations, and seems to have discovered the spirit of Christmas.
But when did The League of Gentlemen ever have a happy ending?
Without wanting to spoil it, all I will say is that Bernice's past literally comes back to haunt her in a scene that reminds me why The League of Gentlemen was one of the best – and strangest – things on television. Although I'm still none the wiser as to whether it is comedy or horror. It is somehow intrinsically both, which is not something many other writers can accomplish.
This is my third review of a comedy written by, and starring Reece Shearsmith and Steve Pemberton, and, whilst there are obvious tonal similarities between this, Psychoville and Inside No. 9, what really strikes me is their sheer versatility. It's a testament to the quality of their writing (and of Gatiss and Dyson's) that this special focuses on mainly minor characters.
The more iconic League of Gentlemen characters (notably Edward and Tubbs) are missing, and the episode relies on sharp dialogue and tight storytelling rather than stock catchphrases (a trend which continued into the third series).
It's also remarkable that after two series of (albeit hilarious) filth, we find ourselves, dare I say… Caring for these characters? When Herr Lipp proclaims that "The absence of love is the most abject pain", it's a surprisingly tender moment. Although I'm not sure how much sympathy we should have for him, as he may – or may not – be a vampire.
Unlike the similarly Amicus-inspired Psychoville Halloween Special, the canonicity of this episode is unclear. Charlie's story is really nothing more than a nightmare, and Chinnery's 'curse' may only be superstition. But Bernice's fate was less ambiguous, and in the first episode of season three, in a blink-and-you'll-miss-it moment, you can clearly see a picture of her along with the words: 'Lost: Have You Seen This Vicar?' pinned to the church notice board.
It's the attention to details like this that make The League's laughs and shocks both so effective. It's safe to say that there hasn't been anything like this on TV for a long time but, fortunately for us, 2017 marks the 20th anniversary of their first radio series, which Gatiss, Dyson, Shearsmith and Pemberton are celebrating by reuniting for three brand new television episodes on the 18th, 19th and 20th December.
For many it will be the highlight of the seasonal TV schedule, although I'm not sure how festive it will be.
As Bernice says, "Oh, bloody Christmas! Sicking up brandy butter and chipolatas…"
Welcome back, gentlemen. It's like you never left…