Reading Time:
3
minutes
Guest writer ANNA HORIGAN is a huge fan of The League of Gentlemen. In this article, she looks back at the gruesome horror comedy television show.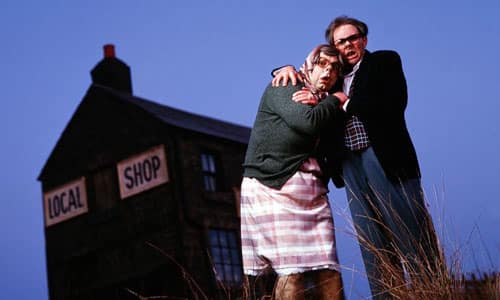 The League of Gentlemen was first broadcast in 1999 and since then they have created three series, three books, two live shows and a film.
The Gentlemen's careers have lead them to drift in recent times but they have remained great friends, with Mark Gatiss writing and starring in the multi-award winning drama Sherlock, Jeremy Dyson with his macabre comedy-thriller Funland and Steve Pemberton and Reece Shearsmith with their collaboration in the sensational Psychoville, along with countless others.
But along the Gentlemen's pathways, a group of people have always remained loyal (or should that be local?).
Through thick and thin, these people have shown and expressed their love for the strange little sitcom/sketch show set in the grim Northern town of Royston Vasey.
To the untrained eye of a 'stranger', it would not seem the obvious program for an almost cult like group of fans to still be obsessed with over 13 years since first broadcast.
Myself, I was barely alive when The League of Gentlemen was first show and my first League memory was a episode repeated on Dave.
It was a Denton's sketch in which Harvey says "Got any used tissues?". This has always stuck in my mind and I memorably asked my parents what that meant. I got no answer.
The series is renowned for its macabre and dark jokes, though the gents didn't set out to make a dark comedy. They only wrote material which they found funny.
Many comedies tend to find inspiration and reference from past comedy shows but the League found their muse in the classic horrors, which all of them passionately loved. Horror film references litter their series, even though the writers didn't expect many people to get them).
Such of these references include the policeman, who visits Tubbs and Edward in the first series. That is a reference to The Wicker Man. Dr Carlton came from a documentary called Change of Sex, which featured a "monstrously unsympathetic" doctor.
My personal favourite reference is to the rare black and white short film made in 1910 of 'Frankenstein' in which Edward copies the famous promotional picture in 'The Beast of Royston Vasey', as said beast is being dug up. This is a clever ploy to stop 'new road'.
Dark, twisted but fantastically funny, with brilliantly thought-through characters, intriguing studies into human behaviour, which are hugely exaggerated but could still be your next door neighbour.
Few famous examples of the darkness in their character include: Geoff Tipps, psychopath but turned hero in the film; Hillary Briss, 'Demon Butcher' with his 'Special Stuff' causing colossal devastation that the army is brought in, and finally but by no means least, Tubbs and Edward, husband and wife but also brother and sister, local oriented shop owners with their obbsessional search for a new wife or 'no tail' for their son David, leading to murder, kidnap and arson. Just an average dysfunctional family then.
I find it a great shame that the third series was not appreciated as much as the other two. Maybe this was because they did a different take on the characters and layed out the episodes in more like a mini Hitchcock thriller rather than the sketch show we all know and love.
I find some of the comments extremely unfair as change is a great thing and the last series was new and fresh instead of repeating old jokes.
A decade and a bit later, nearly one hundred characters, 19 episodes, four gentlemen but uncountable amounts of loyal fans who will always be local. Now that important question remains: Are you local?
Tell us your memories of League of Gentlemen in the comments below!
Watch League of Gentlemen clip
Cornwall-based writer ANNA HORIGAN loves dark/surreal comedy, classic literature and ghost stories. She one day hopes to write for television and theatre. You can follow her tweets at @CSI_BakerSt