Reading Time:
4
minutes
Two American tourists accidentally get embroiled in an underworld feud, with lives and a huge sum of money at stake. RICHARD PHILLIPS-JONES looks at Thriller: Kill Two Birds.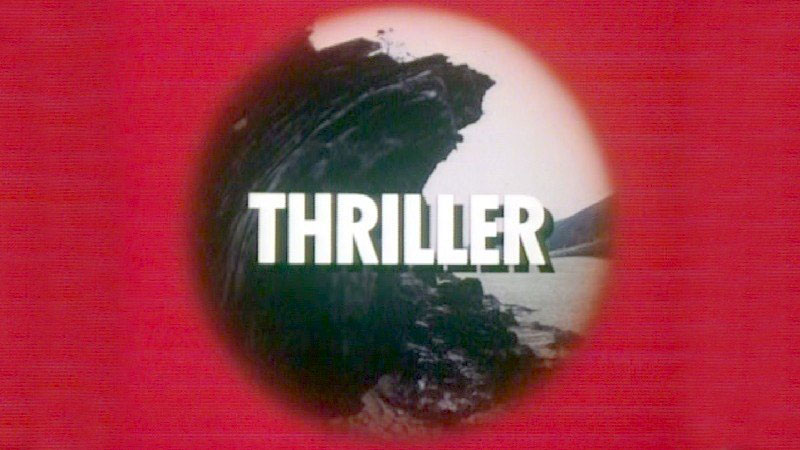 TITLE: Thriller – Kill Two Birds
BROADCAST: 08 May 1976
STARRING: Susan Hampshire, Gabrielle Drake, Dudley Sutton, David Daker, Bob Hoskins, Rita Giovannini, Stephen Yardley, John Bailey
WRITER: Brian Clemens
DIRECTOR: Robert Tronson
Charlie Draper (Daker) is released from prison after a ten year stretch for armed robbery. £250,000 from the heist is still unaccounted for. (That's around £2.1 million in 2021 terms!)
Charlie's first port of call is to an old friend, but he is greeted by the sight of their corpse and hard-nut Gadder (Sutton), with two accomplices in tow enquiring in no gentle way as to the whereabouts of the money. Gadder manages to smash his way out by leaping through a window.
Having injured his leg in the process, Charlie makes his way to the home of struck-off doctor Kemp (Bailey) for a quick patch-up before he continues on his way, but Gadder and company have already second-guessed the move and arrive to interrogate the drunken doc not long after.
Meanwhile, American tourists Sally and Tracy (Hampshire and Drake respectively) are travelling around England in an Austin Maxi and pick up a puncture after eating at a snack bar/petrol station run by Sammy (Hoskins), who just happens to be Charlie's brother. The two manage to pull into a derelict abandoned farm, and Tracy walks back to Sammy's while the waiting Sally (with a leg in plaster and on crutches) is unaware that an exhausted Charlie is taking a breather in an adjacent hay loft.
Charlie's trying to make his way to his brother and when Sally also makes her way there, concerned when Tracy doesn't return the scene is set for a tense stand-off – Gadder is already there, banking on Charlie's arrival and holding Sammy's wife at knifepoint…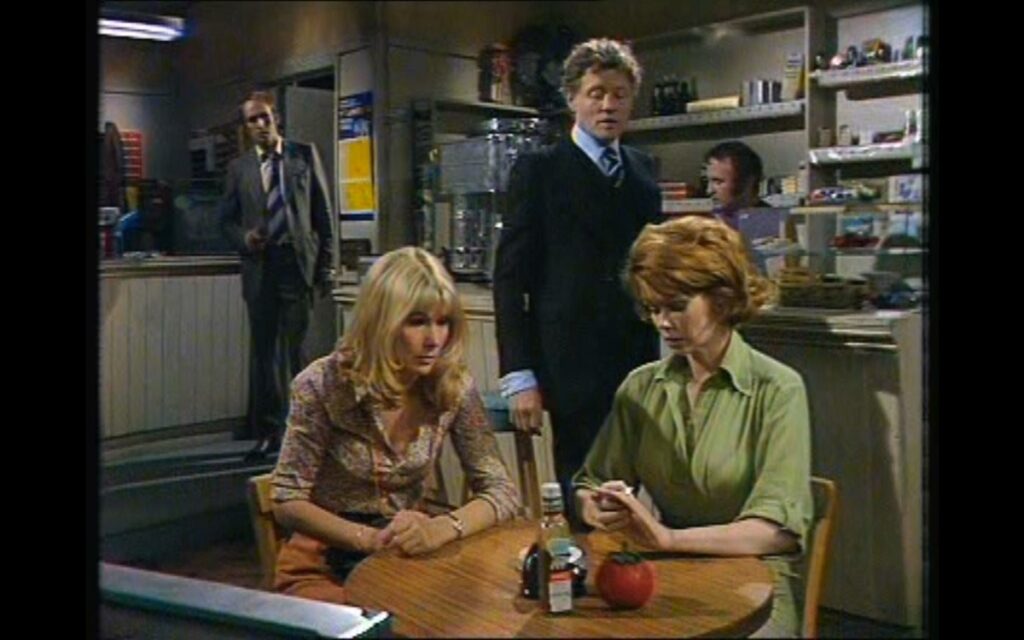 A very welcome return to Thriller for director Robert Tronson, with what just might be the most generously resourced episode of the run, at least as far as the luxury of location filming is concerned and it contributes to a considerably different, grittier look and feel from what had come before. The episode marks another series six effort to perhaps shake up the formula a bit, with a structure and premise which shows more than a touch of the work of The Sweeney (1975-78), whose immediate influence on British television was hard to escape and arguably manifests itself here in the atypically unglamourous view of London and its streets, not to mention some grotty interiors.
Another example of the unromanticised view of England is seen in the decrepit farm buildings, looking like the perfect setting for a public information film along the lines of Grain Drain (1975) or Apaches (1976), warning of hidden dangers on farmland. It makes for a disorienting contrast with the show's usual depiction of our rural landscape, and I cringed slightly as Gabrielle Drake entered a particularly dangerous looking building whose roof looked likely to cave in at the first gust of wind – clearly, health and safety monitoring on television productions has come a long way.
There are no US guest stars on this occasion, but Hampshire and Drake impersonate Americans in peril for the benefit of that audience and the cast is certainly a treat for UK viewers, with a blend of popular actors of the period and one (namely Hoskins) whose star would be well into the ascendancy in the following decade. The heavies make for a fine motley crew, with Sutton especially unnerving as Gadder, an irredeemably nasty piece of work whose calm and measured approach to thuggery perhaps has a precedent in Anthony Valentine's Garard from series five's The Crazy Kill.
Yes, the decision (in Thriller of all shows) to use two English performers to play the Americans is a baffling one, and the yokel-ish voices of the Dorset policemen are a sloppy stereotype (as a Dorset resident, I can confirm I've never met a copper round these parts who speaks in that manner) but that aside the players here are a fine ensemble who all pull their weight.
With its deliciously ironic final twist, Kill Two Birds set a strong example in what seemed to be an increasingly experimental final run. Did all of this indicate stylistic changes Thriller might have held in store going forwards? Sadly, we will never know.
TRIVIA NOTES: Retitled as Cry Terror For its later TV-Movie version.
At the time Kill Two Birds debuted in the UK, Bob Hoskins was perhaps best known for playing Alf in On The Move (1975-76), a BBC programme linked to a national campaign promoting adult learning in numeracy and literacy.
On the matter of The Sweeney: Dudley Sutton had appeared in that show's first series, David Daker had been in the pilot/TV-film Regan (1974) and Bob Hoskins had recently played an ex-convict in short lived Dick Clement/Ian La Frenais sitcom Thick As Thieves (LWT 1974), alongside none other than John Thaw.
Right down the cast list, a young Christopher Ellison made an early appearance as a Dorset constable – he'd progress through the ranks to D.C.I. in The Bill (between 1984 and 2000) and spin-off, Burnside (2000), but he too had recently appeared in The Sweeney.
Although set in Dorset (Daker is even shown looking through a Bournemouth telephone directory at one point), the out-of-town locations are in Buckinghamshire and Hertfordshire, conveniently close to the Elstree studios. Interestingly, the production team had been happy to travel to Dorset for the very first Thriller, Lady Killer in 1973.
Robert Tronson wasn't done with TV thrillers after Kill Two Birds – he would direct The Limbo Connection, Dying Day and Fear Of God for Thames Television's serial take on the form, Armchair Thriller (1978-80) and ended his career with a more sedate take on the genre in Hetty Wainthrop Investigates (1996-98). Tronson passed away in 2008, aged 84.
Even if Thriller was in its final weeks, Kill Two Birds was still a harbinger of sorts since it had just the sort of situation that CI5 might have been called in to deal with in another Clemens creation which debuted the following year, The Professionals (1977-83).